•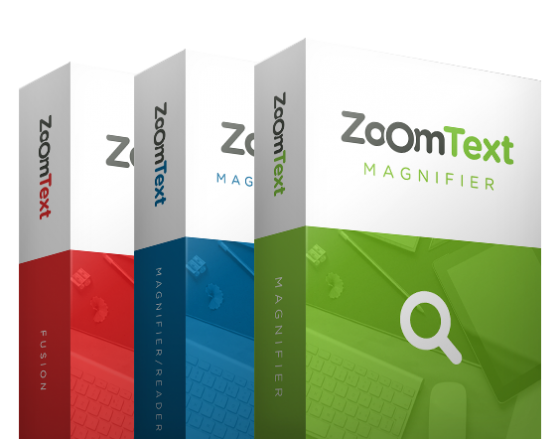 More than just a new version of ZoomText; it is the best version of ZoomText… Ever.
Support for Touch Screen Devices
ZoomText 10.1 features support for touch screen devices including tablets, laptops and desktop monitors. ZoomText follows along as you tap, drag and swipe your way through all of your applications. And you can instantly access key ZoomText features using the ZoomText Touch Icon and gestures. Note: Requires a 5-point or greater multi-touch device.
Exclusive to ZoomText 10.1 for Windows 8, Windows 8.1 and Windows 10.
Powerful Zoom Windows
8 different zoom windows allow you to choose which part of the screen is magnified.
A zoom window displays a magnified view of the computer screen. You can think of a zoom window as a magnifying glass held in front of the screen. A zoom window only displays a portion of the screen at any one time, but by scrolling its magnified contents, you can view any area of the screen.
ZoomText provides eight zoom window types: Full, Overlay, Lens, Line and four Docked positions. Each of these windows offer a unique way of viewing what is on the screen. At any time, you can switch zoom window types to accommodate a different task or application environment.
Enhanced Screen Colors
Innovative color controls improve screen clarity and reduce eyestrain. Special effects include color dyes, two-color modes and replacement of problem colors.
Visible Pointers and Cursors
Size and color enhancements make it easy to see the mouse pointer. Special locators make it easier to follow the mouse pointer and text cursor as they move across the screen.
Focus Enhancements
Makes it easy to locate and follow the control focus when you navigate through application menus, dialogs and other application controls.
Smooth Navigation
Navigating your applications and scrolling the view is always smooth and comfortable. Constrained mouse movement allows you to examine rows and columns, and keeps you within the active window.
Dual Monitor Support
Use two monitors to expand your magnified viewing area, or use the second monitor to share a magnified or unmagnified view of your desktop with another person or group.
ZoomText Camera
The ZoomText Camera feature allows you to use any high-definition (HD) webcam to view and magnify printed items and other objects right on your computer screen—including bills, magazines, photographs, medicine labels, craft items and more.
Enhanced Web Finder
ZoomText's Enhanced Web Finder allows you to search webpages for specific words or phrases, or skim through pages to find items of interest. When an item of interest is found you can have Web Finder start reading aloud from that location (Magnifier/Reader only). If the item is a link to another page you can have Web Finder execute the link and continue your search on the new page.
Desktop Finder
Desktop Finder helps you find and launch programs and documents on your desktop, system tray and quick launch bar.
Application Settings
Save unique settings for each application that you use. As you switch applications, ZoomText automatically loads the desired settings.
Full Windows Logon Support (with ZoomText Logon UI)
ZoomText's logon support provides essential magnification and screen reading features when logging into Windows.
New Smart Invert
See photos as they were meant to be seen in Internet Explorer 11. With ZoomText's new Smart Invert feature, photos are displayed in their natural colors when ZoomText's Invert Brightness and Invert Colors are active. No it's not an illusion, it's Smart Invert.
New Unified Finder Tool
Locating what you are looking for is easier than ever with the new Finder Tool. Finder lets you search and skim through documents, web pages and email to instantly find any word or phrase you are looking for. You can search through all of the text or only within specific items like headings, forms, links and images. It's simple, you type and the Finder finds.
New Zoom to 1x
The new Zoom to 1x feature lets you instantly switch between zoomed and 1x views, without having to zoom out and zoom back in one zoom level at a time. Don't blink or you might not see it happen.
New Command Keys
We're shaking things up. ZoomText 11 has a new system of "Command Keys" that are easier to learn and use. The new command keys also eliminate conflicts and compatibility issues that existed in previous versions of ZoomText. Don't worry, making the transitioning from your previous version of ZoomText is a quick and easy.
New Modern Toolbar
ZoomText has a brand new toolbar with a fresh clean look. We've streamlined the modernized the layout to make it easier to learn and fast and fluid to use. You can access and operate the entire toolbar with the keyboard or the mouse. Go ahead, drive it around.
Magnifier Toolbar

Reader Toolbar

New Geometric Smoothing
ZoomText now smooths the edges of text (and graphics) in places where xFont magnification can't go. Hint… your magnified PDF documents never looked this good.
New Consolidated AppReader
We've made automatic reading more efficient and flexible by combining ZoomText's legacy reading tools into one new AppReader. With the new AppReader you can read right in the target application or switch on-the-fly to the high contrast text view that's better for visual reading. You can also spot read blocks of text by clicking and dragging the mouse. So sit back, relax your eyes, and just listen.
Click here for more information.