•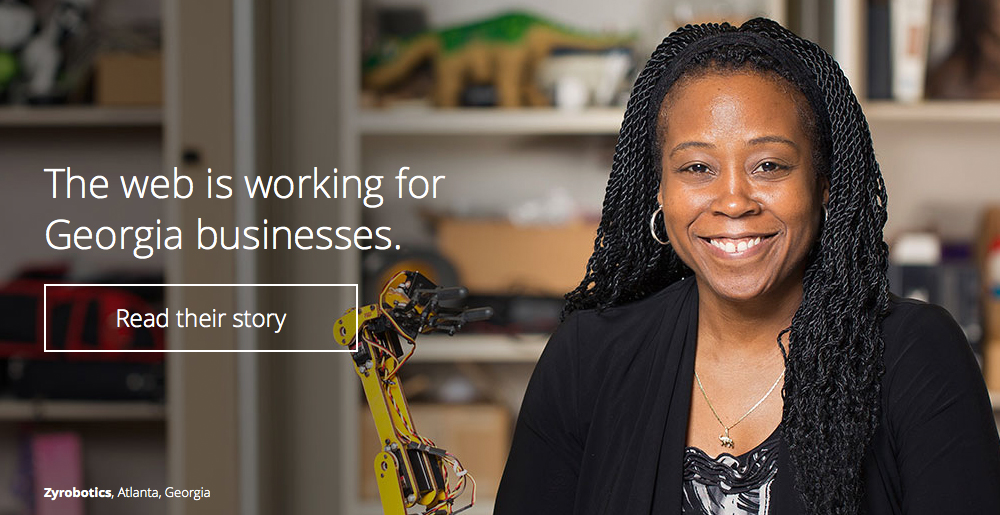 Even in tough economic times, Zyrobotics and other small businesses throughout the world are benefiting from the continued expansion of the e-commerce industry, according to an annual Economic Impact Report released this week by Google.
Zyrobotics, a leading assistive technology company, located in Atlanta, was selected by Google to serve as Georgia's example of a business that is successfully utilizing the Internet to find and connect with customers. Google's Economic Impact Report details how businesses around the U.S. use Web services, such as Google, to grow their businesses.
Zyrobotics develops apps, toys and other devices for children with special needs. Their switch-accessible app, Turtle Invaders, has reached over 20K downloads through the Web and their most recent math app, OctoMinus, has ranked in the top 100 of all educational apps on Google Play in over 50 countries.
In her own words, Zyrobotics' founder, Dr. Ayanna Howard, said, "My dream goal is designing both education hardware and software that is accessible to all kids. Google has let us expose what we have to the world outside of our ecosystem." A vast market is accessible through the Internet and, with this exposure, Zyrobotics hopes to continue reaching the world with their technological innovations.
For more information about Zyrobotics or where Georgia stands in the Google Economic Impact Report, please visit http://www.google.com/economicimpact/reports/ga.html, or call 678-952-ZYRO
To download the latest OctoMinus educational app, visit:
https://play.google.com/store/apps/details?id=com.zyrobotics.octominus
About Zyrobotics
Zyrobotics, LLC is an assistive technology company that was conceived in the summer of 2012 and officially incorporated in 2013 as a Georgia Tech Venturelab spin-off company. Our mission is to create accessible technologies that engage and empower children with disabilities and enhance their quality of life. We develop personalized technologies that are adaptive to each individual's capabilities.  Zyrobotics' first product offerings include accessible interfaces and smart toys, socially assistive robots, and a suite of educational apps that are specially designed to enable educational and accessible play. Our mission facilitates freedom through technology for children of all abilities.
Contact Us
Facebook: https://www.facebook.com/pages/Zyrobotics/402223876544935
Twitter: @Zyrobotics
Website: https://www.zyrobotics.com
Email: info@zyrobotics.com
Phone: 1-678-952-9976