Monday, October 17, 2022
8:00 am - 4:30 pm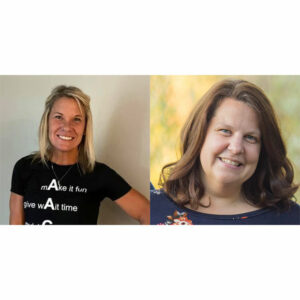 A robust vocabulary consists of a variety of important features including core vocabulary, access to a full alphabet, fringe & personal vocabulary. This make and take workshop will guide participants on a voyage through the essential features of core vocabulary implementation; including assessment, personalization, curricular and therapeutic activities and the ability to train and coach others on how to effectively utilize core vocabulary through hands-on practice and an abundance of resources.  Building off of a district-wide core vocabulary initiative with more than 14 years of success, these two engaging presenters will arm participants with everything they need to return to their settings and make waves both with their communicators and colleagues! There will be an additional $30 fee for materials.
REGISTRATION FOR THIS WORKSHOP IS CLOSED
Registration Notes:
In addition to the workshop fee, this workshop carries an additional $30 materials fee.
Learning Outcomes:
As a result of this workshop participants will be able to:
• Get staff buy-in for core vocabulary and AAC implementation.
• Name at least 8 strategies for adapting communication supports to meet the individual needs of students.
• List at least 5 partner strategies to build relationships to increase AAC implementation.
• Acquire at least 3 strategies for training staff as well as well as 3 or more activities to provide during PD sessions