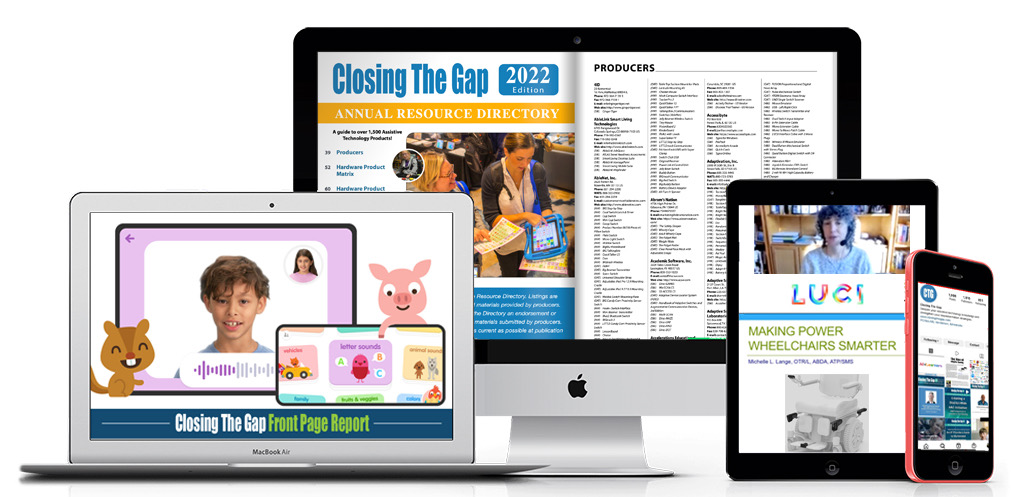 Expand your reach, generate new leads and grow sales. Interactive, live format allows for engagement, live demonstrations and discussion. An exceptional opportunity to connect with participants. 60- and 90-minute webinar options available.
Closing The Gap provides:
Webinar Hosting – Up to 300 seats included
Promotion of your live webinar to over 26K contacts (free registration for participants)
Upon completion, recording added to webinar library, where Members have year-round access.
Sponsors receive participant list.
60 – minute webinar $700
90 – minute webinar $750
For an additional fee of $175, CEU's can be made available to attendees.
Questions? Contact Callie Kriechbaum callie@closingthegap.com | 507-248-3294 ext 0
The Front Page Report is a feature dedicated to new and updated assistive technology product information. Shared across numerous platforms, it's where AT professionals stay abreast of current AT product news and information. 
Published on Closing The Gap. Featured on Closing The Gap homepage and social media pages (Facebook, Twitter, Instagram and LinkedIn)
Product featured in 'Product Spotlight' in bi-monthly Solutions E-Magazine
Cost: $200 each
Statistics included
Purchase 3 or more and receive 15% off. Use promo code FPR.
Solidify your existing markets or tap new ones by expanding your reach!
Ad placements available in the following email opportunities:
Sponsored Webinars
Resource Directory
Membership Monday
Conference (exclusive opportunity to conference exhibitors)
General
Statistics included. Limited availability.