OUR MISSION
Our mission is to help you grow your assistive technology (AT) knowledge, enhance your instruction and build capacity using today's best practices and implementation strategies.
We offer scalable professional development services to individuals, schools, universities, state government agencies, and other organizations. 
We offer a range of training opportunities to select from. Can't find what you're looking for? Need a custom course to meet your needs? We can help.
TRAINING ON-DEMAND
Included With Membership
Not a Solutions Member? Purchase separately.
CLOSING THE GAP SOLUTIONS MEMBERSHIP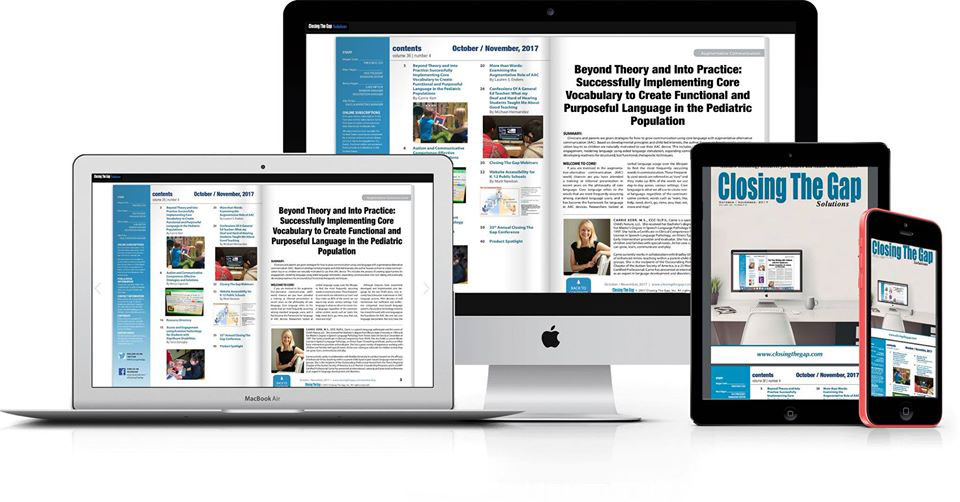 Does Your Team Have The Assistive Technology Expertise It Needs?
We're here to help. Solutions Membership is a state-of-the-art professional development platform, combining live and on-demand training, resources and tools, to assist educators and specialists achieve better outcomes for ALL students and clients. 
Assistive technology service delivery systems vary widely across the country, but all must ensure that the legal mandates to consider assistive technologies are addressed. Providing staff with professional development will ensure practical strategies to help assistive technology staff develop the skills necessary to address specific needs, increase effectiveness, build site capacity, and create defensible, sustainable technology services for the long term.
FRONT PAGE REPORT
The latest developments and product releases in the assistive technology industry.
Receive 10% coupon code for your first training purchase.

Marketing Permission
Closing The Gap will use the information you provide on this form to be in touch with you and to provide updates and marketing information about our upcoming professional development events.
You can change your mind at any time by clicking the unsubscribe link in the footer of any email your receive from us, or by contacting us at info@closingthegap.com. We will treat your information with respect.
To receive emails from us, please add us <info@closingthegap.com> to your address book.