•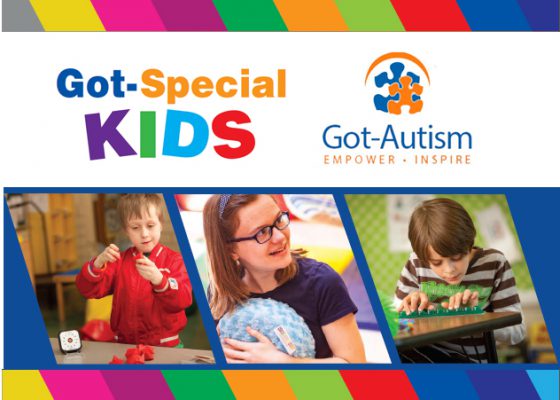 They are Got-SpecialKIDS
They provide their customers with affordable therapeutic products that build skills & boost confidence.
They do this to inspirethe imagination & empower the spirit so those with special needs can achieve their full potential.
They support parents & professionals serving the special needs community.
They strive continually to improve their operations & efficiencies.
They are constantly updating their product offering & services.
They deal fairly & honestly.
They support their community by giving back whenever possible.
They enjoy what they do & the people they serve.
They are grateful to God for their blessings, but also for their challenges.
They respect each other & aspire to live the golden rule in all their affairs.
The Got-Autism & Got-Special KIDS Story

In 2005, her son was diagnosed with Sensory Processing Disorder (SPD), Attention Deficit Hyperactivity Disorder (ADHD) and Asperger Syndrome. They wanted to do as much therapy as possible while his young brain was still developing. She was hard-pressed to find any comprehensive line of autism-specific products. In living with the challenges of autism 24/7, she wanted to create a product line that would support both child and family. With the help of her family and colleagues at Hydrotech, Inc., Got-Autism opened for business in November 2008.
The Got-Autism store now features over 1000 adaptive, therapeutic, educational and sensory solutions for the autism spectrum, Asperger Syndrome, ADHD, Sensory Processing Disorder and other learning and behavioral differences. In a continuous effort to save their customers time and to provide them with the very best that money can buy, they carefully select their products – taking into consideration everything from benefits to cost, quality, durability and relevance. They categorize their inventory by therapeutic goals to help their customers find the right products without having to search far and wide. Their aim is not to present an endless range of choices, but to bring their customers the very "best therapeutic, educational and sensory solutions" all in one location. From oral motor fidgets to social skills activities to customized indoor sensory rooms and gyms, they have products for all ages, abilities and budgets.
Their mission is simple: to help those with autism achieve satisfying and productive lives. Ultimately, they want to encourage and give hope to families raising children with autism. In this endeavor, Got-Autism donates 10 percent of sales back to the autism and special needs community. From sponsoring awareness events and funding therapy services, to helping with the costs of training autism service dogs, they believe in paying it forward. With the right supports and therapeutic interventions, children, teens and adults with autism can and will achieve amazing things. It is up to them parents and professionals to be steadfast in demanding the best integrative therapies and interventions for those they serve. They can never underestimate the healing power of unconditional love. Their goal is to empower and inspire these special individuals, and all the caring parents and professionals they meet along the way.