•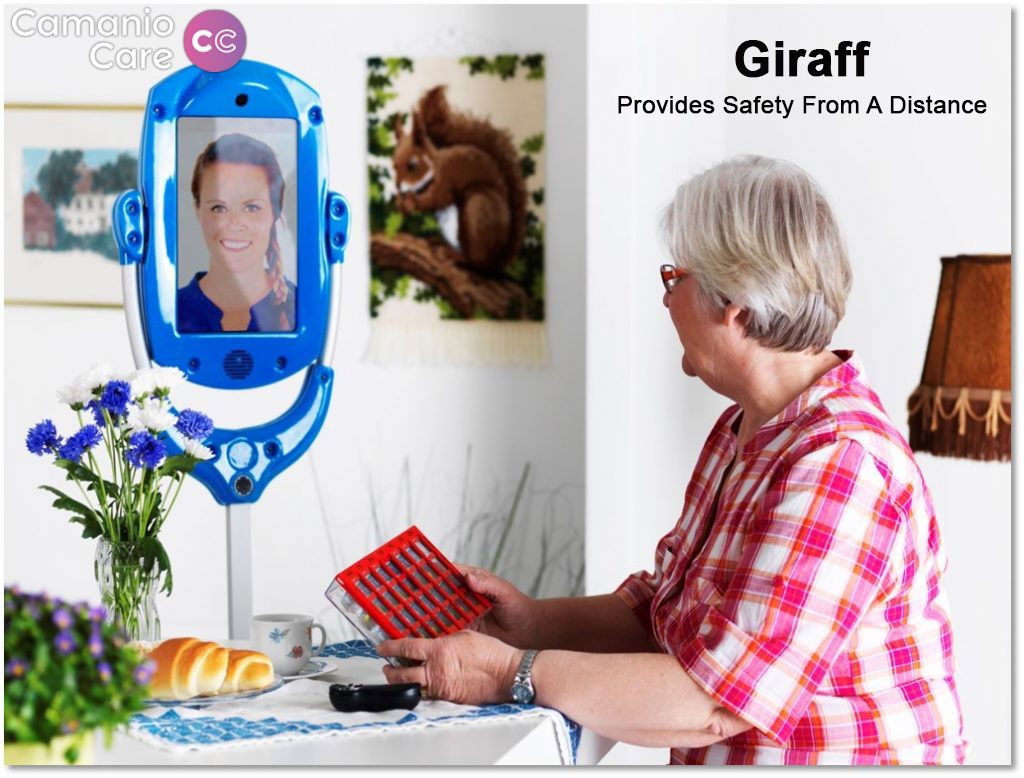 Giraff is a telepresence robot that relatives, home care and healthcare staff can use to virtually visit individuals that are still living at home despite their regular care needs. With Giraff you are using a secure network and are visiting from a distance. You can move around in their home freely and can interact with the Giraff user through its video system. The one that you are visiting can easily accept or decline a call, without any prerequisites. The one visiting through the Giraff only needs a computer with internet connection and basic computer skills. With Giraff you free up time from costly oversight visits, reducing travel time for healthcare staff and providing a feeling of security for patients and relatives.
Time
The Giraff creates more time for healthcare staff to visit patients. A large proportion of their time is spent on traveling between patients instead of the actual visits. By doing check ups using the Giraff instead, you can save time that can be better spent where it is needed. It will also be possible to offer closer care than we do today.
Independence
Getting regular visits by a familiar face or close relatives creates a calm feeling and social security for the person that is living alone. With the Giraffs big screen and mobile abilities, you can experience the presence of each other in a very real way. Together, you can move around in the home and experience each others presence. With the Giraff, the individual is given a better sense of independence.
Continuity
For healthcare staff, it is safer to be able to look after their patients in short intervals without first having to travel outside in traffic. For those who choose to stay at home despite the need for care, it is comforting for them to know that they can have regular visits and that the staff and relatives can visit on a regular basis, regardless of long distances.
Security
With Giraff you are using a secure network and are visiting from a distance. The one that you are visiting can easily accept or decline a call, without any prerequisites. 
Safety
If a caregiver wants or needs to check up on a patient even if they are unable to respond actively, special authorization can be given to individuals so that they are able to call without having to wait for the patient to respond. For example, this can be used for night time care or to quickly determine what form of assistance is needed in case of an emergency alarm.


Simplicity
The Giraff consists of a height-adjustable video screen on a long, narrow neck, and the bottom is equipped with a small computer. The robot moves around on resilient wheels, can move over rugs and thresholds and is easy to maneuver from a computer with a decent internet connection.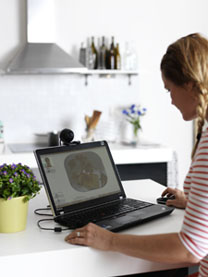 Elderly care is facing new challenges in providing good healthcare for the elderly that still live at home. If nothing is done, there will not be any staff available to meet the needs of the future. Using modern technology in home care is a way to provide better care without the need for staffing to increase at the same rate as the elderly. Giraff helps free up time for staff so that they are able to spend time on patients that really require human contact.
It also makes it possible to allow more qualified staff to be more useful for the elderly and spend less time between homes. Giraff increases the ability for elderly to live safely at home as long as they would like to and contribute to an improved quality of life for the patient.
All people really want is to be independent, involved, active and safe. Age and disease can limit the ability to achieve this without support from your surroundings. Many elderly people would like to be more independent in their daily lives and manage more in their daily lives without needing visits or assistance from healthcare staff. Easier and more meaningful contact with ones social network are also high on the wish list. Digital care via Giraff provides the opportunity for an increased quality of life, security and independence for the elder and higher efficiency of elderly care. Giraff can also be a way to make working in elderly care branch more attractive, especially amongst the younger generation that are just starting out and finding work. 
Recipients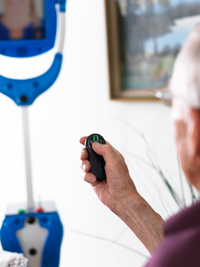 Being able to live at home while feeling safe and independent is something most people wish for. Giraff is a tool that can be placed in your home, with this help, home care and other healthcare professionals can make their visits virtually. The Giraff is controlled by caregivers and can be driven around in your home, you can simply sit down on the sofa and enjoy their company. With the help of the Giraff, you do not have to worry about people running in and out of your home. If you are in need of regular home care and healthcare staff, of course you will get it, the Giraff will only replace those visits where the staff usually just checks in quickly.
Your own relatives can also visit you, allowing you to see each other and they would be able to move around in your home just as if they were right there. You can get help with your crossword puzzles, check that the stove has been switched off and that the door is locked.
Giraff respects your privacy, with Giraff, you decide who visits you, how and when. When someone calls you decide with the touch of a button whether you will take the visit now or ask them to come back later. And you can allow your most trusted caregivers to enter without you answering. For example, this can be used for night time care or to quickly determine what form of assistance is needed in case of an emergency – just as if you had given them your door key.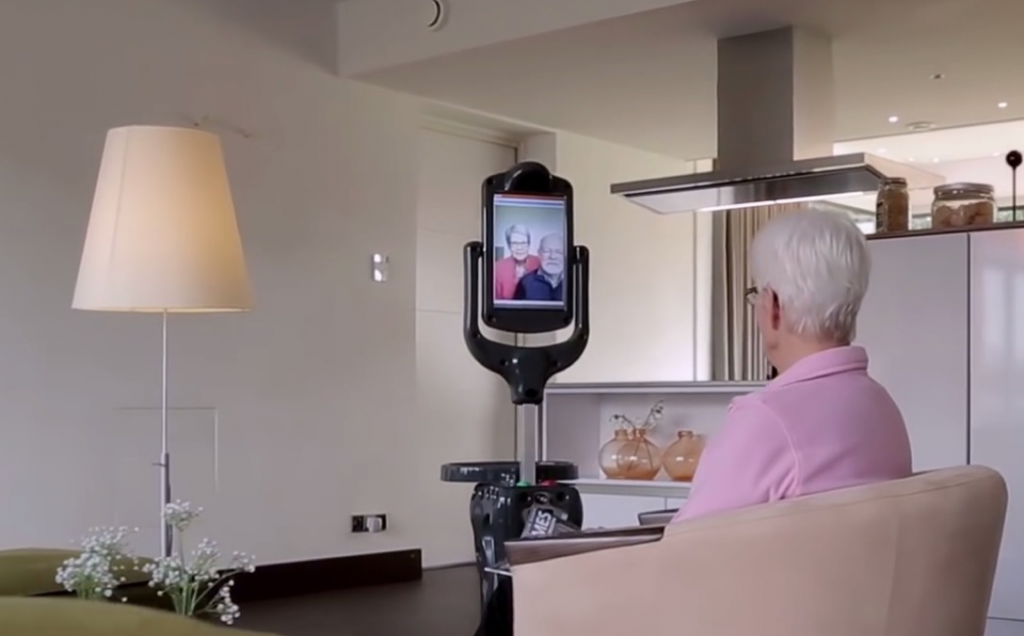 There are many reasons to try Giraff
Increased security and independence
Improved communication

Easy to use and manage
This is how Giraff works
Giraff is good for:

To continuously provide care


To be able to check in without having to physically be there and spending lots of time traveling from home to home. Frees up more time for the ones that really need physical visits from healthcare staff. 

Always be there to be able to calm and sooth the person


Be able to be in place with short notice in a simple and easy way, for instance, in case of an anxiety attack or after an emergency alarm has been triggered and waiting for help.

Visit for both healthcare and social purposes


Being able to move around at the home creates the opportunity to help with things like finding lost things, ensure they comply with their medication and checking that electrical appliances are switched off. The user does not need to get up off the sofa or bed but can easily answer using the remote control.