•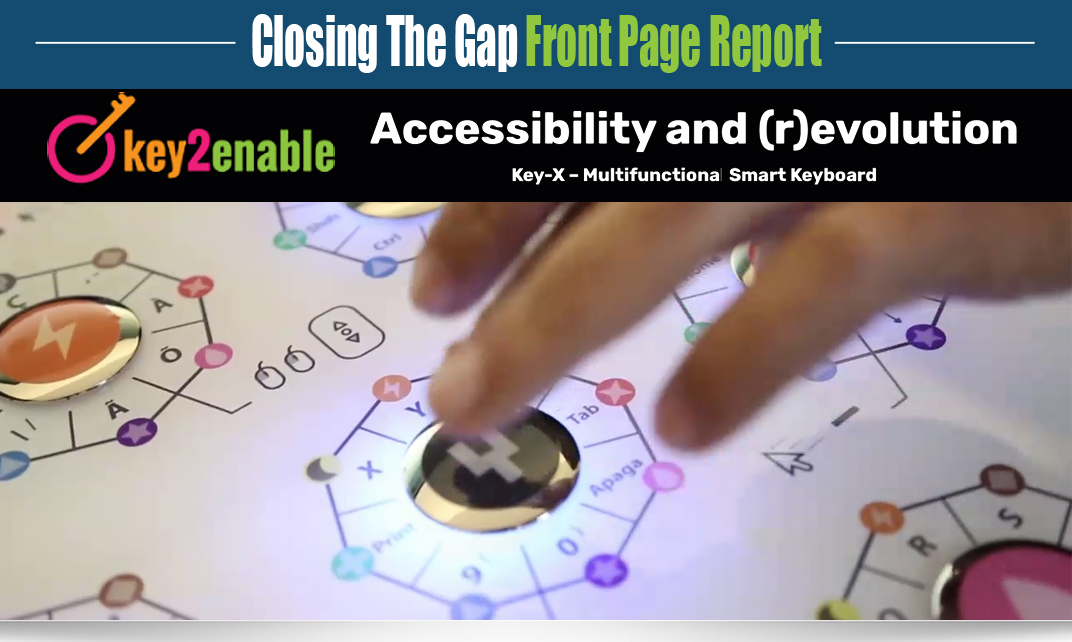 Multifunctional Smart Keyboard Key-X
The device that redefines the inclusion of people with disabilities.
Key-X allows people with any motor impairment to use any computer, smartphone or tablet with just eleven touch-sensitive keys, which can be activated even by the blink of an eye.
By itself, Key-X is an innovative resource, which gives autonomy to people with any motor limitation to control any computer. However, offering every function of keyboard and mouse with total accessibility is just a detail. With just eleven touch-sensitive keys, which can be triggered even by the blink of an eye, Key-X does much further. In conjunction with the Simplix software and its accessories, Key-X makes up an amazing platform of school inclusion and rehabilitation, capable of developing the motor and cognitive skills of students and patients with physical and intellectual disabilities.
Multifunctional Smart Keyboard Key-X Features
Makes typing easy, through the activation of iconographic keys in double sequences; the optional software FluentiX speeds up the typing by intelligently completing words;
It allows typing every alphanumeric character, accentuation characters, punctuation, symbols, and commands available in a conventional keyboard;
It allows a precise control of the cursor on the screen, with every resource of a common mouse (left and right click, double click, click and drag, and vertical scrolling);
It provides an alternative mode of operation for games and special software, such as Simplix, that allows interaction without the need to combine keys;
Large, well-spaced and touch-sensitive keys allow the use of the panel without needing much force, but robust enough to resist rough touches, and can even be used with the feet;
It can be controlled through any type of external switch (not included) by means of sequential scanning of the keys, thus enabling the use of the computer by people with more severe limitations, such as quadriplegics. Using the a-blinX switch (optional accessory), Key-X can be totally controlled with the blinking of the eyes;
It does not require an installation of any specific software, being able to be used for internet browsing, social networks, text editors and even games;
Plug and play USB interface that needs no configuration.
Target User
People with physical and motor disabilities, such as paralysis, tremors, amputations, incoordination and limitations of motor movement;
Schools and entities that have special educational care and inclusion of disabled students;
Centers of capacitation and formation of professionals with disabilities;
Companies that employ in their board professionals with disabilities;
Clinics, offices, hospitals and rehabilitation centers;
Occupational therapists, physiotherapists, speech therapists and health professionals that work in the rehabilitation area;
Benefits
Multi-use: one device allows complete typing and full control of the mouse pointer, obviating the need to occupy the screen with virtual keyboards and other accessibility resources for typing and navigation;
Multi-platform: the same equipment can be used in different types of devices, such as computers, notebooks, tablets, and smartphones;
Multi-user: Key-X Smart Mouse-Keyboard is designed to address many types of physical and motor disabilities, even the most severe cases of paralysis. Using external triggers as accessories (not included), Key-X allows the computer to be used even with the blink of an eye;
Through games and specialized software such as Simplix, Key-X allows individualized pedagogical activities aimed at students and patients with intellectual disabilities or non-literate;
Does not require the purchase and installation of any specific software to operate;
It gives people with disabilities the ability to communicate autonomously and perform activities such as drawing, surfing the internet and even playing games;
Key-X is easy to use and intuitive, allowing its use even by children in literacy;
The equipment is thin and light, yet robust. Its touch-sensitive keys are triggered by a slight slip; however, they are made to withstand rough touches and can even be used with the feet;
Key-X Tutorial 1: Scan mode without touching the keys (Digital Inclusion and Disability)
Key-X Tutorial 2: Using the mouse function (Digital Inclusion and Disability)
Key-X Tutorial 3: Turning on and writing (Digital Inclusion and Disability)
Key-X Tutorial 4: Using the Key-X just blinking your eyes (Digital Inclusion and Disability)