•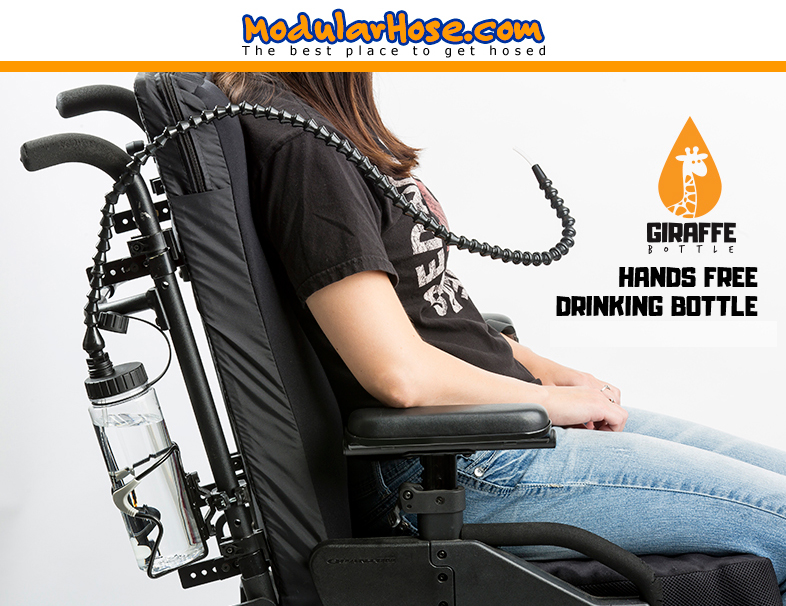 The Giraffe Bottle™ Hands Free Drinking Solution allows users with various abilities to stay hydrated. The system is designed to be flexible and easy to use. The solution is great for desks, wheel chairs, beds, tables, and more. Combine the bottle with the Giraffe Bottle Holder and/or the ModularHose mounting system for additional awesomeness and flexibility. Available in various neck lengths from 9 inch/22cm to 36inch/92cm.
The Giraffe Bottle system starts out with a BPA free clear bottle that is easy to see if it needs refilling. The bottle also features markings in ml/oz for hydration monitoring and reporting. With the attached cap, the neck and tube can be removed and the bottle used as a standard drink bottle, put into the refrigerator, or available as a spare bottle ready to use.
The drinking tube is FDA NSF-51 and NSF-61 and can easily be removed to be cleaned or replaced. The system also features a check valve that prevents liquid from flowing back into the bottle so subsequent sips require less effort. Of course, the system features the famous ModularHose.com neck so that you can position, adjust, and move the neck where you need it.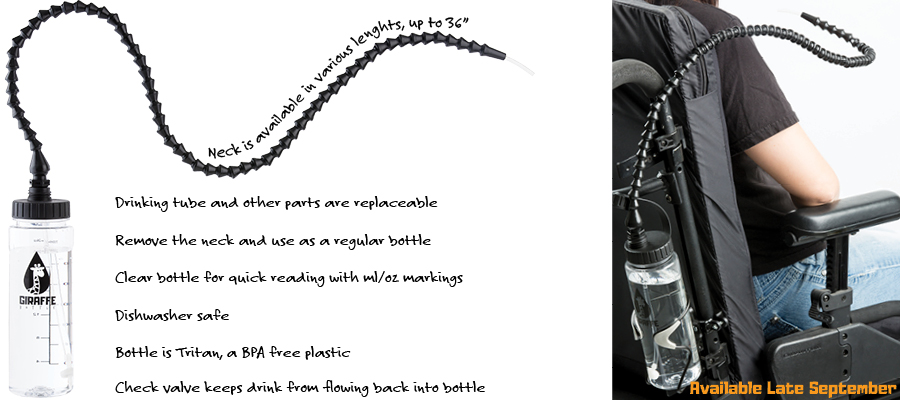 Features:
Available in various neck lengths from 9 inch/22cm to 36 inch/92cm
Clear bottle with ml and oz markings for hydration recording – easy to see when bottle needs to be refilled / replaced
Dishwasher safe; hand washing is recommended for the drinking tube
Replaceable components – easily replace the drinking tube or check valve
Modular design
FDA materials
Check valve prevents liquid from flowing back into the bottle; subsequent sips require less effort
Long reach cleaning brush allows for easy cleaning inside the drinking tube
Maximum operating temperature 165°F/73°C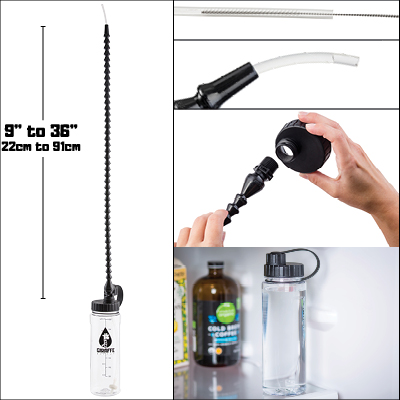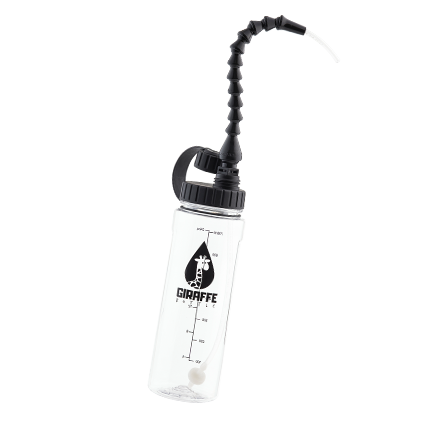 Includes:
Tritan 750ml/25oz Bottle; Tritan is a BPA-free plastic, it is not manufactured with bisphenol A (BPA) or other bisphenol compounds, such as bisphenol S (BPS)
ModularHose Neck
Drinking Tube; BPA and phthalates free, NSF-51, NSF-61, Regulation (EU) No 10/2011, Regulation (EC) No 1935/2004
Check Valve; FDA Approved PP/Silicone
Cleaning Brush; Stainless Steel and Nylon
#504911 9″ Neck
#504912 15″ Neck
#504913 20″ Neck
#504914 25″ Neck
#504915 30″ Neck
#504916 36″ Neck
Recommendations/Tips:
Not recommended for very hot drinks such as coffee or hot chocolate as the bottle could become to hot to touch.
The check valve does not work with carbonated beverages, drinks with pulp, or thick liquids. Simply remove the check valve when enjoying those drinks.
With the attached cap, the adjustable modular hose and drinking tube can easily be removed and the bottle put into the refrigerator or exchanged with another bottle.