•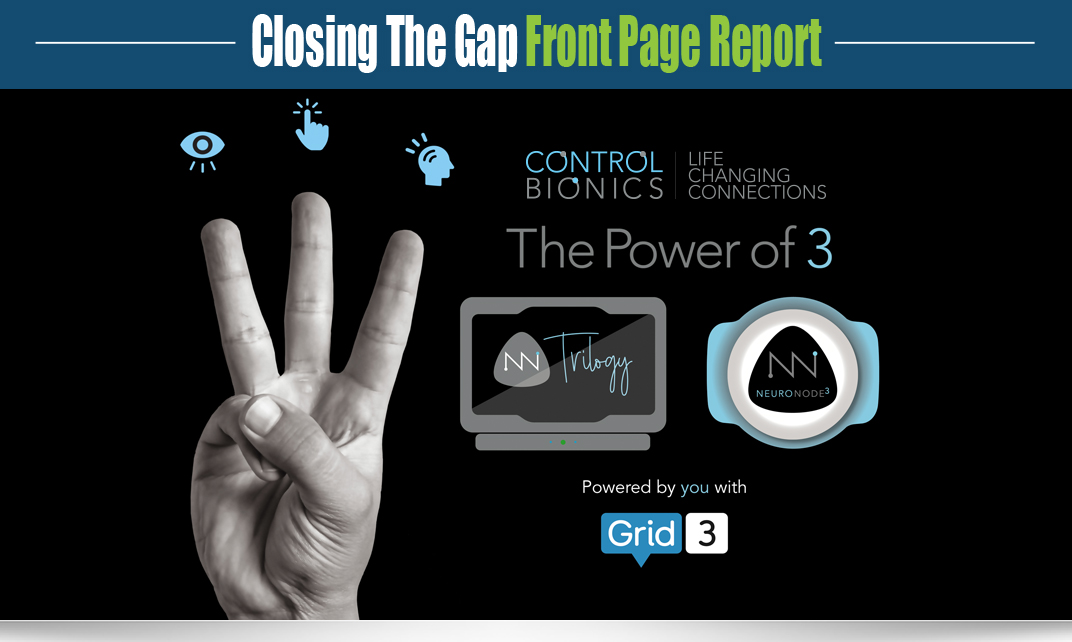 NEURONODE TRILOGY
The Latest AAC System from Control Bionics
Neuronode Trilogy, the latest device from Control Bionics combining three powerful access methods, provides a lifetime solution for those with paralysis and loss of speech. Faster communication, complete control powered by Grid 3, and a onetime funding application – what more could you ask for?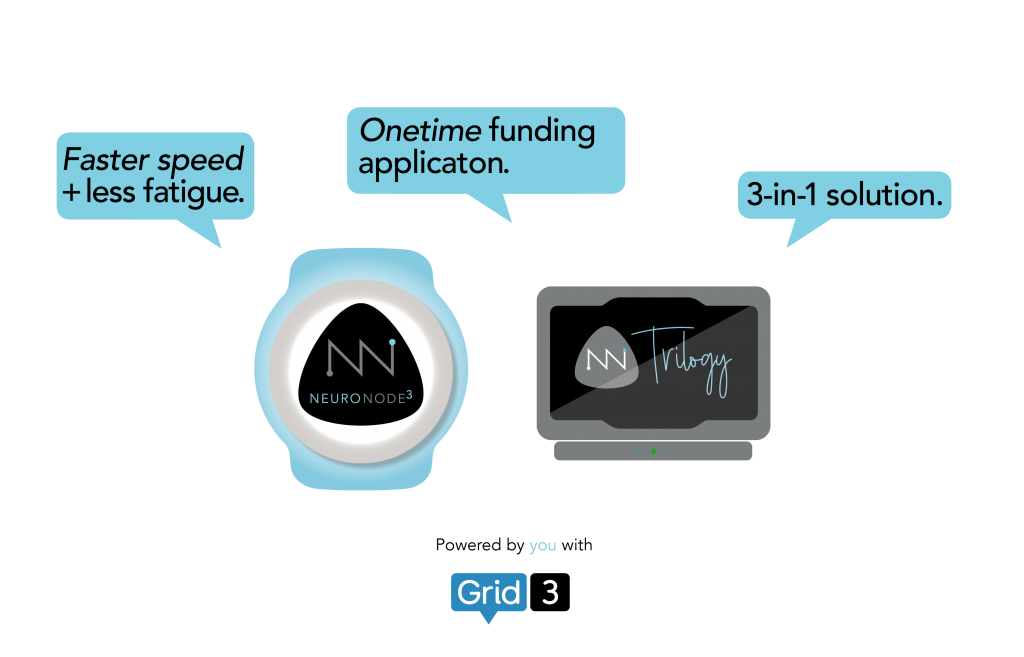 WHAT IS THE NEURONODE TRILOGY?
NeuroNode Trilogy is a 3-in-1 solution for those living with paralysis and loss of speech.
Combining touch control, eye control and NeuroNode 3.0 control, the NeuroNode Trilogy is finally the solution that fits to the user's needs as they change. Combining control methods allows the user to significantly increase communication speed and output up to 133%.
---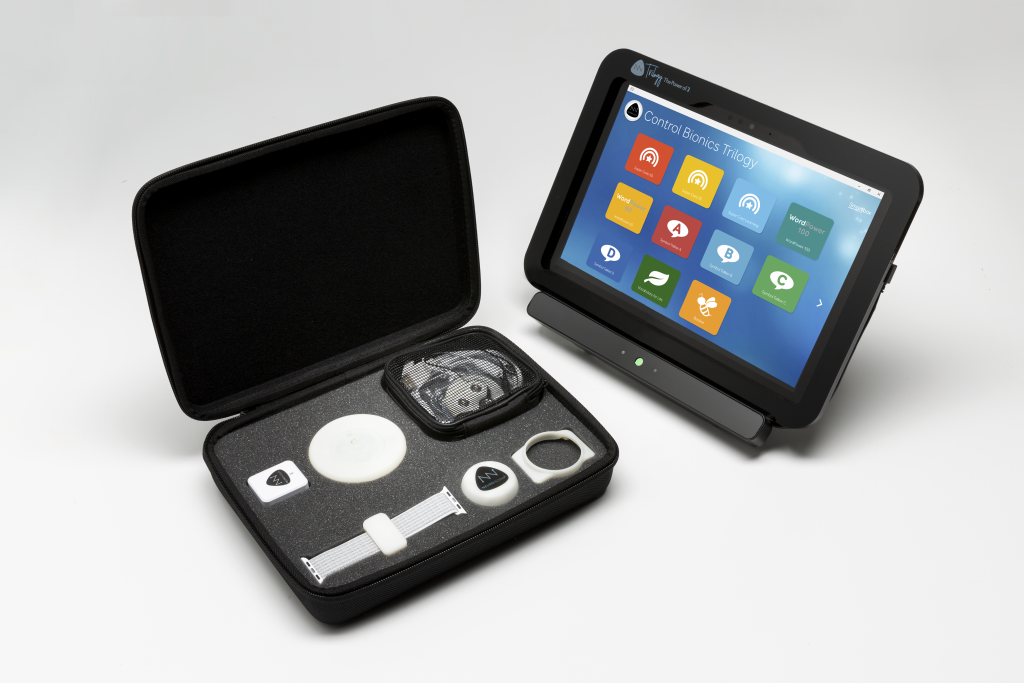 FEATURES
NEW adhesive-free, wearable solution with the NeuroBand
Compatible with iOS10, Android, and Windows operating systems
Over 24 hours of continuous battery life with hassle-free charging
Bluetooth 4.0 wireless connection
BENEFITS
Easy for caregivers to set up and operate
Reliable operation once calibrated
Fast for users to learn and control – begin using it within 30 minutes and quickly become proficient
Low user fatigue to operate
Adjustable sensitivity according to an individual user and fatigue levels

WHAT IS EMG?
EMG, or "electromyography," is the measurement of electrical activity associated with the activation of a muscle group. While EMG technology has been used in clinical and research settings for decades, we have spend 10 years advancing the EMG technology inside the NeuroNode especially for people with severe motor impairments.
EMG control is a powerful access method for a wide range of conditions with many benefits:
entirely independent of body position and light condition
less tiring and more consisten than traditional access methods
completely wireless, making it easier for caregivers to work around
HOW DOES IT WORK?
The NeuroNode 3.0 is placed on the skin over the muscle chosen to be the switch. When you attempt to move that muscle, the NeuroNode detects your bioelectrical (EMG) signals, even if there is no visible muscle movement, and uses these signals to allow you to control Grid 3 preloaded on the Neuronode Trilogy System.
The Neuronode Trilogy System is a revolutionary AAC device suitable for individuals living with conditions like ALS/MND, spinal muscular atrophy, cerebral palsy, or spinal cord injury. Its unique ability to change the access method alongside the user's needs makes it the ideal communication solution for degenerative conditions.
WHAT CAN YOU DO WITH THE NEURONODE TRILOGY?
NeuroNode allows alternative communication and control in order for clients to…
Communicate with family, friends, caregivers and clinicians
Send and receive text and email messages
Browse the web, watch videos and movies
Listen to music, radio, and podcasts
Read the news
Use environmental control systems
Explore the world using AT and telepresence robots
Control external devices
WHY CHOOSE THE NEURONODE TRILOGY?
While there are many great AAC solutions in the market, the NeuroNode Trilogy is designed to make your life easier. Combining three methods of control with Grid 3 software means one AAC software solution, one SLP evaluation, and one funding application.
For super-users, this means the fastest AAC solution around, and for those with progressive illnesses, it means a solution that changes alongside their needs.
The Control Bionics Team support the NeuroNode Trilogy around the clock. Give us a call any time of day and talk to a real person; most issues can be resolved within 3 minutes!
WHAT IS THE NEURONODE 3.0?
At the heart of the NeuroNode Trilogy is the NeuroNode 3.0, the latest generation of the world's leading wearable EMG control device. The NeuroNode 3.0 is packed with new added benefits – making it more intuitive and flexible than ever.
The NeuroNode 3.0 now offers the combined power of its EMG + NEW 3D Spatial Control. This new control set allows users to choose EMG or Spatial control to access the NeuroNode Trilogy, all in one small, wearable device.
Who They Help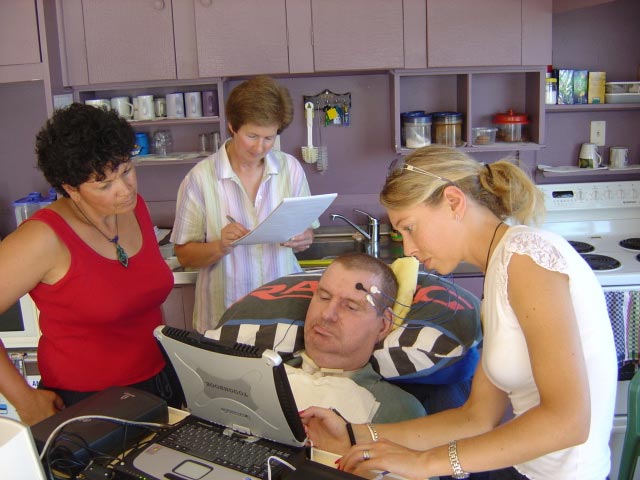 Originally, their EMG assistive technology was developed to help returned servicemen with spinal cord injuries but no brain function impairment to communicate when all else had failed. Today, it successfully helps people with a range of conditions to find their 'voice' once more.
These include:
ALS (Lou Gehrig's Disease), also known as Motor Neuron Disease (MND)
Locked-in Syndrome
Cerebral Palsy
Spinal cord injury (SCI).
They have also had some success with people with autism or who have suffered strokes.
Click here for more information on Control Bionics.