•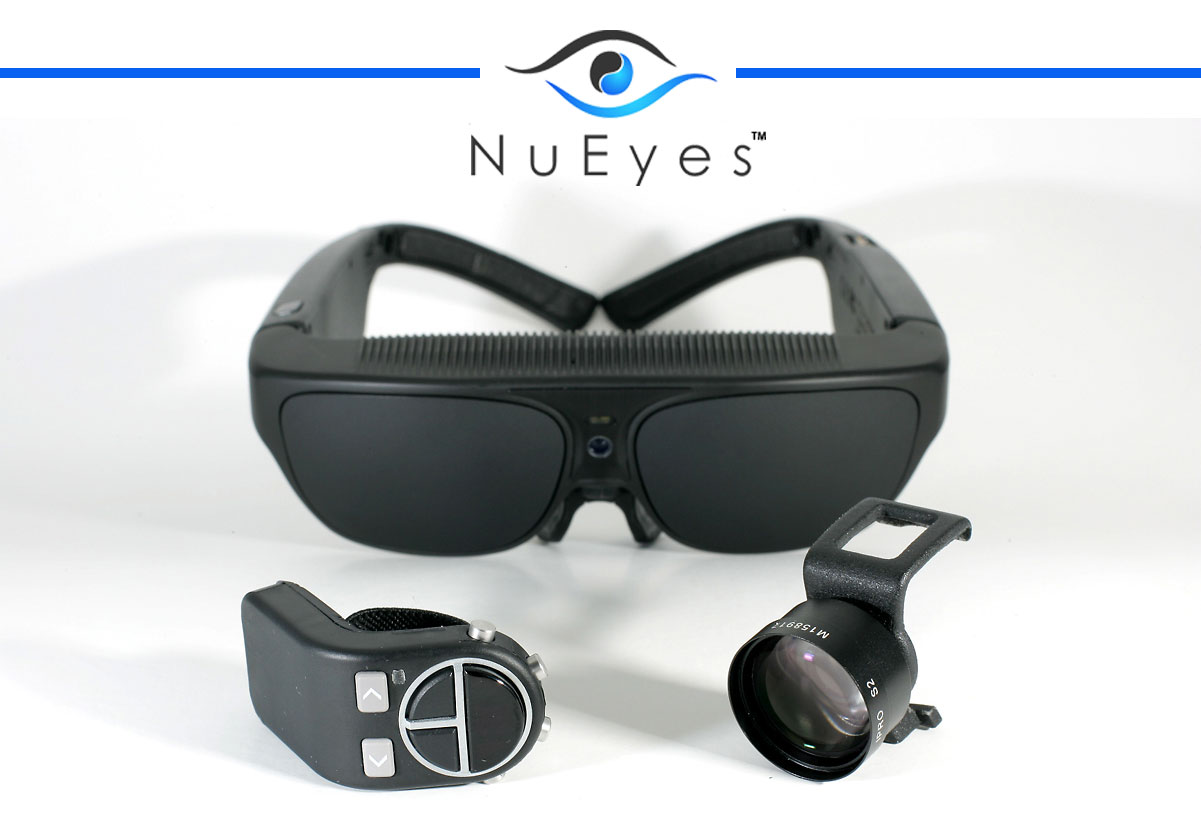 NuEyes Opening Up A New World in Low Vision
Felix Reges, a 10-year-old boy, is able to see clearly for the very first time with the help of wearable technology. His parents and teachers say, "It's opened up a whole new world for him."
NuEyes Changing Felix's Life
The Sunrise Valley Elementary School 4th grader has had severely impaired vision his entire life, but this past summer he got a pair of augmented reality (AR) glasses. This life changing technology is NuEyes featuring ODG Smartglasses, giving Felix a whole new outlook on life.
The NuEyes Smartglasses give him the ability to actually see what is outside, which used to be a grey area for him. He can now recognize faces, where before he had to be within 2 feet of the person to recognize their face. The first time Felix went to class with his NuEyes Smartglasses he was able to see his classmate's faces for the first time, instead of just recognizing them by their voices. He used to sit right next to the school board just to see a little bit, now he can sit at a normal distance and read the school board clearly.
NuEyes gave ability to see outside world
Felix can now recognize faces
He sees his classmates faces for first time
The school board can be read clearly now
What NuEyes Smartglasses do
NuEyes featuring ODG Smartglasses film the outside world with a camera on the bridge of the glasses and project the image on electronic screens located in front of the user's eyes. Numerous changes can be made to the glasses based on visual needs, such as making the image bigger or changing the contrast of colors. This can be done by voice-activation controlling the glasses.
Also, NuEyes featuring ODG Smartglasses are wireless allowing the freedom to see anywhere. The Smartglasses are wireless and voice activated and have helped to change a little boys life. Anyone who is legally blind or severely visually impaired is eligible for the Smartglasses. At this moment a few hundred people have NuEyes featuring ODG Smartglasses and the cost is just under $6,000 a pair.
A camera projects images back to user
Images can be made bigger or smaller
Contrast of images colors can be changed
Smartglasses are voice-activated and wireless
Felix finds the glasses really fun because he loves technology and loves sharing them with his classmates. The Nueyes featuring ODG Smartglasses opens up Felix's world in a way so far that other technology has not been able to. Felix told his parents that he feels just like one of the other kids now.
First ever lightweight, wireless, head worn, voice activated device for the visually impaired.
NuEyes Pro removable visual prosthetic featuring ODG smart glasses is the first ever lightweight, wireless, head worn device that is voice activated for the visually impaired. Whether you have macular degeneration, glaucoma, diabetic retinopathy, retinitis pigmentosa, or other visual conditions NuEyes can help!
NuEyes Pro is a very simple product to use and can be either operated with our wireless controller included with the product or using simple voice commands.
FEATURES
Read and write using NuEyes

Watch TV and Movies

See the faces of loved ones

Continue hobbies such as reading music and playing cards

Regain visual independence

Variable Magnification from 1x-12x

Various contrast and color changes

Voice Activated

Wireless

Lightweight Design

2 Year Warranty

OCR

Stream TV and Movies
NUEYES PRO FEATURES
Full Android Computer

Internet Browser

Email

Barcode and QR Scanner

Social Media Applications
NuEyes allowing the visually impaired to see
What is NuEyes?
NuEyes is the future of wearable technology allowing those with low vision to see and take part in everyday tasks, such as reading and being able to see a loved ones face. NuEyes featuring ODG Smartglasses are electronic, lightweight, and compact allowing for hands-free use.
What conditions does NuEyes help?
Macular Degeneration

Diabetic retinopathy

Ocular Albinism

Optic Atrophy

Cone-Rod Dystrophy

Forms of Glaucoma

Stargardt's Disease

Optic Nerve Hypoplasia

Leber's Hereditary Optic Neuropathy

Nystagmus

Retinopathy of Prematurity

Forms of Retinitis Pigmentosa

And other conditions
Their mission
The elderly population is growing exponentially and with that comes higher levels of visually impairing diseases. NuEyes in partnership with ODG wants to give the visually impaired the opportunity to have a normal life and partake in everyday tasks without their vision disabling them. Everyone has the right to see!
What activities can I do?
Cooking

Walking

Reading

Going to school

Watching TV

Managing finances

Shopping

Attend cultural events

Travelling on public transportation

Seeing a loved one's face for possibly the first time
What makes Nueyes different?
Sleek design – Our smartglasses are lightweight and compact, weighing only .27 lbs(125 grams). They are all black with a stylish and practical design.

Allows freedom – A hands-free device allows use of both hands while the smartglasses enable vision.

Speech Recognition – lets wearers use voice commands to improve the image projected through the lenses.

OCR/TTS – Optical Character Recognition along with Text To Speech technology will read printed material to the wearer.

Activities of daily living – NuEyes smart glasses for low vision are wireless, allowing free and independent mobility in the home and outside. Tasks from cooking to grocery shopping are now made possible.

Natural Sight Replicated – The front camera auto focus feature allows automatic focus switching between near and far objects to simulate the function of natural human eyes. Mid-range vision will help in seeing faces or watching TV. Lastly, long-range vision allows sight for far away, such as looking outside a window (via the included optional 2x lens).

NuEyes "smart" glasses offer magnification up to 12x (additional 2x lens included for distance)

NuEyes smart glasses are the first wireless, hands-free low vision aids that offer mobility benefits as users do not have to bother themselves with wires and control buttons.
Proof that NuEyes works.
At the Consumer Electronics Show 2016 NuEyes featuring ODG Smartglasses were distinguished as a winner named "technology that improves lives". Within our website are numerous articles documenting the success of NuEyes as well as videos showing the real life improvement that our glasses can have.
The Origin of NuEyes
CEO Mark Greget was working with distributing magnifying boxes for the visually impaired in their homes. A recurring question arose as to why technology had not been created in glasses to do the same thing as the big and bulky boxes. Next came the idea to create a pair of glasses that would fulfill these needs. Soon after Mark started working with different manufacturers for head worn devices trying to find what was going to be best for the consumer. Partnering with a company called ODG, Osterhout Design Group, who makes military technology for special operations they created the NuEyes smart glasses for low vision.