•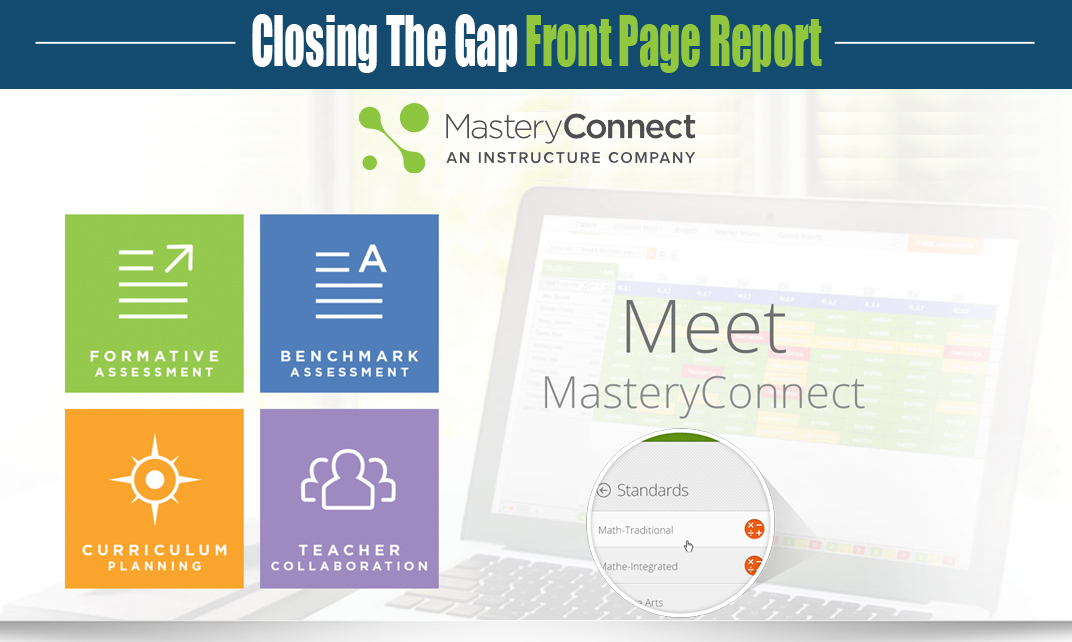 Stop 'collecting' student data. Start using it.
MasteryConnect is the assessment platform designed to show performance data in an intuitive, visual way. Because assessment data is only valuable if you can use it to immediately improve teaching and learning.
Ensure that assessment data is used at every level, from the district office to the individual classroom, with easy-to-use tools and integrated reporting that delivers the right data at the right time.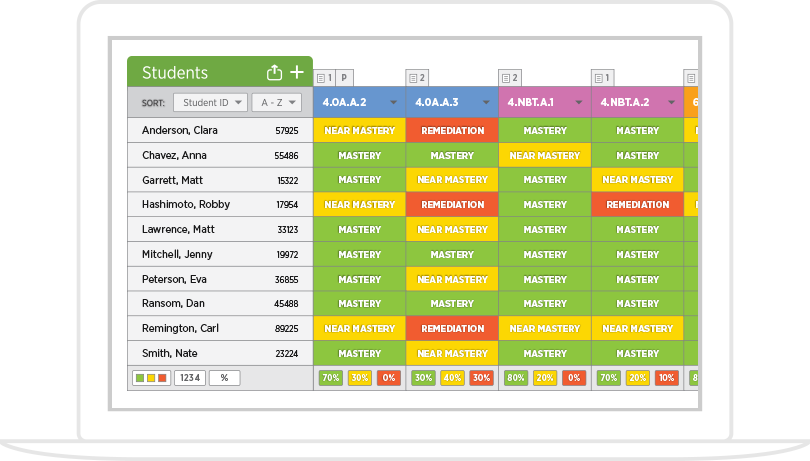 Formative Assessment
Create and launch formative assessments to get immediate feedback about what your students know and don't know relative to any set of standards. Then target interventions and adjust instruction in the moment.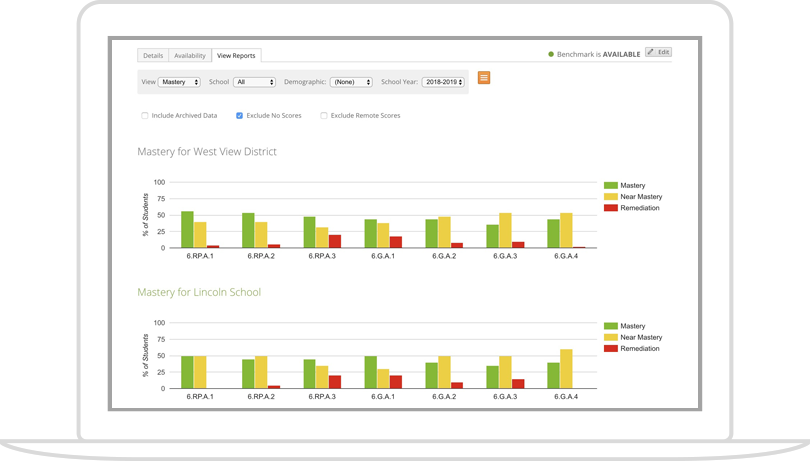 Benchmark Assessment
Easily create benchmarks using item authoring tools or integrated item banks for teachers to deliver and score in the classroom. Set proficiency targets, measure growth and incorporate benchmark data into the formative process.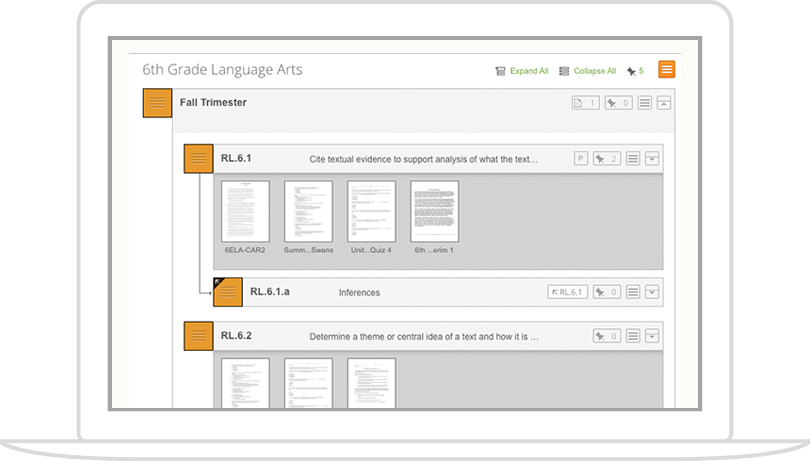 Curriculum Planning
Map your standards and curriculum across the district with common assessments and resources, enabling wider collaboration. Update and deploy maps in a snap, and save time by building on them year after year.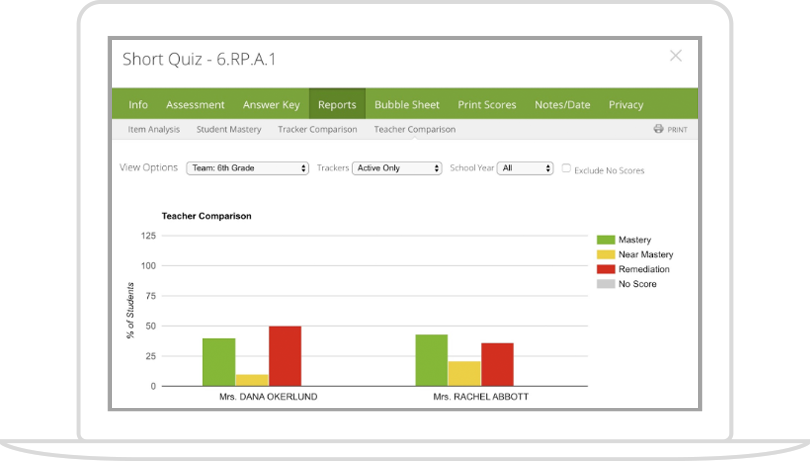 Teacher Collaboration
Fuel your PLC with collaborative tools, like common assessments and comparison reports, to gain insight into best practices, learning trends, and instructional approaches. Search the online community to collaborate and share quality standards-aligned resources.
---
---
Features
Mastery Tracker – Designed with the teacher in mind.
Through MasteryConnect's MasteryTracker, teachers can effectively assess core standards, monitor student performance, and report student mastery to parents and administrators.
ASSESS WITH ANY CONTENT – Use multiple choice, rubrics, oral assessments, writing assessments or any curriculum or content type.
CURRICULUM MAPS – Mix and match standard sets, create custom standards, and easily drag and drop standards into any sequence.
STATE AND COMMON CORE STANDARDS – Convenient 'View Standards' links helps teachers stay focused on teaching and assessing core standards.
INTEGRATED STANDARDS RESOURCES – Easily view resources and content tied to both state and Common Core standards.
RESPONSE TO INTERVENTION (RTI) – With simple reports and the mastery tracker, identifying students for tiered interventions has never been easier.
REAL-TIME MASTERY STATUS – Visualize student performance relative to the core with the traffic light approach of red, yellow, and green mastery status.
MULTI-STANDARD / BENCHMARK ASSESSMENTS – Administer district-created or teacher-created benchmark assessments. Utilize third-party item bank content.
STANDARDS-BASED STUDENT REPORTS – Integrated standards-based reports provide real-time information about mastery to students and parents.
REMEDIATION / RE-TEACHING – With focus on individual standards, teachers can easily identify which students are struggling to understand a concept.
---
Common Assessment Creation & Sharing – Common assessment sharing is FREE for all teachers.
Teachers sharing common assessments saves everyone time. Share assessments of any curriculum type such as multiple choice, open-answer, rubrics, writing and oral assessments.
UPLOAD ANY DOCUMENT TYPE – Assessments can be uploaded in any digital format including Microsoft Word, Adobe PDF, or OpenOffice.
AUTOMATICALLY ADD TO THE MASTERY TRACKER – Instantly add assessments to your mastery tracker for immediate grading and feedback.
POWERFUL FILTERING & PEER REVIEW – Powerful filtering tools help you get to the best and most used assessments. View assessments that have been peer reviewed by teachers just like you!
FORMATIVE ASSESSMENT ITEM BANK – Easily create custom benchmark / interim assessments and standards-aligned common formative assessments. MasteryConnect offers third party item banks as well as the ability to import item banks that you create.
DISCUSS AND COLLABORATE – Take your PLC online with discussion tools around common assessments, standards, and data.
MODIFY AND REMIX ASSESSMENTS – Download and modify teacher-created open educational resources (OER) to make valid for your class. Re-upload and share back with the community.
PRIVACY CONTROLS – Maintain control over the privacy of your assessments and keep private to yourself. Share assessments within just your school/district, or share with the entire MasteryConnect community.
TECHNOLOGY ENHANCED ITEMS – Deliver technology enhanced items (TEI's) on tablets, mobile devices, and through a web browser. Prepare students for the new PARCC and SBAC assessments.
---
Resource Pins – Pin and discover standards aligned resources.
With familiar pinning tools, easily find resources that have been