•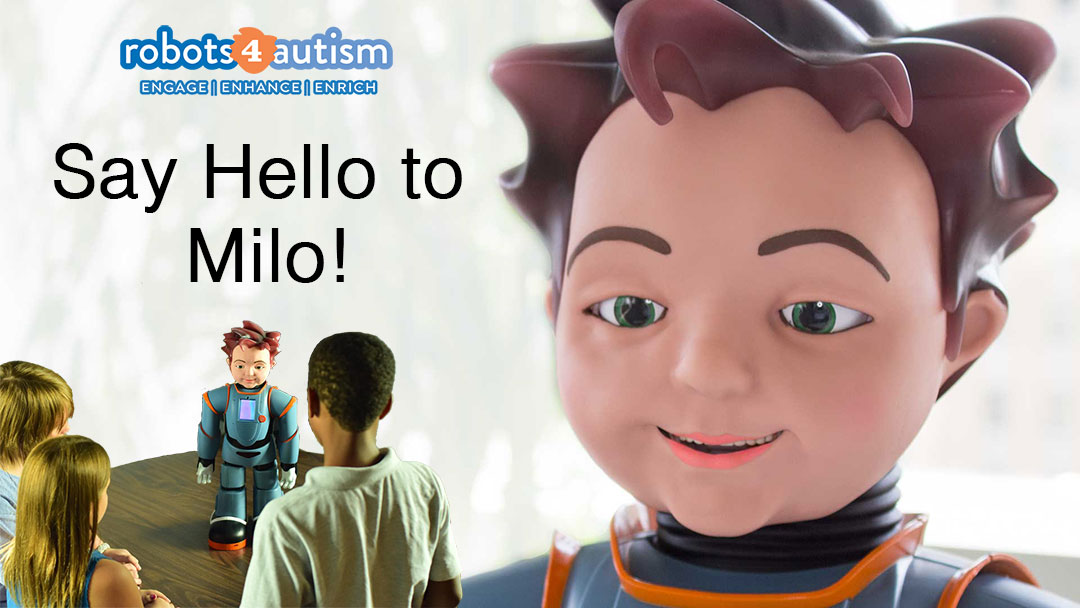 Say Hello to Milo!
A Non-threatening way for learners with ASD to practice their communication and social skills.
Milo the robot is designed to be interesting and approachable for learners with ASD. He can walk, talk and even model human facial expressions. Milo never gets frustrated or tired. He consistently delivers lessons in a way that learners with ASD respond to. This recurring positive experience creates an environment in which learners can learn and thrive. Robots4Autism helps learners improve their social and behavioral skills and gain the confidence they need to succeed academically and socially.
Using the Robots4Autism program, individuals with ASD learn to:
Tune in on emotions
Express empathy
Act more appropriately in social situations
Self-motivate
Generalize in the population
The Robots4Autism lessons are designed to teach social behaviors and emotional identification to learners ages 5-17 who meet the Prerequisite Skills. To determine if the curriculum is appropriate for your child, please read the prerequisite skills needed.
Milo delivers lessons verbally. As he speaks, symbols are displayed on his chest screen that will help your learner better understand what he is saying. Throughout the lessons, Milo will ask your learner to watch four to five second video clips on the student tablet. The videos show learners displaying the skills or behaviors both correctly and incorrectly that Milo is teaching. Your learner will be asked "yes" or "no" questions to determine if the learners in the video are doing the behaviors right or wrong.
It is recommended that your learner work with Milo, along with an educator or therapist, for 30 to 60 minutes at least three times a week.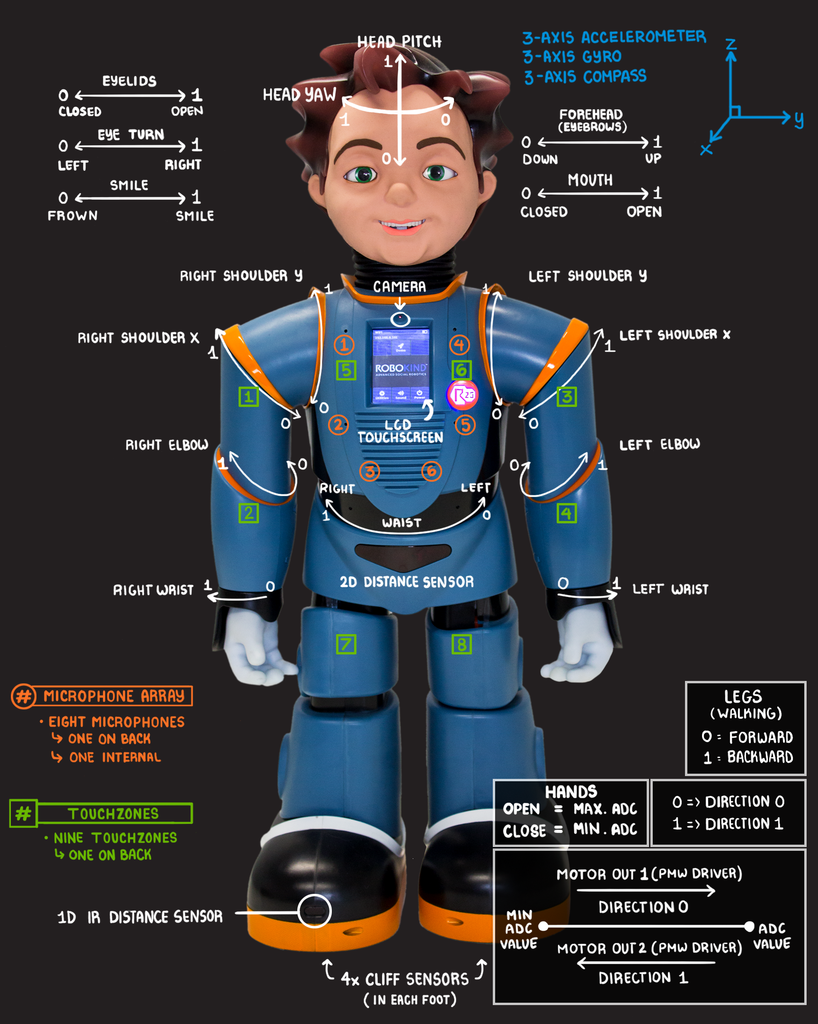 ---
Success Stories
MEET MILO, A ROBOT HELPING TEXAS STUDENTS WITH AUTISM
By Steffi Lee, KXAN
ELGIN, Texas – It used to be difficult for Elgin Middle School seventh-grader Abigail Wise to stay focused during some of her lessons in the classroom.
"Sometimes self-soothing and calming was a challenge," Dr. Shannon Darst, itinerant teacher of students with visual impairments, said.
However, after more than a year of using Milo, a robot designed to help students with autism spectrum disorder by Texas-based company RoboKind, Wise is now engaged and attentive. The curriculum when working with Milo deals with teaching students social skills.
"She knows how to greet," Darst said. "She knows how to say goodbye."
Creators of Milo say students respond to Milo because of the robot's facial expressions. Research from the Callier Center for Communication Disorders shows "individuals with autism start talking to the robots when they don't talk to other people."
"We are always participating in studies, so right now we have studies going on in about 25 different universities and we are looking at the research that's coming out of that to figure out, how can we use this to improve the curriculum, expand the curriculum and make what we're doing work better," Richard Margolin, chief technology officer, said.
Milo can provide something not all humans can, Darst says.
"He can repeat and repeat and repeat and repeat and repeat and he never gets frustrated," she said. "[Students] will feel a teacher's frustration. They will feel like, 'Oh my goodness, we've done this 100 times. Let's just get it.' — that desperation almost that we just want our kids to succeed. They know they can depend on how Milo's never going to get frustrated. We're never going to get cut off in the middle of a lesson."
According to numbers from the U.S Department of Education, more than 500,000 children in the country who have autism are currently getting services at school for their learning disabilities. More than 51,000 are in Texas.
Darst said Milo has transformed learning for students like Wise within Elgin ISD's elementary and middle schools. Wise knows how to self-advocate now.
"We can work on self-soothing," she said. "We can work on calming down by ourselves. We can work on these soft skills that they might need when they're grown up, wanting to get jobs and wanting to have roommates."
House Bill 21, passed during the special session, set aside grant programs for districts and charter schools that provide services to students with autism and dyslexia. Grant funds will be awarded beginning in the 2018-19 school year. $10 million has been set aside for the autism grant program, with another $10 million targeted to help students with dyslexia.
---
PIUTE COUNTY, MILO HELPS CHILDREN WITH AUTISM MAKE FRIENDS
After KLS, a news outlet in Utah, ran a story on Milo teaching children with autism spectrum disorder (ASD) in Piute County. RoboKind reached out to the school and caught up with Circleville Elementary's special education teacher Kristy DeLange, who was featured in the KLS news coverage. She was joined by the Director of special education for Piute, Heidi Hansen, and Erica Cardman, a parent whose 10-year-old son, Culann Waddington, works with Milo.
Milo was introduced to their district by Mark Child, the Executive Director of Marketing at RoboKind, and has been working with over eight students, who have various mental disabilities, for a little over four months. The children have shown incredible improvement both academically and socially. For Cardman, she says that her son has even gone so far as to start a club called the Digidestined, based off the popular Japanese animation Digimon, and actively develop friendships with his peers.
"Since working with Milo, he'll ask to stay late after school to meet with his club he put together, or he'll ask to go over to friends' houses,"Cardman tells RoboKind. "Something that he never really did before because he just didn't like to go out there and be around other people."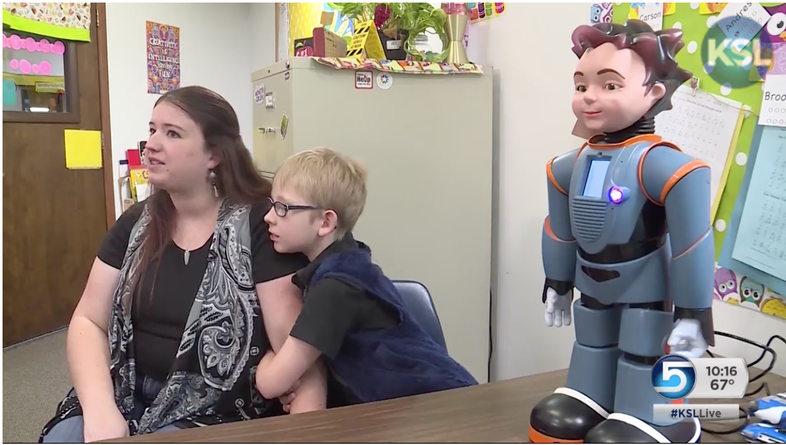 DeLange says that another child who has behavioral problems and struggles with understanding the difference between him and others has slowly started to develop awareness. Another student who is multi-handicap and struggles with communication now initiates conversations.
"We always knew she had a lot to say," Hansen says, "she's starting the conversation, and we're not always drilling her with questions."
During the interview, Cardman made it clear that she is a proactive parent who is constantly looking for ways to improve or help Culann succeed in life.
"I've looked up so many articles, there have been specials that I've watched on T.V.," she explains, " I've looked into therapies, what kind of activities I should be looking into. It kind of turns your world around as, 'Hey, I have a child with autism. What can I do to do the best by him?' I'm very much proactive, I go after whatever I need to help any of my children. The first thing I did was I got him up to Salt Lake, which was a bit of a drive, and got him fully tested at the University of Utah."
Cardman and DeLange work as a team to ensure Culann's academic success. They worked together to build achievable individualized education program (IEP) goals, and lessons with Milo have helped to succeed in the social development goals.
"The friend issue will affect them for their whole life, and if we can teach them those social skills through Milo, and then we reinforce it in the classroom, and at home, Culann's going to have friends, and he's going to be happier," DeLange says.
"Autistic children, especially higher functioning ones like Culann, they know they're different, and they know they don't have friends, so they're hurting all the time," Hansen adds. "If we can help them be part of the school and have friends they're going to be more successful because they have real strength academically usually and artistically, but we need to have them fit in too."
"Including them in generalized classrooms also, the general student learns aspects of kindness and how to treat others. They also learn about diversity. I think it benefits everyone."
So many people with autism spectrum disorder (ASD) struggle with social cues and emotional beats. Robots4Autism helps them develop the skills they need to cross the divide between autism and the rest of the world. In Piute County, Milo is having a bigger impact than just on children with autism. He is helping other students with disabilities join regular classrooms, and in turn contributes to creating a more understanding environment for all.
---
The Experts – Meet the Autism Experts who Helped them develop Robots4Autism
DR. PAMELA ROLLINS – MS CCC-SLP, ED.D, UNIVERSITY OF TEXAS – DALLAS
Pamela Rollins, MS Ed.D. has devoted more than 30 years to research, teaching and clinical practice in service of children with Autism Spectrum Disorder (ASD) and their families. She is a certified clinical speech language pathologist who holds a doctorate of from Harvard Graduate School of Education.
Her early research focused on:
The critical evaluation of language measures
The development of social-communication tools that could be used with typical children and children with Autism Spectrum Disorders (ASD)
Currently, Dr. Rollins is researching:
Using social-communication tools in defining learning and communication processes associated with acquisition of social communication and language children and adults with ASD
From 2003 to 2010 Dr. Rollins was the founding Director of the Early Communication, Language & Social Skills (CLASS) Preschool for children with ASD at University of Texas-Dallas, Callier Center for Communication Disorders.
The theoretical underpinnings and social skills curriculum is the focus her forthcoming book, Early Communication, Language & Social Skills: From Theory to Practice, which will be published by Autism and Aspergers Press, Spring 2014.
Dr. Rollins teaches graduate level courses on the assessment and treatment of children with ASD at the Callier Center for Communication Disorders, part of the School of Behavior and Brain Sciences at the University of Texas in Dallas.
She is also a three-time gubernatorial appointed member of the Texas Council for Autism and PDD and holds leadership positions on many of the Texas early identification and intervention planning and implementation initiatives for ASD.
---
CAROLYN GARVER, PHD – PROGRAM DIRECTOR AUTISM TREATMENT CENTER – DALLAS
Dr. Carolyn Garver holds a PhD in Health Studies and has been the Program Director for the Autism Treatment Center in Dallas since 1979. She was an Adjunct Professor teaching Epidemiology at Texas Woman's University; has published numerous studies and articles; and spoken to many groups around the world regarding the autism spectrum.
Dr. Garver has provided diagnostics, treatment and care for people with autism for the past 34 years. Her passion for working with children on the autism spectrum is a life long journey and has helped make her a recognized expert in autism.
Her research has focused on:
Neuro feedback
Assistive technology devices
Sensory issues in autism
Play-based intervention
She has also participated in an NIMH study with Children's Medical Center and a study of Sensory Motor Function in Children with Autism with the University of North Texas health Science Center, Fort Worth.
She is a member of the National Association of Residential Providers of Adults with Autism (NARPAA), Advancing Futures for Adults with Autism (AFAA) and was a consultant for the Burkhart Center Autism Program, Texas Tech University.
---
MICHELLE N. MCFARLIN – MS,CCC-SLP-CLINICAL SPEECH LANGUAGE PATHOLOGIST
Michelle N. McFarlin, MS, CCC-SLP, received a Master's of Science in Communication Disorders from the University of Texas at Dallas-Callier Center for Communication Disorders, and is a certified clinical Speech Language Pathologist who specializes in autism.
For the past 15 years, she has been actively involved in research and clinical service to young children with ASD and their families. After receiving her masters, Mrs. McFarlin was employed as a faculty associate at the Callier Center where she
provided evaluations and individual speech-language intervention for children with a variety of communication disorders;
designed and participated in research activities with two- to five-year olds with characteristics of ASD;
co-developed the Callier Individualized Descriptive Supplement (CIDS), a qualitative assessment instrument for young children with ASD;
participated in comprehensive multi-disciplinary autism evaluations;
was clinical supervisor and coordinator of the Early CLASS (Communication, Language, and Social Skills) Program; and
co-wrote the social skills curriculum for the Early CLASS with Dr. Pamela Rollins.
Mrs. McFarlin now works in a private speech-language pathology practice, specializing in service to families affected by ASD. As founder of her current private practice, White Rock Autism, Mrs. McFarlin's mission is education and empowerment of families of newly diagnosed children with autism.
In addition to her work as an autism consultant and speaker, Mrs. McFarlin's social skills curriculum, Early Communication, Language, and Social Skills: From Theory to Practice, is scheduled for publication by Autism and Aspergers Press in Spring 2014.