•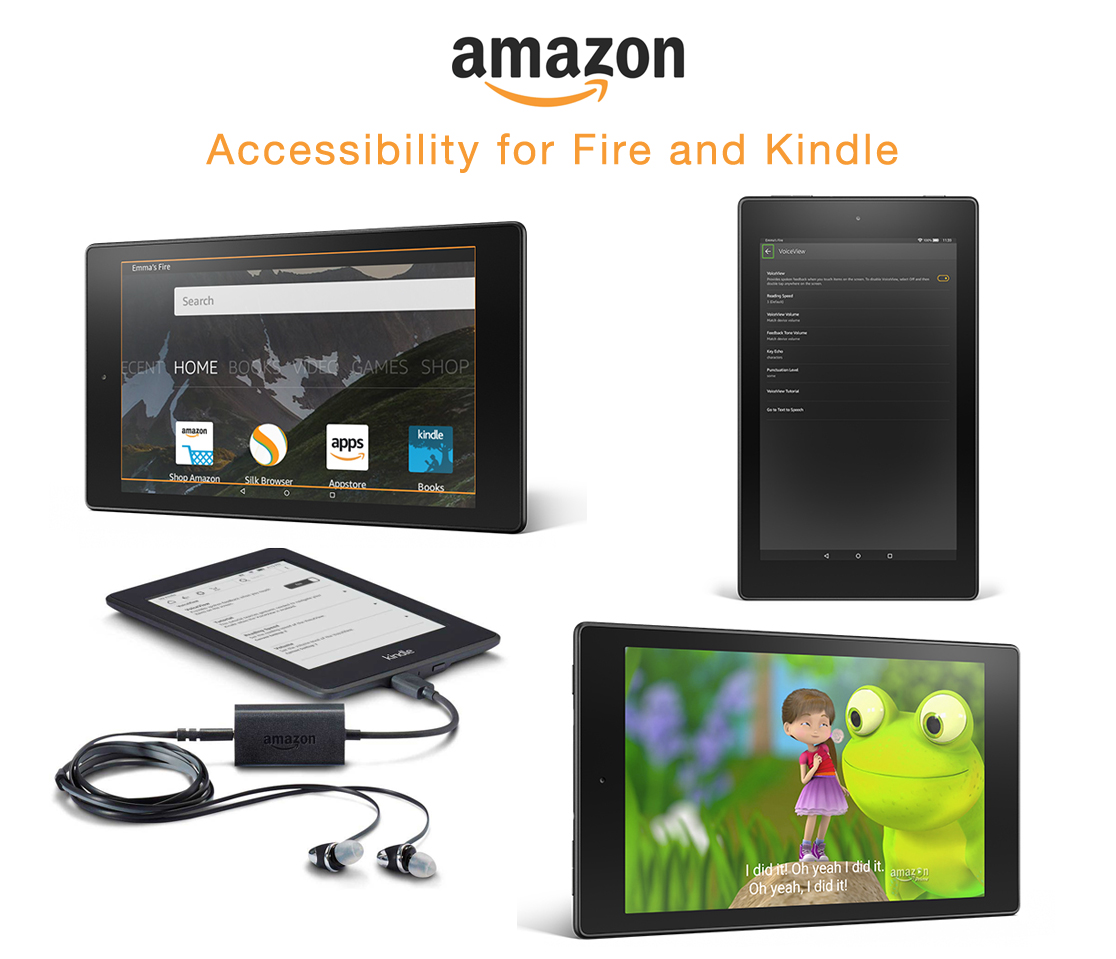 Accessibility for Fire
Fire tablets come with new and improved accessibility tools so that all customers can enjoy their books, movies, apps, and more.
New for Fire OS 5
Introducing VoiceView, their new screen reader.
New user preferences, including ability to adjust spoken punctuation level and key echo.
Quick gestures to adjust and navigate content by granularity.
Optimized web browsing.
Updated earcon sounds.
Expanded Large Font mode with support for device setup, on screen keyboard, and stores.
Blind and Visually Impaired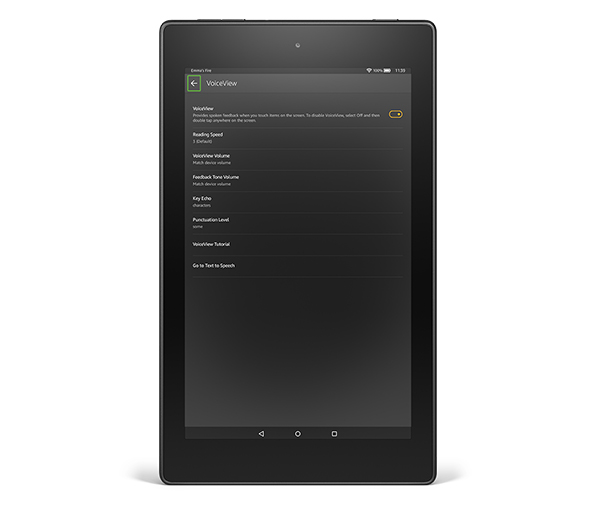 VoiceView, powered by IVONA Text-to-Speech
Their new screen reader, VoiceView, provides spoken feedback to describe the actions that take place on your screen and features IVONA's award-winning natural language text-to-speech voices.
Explore by Touch
Explore content on your Fire tablet using accessibility gestures to navigate item-by-item as well as by touch. Fire tablet recognizes accessibility shortcut gestures that help you quickly navigate to home, go back, or access your notifications.
Adjustable Reading Speed
Control how fast VoiceView speaks. The rate at which VoiceView and Explore by Touch feedback is spoken can be set to one of eight different speeds of your choice.
VoiceView Tutorial
Fire tablet VoiceView tutorial helps you master useful gestures for operating your Fire tablet.
Braille Support
Fire tablet also works with popular Bluetooth refreshable braille displays. To enjoy a braille experience on your Fire tablet, download the free BrailleBack app from the Amazon Appstore for Android.
Low Vision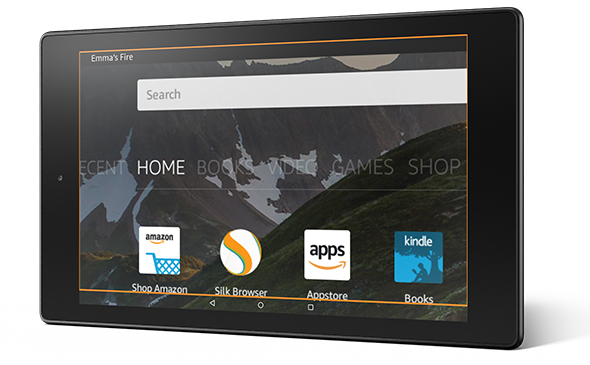 Screen Magnifier
Take a closer look with Screen Magnifier. Easily activated with a triple tap on the screen, Screen Magnifier allows you to pinch to adjust the zoom level on your tablet while the display is magnified, as well as swipe with two fingers to pan around the page.
Larger Font Sizes
Read easily by increasing the font size of menus and text throughout your Fire tablet. You can also choose from one of five font size options for your emails and one of 11 font size options when reading eBooks.
High Contrast
The text and background colors used on Fire tablet provide high-contrast color combinations to make it easier to view your content and use your tablet.
Hearing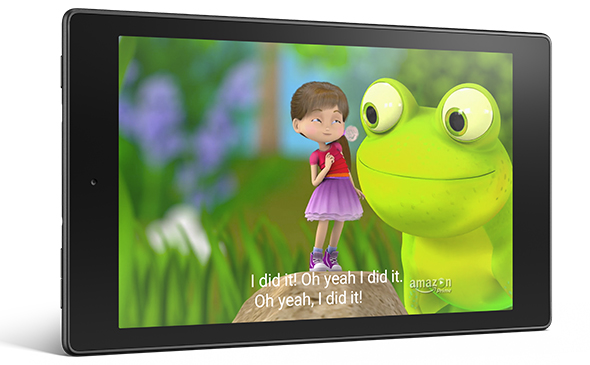 Closed Captioning
Watch your Amazon Instant Videos with closed captioning displayed. Look for the CC icon when shopping for movies and TV shows. Captions are not available for all titles.
You can also customize how your closed captions appear for Amazon Instant Videos and for web videos in the Silk Browser (when available for the title), including text color, size, opacity, font style, edge style, background color, and more.
Stereo to Mono Audio
If you are using a single ear bud or have hearing in one ear, simply switch the stereo audio setting to mono on your Fire tablet to direct the audio into a specific ear bud.
Mobility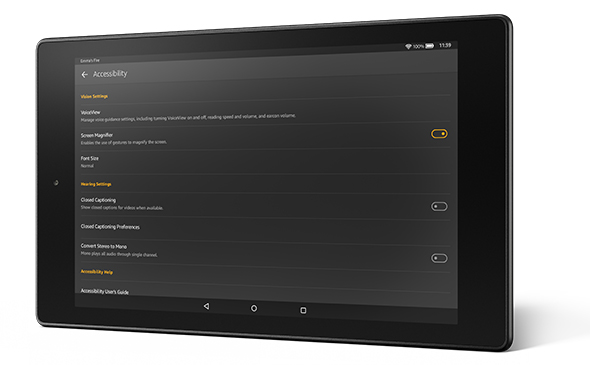 Bluetooth Navigation
The Fire HD and Fire HDX tablets come with enhanced support for Bluetooth keyboard navigation that enables screens, menus, and buttons to be accessed using an external keyboard.
Help
Accessibility User Guide
Learn more about using the accessibility tools on your Fire tablet in the on-device Accessibility User Guide. The guide provides helpful instructions and tips for using accessibility tools with the different features on your Fire tablet.
---
Accessibility for Kindle
Kindle devices, the Kindle reading application on Fire tablets, iOS and Android,and Kindle for PC are accessible to all our customers, regardless of ability.
Customers with moderate vision impairments or other reading disabilities can make reading more comfortable by customizing the font type, size, and weight, controlling the screen brightness,margins, and line spacing, or inverting the background and text colors.
Customers who read with assistive technology can use Amazon's VoiceView screen reader to read on Kindle devices and with the Kindle app on Fire tablets. Fire tablets also work with popular Bluetooth refreshable braille displays. Customers who read on iOS, Android, or PC can use the screen readers supported on those devices to read more than 6 million screen reader supported books with Kin
They continue to improve how Kindle apps work with assistive technology. With Kindle for PC 1.23 and later, customers using the NVDA screen reader can interact with math equations and efficiently navigate tables using familiar keyboard commands.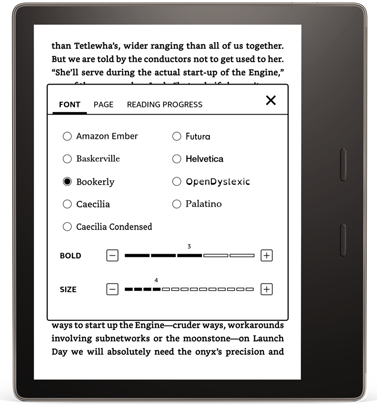 Reading with Kindle
Customized reading experience
When reading on a Kindle device, or with any of their Kindle reading apps, customers can use the Kindle Font menu inside a book to customize the text exactly as they prefer. Open the Aa menu to increase the font size of book content, change the font weight, or choose from eight different font faces including the OpenDyslexic font. All Kindle experiences also provide options to adjust line spacing and margins so customers can enjoy a more comfortable reading experience.
Unlike tablets, there is no screen glare, even in bright sunlight on a Kindle device. Select Kindle devices have a built-in light with adjustable brightness to increase contrast and make it more comfortable to read in the dark.
Invert Black and White & Display Size Options
The All-New Kindle Oasis allows customers with light sensitivity to invert black and white on the display. And the new large display option expands important parts of the display like the text on the home screen and library as well as the book icons to make it easier to read.
Blind and Visually Impaired
Blind and visually impaired customers can use popular screen readers including VoiceView on Kindle devices and Fire tablets, VoiceOver on iOS, TalkBack on Android, and NVDA and JAWS on Windows to enjoy over 6 million screen reader supported titles in the Kindle Store.
Refine your search on the Kindle Store to easily find eBooks which are screen reader supported. The screen reader supported property on the book details page indicates if popular screen readers will support the book. Functionality may vary across titles and screen readers. If you find a title is not working as you expect it to, please let us know. On Windows, only books purchased and read on Kindle for PC version 1.19 or higher are supported. Please contact customer support to request updates to books purchased and downloaded with previous versions.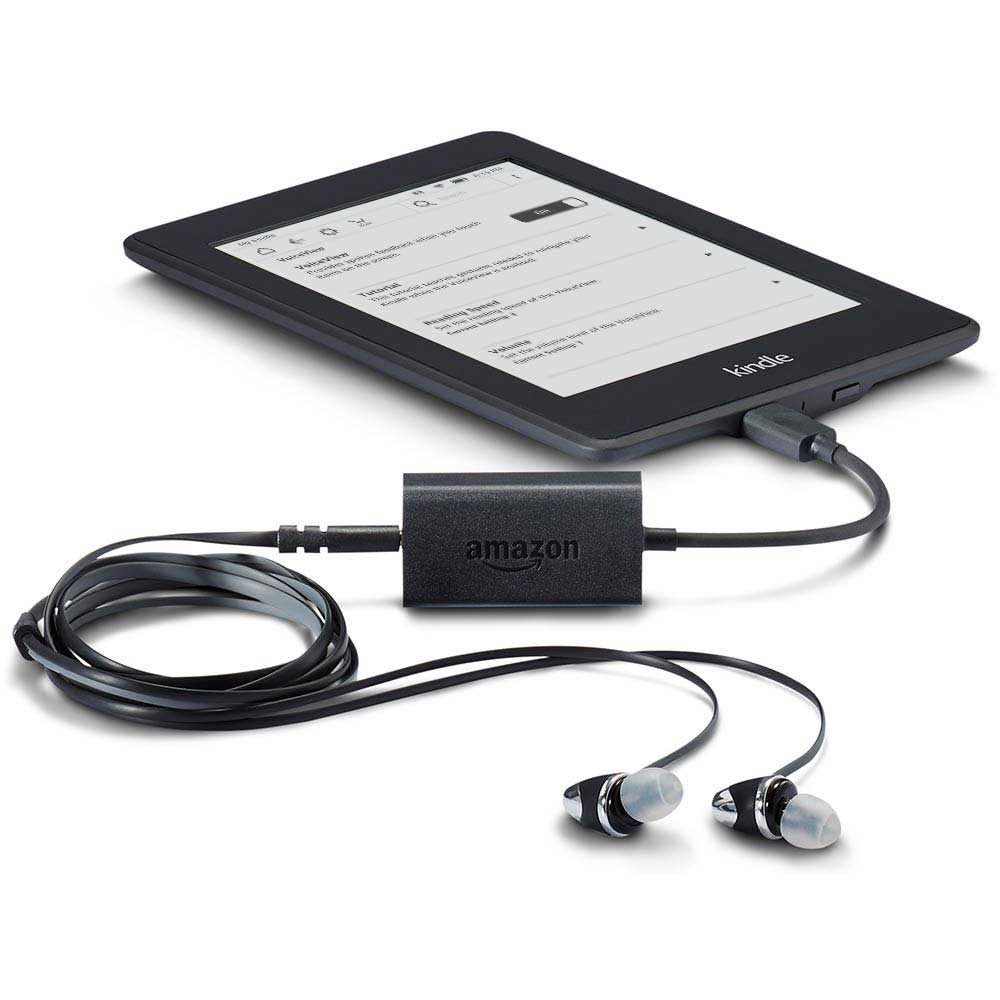 Use VoiceView, or other screen readers to read character by character, word by word, or continuously, as well as move forward or backward in the text. Look up words in the dictionary and Wikipedia. On the latest release of Kindle for PC, read MathML content with NVDA and MathPlayer and navigate tables using NVDA table commands.
Amazon's Fire tablets, the Kindle app for iOS and Android, and the Kindle for PC app enable you to read with refreshable braille displays by connecting them to the device via Bluetooth. Kindle for iOS provides additional support for Apple accessibility features such as Speak Screen, Zoom, Assistive Touch, and Stereo to Mono audio.
Navigation and Exploration
Navigate your library or within a book using consistent title, menu, and button names. Explore content and navigate item-by-item as well as by touch using VoiceView gestures on Kindle devices, your Fire tablet, or common accessibility gestures on VoiceOver, Talkback, NVDA or JAWS. Search for a book within your library or search within your book and navigate to specific locations.
VoiceView screen reader
The VoiceView screen reader is available on Fire tablets and Kindle devices. It provides spoken feedback to describe the actions that take place on your screen.
VoiceView can be activated from any screen on a Fire tablet by holding the power button down until you hear an alert and then holding two fingers slightly apart on the screen.
The Kindle Audio Adapter activates VoiceView on Kindle Paperwhite when plugged into the Micro-USB port. Just plug your headphones or speakers into the audio jack on the Kindle Audio Adapter to use your e-reader with an audio interface. To activate VoiceView on a Kindle Device with Bluetooth support, see the setup instructions below.
Adjustable reading speed
Control how fast VoiceView speaks. The rate at which VoiceView feedback is spoken can be set to one of eight different speeds of your choice.
VoiceView tutorial
The VoiceView tutorial helps you master operating your Kindle device or Fire tablet using the screen reader. The tutorial will start automatically the first time VoiceView is activated. It can be opened at any time from within VoiceView settings on any device.
Supported Kindle Devices
Kindle and All-New Kindle Oasis with VoiceView over Bluetooth audio.
Kindle VoiceView over Bluetooth Setup Instructions
Please read all instructions before starting setup, then reference them as needed. There will be no audio announcement or feedback until the last step.
Press the Power button once to turn on your Kindle. The Power button is located on the bottom of the device next to the Micro-USB/power port.
Wait 45 seconds.
Put your Bluetooth audio device into pairing mode.
Press and hold the Power button for 9 seconds.
Hold two fingers spaced apart on the screen for 1 second, then wait up to 2 minutes to hear audio.
When you hear audio from your Bluetooth device, hold two fingers spaced apart on the screen.
Troubleshooting: If you do not hear audio from your Bluetooth device within 2 minutes of completing step 5, confirm your Bluetooth audio device is in pairing mode and repeat steps 4 and 5.
Once your audio device is connected and VoiceView is enabled for the first time, the VoiceView tutorial will begin. You will also be prompted to complete setup, including connecting to a wireless network and registering your Kindle.
Click here for more information.