•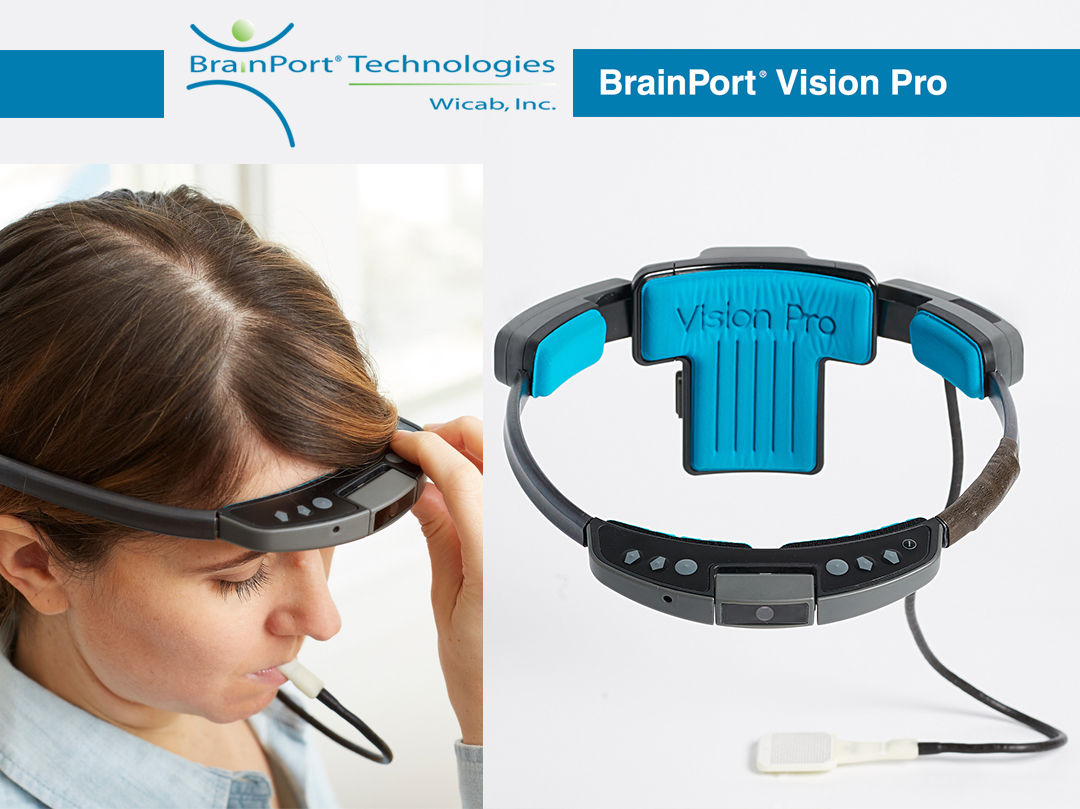 BrainPort Vision Pro
The new BrainPort  Vision Pro is a 2nd generation oral electronic vision aid that provides electro-tactile stimulation to aid profoundly blind patients in orientation, mobility, and object recognition as an adjunctive device to other assistive methods such as the white cane or a guide dog. ​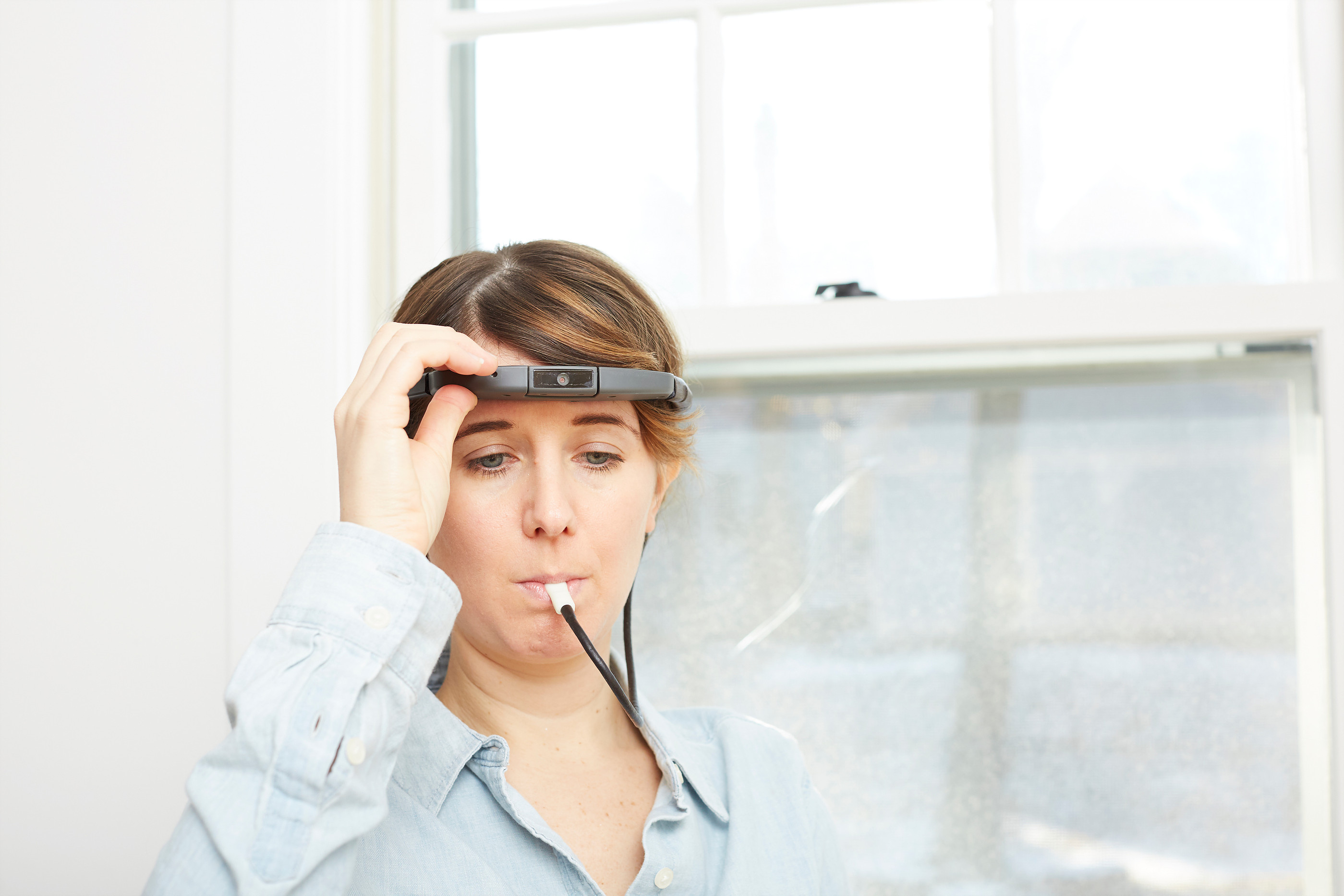 BrainPort Vision Pro translates digital information from a wearable video camera into gentle electrical stimulation patterns on the surface of the tongue. Users feel moving bubble-like patterns on their tongue which they learn to interpret as the shape, size, location and motion of objects in their environment. Some users have described it as being able to "see with your tongue".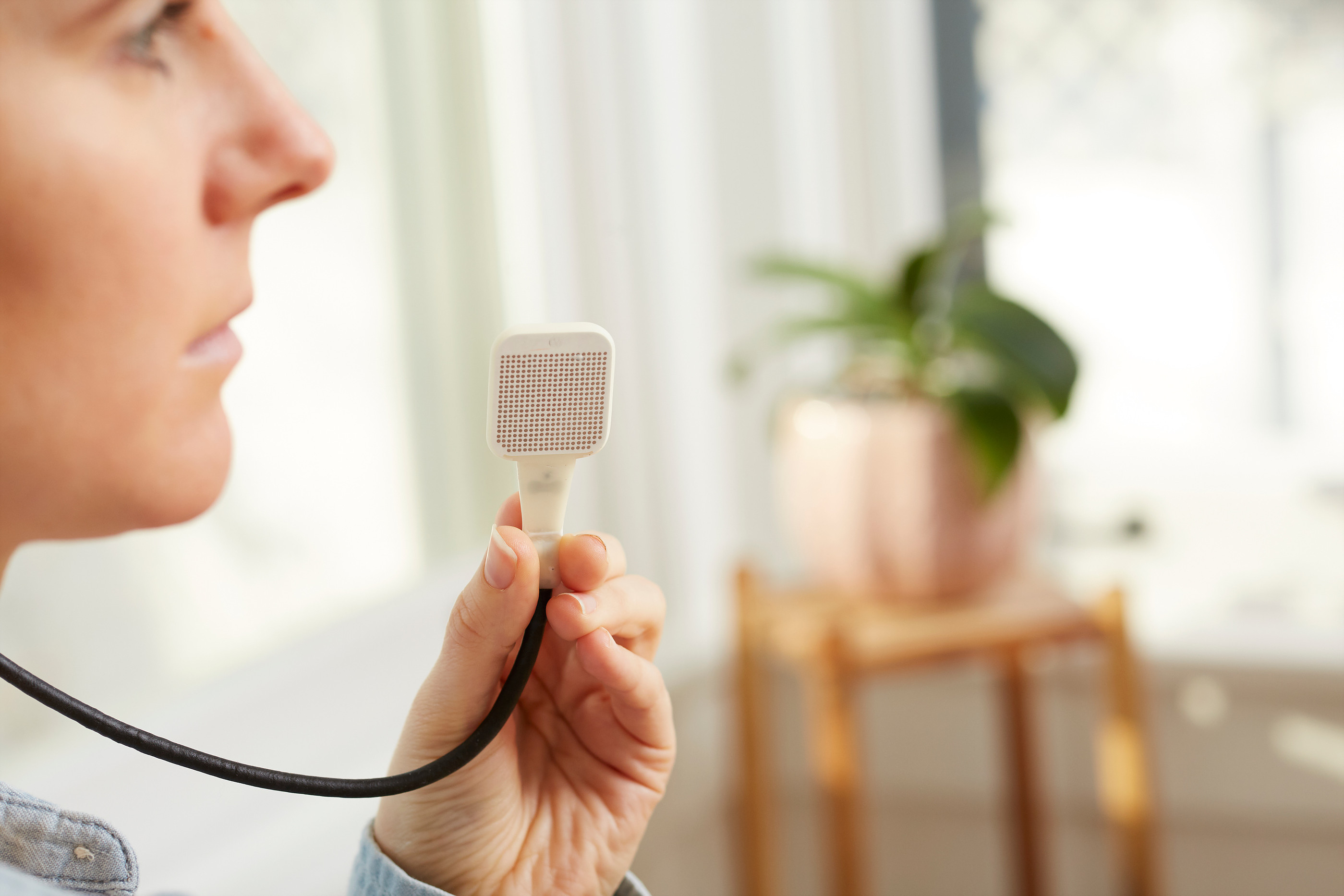 Technology
The BrainPort Vision Pro vision aid is a headset that contains a small video camera, user controls, a rechargeable battery, and the tongue array. The headset is fully adjustable and available in 3 different sizes to accommodate most users.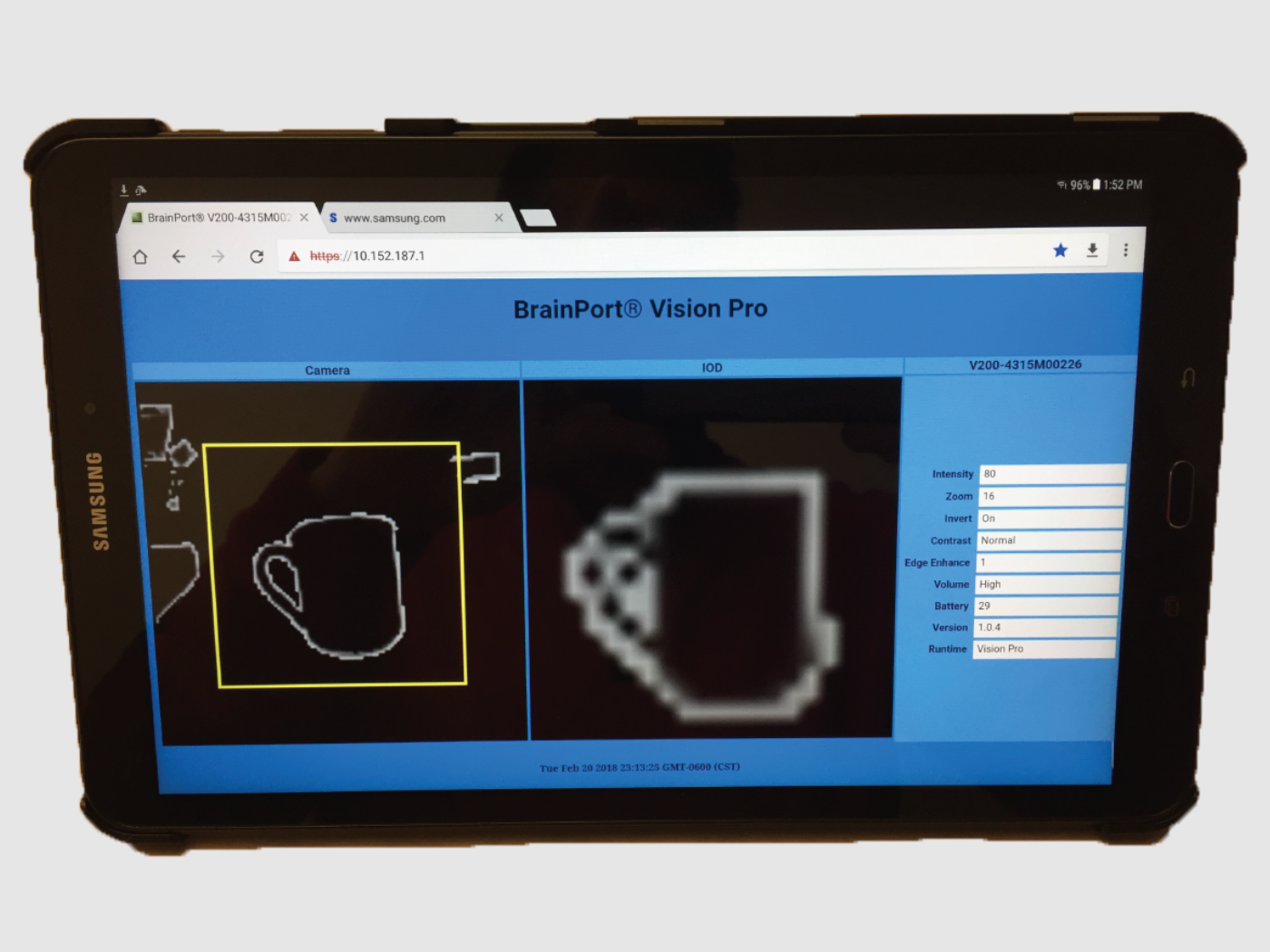 The camera works in a variety of lighting conditions and has an adjustable field of view. The tongue array contains 394 electrodes and is connected to the headset via a flexible cable so it can't be dropped and lost. When in use, white pixels from the camera are felt on the tongue as strong stimulation, black pixels as no stimulation, and gray levels as medium levels of stimulation.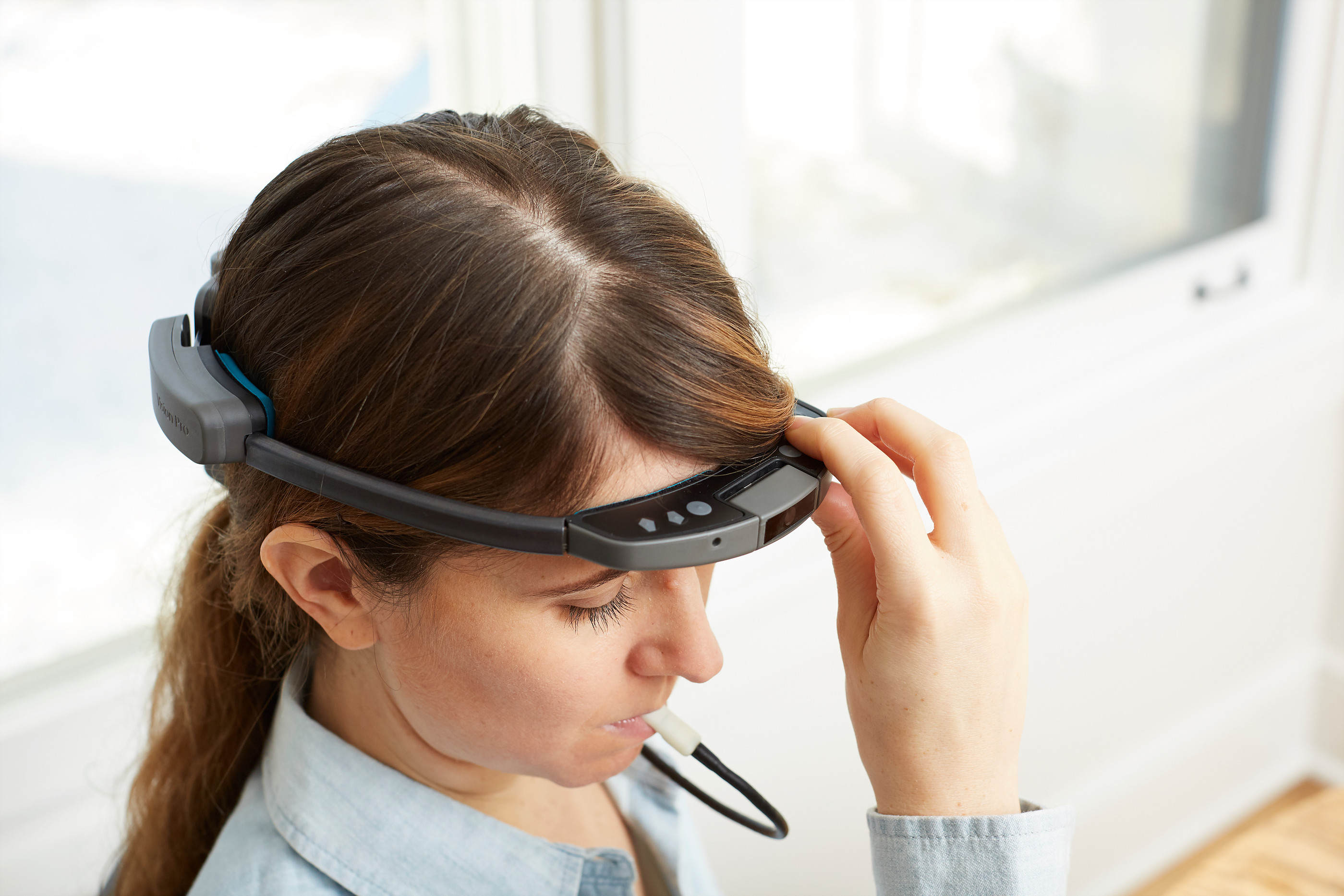 Non-Surgical Solution
The BrainPort Vision Pro is being used by individuals with no usable vision, both congenitally blind and with acquired blindness. Good candidates for using the BrainPort Vision Pro are people that have completed conventional blind rehabilitation training and are comfortable using conventional assistive tools.  A non-surgical solution, BrainPort Vision Pro does not affect the eyes. This is important in the event future research offers better alternatives for people who are totally blind.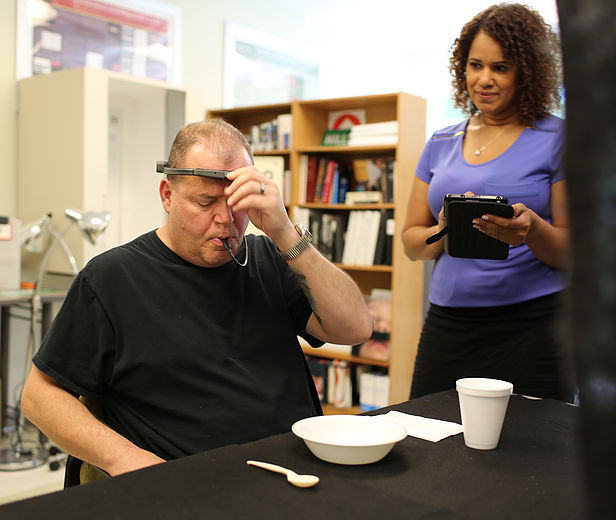 Training
Supervised training is necessary prior to using the BrainPort Vision Pro device independently. Training is offered through certified, independent training facilities. A typical training course is 10 hours of one-on-one training, over a three-day period, including customized content for the individual user.

Frequently Asked Questions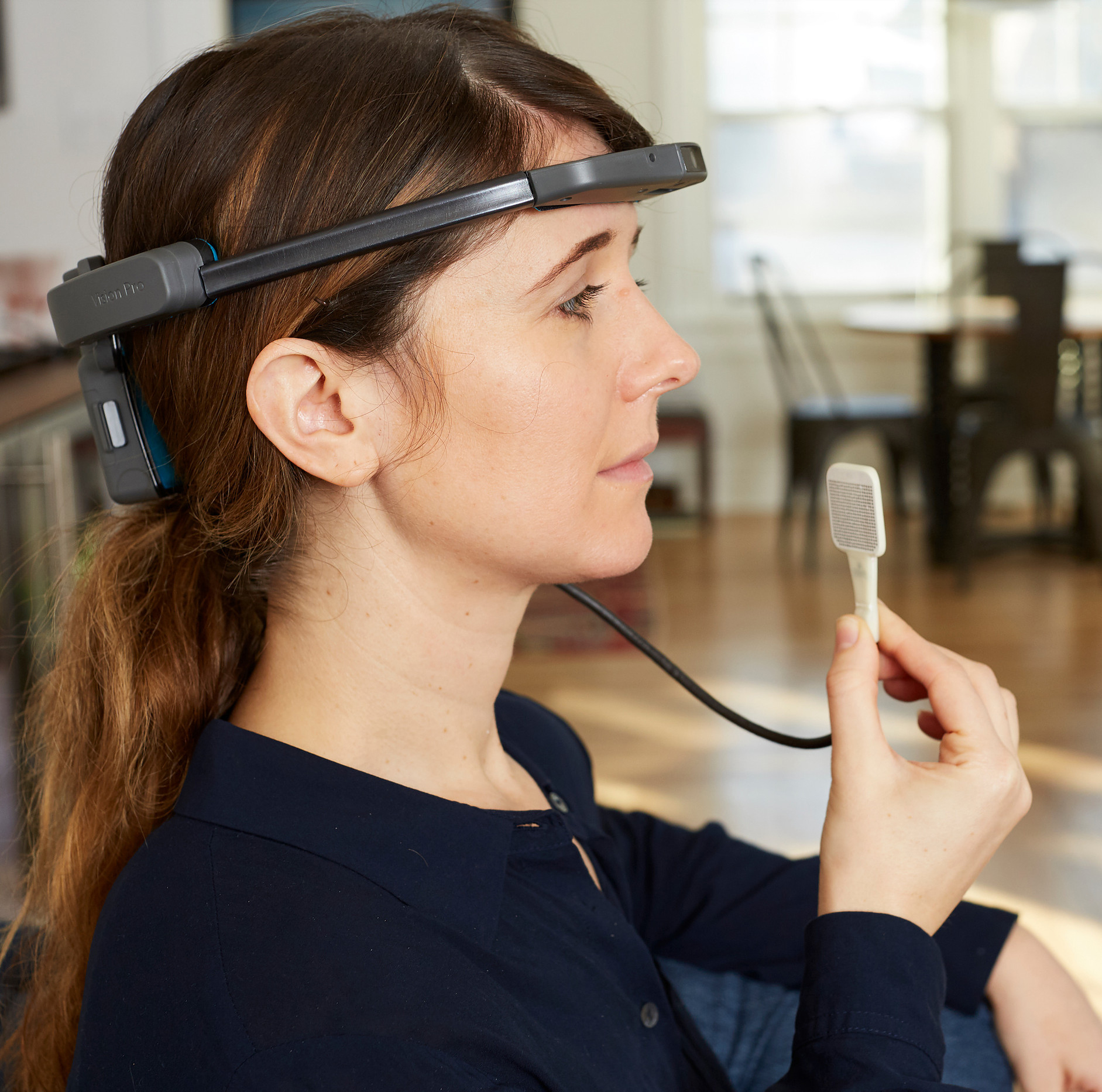 Is this vision?
No, the BrainPort Vision Pro system is classified as an oral electronic vision aid. It works like a 394-point refreshable Braille display from which you learn to interpret the bubble-like patterns on your tongue as representative of objects in their surroundings. A current user told us, "I do not see images as if I were sighted, but if I look at a soccer ball I feel a round solid disk on my tongue. The stimulation on the tongue works very much like pixels on a visual screen".
Will it work for me?
The technology works best for individuals who have no useful vision (light perception or no light perception), have already completed traditional blind rehabilitation programs, and are committed to training and practice. Individuals with medical electrical implants or oral health issues should consult a physician prior to BrainPort Vision Pro use.

What does stimulation feel like on my tongue?
Electrical stimulation can best be described as sparkling water or vibrations on the tongue. You control the strength of the signal to maintain a comfortable sensation.
Tell me about the complete training program.
A typical training course is 10 hours, spread over a 3-day period, with a certified instructor. The training sessions consist of a series of exercises to help the user understand the information they are feeling on their tongue.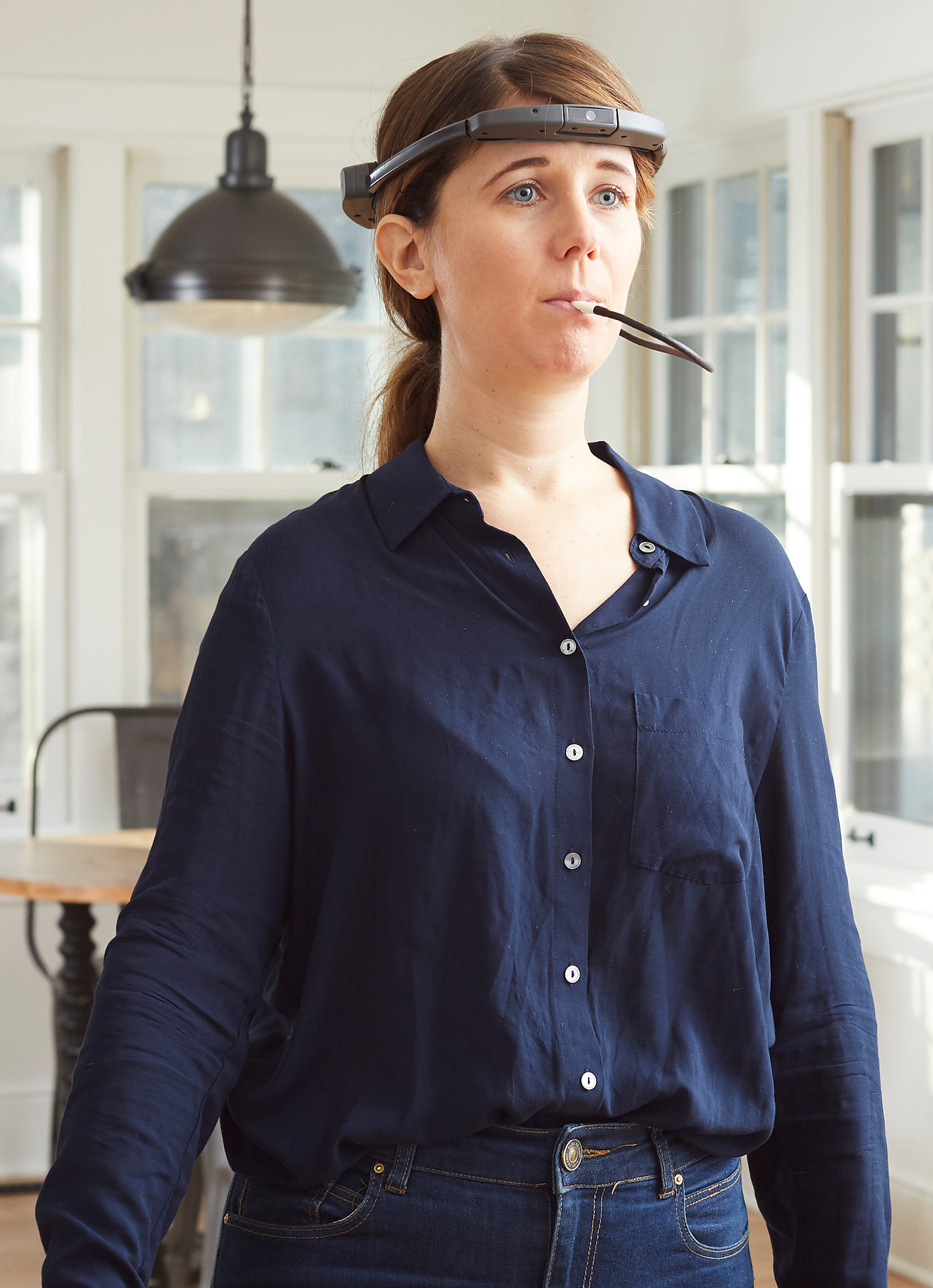 In the USA, the training is currently offered at one of our independent training sites in NY City, Chicago, San Francisco, New Orleans, San Antonio, Madison, WI and Springfield, Missouri (we will add more sites in the coming months). Training is also currently offered in Milan, Italy and Hong Kong. You are responsible for the cost of the training, (to be determined by the independent training facility) plus all your travel, and living costs while attending training. If you decide to purchase the BrainPort Vision Pro at the time of training, they will deduct the training fee from the price of the system.
If you are training in the USA, a prescription from your healthcare provider for the BrainPort Vision Pro is required before training begins.
Can I try the system before I buy it?
Yes, they offer a free 1-hour trial at each of their partner training facilities! This will give you a high-level understanding of the BrainPort Vision Pro system and how it works. You can then decide if you would like to attend a complete training program.
If you are training in the USA, a prescription from your healthcare provider for the BrainPort Vision Pro is required before the 1-hour trial can begin.
What is included with the BrainPort Vision Pro?
BrainPort Vision Pro package includes the headset with integral video camera, padded carrying case, 2 rechargeable lithium batteries, battery charger, and user manual.
Will my insurance cover the cost?
They have initiated a program to help potential BrainPort Vision Aid users to apply for reimbursement through their healthcare insurer, either private or government funded. Wicab has contracted with an independent company that would work with you and your physician, to obtain pre-authorization for the BrainPort Vision Pro. There would be no cost to you or your physician to apply, and this company has a high success rate in helping individuals obtain pre-authorization for medical devices. Veterans, the VA has been purchasing the BrainPort Vision Pro for profoundly blind veterans. Contact your local VIST coordinator for more information.
What is the warranty?
The BrainPort Vision Pro comes with a full two (2) year warranty. If there is a problem with the device, simply contact their Service Team and we will repair or replace the device.
How do I get started?
There are some health conditions that would limit the use of the system. Simply click here to fill out a patient survey to determine if you are a good candidate. Once this is reviewed, a certified instructor will be in touch to arrange a location and dates to complete the training. If you are training in the USA, a prescription from your healthcare provider for the BrainPort Vision Pro is required before training can begin.