•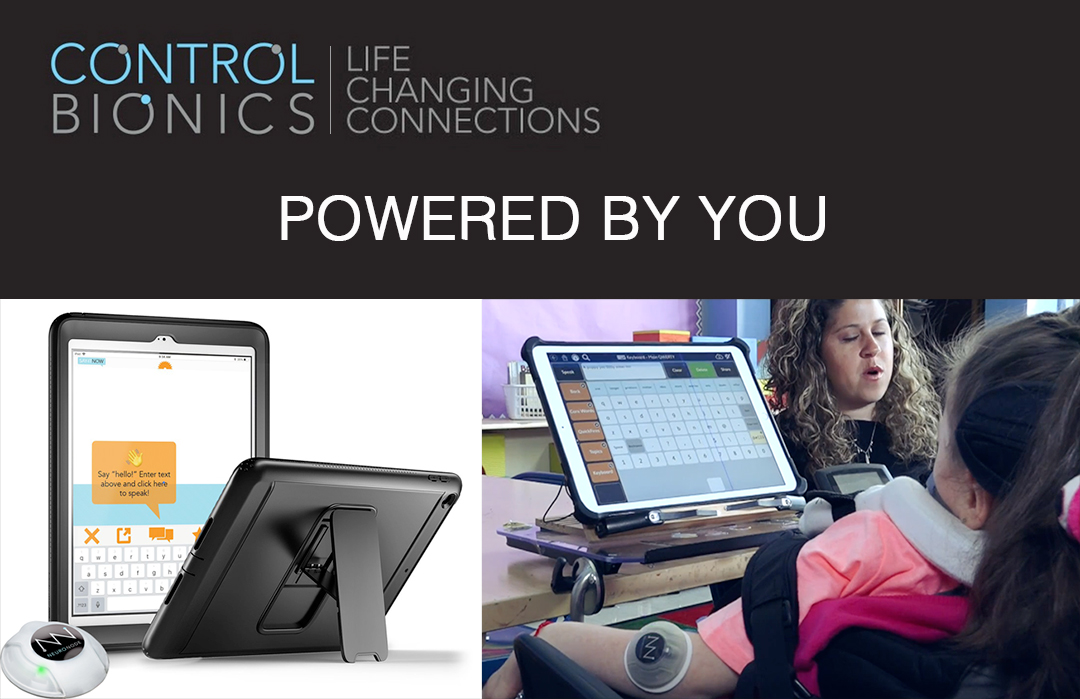 Who they help
Originally, their EMG assistive technology was developed to help returned servicemen with spinal cord injuries but no brain function impairment to communicate when all else had failed. Today, it successfully helps people with a range of conditions to find their 'voice' once more.
These include:
ALS (Lou Gehrig's Disease), also known as Motor Neuron Disease (MND)
Locked-in Syndrome
Cerebral Palsy
Spinal cord injury (SCI).
They've have also had some success with people with autism or who have suffered strokes.
---
HOW IT WORKS
The NeuroNode's sensors sit on the surface of the skin, located on the muscle chosen to be the switch. When the patient tenses that muscle, the NeuroNode detects the EMG signal, even if you can't see the muscle move.
The NeuroNode amplifies and interprets the EMG signal, then sends it to the users chosen computer, tablet or mobile device.
On the chosen device, the signal reaches Switch Control's virtual keyboard and mouse controls. This allows the patient to operate a keyboard appropriate to their needs – from something very simple, like a list of a few words, to a full alphanumeric keyboard with predictive text for speaking and writing in fluent, complete thoughts. The mouse controls provide full access to all of the computer's features for web browsing, sending email, etc.
EQUIPMENT INCLUDED WITH THE NEURONODE
The NeuroNode wireless and wearable EMG communication device
NeuroNode Controller software application
12-Month supply of clinical-grade adhesive EMG sensors. Different types of sensors are available, depending on your patient's needs.
12-Month 24/7 telepresence technical support
24-Month product warrant period, coving the cost and replacement of the NeuroNode device.
ATTACHING THE SENSORS: FINDING A WORKING NERVE SIGNAL IN SOMEONE WHO IS PARALYZED
Finding the best site for the NeuroNode is a process of trial and error. The clinician typically works with an expert from Control Bionics, along with the patient and caregiver, to identify which muscles, if any, the patient can move voluntarily. If there seem to be no voluntary muscle movements, they try big muscles in the legs, arms, and facial muscles.
The setup time in therapy is very brief, once a muscle has been identified for use as the switch. When sensors need to be replaced, don't worry: either a clinician or a caregiver can replace them. Although the sensors need to be sited on the same muscle, they do not need to be at precisely the same spot on the skin each time. Control Bionics provides 24/7/365 support via web cam, in case a problem arises.
INTRODUCING THE PATIENT AND CAREGIVERS TO THE NEURONODE
A representative of Control Bionics works with the clinician – often an SLP – to introduce the NeuroNode to the patient. They understand that each person learning to use a new assistive communication device will have unique needs.
MAINTENANCE OF THE NEURONODE
The NeuroNode requires very little maintenance and can be maintained by either a clinician or a caregiver. Make sure of the following:
Both the device (if it is not plugged into a power source) and the NeuroNode battery are charged.
The patient has an ample supply of replacement sensors.
The phone number and email address of Control Bionics are nearby, in case you need support.
---
CONTROL BIONICS COMPLETE COMMUNICATION SOLUTION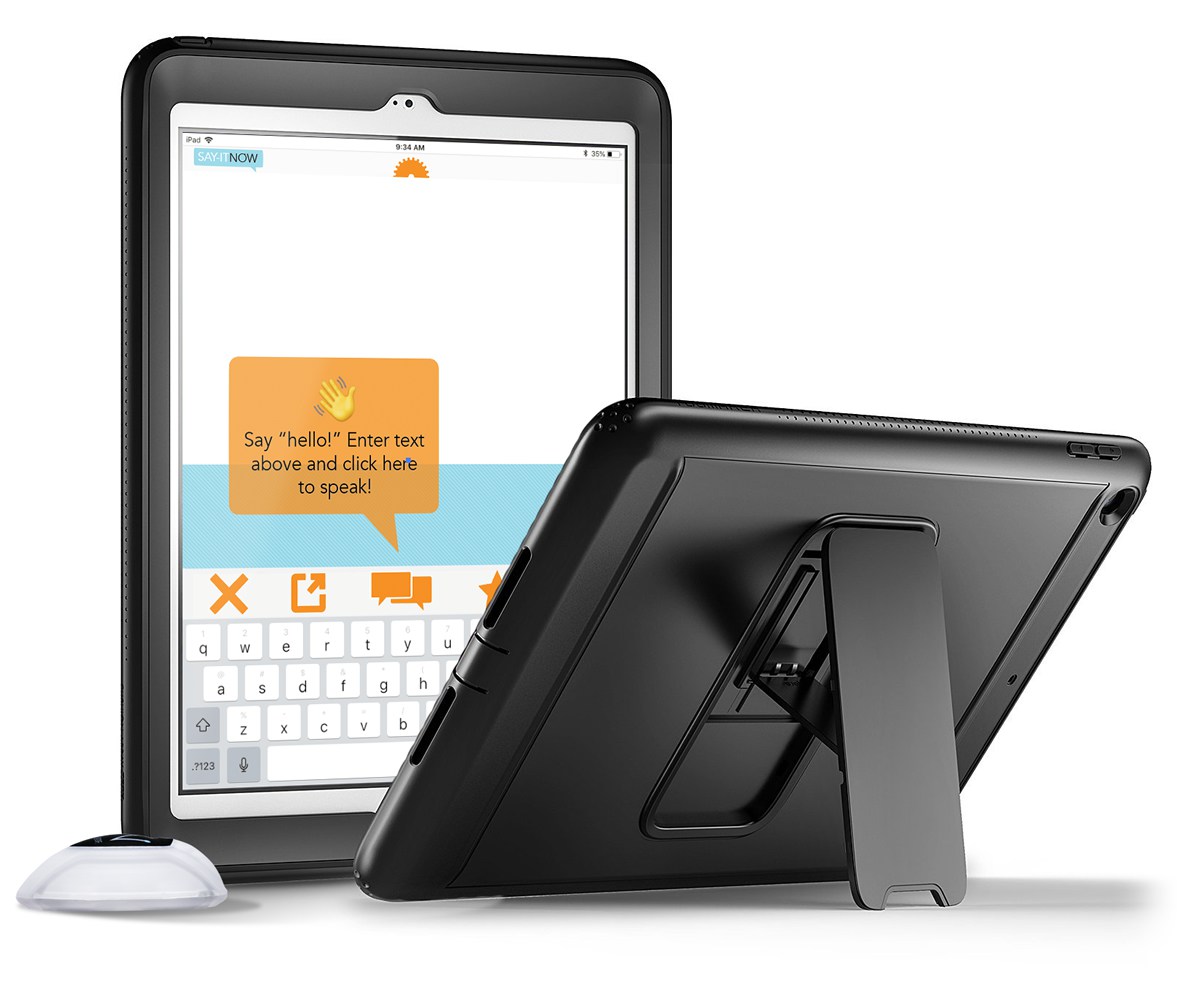 Description
Control Bionics CCS (Complete Communication System) is an out of the box solution for those living with paralysis and loss of speech. The system includes an unrestricted display device with 10" screen, built in communication software, and the NeuroNode EMG access device and related accessories.
With the Control Bionics CCS users are able to communicate with friends and family, send and receive emails and text messages, browse the web, watch videos and movies, read the news, play games, control their home environmental control systems and more.
The Control Bionics CCS comes with 24/7 customer support. We are available to help you with communication, settings adjustments, system updates, and technical support. Their team ensures you are never left alone to handle technical difficulties!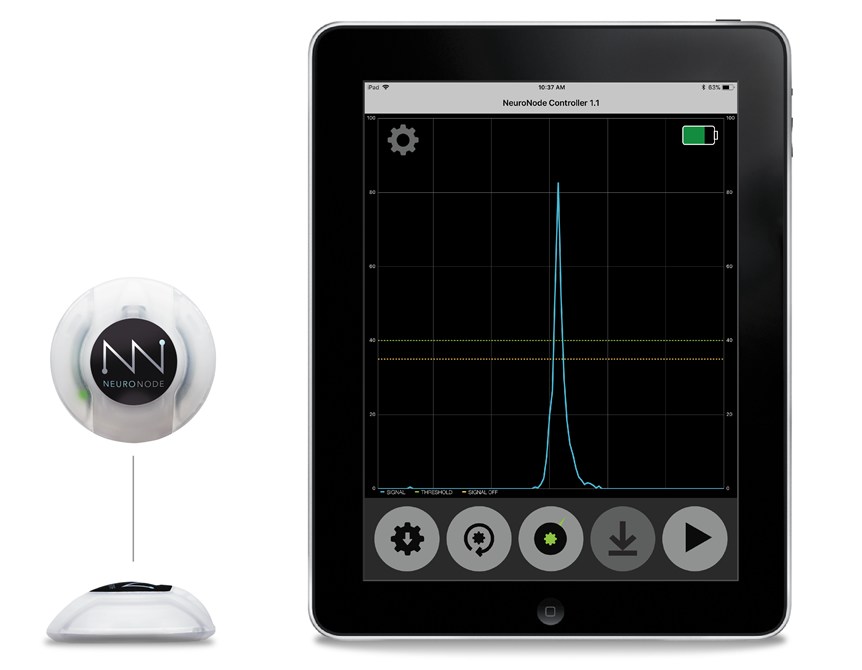 Benefits
Low Fatigue. While a direct selection device, such as eye tracking, might at first seem preferable to a scanning device, many people with neurodegenerative diseases like ALS find that the NeuroNode is less tiring and more reliable as their condition changes over time.
Low Impact. With the Control Bionics CCS users no longer have to choose between seeing their screen or the world around them! Whether using a small display device while on the go, or a large monitor for at-home use, the system is flexible to each users needs.
No Recalibration. Finally, a device that's makes life a little easier for caregivers in the home. With the systems built-in recalibration feature users are able to continuously communicate and access their device, regardless of their signaling strength or position, without any caregiver intervention.
A Flexible Access Method. The NeuroNode EMG access device is a non-invasive, wireless, body worn device. It's a switch that moves with you! This is especially useful for those with conditions resulting in spasticity or high tone like cerebral palsy.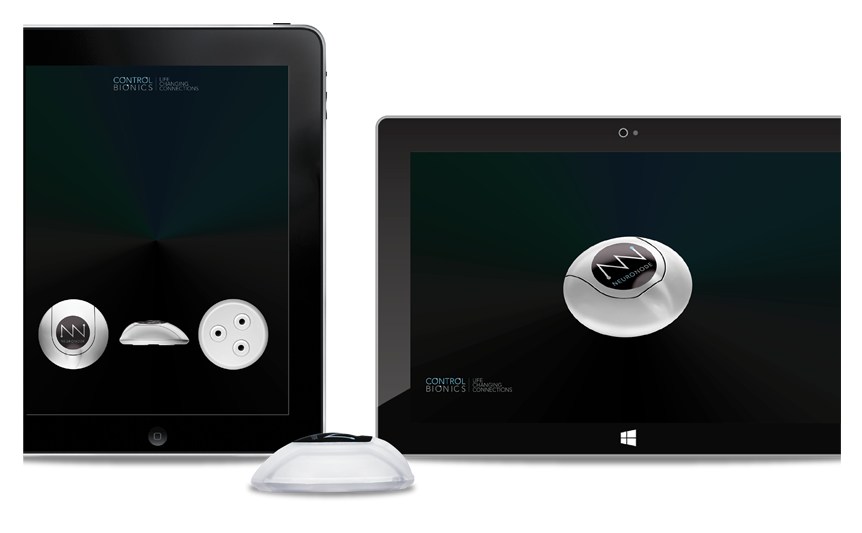 Features + Accessories:
NeuroNode EMG Device (2-year warranty)
Battery Kit Allowing for 16 Hours of Continuous Use
12-month Electrode Supply
Unrestricted Display device (1-year warranty)
Shockproof, Drop-proof Protective Case with Kickstand
NeuroNode Controller Application
Say-It NOW AAC Solution
GoTalk NOW AAC Application
24/7 Customer Support
---
New York Department of Education – Maeve Meets the NeuroNode
---
NEURONODE SPEECH GENERATOR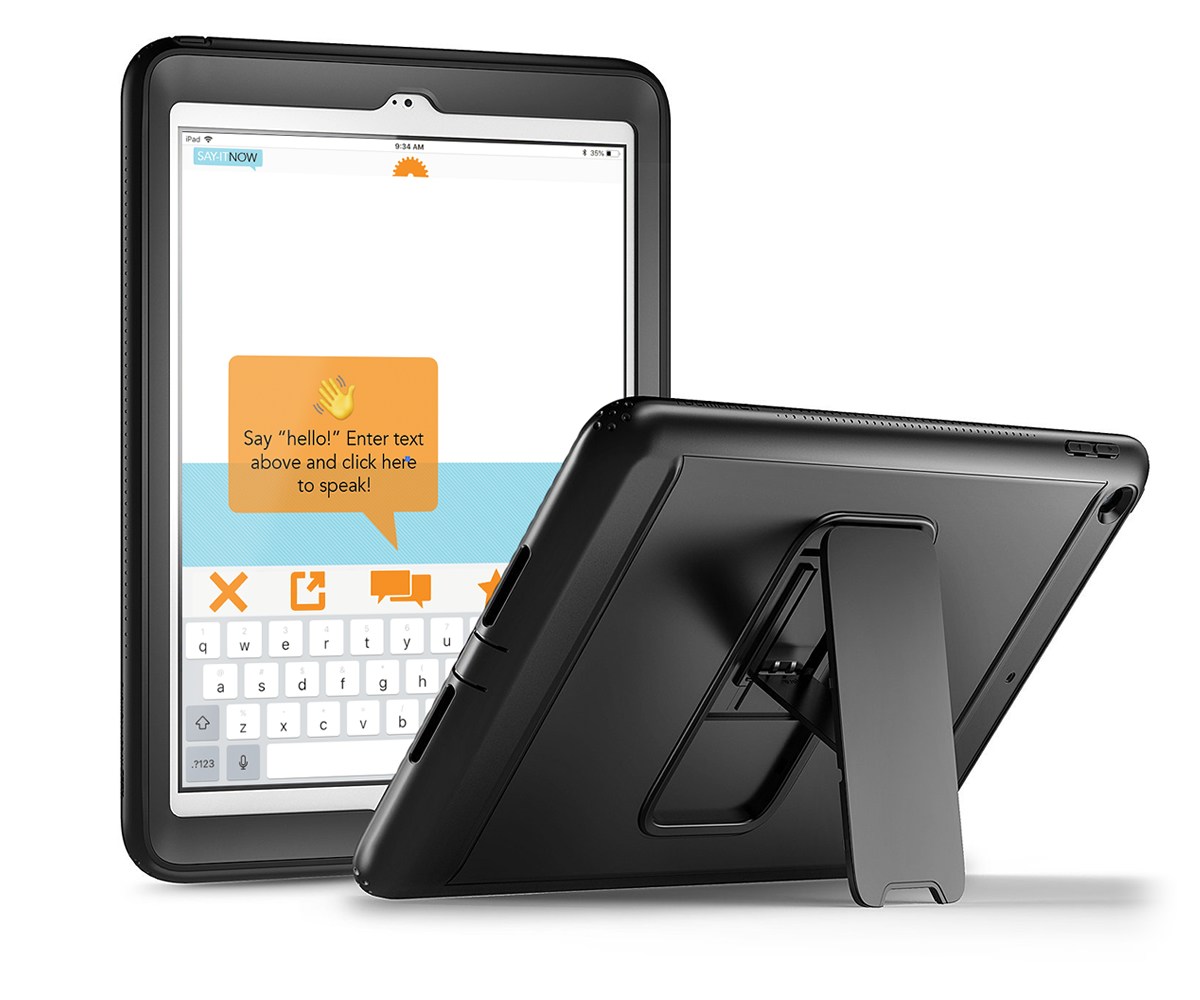 Description
The NeuroNode Speech Generator is a dedicated speech-generating device (SGD) that enables effective and easy communication, environmental control, and computer access. It's protective case, nearly 10" screen size, and lightweight design make it an ideal communication solution for individuals with alternative and augmentative communication (AAC) needs.
The NeuroNode Speech Generator offers a choice of communication options including GoTalkNOW beginner boarding application for individuals with limited cognitive abilities as well as Say-it-Now for fully literate children and adults. The array of voice options and languages designed to cater to each individual combined with its built-in speaker the NeuroNode Speech Generator allows for loud and clear communication.
The NeuroNode Speech Generator #27-6000 is a dedicated device configured to meet the funding requirements of Medicare and Medicaid. This device is unable to access features on the device outside of its communication functions. Contact us to learn more about what this means.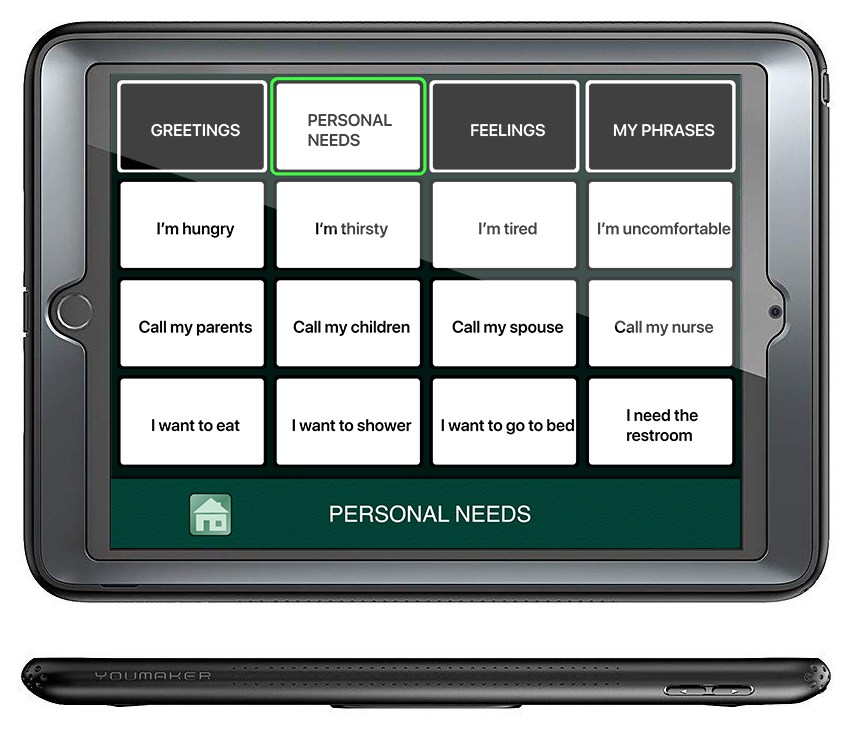 Device Specification:
Dimensions: 9.4"h x 6.6"w x 0.29"d
Weight: 1.03lbs (469g)
Display Size: 9.7" Retina Display
Battery Life: 10 Hours
Synthesized Speech with unlimited Digitized Speech Capacity
4-watt-hour rechargeable lithium-ploymer battery
5mm Axillary Port
2-way 8-megapixel camera
Storage: 32GB
Includes 1-year warranty
Protective carrying case with kick stand included
NeuroNode Speech Generator Standard Configuration:
Full utility speech generation system including GoTalkNOW and Control Bionics Say-it-Now.
Dictation Language Package including English (Australia, Canada, India, Indonesia, Ireland, Malaysia, New Zealand, Philippines, Saudi Arabia, Singapore, South Africa, United Arab Emirates, UK, U.S.), Spanish (Argentina, Chile, Colombia, Costa Rica, Dominican Republic, Ecuador, El Salvador, Guatemala, Honduras, Mexico, Panama, Paraguay, Peru, Spain, Uruguay, U.S.), French (Belgium, Canada, France, Luxembourg, Switzerland), German (Austria, Germany, Luxembourg, Switzerland), Italian (Italy, Switzerland), Japanese, Korean, Mandarin (Mainland China, Taiwan), Cantonese (Mainland China, Hong Kong, Macao), Arabic (Kuwait, Qatar, Saudi Arabia, United Arab Emirates), Catalan, Croatian, Czech, Danish, Dutch (Belgium, Netherlands), Finnish, Greek, Hebrew, Hindi (India), Hungarian, Indonesian, Malaysian, Norwegian, Polish, Portuguese (Brazil, Portugal), Romanian, Russian, Shanghainese (Mainland China), Slovakian, Swedish, Thai, Turkish, Ukrainian, Vietnamese
Battery Charger Included: Lightening to USB Cable, USB Power Adapter
Operator's Manual
Built-in Wi-Fi Capabilities*
Stylus not included
Build in stand in landscape mode
Protective Case
*Requires access to local Wi-Fi network. Wi-Fi is used for Software updates. On dedicated device Wi-Fi does not give access to the Internet or an Internet browser.
---
NeuroNode + Tobii Dynavox
---
NEURONODE SYSTEM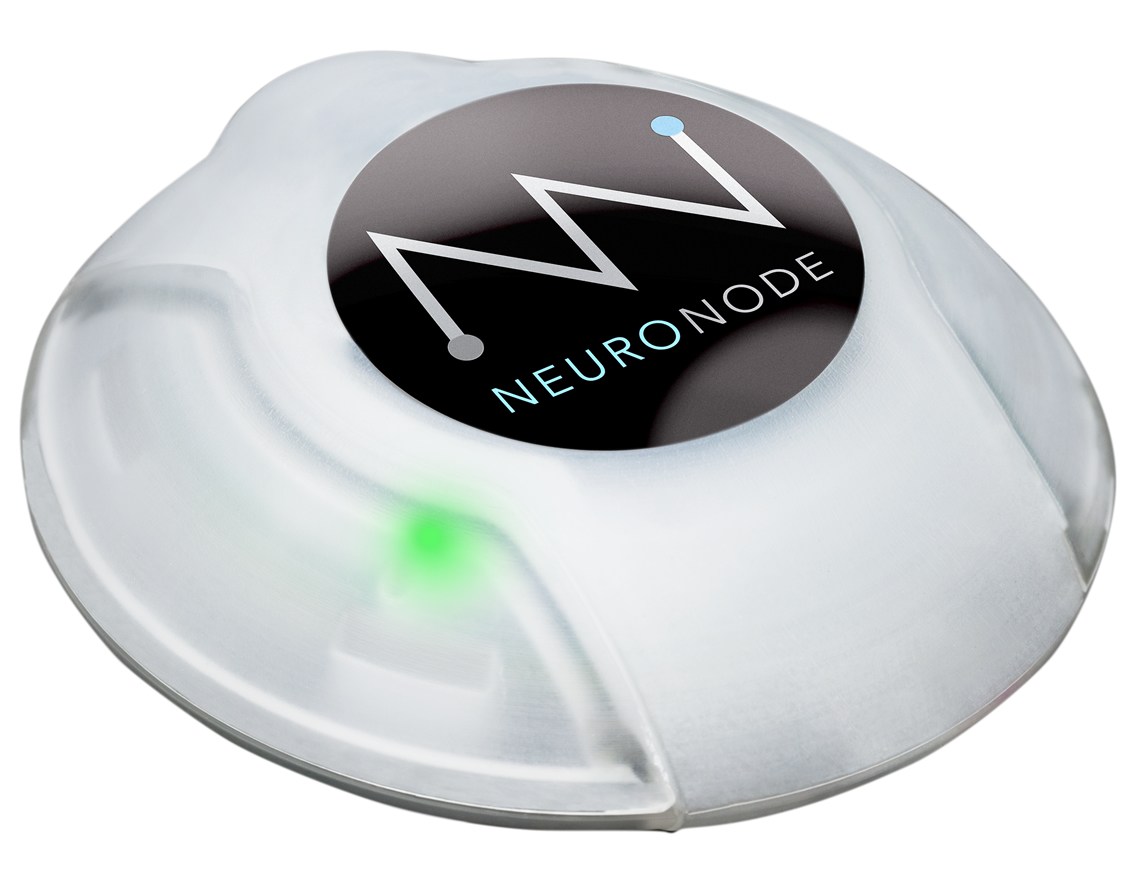 Description
The NeuroNode System is the latest access solution for those with severe paralysis. Compatible with most speech generative devices (SGDs) and platforms, the NeuroNode System allows you to access full communication power with your body's own EMG signals.
The main component of the NeuroNode System, the NeuroNode, non-invasively attaches to your skin above a chosen muscle group. When you attempt to activate that muscle, or minimally activate that muscle, the NeuroNode reads the EMG signal being generates a switch. This switch is then used to control your chosen device, regardless of platform.
Control Bionics' founders been working with EMG technology for 20 years, their latest device, the NeuroNode is the ideal solution for children and adults with severe physical limitations and paralysis, making standard switching fatiguing and ineffective.
Benefits?
Simple. The NeuroNode is a completely wireless, wearable device. It's connects quickly to any device equipped with Bluetooth low energy.
Flexible. Quickly calibrate the NeuroNode's switching parameters within the NeuroNode Controller Application, included with the device and available on the iTunes store. Bluetooth Low Energy connection allows the device to be paired with most Windows, Android, and Apple devices including products available from Smartbox, Tobii Dynavox, PRC, and more.
Reliable. The NeuroNode's unique EMG graphing abilities combined with the adjustable parameters within the NeuroNode Controller Application allow the user to reliably access their device. The built in recalibration feature will continuously recalculate and adjust the user's EMG signaling abilities, creating reliable signaling abilities over the course of the day without caregiver intervention.
Compact. The NeuroNode is completely wireless and wearable. Finally – an access method that moves with the user.
Versatile. The NeuroNode can be used by both adults and children; providing an effective access method for those living with ALS, Cerebral Palsy, SCI, TBI, and more.
Features + Accessories
EMG Channels: One, processed in real time.
Calibration: No user calibration required, no user adjustments required.
Power: *Rechargeable Lithium-Ion Battery for up to 16 hours of continued use.
Electrode Interface: One-year supply of preferred electrode interface included.
*The NeuroNode comes complete with the necessary Battery Kit including the Lithium-Ion battery charger; wall port, and changing cord, and 4 rechargeable Lithium-Ion batteries.
The Complete NeuroNode System comes with the following accessories:
NeuroNode EMG Device
NeuroNode Controller Application
12-month Starter Electrode Kit
NeuroBand
Leadwire Adapter Base
LIR2032 Battery Charger, Cable, and Wall Port
4 Lithium-Ion Rechargeable Batteries