•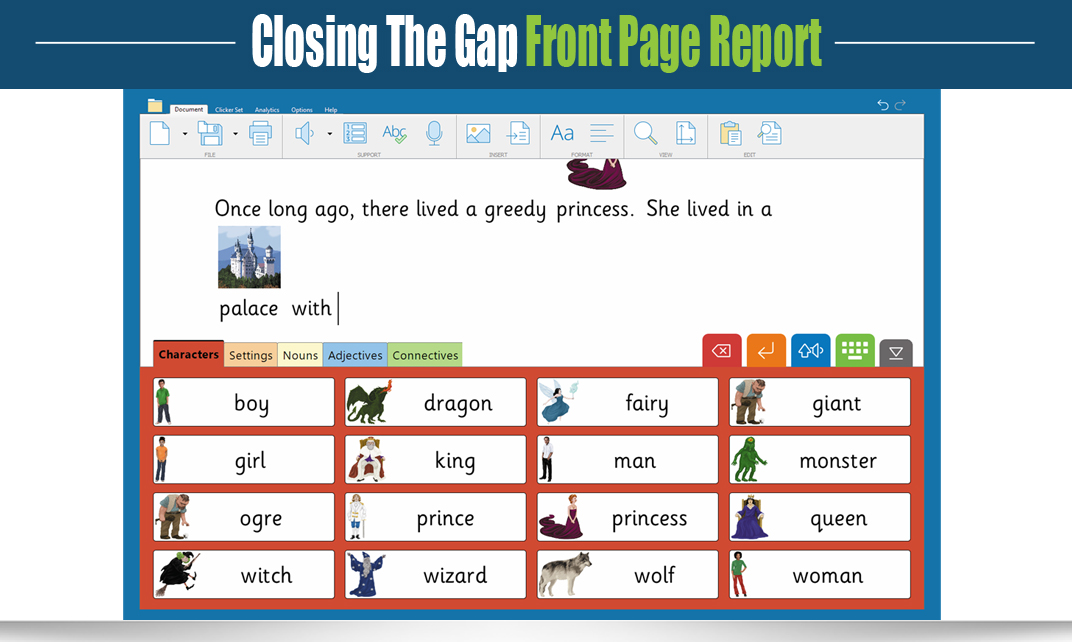 Clicker 8
New for 2020, version 8 combines exciting new feature ideas from our Clicker fans with the inclusive literacy support tools you already know and love.
What's new in Clicker 8?
Clicker 8 builds on the worldwide success of its award-winning predecessors. It's inclusive, it's engaging, it's intuitive, and it enables teachers to give every learner the personalized, evidence-led support they need to take their literacy skills to the next level.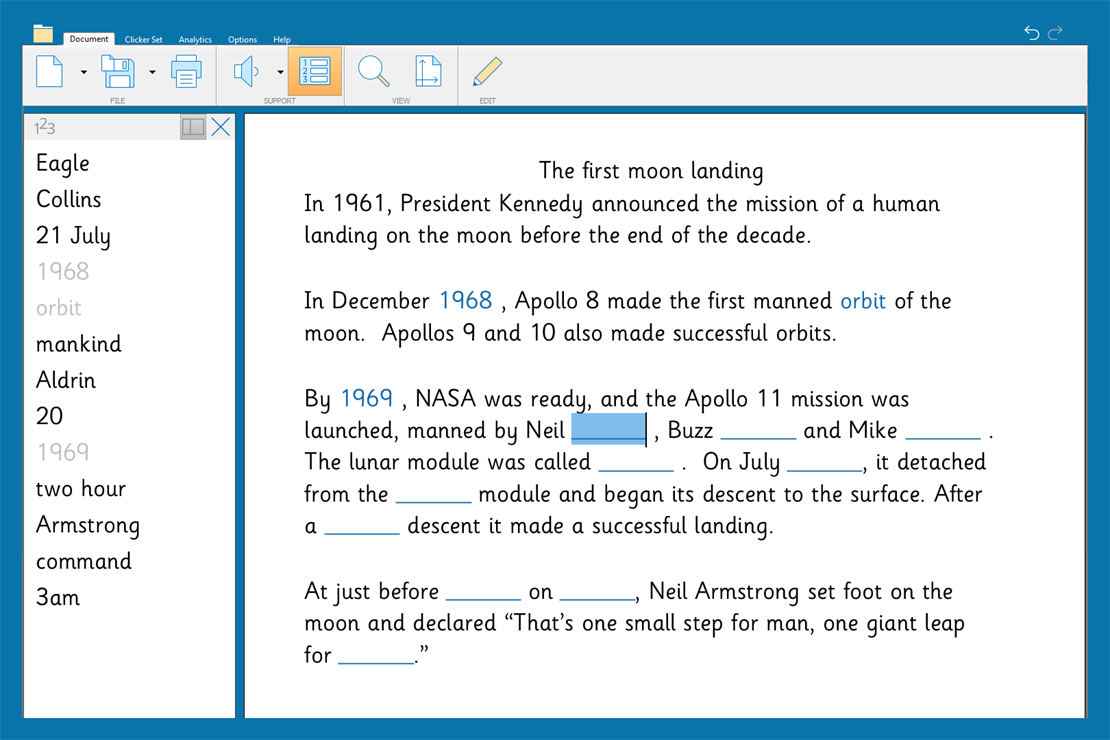 Clicker Cloze 
Cloze activities are many a teacher's go-to resource for comprehension exercises. They're also fantastic for developing core reading and language skills. With Clicker Cloze, you can create a cloze activity using any text in just a few seconds. Complete within Clicker or print out for use away from the computer.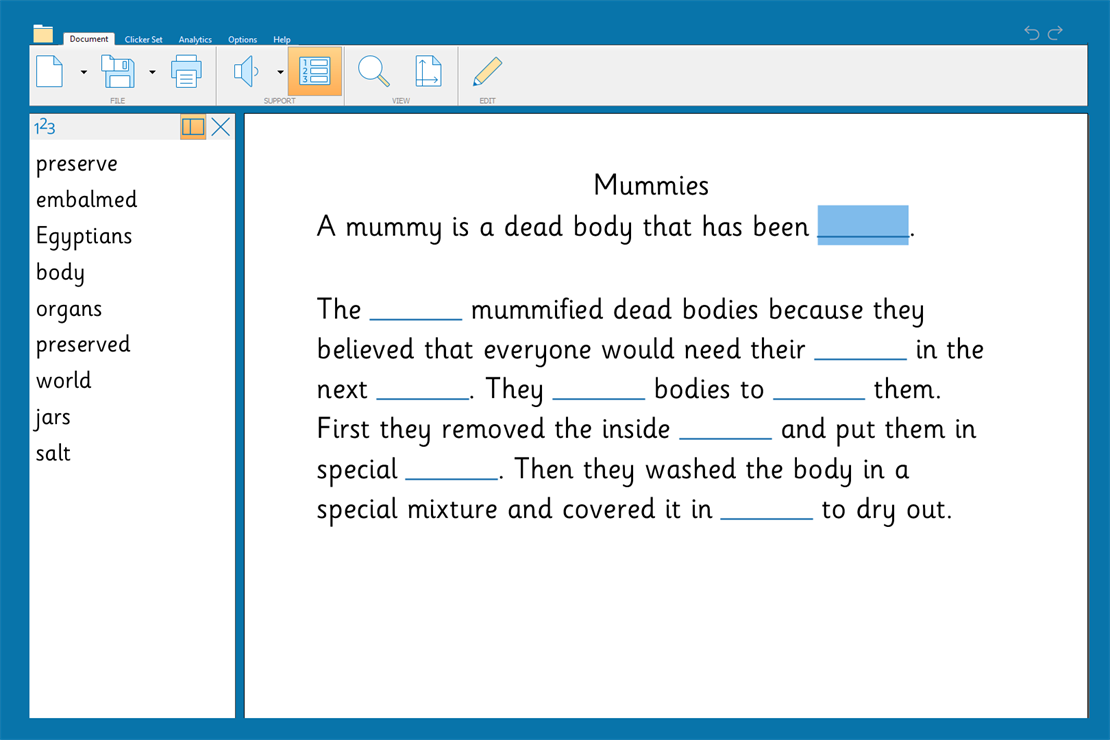 Quickly create activities
Cloze activities are a great way to assess your students' topic comprehension, reading skills, and ability to use semantic and contextual clues to reconstruct a piece of text. To create a Clicker Cloze activity, simply type or paste in your text, select the words you want to remove and click 'Go'! Complete the activity on-screen or print off for use as a worksheet away from the computer.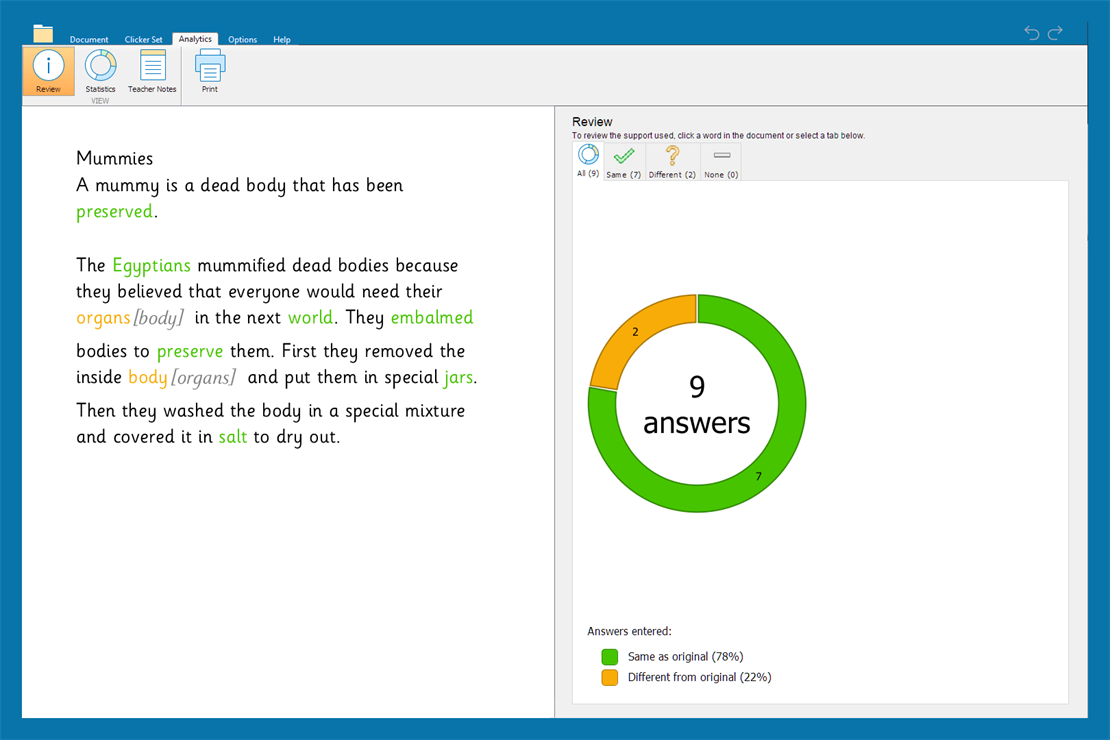 Cloze the Clicker way
As children work through the activity, they can select any word within the text itself or the list of suggestions and have it read aloud to them in Clicker's clear, realistic-sounding child's voice. They then click to send their choice into the relevant gap. Afterwards, teachers can find out at a glance how students have done by viewing the 'Analytics' tab.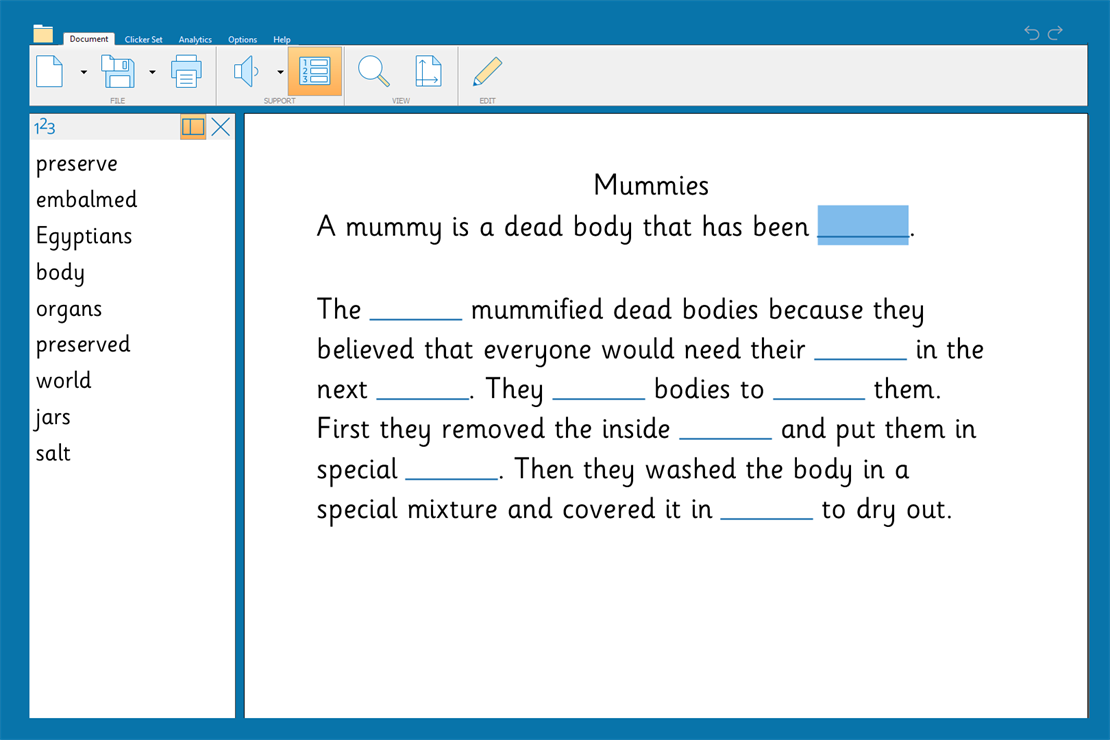 Customize for your students and objectives
Choose how many words will be suggested for each gap, or whether to provide suggestions at all, to ensure students have the right level of challenge. Use 'Custom Words' to create an activity where each blank has its own set of suggested words. This can be used to assess a variety of skills – which of these words makes the most sense? Which is the most powerful? Which character in the story said this?
---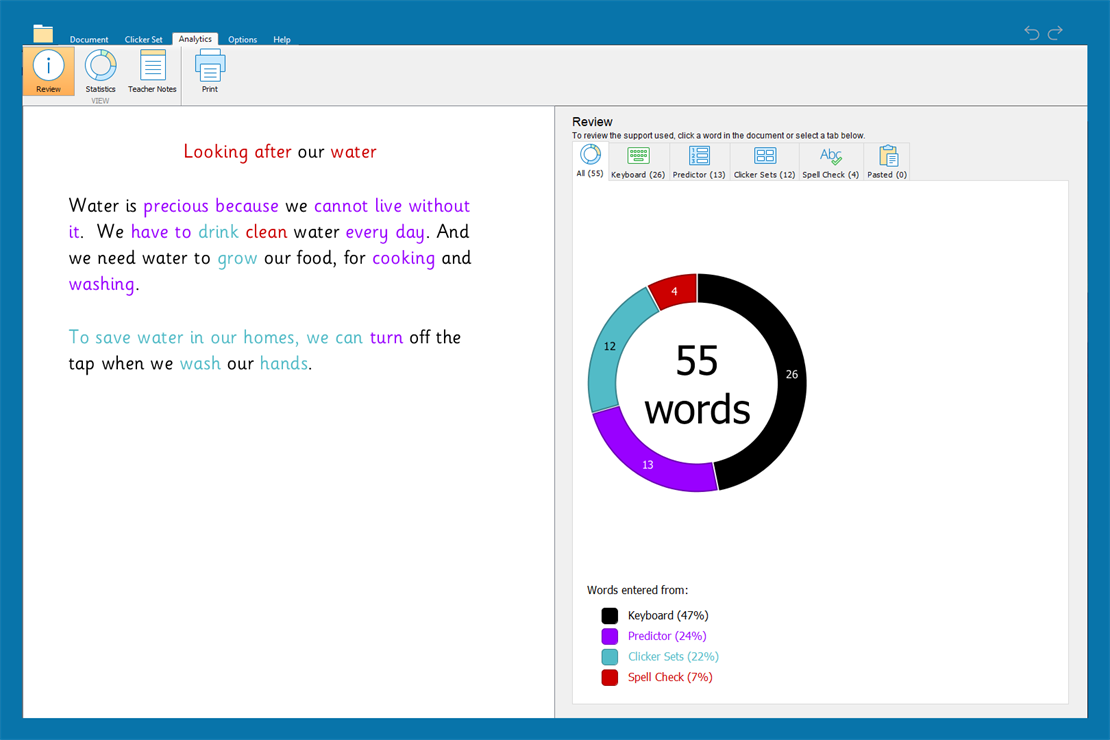 Clicker Analytics
Clicker enables struggling writers to produce finished pieces of work that just wouldn't be possible without its support. But wouldn't it be great to see how your learners achieved this? Clicker 8's brand new analytics tool records each student's writing journey. See how the writing task was completed, with detailed information about the tools that were used, to make informed decisions about each student's current support levels and progress-boosting next steps.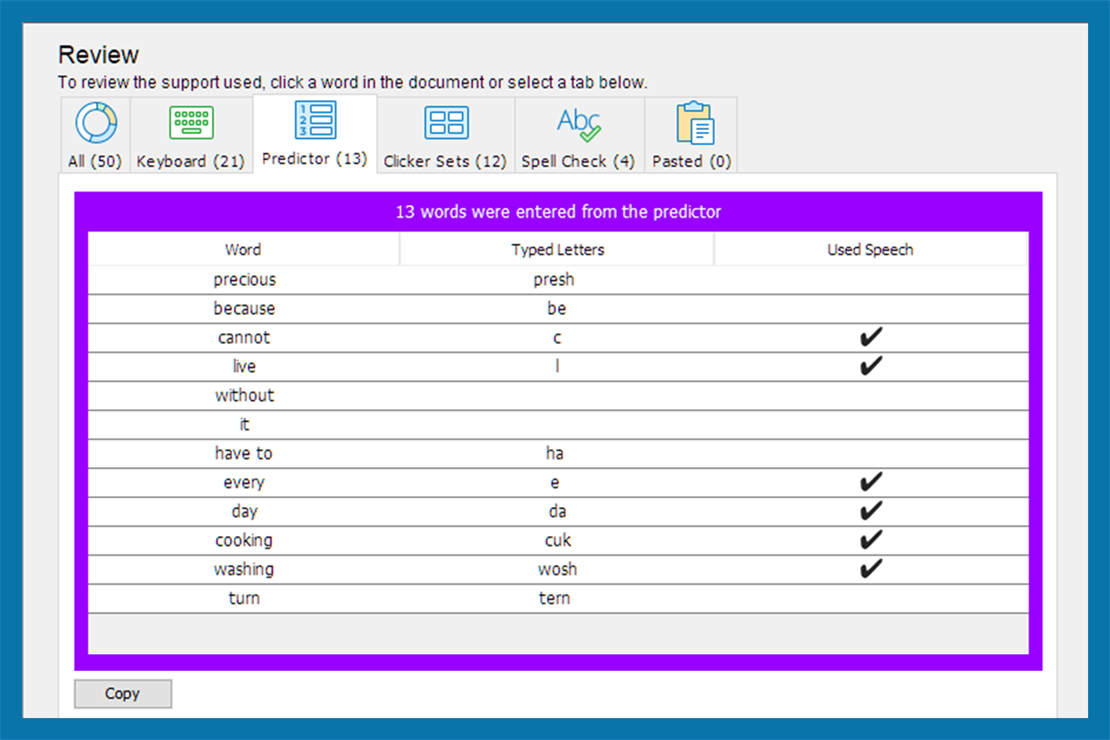 View the words they have entered using the suggestions made by the Predictor tool, and the spellings corrected with the spellchecker. Identify possible patterns, so that you can plan your teaching to address specific spelling issues.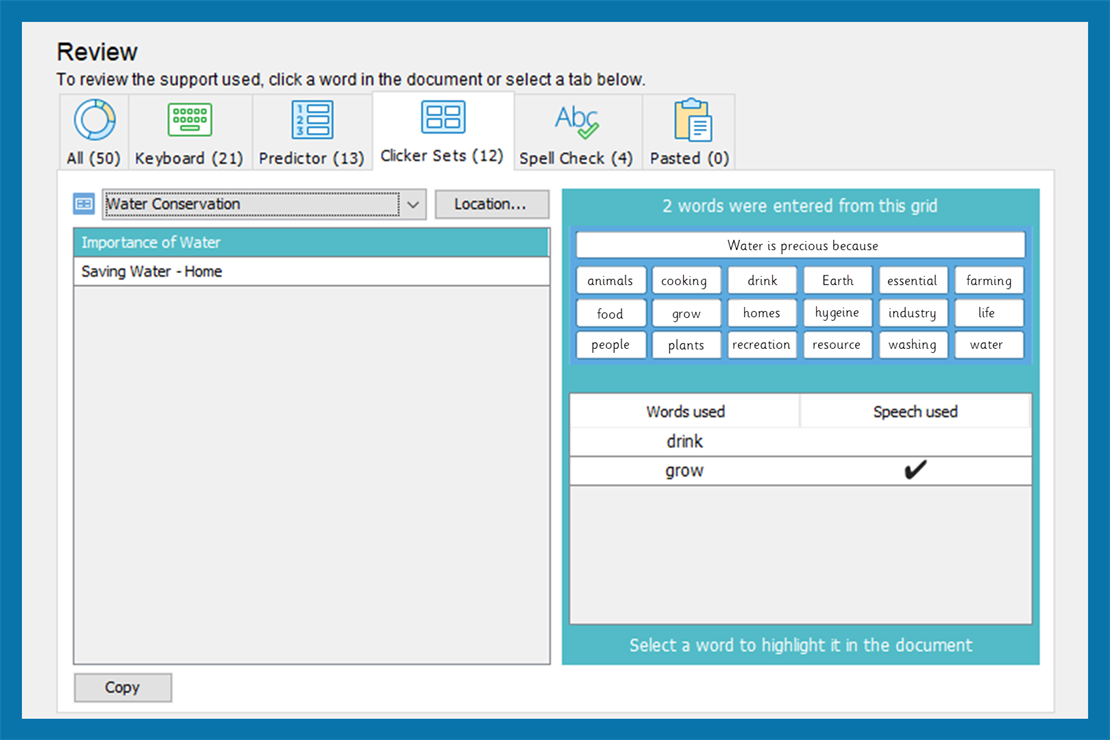 See which Clicker Sets have been used to complete a piece of work. You can even check which words the student has opted to listen to before using them, helping you to assess whether the vocabulary provided is at an accessible level.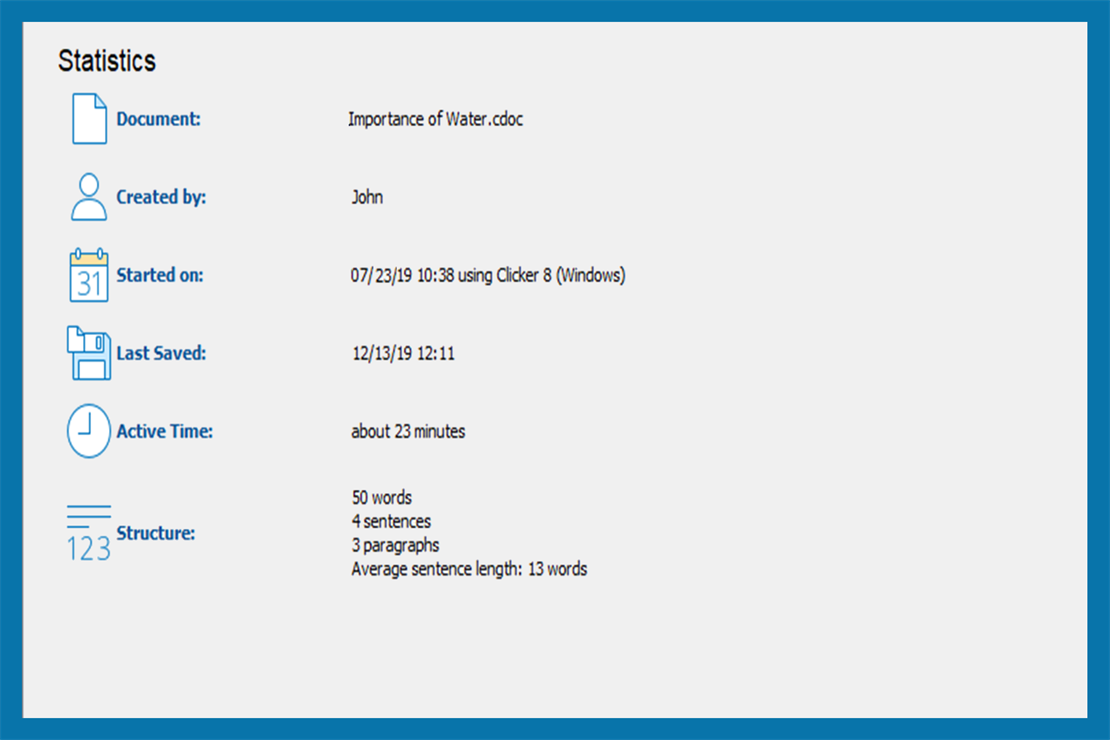 In addition to the basic statistics of the document, number of paragraphs, average sentence length, etc., Clicker Analytics shows you a complete history of the document; showing you when work on it was first started, the number of sessions it was worked on and the total amoun