•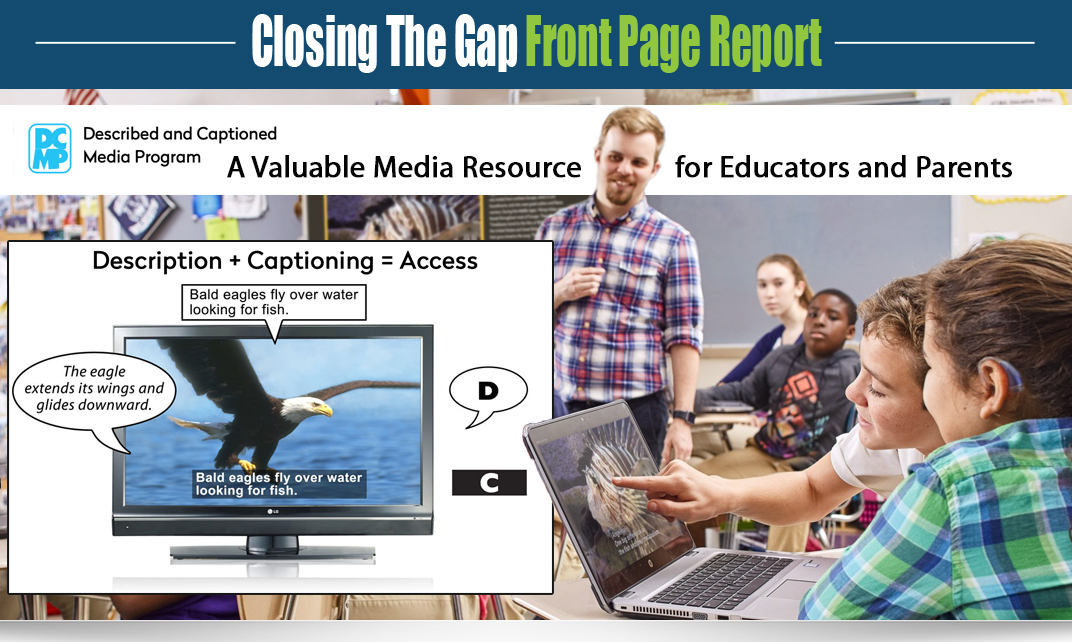 The Described and Captioned Media Program is the nation's leading source for accessible educational content, providing services for students who are blind, visually impaired, deaf, hard of hearing, or deaf-blind. Families and school personnel with early learners through Grade 12 students can register for free access to over 8,000 Educational Media titles on-demand and on DVD. Their Learning Center contains a wealth of information related to education, accessibility, deafness, blindness, and other related topics. DCMP provides Media Accessibility Guidelines through their Captioning Key and Description Key, used by media professionals as well as amateurs around the world.
They're excited to share with you a free educational resource for students who are deaf, hard of hearing, blind, visually impaired, or deaf-blind: The Described and Captioned Media Program.
DCMP is a federally funded program that provides unlimited access to thousands of accessible educational videos. Because they are funded by the U.S. Department of Education, there is no cost for any of their services.
They have videos for early learners through high school and into transition, as well as for parents and teachers. You'll find a full range of subjects, including ASL storytelling, deaf culture, blindness, deaf-blindness, math, science, history, and children's literature.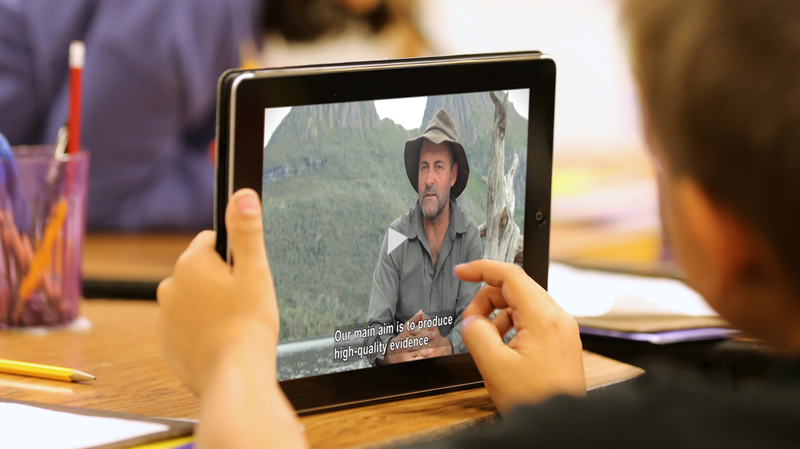 As a DCMP member, you can:
view over 8,000 accessible educational videos and television programs.
watch online or on DVD (with free return postage).
create student accounts.
access education, accessibility, and advocacy resources.
earn CEUs with eLearning Resources.
Get to know DCMP by previewing videos using the Search and Browse options at the top of the page. Explore DCMP's educator eLearning resources, like QuickClasses and Modules for which you can earn CEUs. Visit their Help Center for more information about how to view media, use Interactive Transcripts, create Student Accounts, and set your browsing preferences.
Registering for membership is easy. It takes just a few minutes to verify your email address and fill out the application. DCMP staff will notify you as soon as your membership is approved.
To qualify for an account, you simply need to be a parent or professional working with a student who is deaf, hard of hearing, blind, visually impaired, or deaf-blind and is an early learner through high school age.
---
Example video preview: "Our Special Life: An Autism Story (The Jorge Family)"
---
Description + Captioning = Access
The Need
In an address on March 15, 2011, the U.S. Department of Education (ED) Secretary Duncan stated: "In order to win the future, as President Obama has challenged us, we must enable every single American to reach their potential, and in my book, all means all. Every child, regardless of income, race, background, or disability can learn and must learn."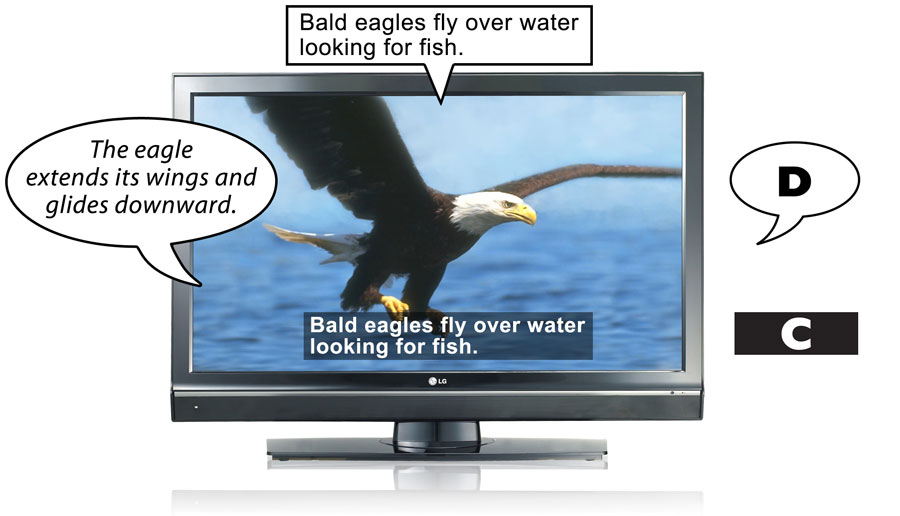 Students with sensory disabilities are often not enabled to achieve their potential. A major contributing factor is the lack of equal access to multimedia and other technologies that are an integral part of instructional practice. Only about 25% of educational videos/DVDs and 1% of Internet content is captioned for students who are deaf or hard-of-hearing, and less than that is described for students who are blind or visually impaired.
As indicated by questions continually fielded at the DCMP, the majority of people are uninformed as to laws and regulations concerning captioning and description, the process of selecting a provider of these services, the steps necessary to perform captioning/description themselves, and the costs of providing these services. Most people lack a comprehensive and trusted source for answers to questions about description and captioning.
Definitions
Captioning is the conversion of the audio content of a television broadcast, webcast, film, video, CD-ROM, DVD, live event, or other media productions into text and displaying the text on a screen or monitor. Captions are not limited to the display of spoken dialogue or narration in textual format, but also include speaker identification, sound effects, and music description. Less than 25% of educational media is captioned.
Description is the verbal depiction of key visual elements in a television program, video, DVD, or other multimedia presentation. Inserted into natural pauses in the program's soundtrack, description provides information about visual elements that otherwise would remain inaccessible to someone who is blind or visually impaired.
Equal Access
The DCMP ensures that early learners through grade 12+ students who are blind, visually impaired, deaf-blind, deaf, and hard-of-hearing will benefit from the same educational media used to enrich the educational experiences of other students. As a primary activity to meet this goal, educational media is selected, captioned and descriibed (English and Spanish), and then distributed in DVD format and streaming video. A fully accessible website providing registration and media scheduling supports this activity.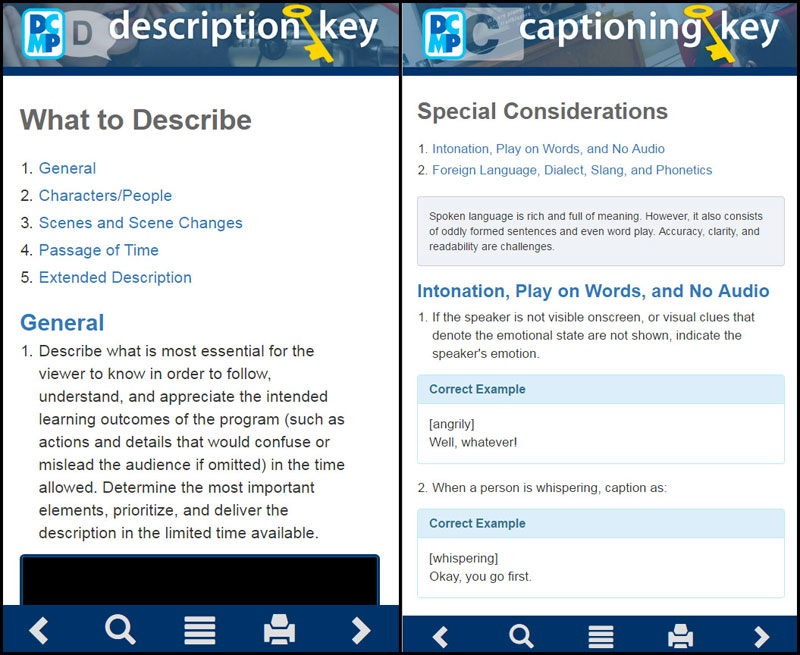 In addition, the DCMP-developed educational captioning and description guidelines for both captioning and description have been used by providers, government agencies, businesses, school technical departments, teachers, parents, students, and others. The DCMP's purpose has primarily been to present recommended technique and style guidelines, though gradually this information has also been supplemented by delineation of technical considerations.
These guidelines are made available through an informational clearinghouse of printed and online resources, which also include databases of accessible media available for purchase, an online catalog of DCMP free-loan media, research reports documenting the benefits of accessible media, articles providing training in media utilization, and a gateway to accessibility information from the websites of consumer, professional, and advocacy groups. This information is for service to consumers, agencies, businesses, and schools.
---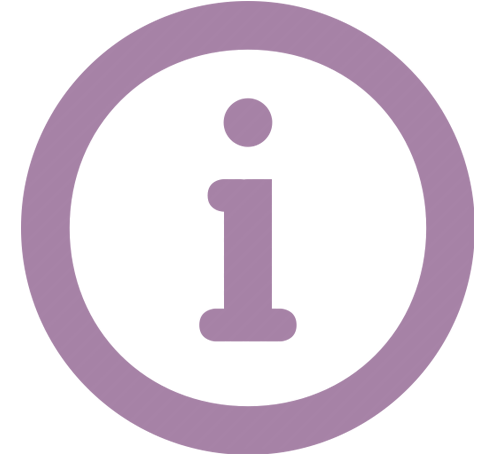 What is DCMP?
The Described and Captioned Media Program promotes and provides equal access to communication and learning for students who are blind, visually impaired, deaf, hard of hearing, or deaf-blind by providing services at no cost to familiy members, educators, and other professionals with qualifying students.
DCMP provides a Media Center of thousands of accessible educational videos. They work with producers and distributors of educational media to provide described and captioned versions for family members and educators with early learners through Grade 12 students who are blind or deaf. Media items are available on demand and on DVD with return postage paid. All DCMP services are free to those who qualify. DCMP members can:
access thousands of educational videos that are captioned and described, including training for parents, teachers and interpreters.
check out videos on DVD (with free return postage), or watch instantly on PC, Roku, Apple TV, tablets and smartphones. iOS users can download their free app from iTunes.
create Student Accounts to promote independent learning, with control over which videos students have access to.
access hundreds of posts on education, accessibility and advocacy in their Learning Center.
stay up-to-date on news and recently added videos by subscribing to their monthly newsletter.
watch accessible television series such as The Magic School Bus, BizKids, Daniel Tiger, Ocean Mysteries and Bill Nye.
Standards Alignment
DCMP members can browse and search for videos based on state and national educational standards. DCMP uses EdGate Correlation Services to ensure that state K-12 standards are kept accurate and up-to-date. Standards include:
Common Core
State Standards
Next Generation Science Standards
National Curriculum Standards for Social Studies
K-12 ASL Content Standards
Learning Center
DCMP provides accessibility information through posts in their Learning Center. Topics include include captioning, description, laws pertaining to accessibility, assistive technology, and an array of other subjects that are relevant to parents, teachers, interpreters, school administrators, captioners, describers, and media producers and distributors.
eLearning Resources
DCMP's eLearning Resources page includes resources for teachers; professional and amateur captioners and describers; students in transition and their teachers; and ASL interpreters. Some trainings offer CEU credit. Resources include:
Free, online training Modules.
Webinars pertaining to the field of accessible media.
QuickClasses, asynchronous, online classes for professionals working with students who are deaf or blind.
Workshops
Guidelines for Describing and Captioning Media
DCMP's guidelines for making educational media accessible are available for anyone to use, and indeed are utilized on all levels of video production, from broadcast content to educational video to teacher-created video.
Captioning Key
Description Key
DCMP Stakeholders
DCMP stakeholders are professionals who have a variety of backgrounds and experience in advocating for individuals who are deaf, blind, or deaf-blind. Stakeholders have included respected figures in leadership organizations, educators, administrators, parents, media suppliers, media producers, and description/captioning service providers. The diversity of this board not only enhances the services that DCMP provides, but also acts as a catalyst for change in the DCMP to keep pace with change in education and technology.
Ideas That Work
The DCMP is an idea that works thanks to funding by the U.S. Department of Education and administration by the National Association of the Deaf.
Click here for more information on DCMP – Described and Captioned Media Program