•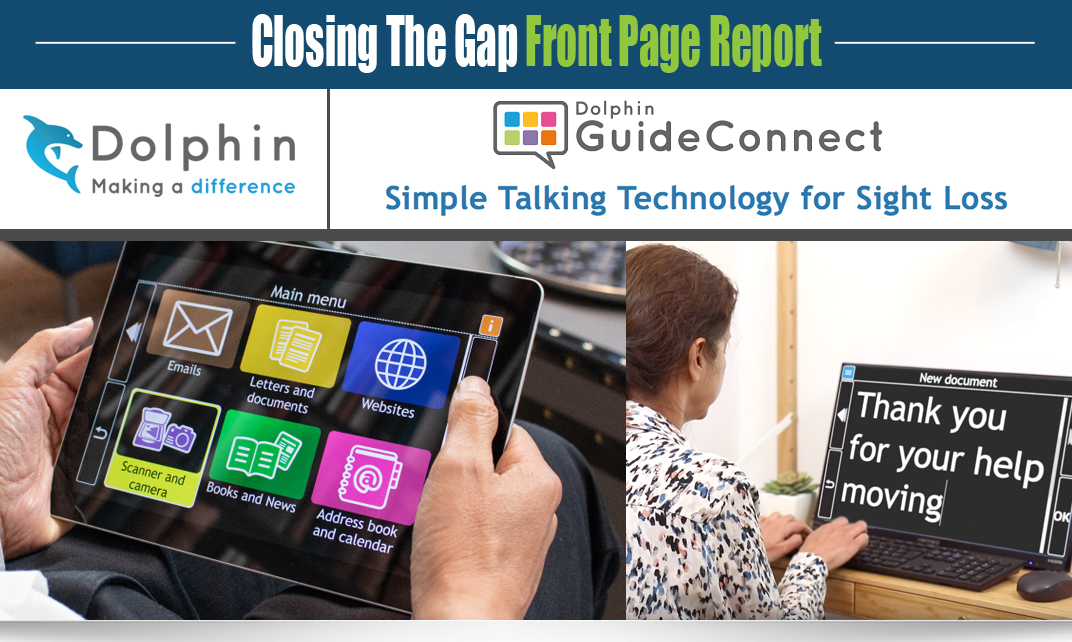 Simple Talking Technology for Sight Loss
Effortless email, entertainment and internet
Losing your sight is life changing. Technology could help you gain greater independence, but what if you don't feel confident?
GuideConnect is a talking digital assistant that brings you closer to family and friends. It helps you manage your everyday life and have fun. Simple internet access makes it easy to find information, be entertained and stay up-to-date with what's happening in the world. GuideConnect is thoughtfully designed by and for people with sight loss, enabling you to enlarge the text or have it read to you. There are straightforward menus and lots of help. GuideConnect will talk you through every step of the way – you won't believe how easy it is to use!
---
Features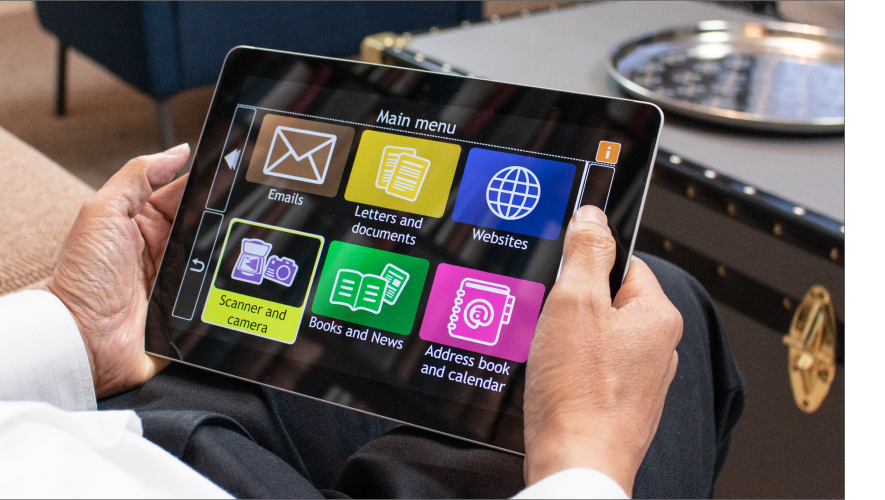 Summary
Simple step-by-step menus help you complete every task
High contrast large print text, as BIG as your eyes need
Human sounding voices guide you every step of the way
Touch, remote, keyboard or mouse access
The simplest way to write, send and receive email
Compose letters and print envelopes
Effortlessly browse the web
Scan and read your print mail
Listen to audio books or today's newspapers
Maintain a calendar and receive timely reminders
Tune in to your favourite radio stations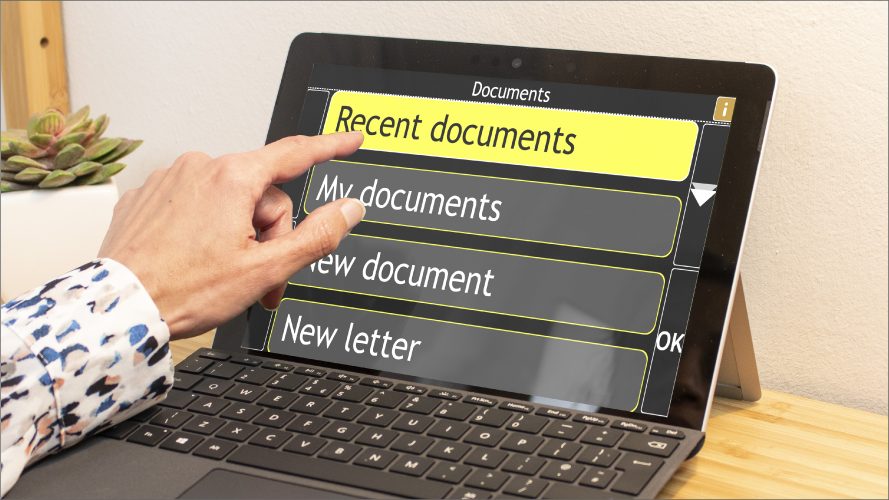 Simple step-by-step menus
Never get lost or overwhelmed – GuideConnect's simple step-by-step menus talk you through your choices.
Whether you're composing an email, browsing the internet or scanning your post, GuideConnect simplifies the process into a series of effortless steps. 
Follow along with high contrast, large print talking menus and you'll have achieved your task before you know it.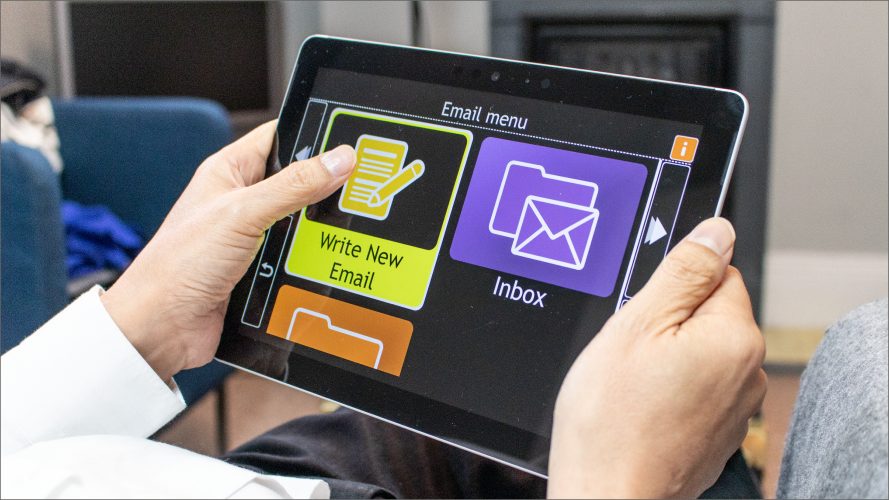 Text and menus as BIG as you need
Unlike iPads and other tablets, with GuideConnect there's no restriction on how big you make the words. Choose large print menus and text, wherever you need them.
High contrast colours that suit your sight and a selection of easy-to-read text fonts, ensure you can always see the action.
With GuideConnect there's no small text, no searching for low contrast app icons and no complicated gestures to remember.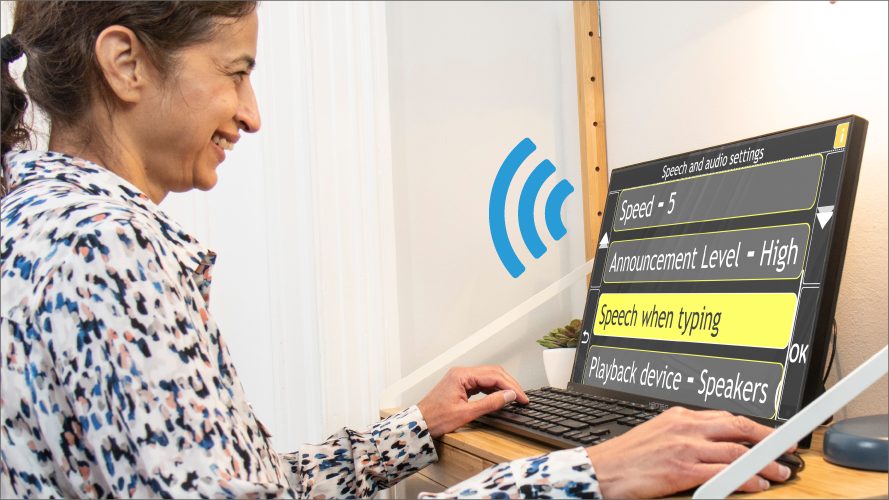 Talks you through every task
Everything is read aloud with GuideConnect. The simple step-by-step menus are spoken at a speed that suits you. You can hear email from a family member read aloud, as if they were in the room. Have today's post announced for your ears only.
Whether you choose GuideConnect for your TV, tablet or on a computer, the voice announces just enough information, so you always feel in control and never overwhelmed.
GuideConnect includes a selection of human sounding voices and can read as slow or as fast as you are accustomed to.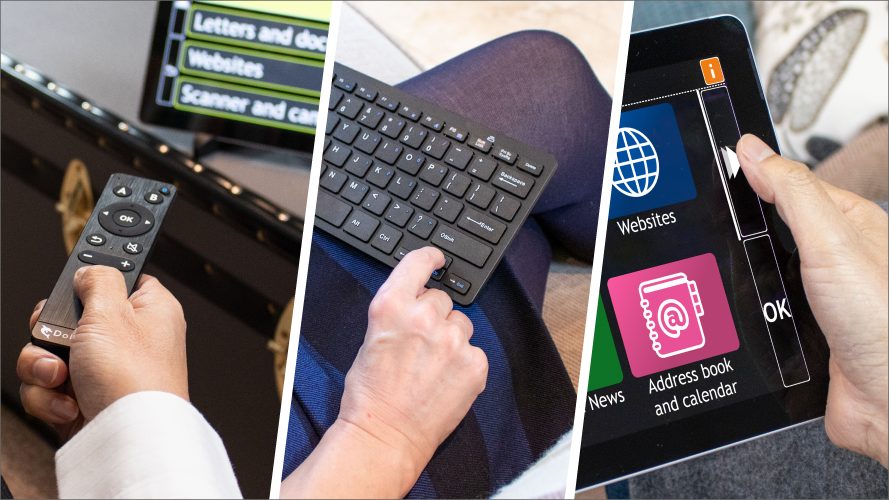 Flexible access – touch, remote, keyboard or mouse
GuideConnect's touchscreen access is ideal for partially sighted people who have chosen a portable tablet or touchscreen laptop. There are no complex gestures to memorise, just the handy side buttons that sit naturally under your fingers.
For the quickest access to GuideConnect's leisure features, reach for the Dolphin remote control. The natural partner for TV and tablet users, the Dolphin Remote can also be paired with your laptop or desktop computer. Sit back in your favourite armchair and use the simple tactile buttons that feel instantly familar.
For people that choose a laptop or desktop solution, GuideConnect is equally intuitive with your favourite keyboard and mouse.
Effortlessly write, send and receive email
Email has never been easier or more accessible than with GuideConnect. The simple speaking menus walk you through every step of writing, sending and receiving email. 
New email – GuideConnect will notify you
Composing a response – GuideConnect will read as you type
Proofing for mistakes – GuideConnect alerts you to spelling errors
Add a contact to the address book – GuideConnect assists you
With talking, high contrast, large print menus that patiently guide you, staying in touch with friends and family has never been simpler.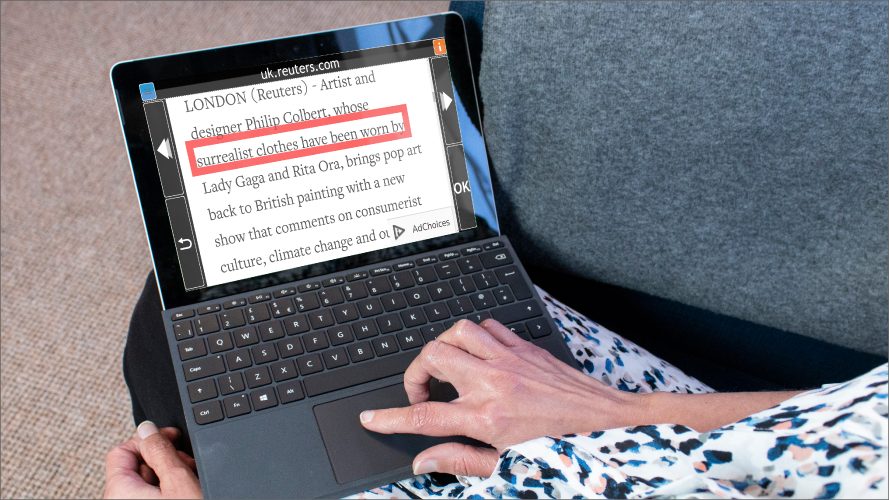 Browse the web with confidence
Access a world of information with just 4 keys. GuideConnect harnesses all the power of a full screen reader, with none of the complexity.
Use the up and down arrow keys to explore any webpage. GuideConnect will highlight what is being read aloud, so you'll never get lost or confused.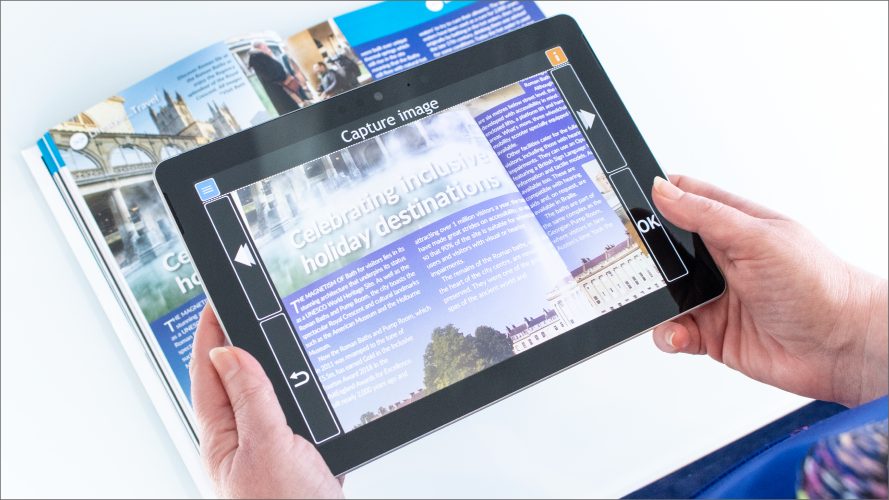 Scan and read your post, independently
With GuideConnect, there's no need to wait for someone sighted to visit and read your mail. You can independently and – most importantly – privately read your letters and print documents.
GuideConnect is the simplest way to hear printed text read aloud. Choose GuideConnect's tablet package and use the inbuilt camera. Or TV and computer users can plug in a lightweight scanner.
Add high contrast colours to make the text or images easier on the eye. Save photos to look at again, and again.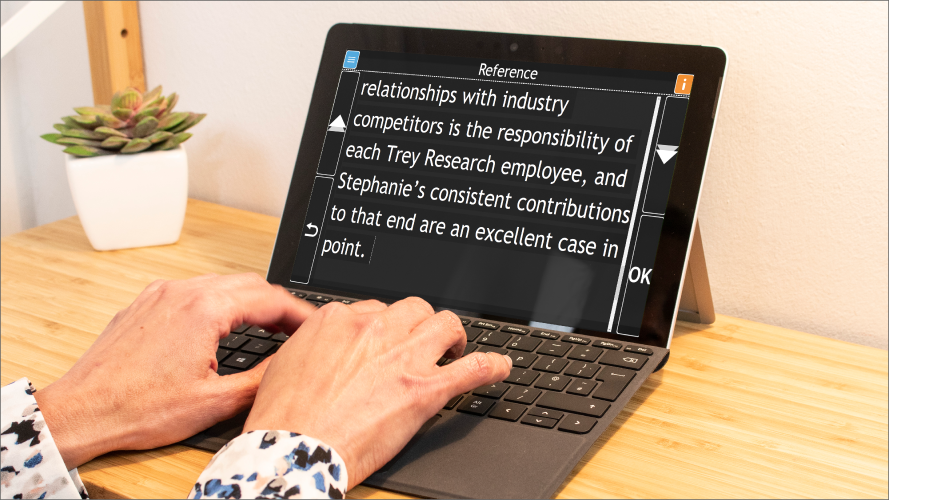 Confidently write letters and documents
There's no escaping the admin of modern life, but with GuideConnect you can independently handle your own correspondence.
Write letters – GuideConnect builds your letter, piece by piece, so there's no complicated formatting challenges.
Add your recipient's address from the address book.
Choose a greeting. Write your message. Sign off.
Always large print, GuideConnect walks and talks you through each stage and even prints your envelope!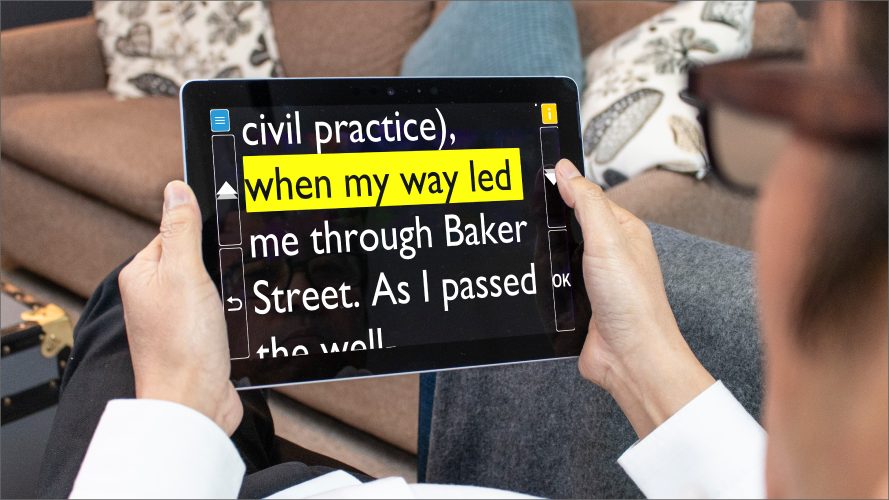 Browse and read 1000s of free audio books
Experience the widest range of audio books, human narrated and delivered with large, crystal clear text. From top ten best sellers to old classics, romance to tragedy, GuideConnect has them all, free and ready to read. Simply sign up to your regional accessible library provider and get reading.
Explore the full list of library providers and sign up for their free services, then browse titles in your local language by popular titles, genre, title or author.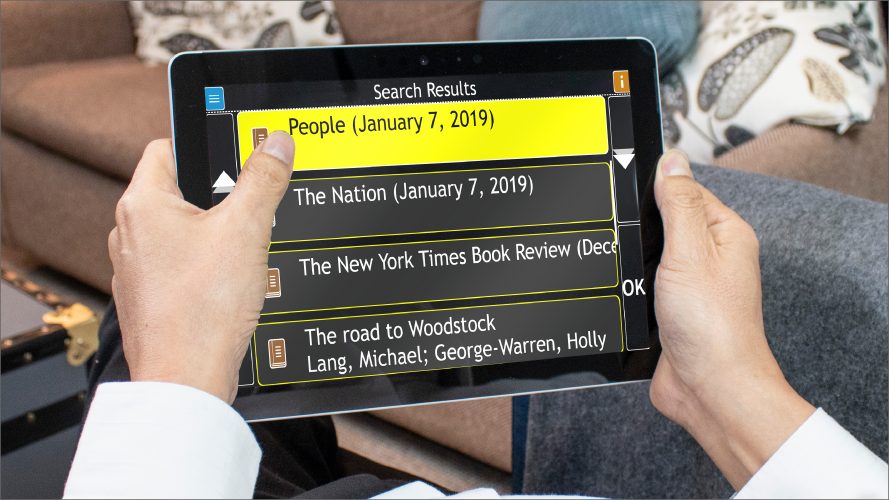 Newspapers you can read, delivered daily
Local, regional and national newspapers are all accessible and delivered daily with GuideConnect. Sign up to the RNIB's free Talking Newspapers service and GuideConnect will fetch your favourite papers as they're published.
With print as big as you need it, you can browse the headlines and the sections. Love sport? Jump straight in! With GuideConnect you can choose, read and listen to the articles that interest you.
Listen to the radio
Browse thousands of local, regional and national radio stations, or just play your favourites.
Discover stations catering for all kinds of interests and groups of people.
Listen to content while using other GuideConnect features, or just sit back and enjoy the programme with your Dolphin remote in hand.
Easily find your station with GuideConnect's speech, high contrast text and station preset buttons.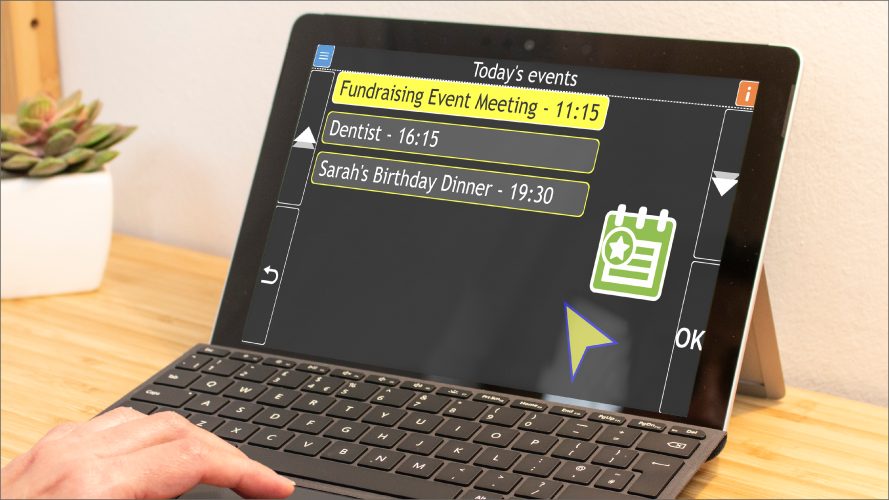 Manage your calendar and address book
Never miss an appointment or birthday again. Add events and receive timely reminders. There are no complex calendars to navigate. With GuideConnect all the details are in large, high contrast print and also spoken.
Store your contacts' addresses, email addresses and phone numbers in GuideConnect's address book. Effortlessly and independently send an email, write a letter, or print an envelope or a label. With GuideConnect you don't need an expert at hand.
---
---
Why Choose GuideConnect?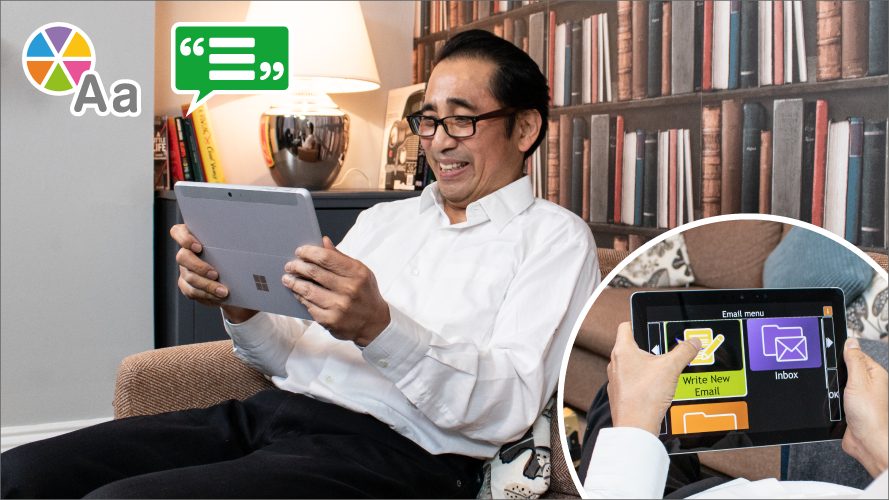 Thoughtfully designed by and for people with sight loss
GuideConnect is intuitive to use, so that even if you're new to technology or lack confidence, it's easy to get started with the clear and simple menus.
Tweak the speech and magnification to suit your visual impairment and know that GuideConnect can evolve with you if your sight changes.
Large print that can be as big as you need, in the font and colours of your choice.
Every option is announced with a human-sounding voice – it's like having a person guiding you every step of the way.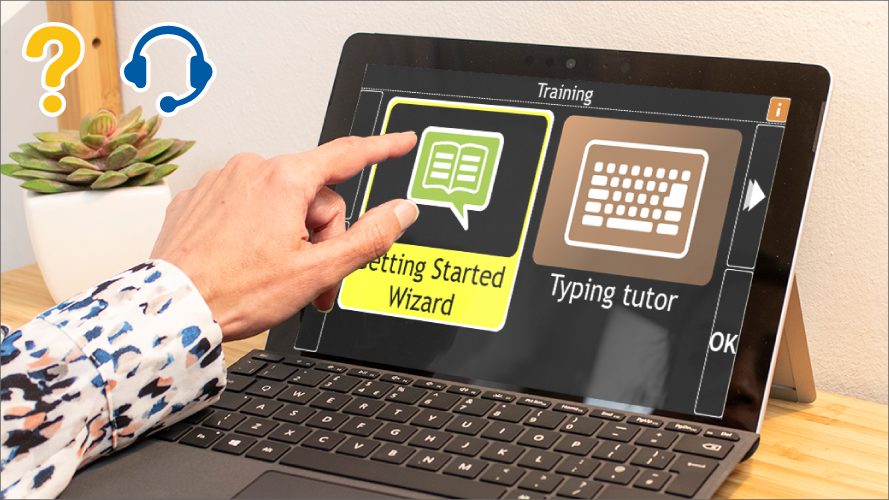 Get started straight away with technology made simple
GuideConnect is so simple to use – get started quickly and easily, even if you are lacking in confidence or new to technology.
2 hours of telephone training (UK only) are included with every purchase of GuideConnect, so you're guaranteed success.
Step-by-step video tutorials guide you through the basics.
Set-up is stress-free with helpful hints and tips for a friend or relative.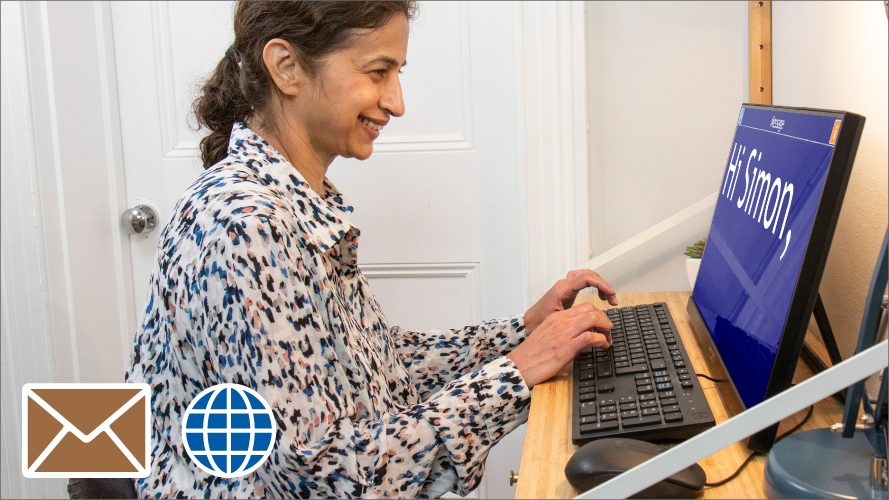 Stay connected with family and friends
Easily use email to send messages and documents for business and pleasure.
Simple internet access means you can share photos online to celebrate family news and special events.
Use online forums to discover what's happening in your local community, make new friends with similar interests, and stay in touch.
GuideConnect's straightforward menus mean you'll find connecting and communicating painless.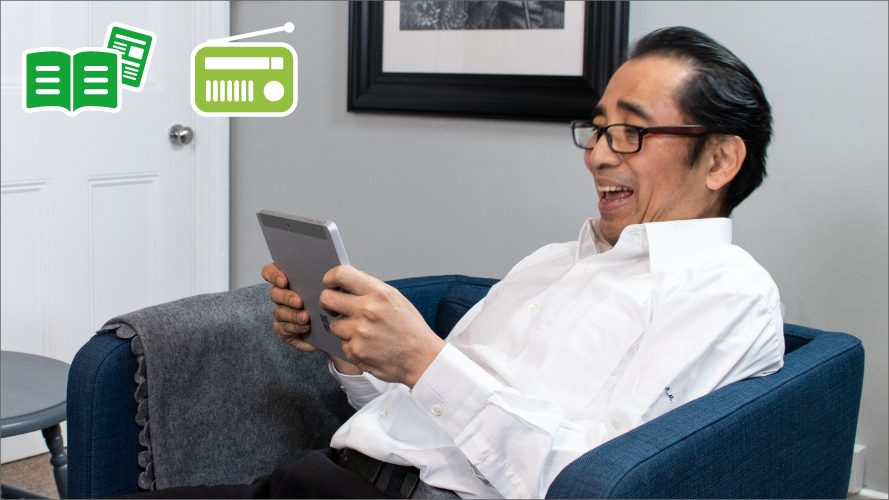 Be entertained and have fun!
Listen to programmes and music from a huge range of local, national and international radio stations.
Instantly browse, choose and listen to thousands of free audio books.
Same-day, full access to newspapers – delivered daily.
Simple access to the internet helps you to enjoy hobbies and explore interests.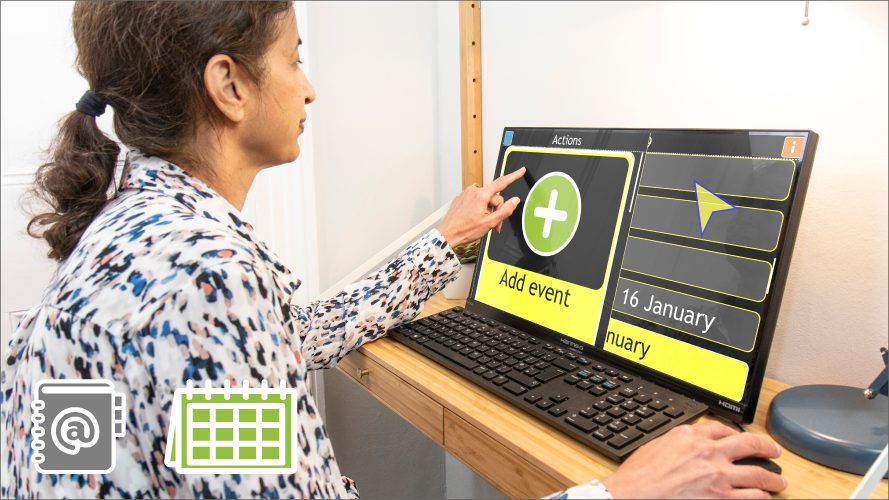 Manage Everyday Tasks Independently
GuideConnect makes light work of sorting out practical chores and the admin involved in modern life.
Checking information on the web and shopping online are a piece of cake.
Easily sort out internet banking matters and pay bills.
Get organised – arrange appointments, consult timetables and plan travel.
There is no more waiting around – independently read and respond to your own post.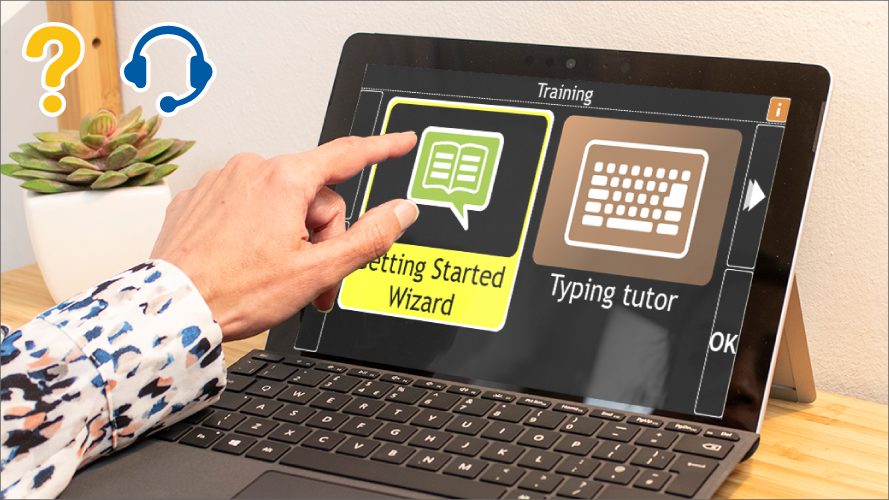 Help and Support Every Step of the Way
There is a wide variety of help on each page.
Straightforward, step-by-step menus make navigation simple and intuitive.
Most pages can be accessed using just four keys!
A friendly member of the Dolphin Product Support Team is always available to help at the end of the phone.
---
---
GuideConnect on a Device that Suits you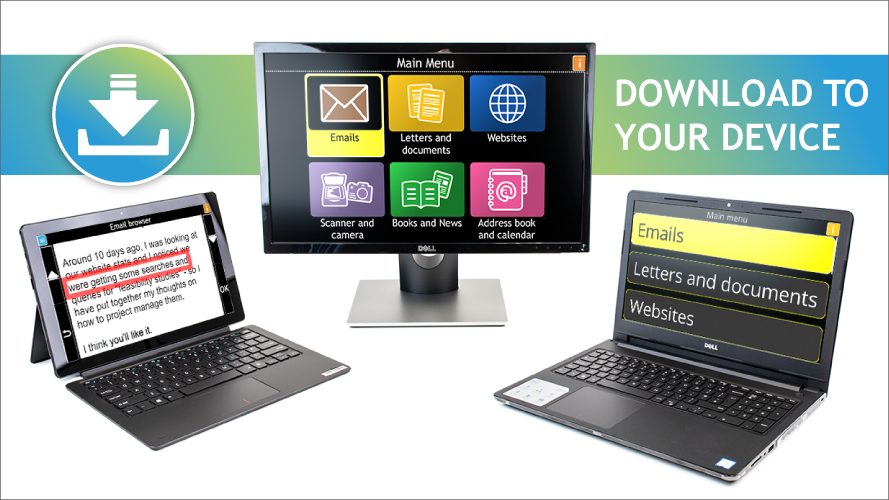 My Current Computer
If you already own a Windows laptop or desktop, add GuideConnect and get back online straightaway. GuideConnect is the simplest way to email friends, download books and browse the web.Try GuideConnect free for 30-days and gain independence, organise your life and have fun.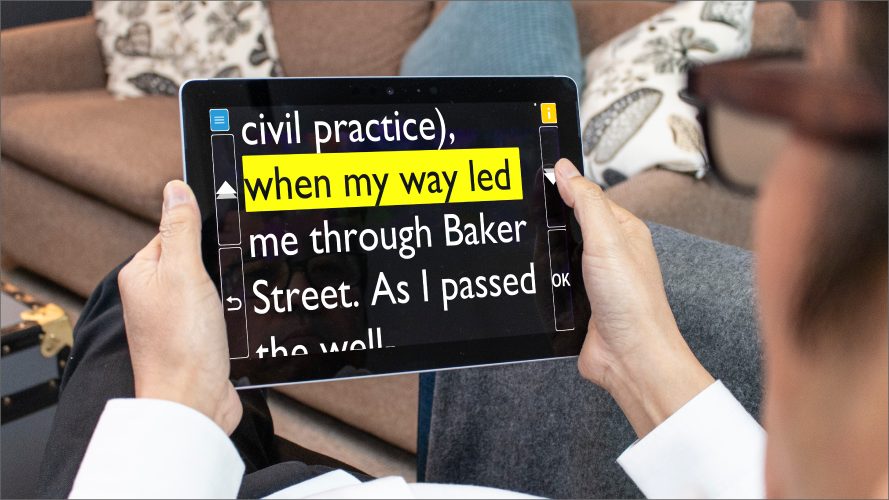 On a Tablet
Choose GuideConnect on a tablet if you want a portable device, with all the benefits of touchscreen accessibility.
Perfect for people with partial sight, GuideConnect features side buttons for the easiest touchscreen control.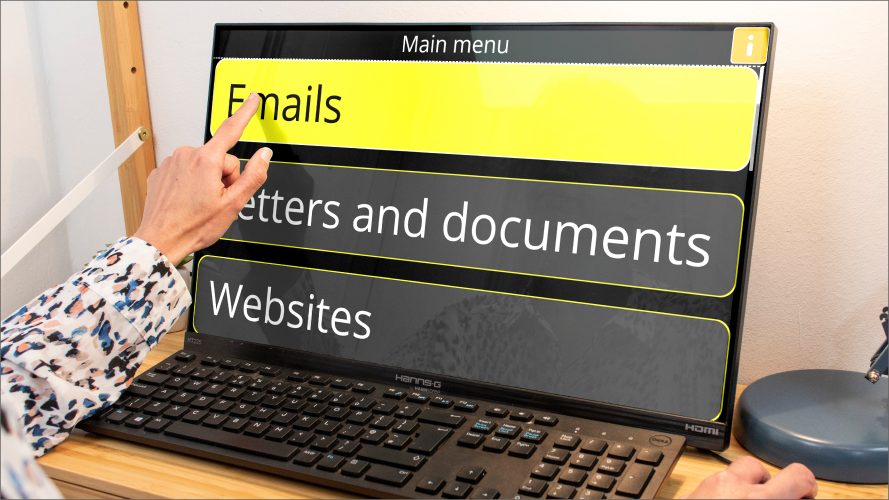 On a Laptop or Desktop
If you love sending emails or writing documents, choose GuideConnect on a laptop or desktop computer.
Use the mouse and keyboard for simple control – most pages can be accessed using just 4 keys.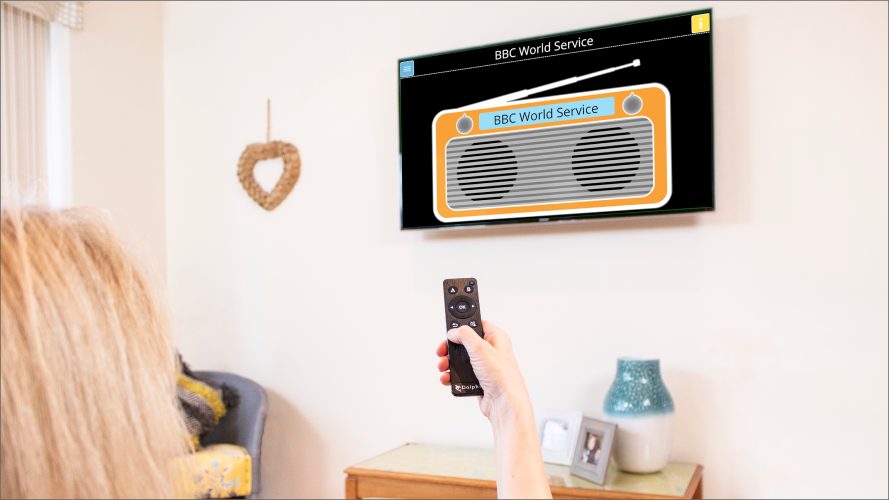 On My TV
Enjoy all the flexibility of GuideConnect, on the largest screen in the house, with the best audio.
Sit back in your favourite chair and use your Dolphin tactile remote to read email, browse online or listen to hundreds of radio stations.
Enjoy thousands of free audio books and same-day access to local and national newspapers.
---
---