•
The Evolution of Eyeflite
It Started with a Friendship ...
Life can be looked at as a series of serendipitous moments that lead us to our true calling. 
The first moment for Andrew was when he met Archer Hadley and became his caregiver for two years while in college.
Archer was born with cerebral palsy and had motor function in one arm as well as decreased speech abilities; seeing the little things that made Archer's life difficult made Andrew think there had to be something he could do to improve his independence.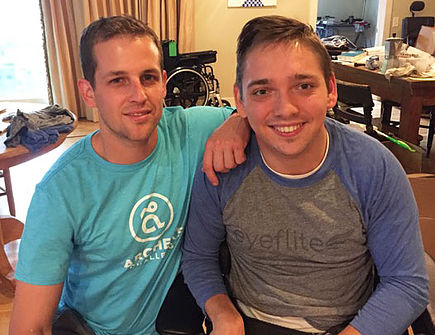 Andrew (left) with Archer (right).
… And Blossomed into a Business
Andrew's relationship with Archer was what lead to the ideation of Eyeflite. Andrew was studying engineering, which is where he met Ian. Together, they worked on projects involving augmented reality (AR). While their past projects were entertaining and had some real world applications, their true passion lay in making a difference in the life of Archer and people in similar circumstances. As they began to research into the disability community, they found themselves increasingly upset about the costs associated with the extremely limited technology.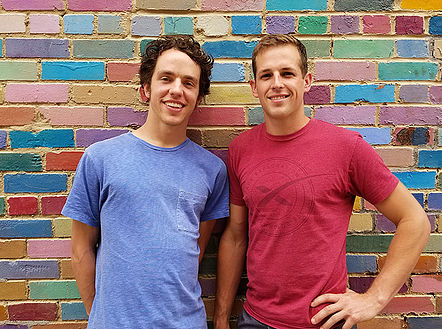 Ian (left) with Andrew (right).
"As we researched what was currently available we became more and more aware of the inflated pricing once you began working on medical solutions for people with disabilities."
"Prices are increased if you are billing health insurance, but at this point we are trying to get it to the people who need it most. And they are the ones paying for it—not insurance companies!"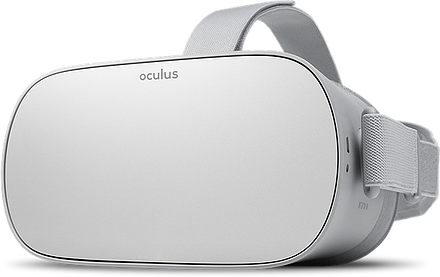 Their Mission
"We're on a mission to make technology and communication more accessible and affordable for everyone because we believe that a disability should not define one's abilities." "EyeFlite is a startup building a hands-free communication and digital content delivery platform for virtual and augmented reality to empower people with movement disabilities with more independence and control. This allows a user to stay competitive at work or at school while staying connected to the people that matter. With either head tracking or voice dictation, a user can type on various virtual keyboards, respond to emails and texts, browse the internet, control various smart devices, and play games." – Andrew, CEO, Eyeflite
---
Technology products that empower the individual.
WingVR​
WingVR is virtual reality software for the Oculus Go that allows a user to perform a variety of tasks hands-free.
How It Works
Head tracking allows complete control to type and navigate the user interface.
Voice dictation allows one to type even faster.