•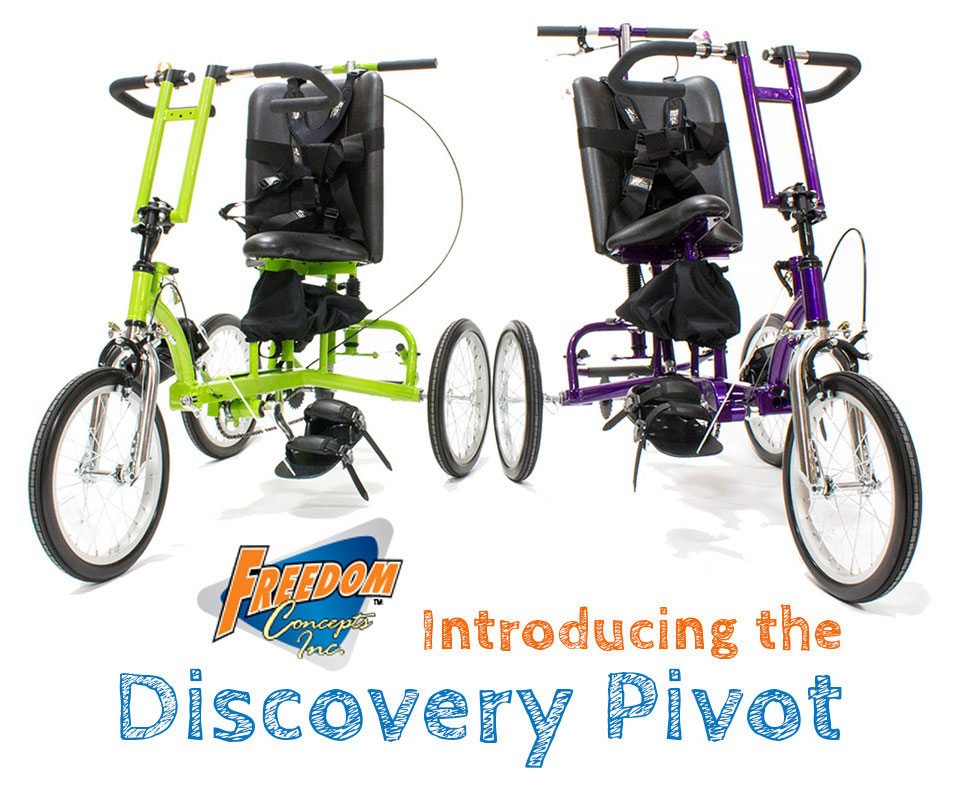 DCP Pivot  – Pivot Towards a More Active Lifestyle
The Discovery Pivot is being released into the market after years of feedback, testing and requests from parents, riders, consumers, therapists and other medical professionals. Available in the 16" style, the Discovery Pivot is by far their  most adjustable design. Their new versatile seating system allows for riders to maintain proper hip-to-foot alignment as they grow. Meanwhile, their completely redesigned frame allows riders to safely and comfortably transfer on-and-off the bike. For transportation and storage, they've introduced their new pivoting frame, removable rear wheels and detachable seat. The Pivot is fully-customizable to suit any need, preference or style. Read more below for the Pivot's complete feature listing.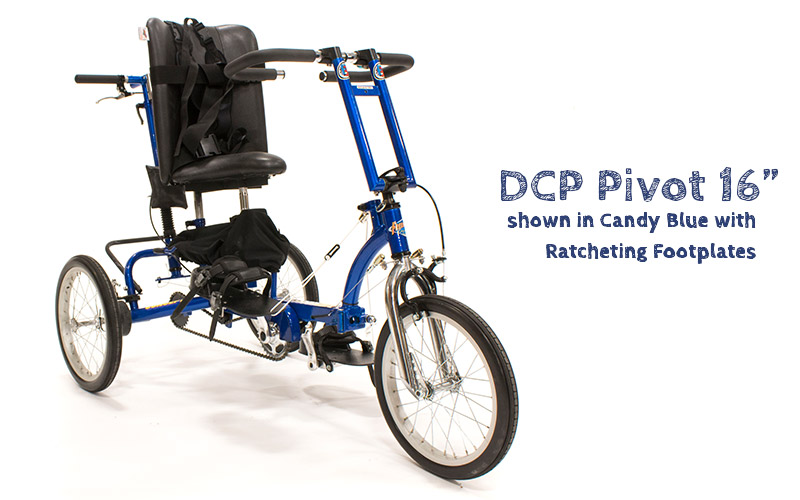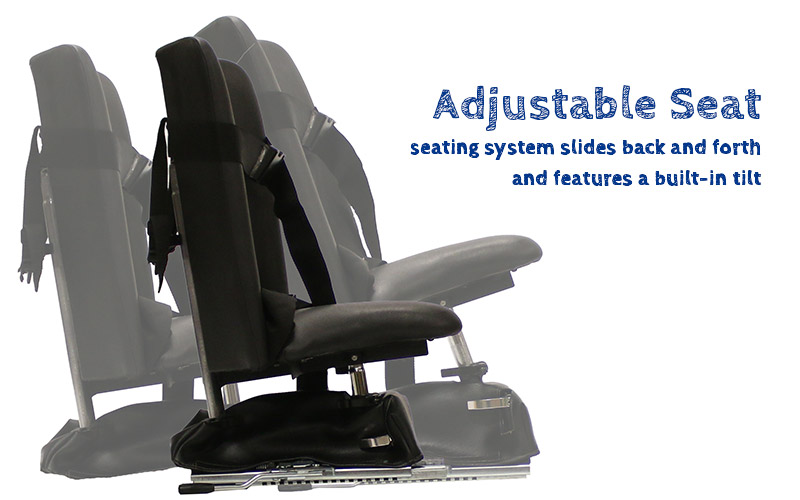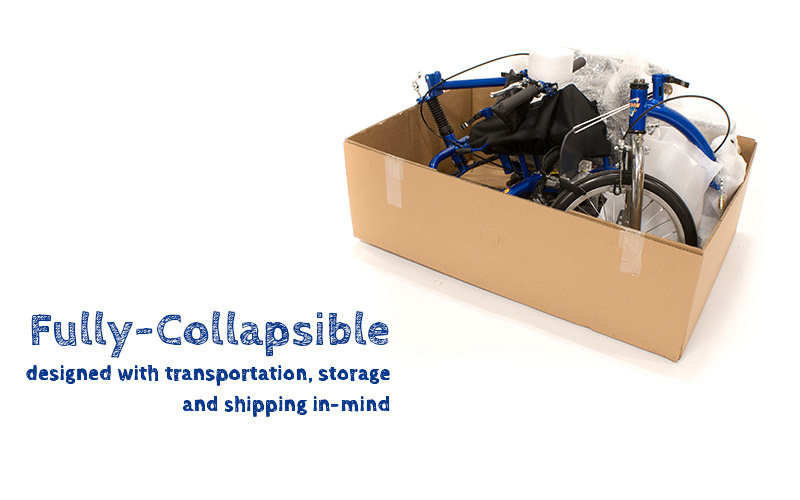 DCP Pivot Features
Pivoting/folding frame
Cable-actuated Rear Steering™
Lowest transfer height on any Freedom Concepts tricycle
Fully adjustable tilt and slide seating system
Multi-adjustable Rear Steering™ height, handle and brake position
Adjustable wheelbase with multiple width settings
Independently adjustable handlebars with telescopic posts
Ability to lock or unlock the rider's handlebars
Supportive high-back seating system with multiple options to add additional harnesses or head supports
Option to add multiple types of footplates to help with heel flexion or plantar flexion
Flick-switch parking brake
Standard bike essentials such as: safety flag, wheel reflectors, animal squeaky horn, multi-tool and bell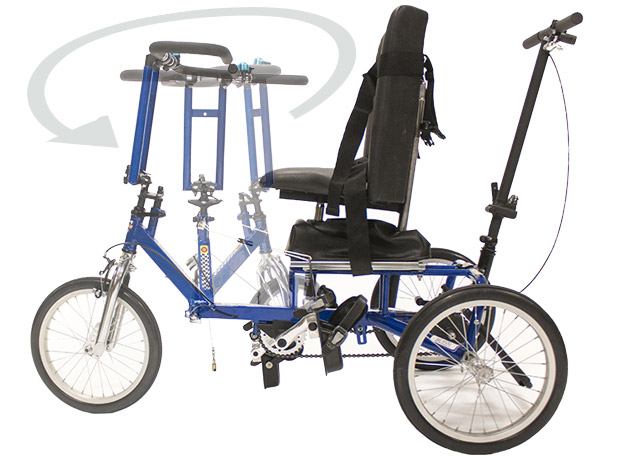 Above all, our adaptive bikes provide a quality of life and lifestyle to those with limited mobility options. Every product is designed to provide normalcy and a sense of freedom.  Each bike is built to the person and their special needs, taking leg length, trunk support, and type of disability into consideration. Listed below are several of the benefits that Freedom Concepts adaptive bikes can provide:
Improved range of motion
Proper hip-to-foot positioning
Development of balance and self-support
Improved motor planning
Increased blood circulation
Fitting process ensures natural hip positioning
Strengthening of anti-gravity muscles
Stabilized bike with parking brake for transferring
Quick Release locks help swing bike components out of the way for transferring
Improvements in overall mobility
About Freedom Concepts Inc. – Helping People Discover the Freedom of Mobility Since 1991
Their company was born from a special request to build a bike for a special needs child. This one bike was such a huge success that it opened the door to many new requests and the birth of a company. Today, bikes from Freedom Concepts can be found throughout the world. We continue to innovate and develop not only bikes, but other unique items like Chill-Out Chairs and Freedom Climbers.
Make sure to browse their Products Lines page to see all of their therapeutic and recreational innovations. Or navigate to their Resources or Blog pages to access excellent resources for parents, including links, downloads, articles, videos and more!
Freedom Concepts Inc., their adaptive bikes provide a quality of life and lifestyle to those with limited mobility options. Every product is designed to provide normalcy and a sense of freedom.  Each bike is built to the person and their special needs, taking leg length, trunk support, and type of disability into consideration. Listed below are several of the benefits that Freedom Concepts adaptive bikes can provide:
Improved range of motion
Proper hip-to-foot positioning
Development of balance and self-support
Improved motor planning
Increased blood circulation
Fitting process ensures natural hip positioning
Strengthening of anti-gravity muscles
Stabilized bike with parking brake for transferring
Quick Release locks help swing bike components out of the way for transferring
Improvements in overall mobility