•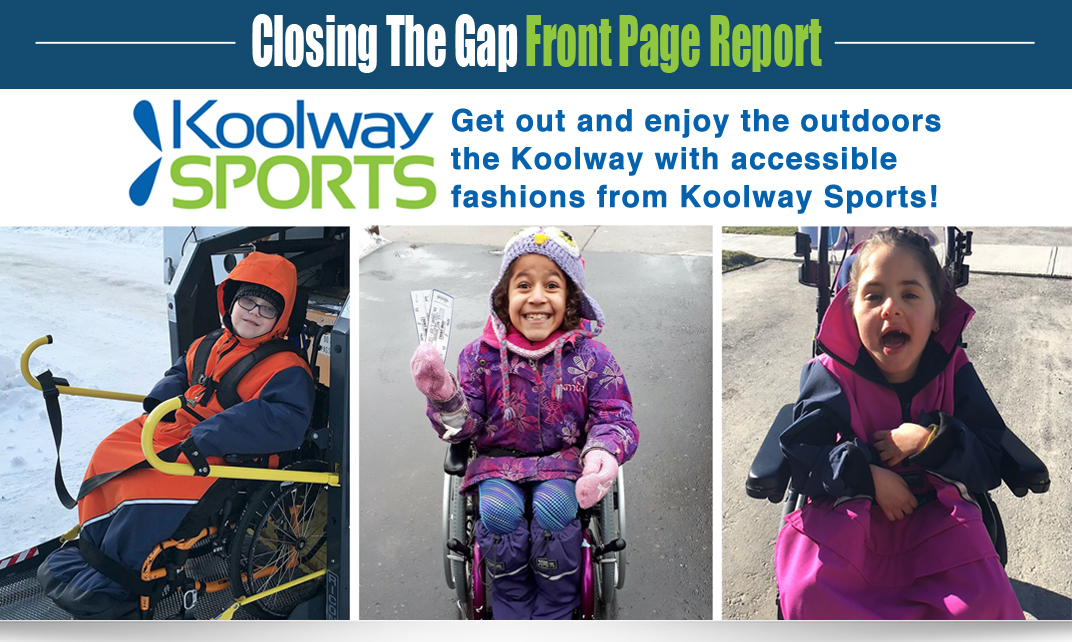 Koolway Sports designs and manufactures outerwear for individuals with disabilities, enabling them to achieve their maximum level of independence in all aspects of their life!
Who They Are 
Koolway Sports designs and manufactures clothing that is comfortable and warm for people of all ages who have mobility issues. Their garments enable people to achieve a greater degree of independence and an increased sense of self-esteem in their daily life. Their products make our mobile clients and their caregivers a day-to-day experience easier by focusing on quality, comfort and effortlessness. 
They take great pride of being a Sustainable 100% Canadian Company owned and all their design and manufacturing operations are in Whitby (Durham Region) and Toronto area. 
Why There Is A Need? 
Individuals confined to wheelchairs are challenged in finding weather-appropriate clothing, which addresses their special needs. The choices in this are typically stylistically outdated and of inferior quality. They address this need by providing fashionable, comfortable and weather-appropriate outerwear saving time and effort for customers and caregivers who need a stress-free experience in dressing. Koolway Sports products provide comfort, warmth, accessibility and most importantly, self-esteem. 
Their Product 
Their approach is unique as they customize their product to fit individual client needs from their body frame to their custom wheelchairs. Koolway Sports products are designed to accommodate dressing an individual while seated so clients look great, stay warm, dry and most importantly comfortable. 
---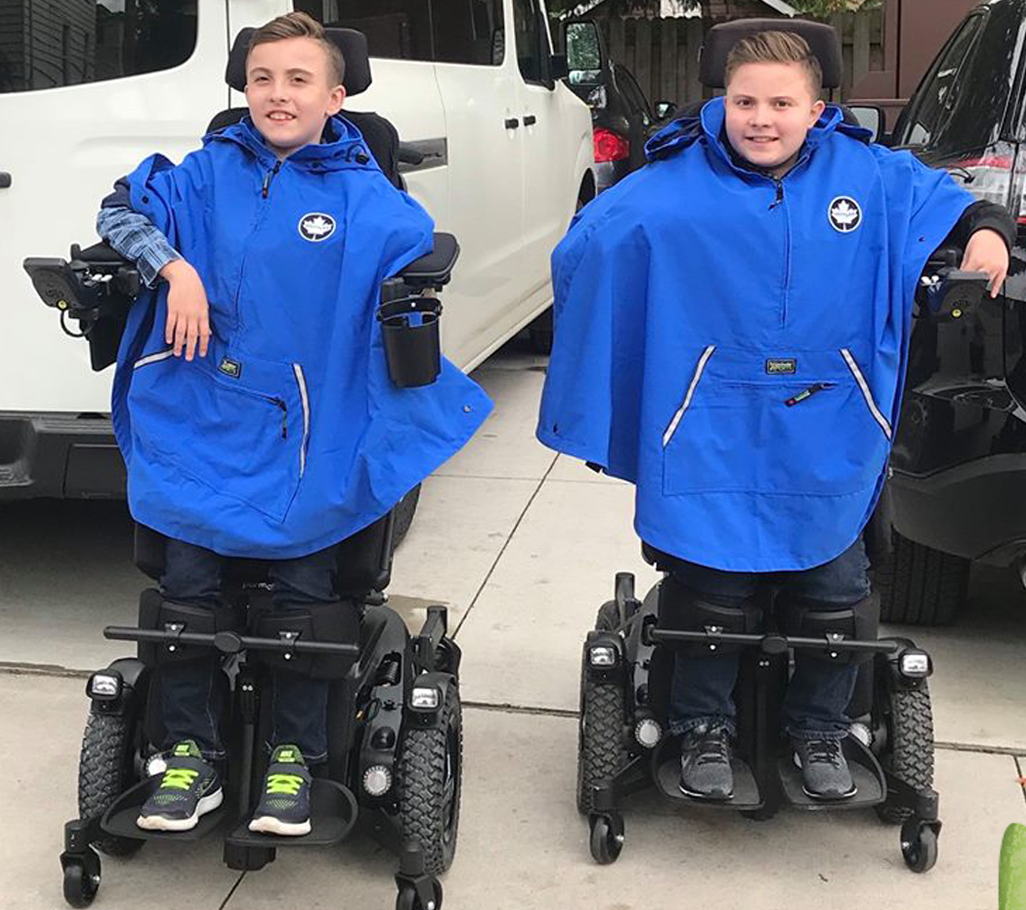 Koolway Sports, an innovative Canadian clothier and manufacturer is based in Whitby, Ontario offering a line of outerwear consisting of coats, blanket back, hoods, Kool Boots and accessories tailored to the needs of users of wheelchairs – with very mainstream styling. Their aim has been to provide products that are warm, accessible, fashionable and comfortable and continues to maintain a measure of self-esteem. They have applied their experience in technology and design to create products vastly superior to other solutions, eliminating weather as a barrier.
Koolway Sports is proud of its unique products which provide the individual with a garment that makes dressing for the outdoors an easy task rather than an ordeal.
For both individuals and their caregivers, a Koolway Sports Coat helps to maintain the quality of living for people in motion. On initial appearance, the Koolway Sports coat looks like a high-end, outdoors jacket, but closer inspection reveals exceptionally clever details for our clients. The coat features include the Koolway Sports • half-back • high zippered collar • side zippers from the cuffs to the bottom of the side seam for easy accessibility • shoulder openings to accommodate contoured chair straps • media pocket • Kangaroo pouch security pocket • detachable hood •iPad pocket • special openings for g-tubes.
Warmth

You'll always be warm and Kozy in a KoolKoat! The outer fabric is Commander with a fleece lining and in between you have insulation with your choice of Drotex or Powderfill to keep out the cold in temperatures as low as -25 F or -32C. Bring on winter!

Comfortable

Your KoolKoat is comfortable since it is custom made to fit your body type and chair requirements. With innovative features like our Koolway half back to eliminate bulky fabric and full length zippered sleeves for the ease of dressing.

Self-Esteem

Look great, feel KOOL in our Koolway's adaptive clothing. You will now be wearing a custom make designer jacket for all weather conditions with the end result of being able to go out enjoy, have fun and achieve your maximum level if independence.

Accessible

  Their Koolway products are designed with the ease of dressing in mind and saving time for families & caregivers. Custom made to fit the user's body frame & wheelchair configurations, we incorporate half backs. full zippered sleeves, zippered hoods, hidden G – J tubes and should harness openings.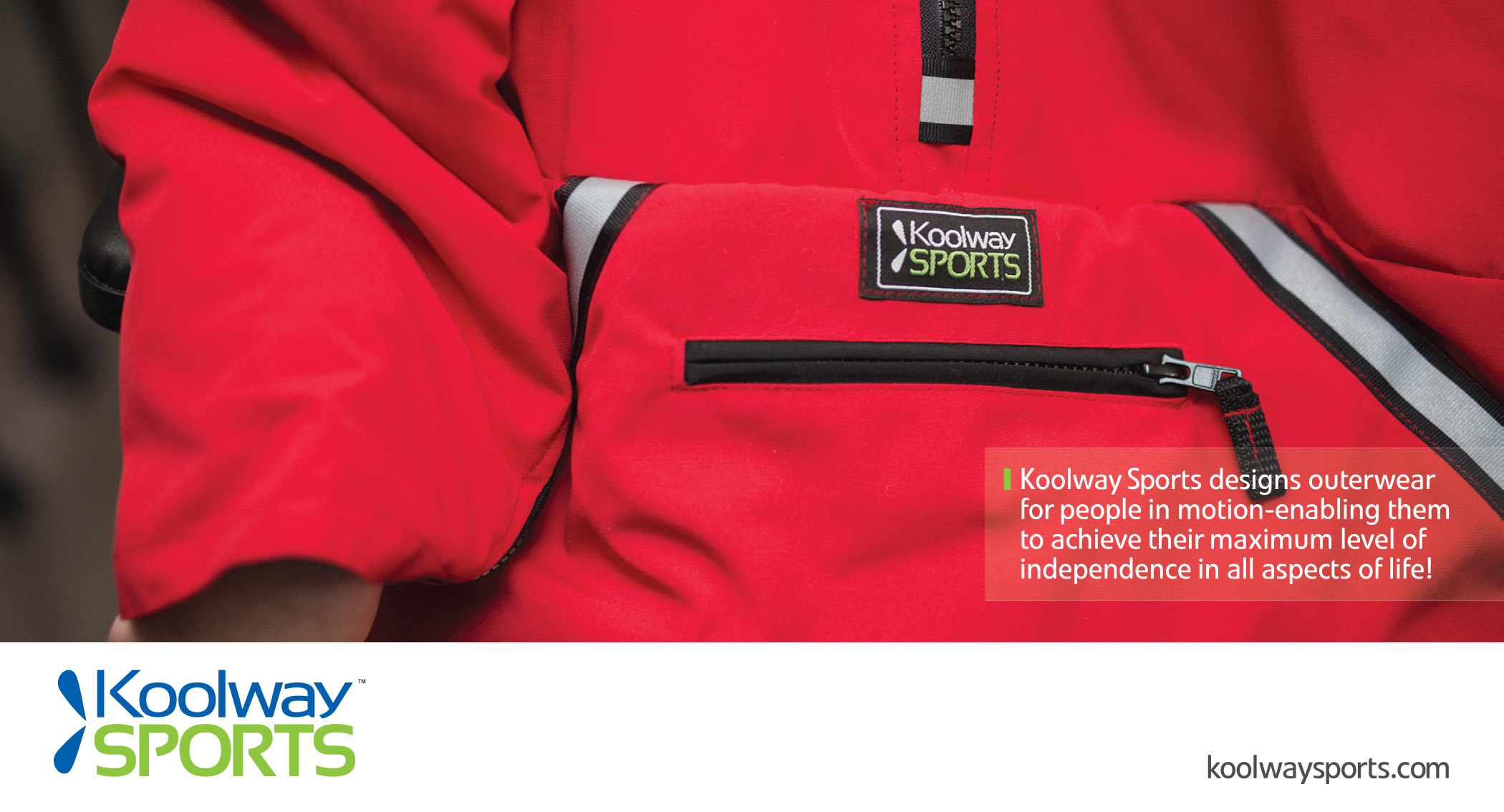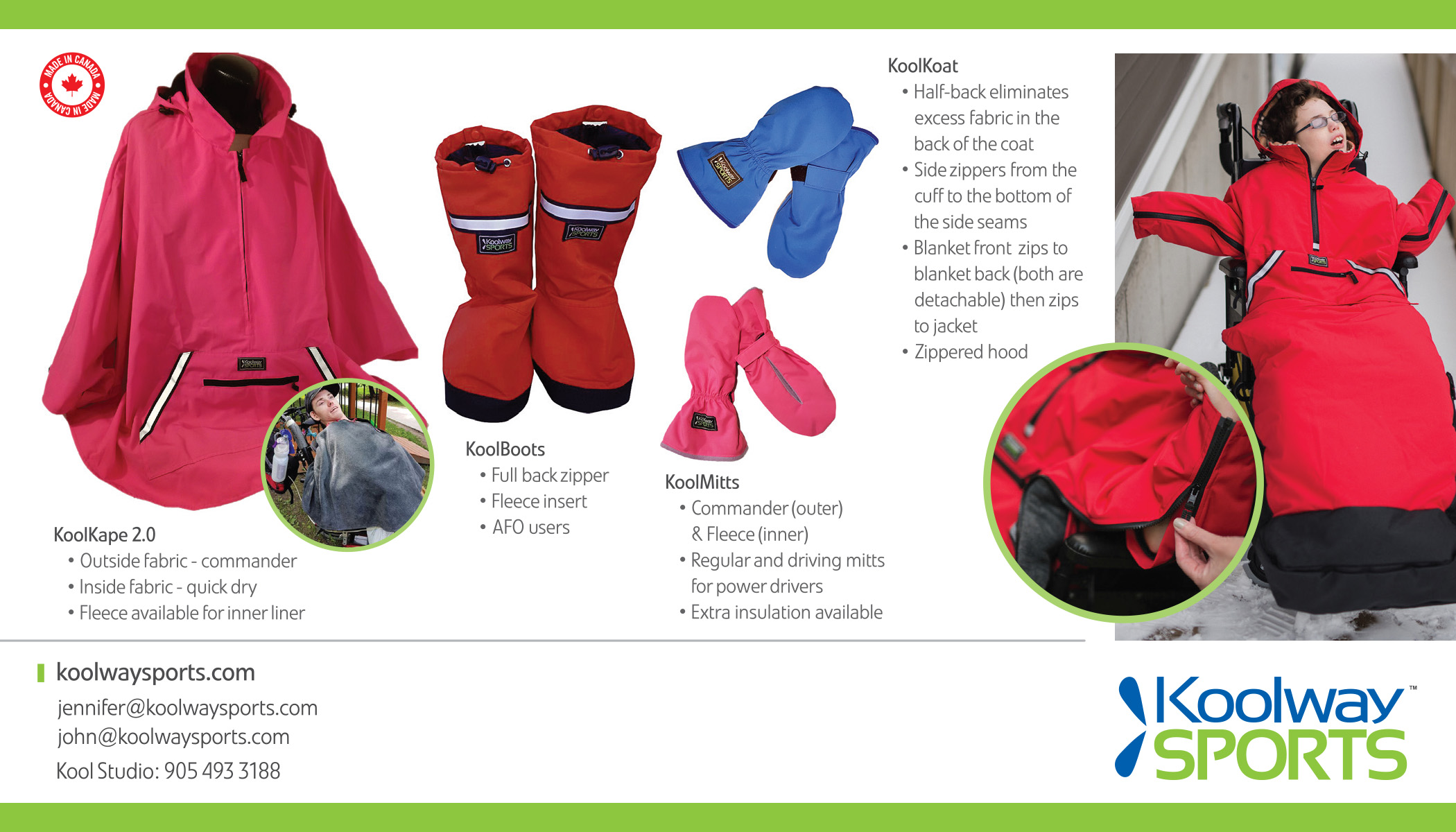 Their Products:
The Koolway Sports Blanket Back is an important addition to the product line allowing the individual to continue using their own Koolway Sports coat and blanket. The easily accessible blanket back zippers to the front blanket encases the legs completely maintaining the warmth of the body, while protecting the legs from the weather elements without a lot of bulk.
Koolway Sports accessories complete the outerwear line with hats, mitts and coat protector which work with the coat design and unique coat material options.
Kool Boots are specifically designed as a new alternative for cumbersome footwear. Koolboots may be worn with or without additional footwear for protection of all Weather related elements. Kool Boots are uniquely designed with a back zipper for easy access and to accommodate those clients with AFOs.
KoolBoot features: • Full back zipper • Outside fabric – Commander Fabric • Inside fabric -Nylon quilted inside fabric • Washable • Slip-not grip fabric soles • Commander Fabric is a water-resistant, breathable fabric • 65% Polyester 35% Cotton • machine washable • available standard child and adult sizes • customization upon request.
---
Featuring the Kool Kape and Kool Boots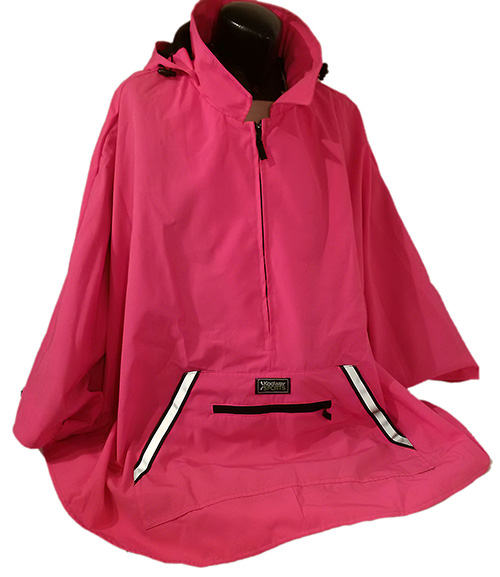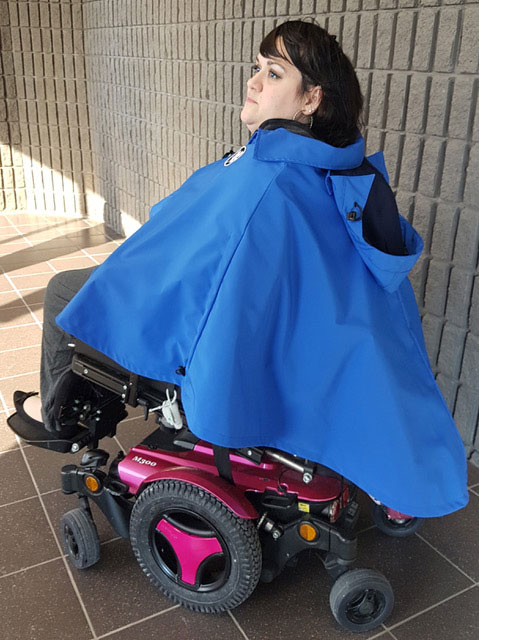 Koolkape 2.0


• Commander outer shell
• Single layer of fleece
• Quick Dry (inside fabric)

Features
• Two adjustable toggles on sleeves; adjusts for sleeves length
• Hood
• Security pouch pocket
• Machine wash and dry
• Commander fabric is a water-resistant, breathable fabric
• 65% Polyester 35% Cotton
• Made in Canada
• Custom orders upon request with removeable front