•
WHY?
Users become less dependent on family and professional attendants and enjoy an improved quality of life, enhanced feeling of independence and improved confidence in their ability to go about their daily lives.
HOW?
The arm is mounted to the side of the seat frame in a way that minimizes effect on overall wheelchair width. It can be mounted on the left side or the right side, depending on the global wheelchair space available. In many situations, it is mounted opposite to the control system side to allow better space movement of the arm. Most of the time, the arm is operated through the same control system that operates the power wheelchair (standard joystick, cephalic\head control, sip and puff etc.) by adding another seating mode option. External controls such as 3 axis joystick, computer interface, mini-joystick and button controls are also available. Power is taken directly from the wheelchair batteries without significantly effecting range.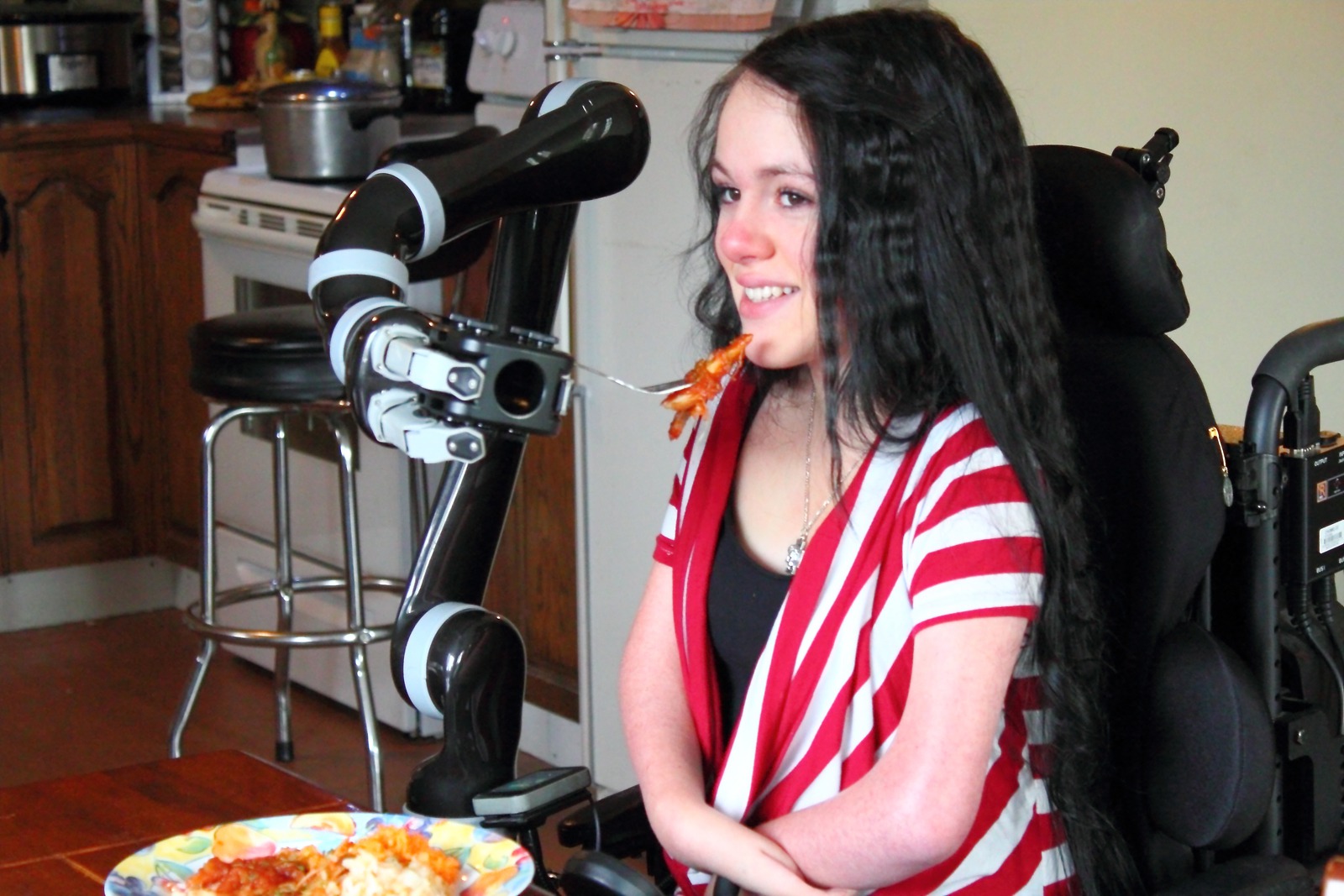 WHAT?
Assistive robotics aids people with disabilities – who are also wheelchair users – while they independently perform many activities of daily living (ADLs) through the use of the technology.The arm has been designed to accomplish many tasks of daily life such as:
Drinking from a glass
Eating a hot meal
Opening doors
Pushing buttons (e.g. elevators)
Scratching itchy parts of the head/body
Wiping face
Readjusting glasses
Picking up objects from the floor
Taking a book from the shelf
Interacting with other people
Making drawings
Only your imagination and willingness limit what you can achieve!
WHO?
The arm is designed for people living with limited upper body mobility.Major criteria for users:
Being able to safely control your power wheelchair
Good cognitive skills
Their clientele has been diagnosed with:
Muscular Dystrophy
Spinal Muscular Atrophy
Spinal Cord Injury
Amyotrophic Lateral Sclerosis
Multiple Sclerosis
Stroke
Cerebral Palsy
HOW LONG?
Each user has their own learning curve depending on the ease with which they adopt new technology and their level of autonomy; it also depends on the time the user spends per day using it and performing daily tasks. The more you use it the more you understand it. Gaining competence can vary from minutes to hours. The question is not if you will be able to accomplish the task, but only how long it will take to master it.
FEATURES
16 movements total
Carbon fiber structure
Lightweight
Weather resistant
Reach the floor with standard installation on wheelchair
Gripper
Option of use 2 or 3 fingers
High friction rubber pads make grasping objects easy
Optimized for activities of daily living
Flexible fingers
Adapt to shape and size
Current sensors and limitation
Click here for more information on JACO 3 Finger.