•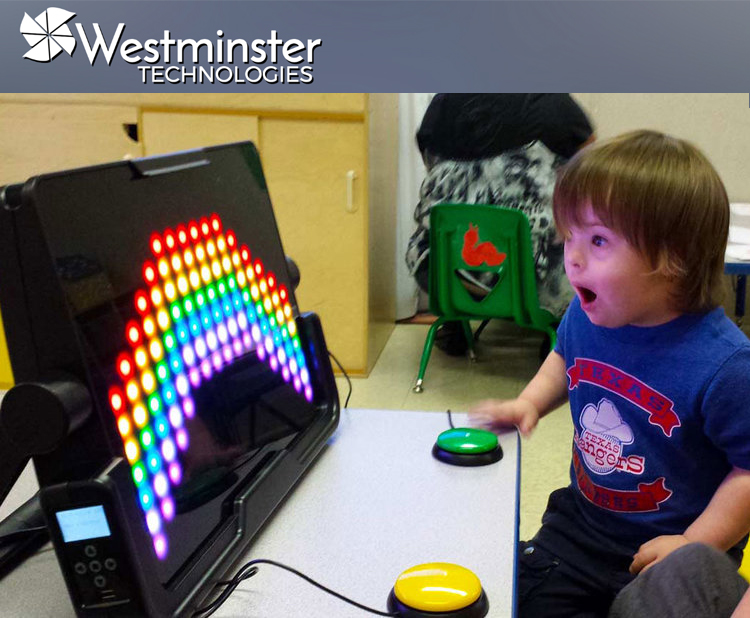 The LightAide Kit is a vibrant teaching tool for people with low vision and cognitive disabilities. It displays colorful, engaging, LED light sequences which can be adapted to the needs of the user. Its dynamic scope of preloaded, fun activities range from turn-taking, color identification, and basic math to complex literacy practice, providing a bright, enriching experience for learners of all ages.
The LightAide Kit is portable and light weight and works with any standard assistive switch. The lights don't get hot, so it's safe to touch, and easy to set up.
Kit includes:
LightAide Device (with 66 activities)
1 red switch
1 yellow switch
1 mini joystick with push capability
Five Benefits of the LightAide
Cause and Effect: The LightAide uses switches to interact with the activities. Activation of one or two switches will activate lights and color changes, etc. Users will learn simple cause and effect from the many pre-programmed activities.
Visual Tracking: Develop visual tracking and visual efficiency skills by watching colored lights move across, down, or around the board. Users are also working on pre-literacy skills by tracking lights from left to right.
Alphabet and Numbers: Big bright letter and number activities are great for young readers. Match lowercase or uppercase letters, match numbers, trace letters, and read site words. Or work on developing math skills with number identification, line length, counting and pattern building.
Turn-taking and social interactions: Through switch activation, 2-4 people can work on turn taking skills and conversational skills. Each user activates a switch when it's their turn, changing the color and location of the rectangular pattern of lights. Work on expressing the emotions of happy or sad with the smiley or frowny face light patterns.
Sequencing and Organizational Skills: Sequence numbers and colors, or work on organizing objects and pictures that match the displayed color(s).
If that's not cool enough for you, here are two bonus benefits for therapists:
Visual Assessment: Therapists can use LightAide to assess how much a person can see. There are many programs to help determine what level of brightness the person is able to distinguish, what colors they are able to see, as well as movement and locations of lights.
Range of Motion: Because the LightAide is activated with switches, therapists can work on reaching, stretching, and crossing midline activities while having fun with Tic Tac Toe, Tennis, Walk the Dog or one of the many other fun pre-programmed games.