•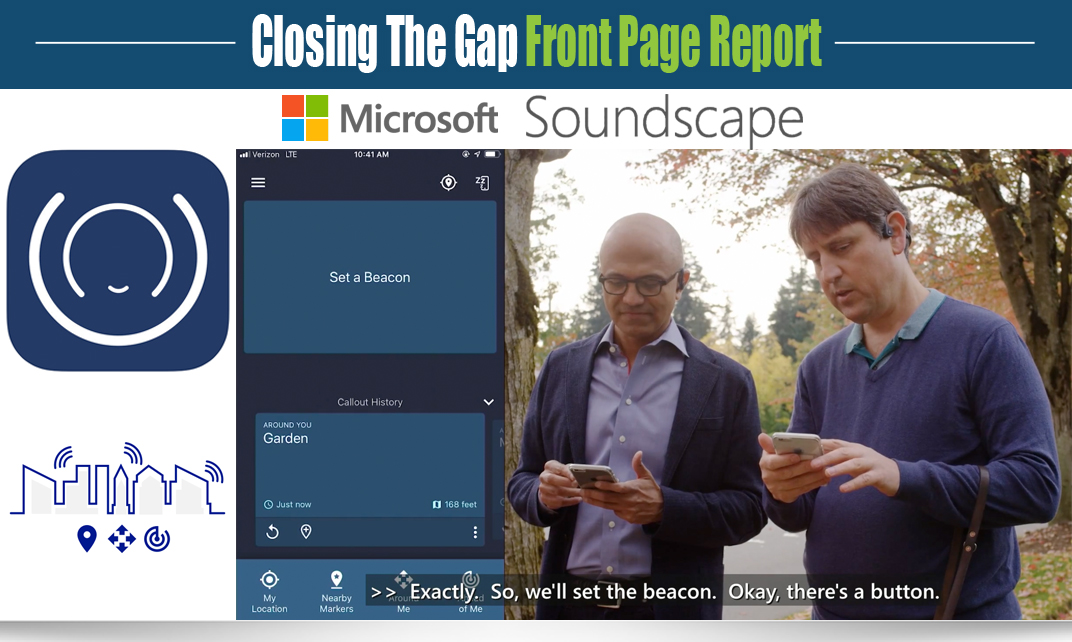 What is Soundscape?
Microsoft Soundscape is a research project that explores the use of innovative audio-based technology to enable people, particularly those with blindness or low vision, to build a richer awareness of their surroundings, thus becoming more confident and empowered to get around. Unlike step-by-step navigation apps, Soundscape uses 3D audio cues to enrich ambient awareness and provide a new way to relate to the environment. It allows you to build a mental map and make personal route choices while being more comfortable within unfamiliar spaces.
How does Soundscape work?
Soundscape provides information about your surroundings with synthesized binaural audio, creating the effect of 3D sound. It can run in the background in conjunction with navigation or other applications to provide you with additional context about the environment. Your phone, in hand or in pocket, tracks movement using location and activity sensors, and lets you move toward a self-set audio beacon. Soundscape runs on iPhone 5S or later and is compatible with most wired or Bluetooth stereo headsets.
Getting started with Soundscape

When you first install Soundscape, you'll want to connect a stereo headset or earbuds. Follow the introduction and when prompted, allow the app to access your location. Then, explore a familiar route to get used to how Soundscape delivers spatial information.

Explore, discover, and have fun!

You can use Soundscape in a number of different ways, whether on a well-known route, out about with a friend or using it to discover new places.

Come on the journey with us…

Their user trials show that Soundscape can help reduce levels of stress and anxiety, giving people with sight loss more confidence when they're out and about in an urban environment. But because Soundscape reflects a new concept, it will take a little time to get used to it, and they need your feedback on how to make it better and more useful.
Features
Microsoft Soundscape: An Introduction from Guide Dogs UK [Audio Description]
Audio information in 3D, for more independence and mobility
| | | |
| --- | --- | --- |
| Grow your awareness and discover new places. | Enrich your experience of familiar places and confidently explore the unfamiliar. | Complements the tools you already use. |
When people have more ambient information, they can naturally and intuitively create better mental maps, so they can explore more and feel more comfortable and connected in new environments. Soundscape provides spatial information everywhere you go and adds functionality to existing navigation systems.
While Soundscape enriches your surroundings it is designed to complement and not replace current mobility aids for people with sight loss. We encourage users with sight loss to continue to place their basic awareness of their surroundings and mobility skills as a priority.
What is spatial audio?

Soundscape calls out landmarks in relation to you, letting you connect with your environment naturally and more intuitively without getting in the way of what you're doing or who you're with.

Setting a beacon

The audio beacon, set to a destination, helps you listen through headphones to track where you are going. Put the phone away and walk… and Soundscape will call out roads and intersections, putting you in control of how you want to get there.

Information buttons

Locate, Around Me, and Ahead of Me buttons help build a picture of where you are and what's around you. "Around Me" will call-out four points of interest in a 360-degree sweep, and "Ahead of Me" calls out five items in front of you.

Wayfinding

Use sounds to guide you toward your destination in a more natural way than step-by-step instructions and start to move through spaces and places on your own terms.

Running in the background

Soundscape can be used as a stand-alone app, or it can complement other navigational aids by running in the background, helping build a richer ambient awareness of your surroundings.

OpenStreetMap

Uses OpenStreetMap data, which is a rich and constantly enhanced community-generated mapping platform.