•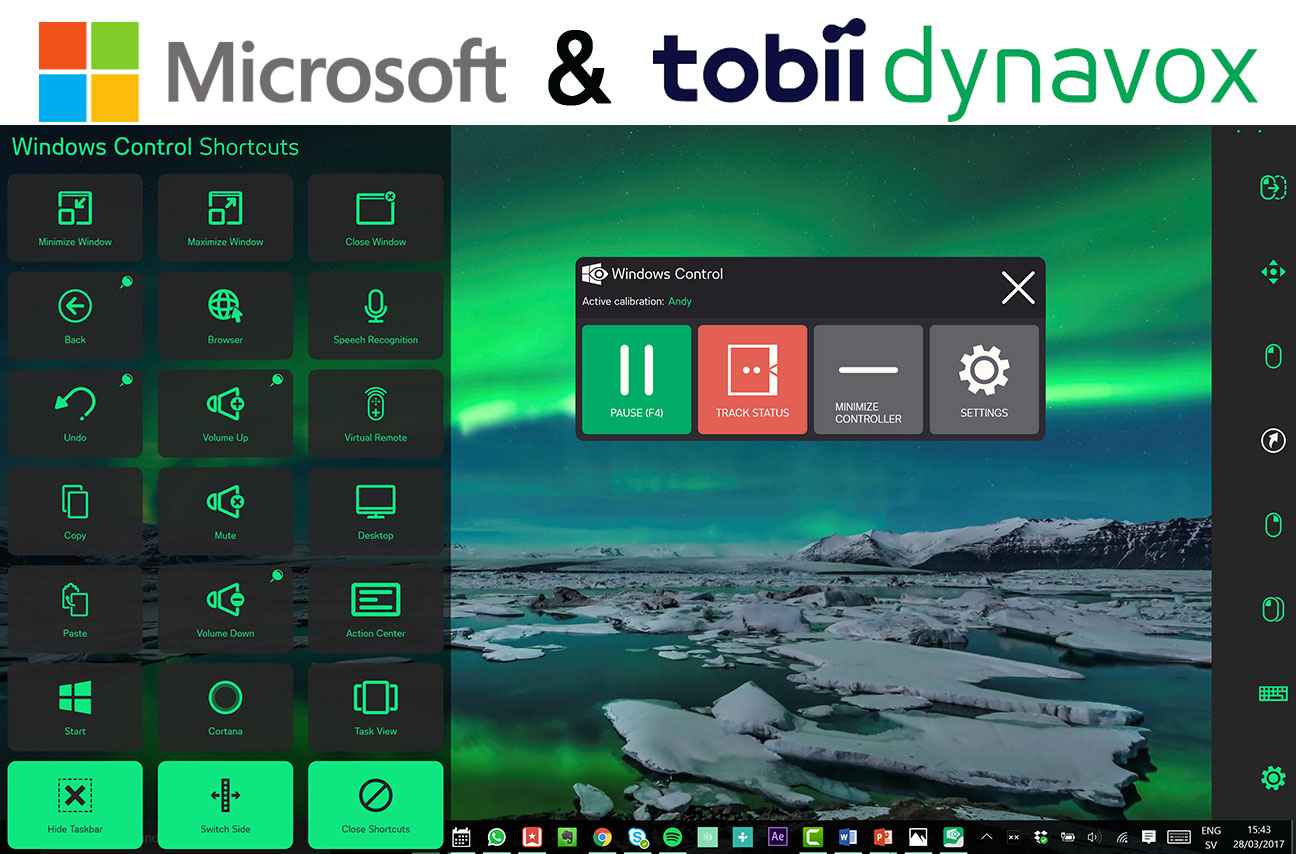 Microsoft introduces Eye Control! With the newest standard input method from Microsoft, every Windows 10 device is now pre-configured to use a Tobii Dynavox eye tracker.
For users who can't use a mouse or keyboard to control their computer, Eye Control presents a convenient entry point to eye tracking technology. Having access to your computer via Eye Control gives individuals a way to communicate, the ability to stay in the workforce, and so much more!
See how the PCEye Plus eye tracker changed Michael's life and learn more here.
Control your Windows computer with your eyes.
To get started, all you need are three things:
A Tobii Dynavox eye tracker
The latest Windows 10 software (Fall Creators Update) on your PC or tablet
Microsoft's Eye Control or choose from our software options Gaze Point or the more advanced Windows Control*
*Make sure your Tobii Dynavox software is updated to the latest release. If you're not sure, start the Tobii Dynavox software Update Notifier on your device.
Recommended Tobii Eye Trackers for Microsoft Eye Control
| | | | | |
| --- | --- | --- | --- | --- |
| PC gaming device that provides simultaneous head & eye tracking functionality | Navigate & control your computer using only your eyes | Eye tracking, dictation, switch, & IR in one product | Purpose-built bracket solution for mobile communication & complete hands-free access | Speech generating device for effective communication through eye tracking |
Expertise and experience you can rely on
You can rely on over 11 years of dedicated research, experience, and innovation. Over the years, They have improved their technology and expertise to deliver the best results possible for you. This knowledge is built into all their eye trackers, find the right one for you here in this overview.
High precision and accuracy
Tobii Dynavox Eye Trackers, together with the zoom functionality of Windows Control, allow you to hit even the smallest targets on the screen, almost with pixel precision, again and again.
Head movement compensation
Move freely within the trackbox while maintaining superior precision and accuracy. Should you move outside of the trackbox, the eye tracker will quickly find your eyes again and continue to track them.
Largest trackbox
The trackbox, the imaginary volume within which you can move your head without losing accuracy, or interrupting the eye tracking session, is among the largest on the market. The large size gives you the freedom to sit or lie down comfortably with maintained eye tracking performance.
Superior trackability
Tobii Eye Trackers provides high-quality tracking results for over 95% of users, compared to any other system, regardless of most lighting conditions, eye color, or if you are wearing contacts or glasses.
The right software for your needs
Microsoft Eye Control, as well as Gaze Point present a convenient entry point to eye tracking technology. If you need more features, higher speed and flexibility then Tobii Dynavox Windows Control would be the right choice for a truly full computer access.
Microsoft Eye Control
Comfortable, great to get started
Place the cursor, left/right/double click, text-to-speech
For free
Tobii Dynavox Gaze Point
Entry level software
Move the cursor, left click, calibration, settings
For free
Tobii Dynavox Windows Control
For more efficiency, precission and flexibility
Scrolling, clicking, typing, move cursor, drag&drop, customizable…
Comes included with Tobii Dynavox Eye Tracker or try it out for free
To see a detailed software feature comparison, please click here.