•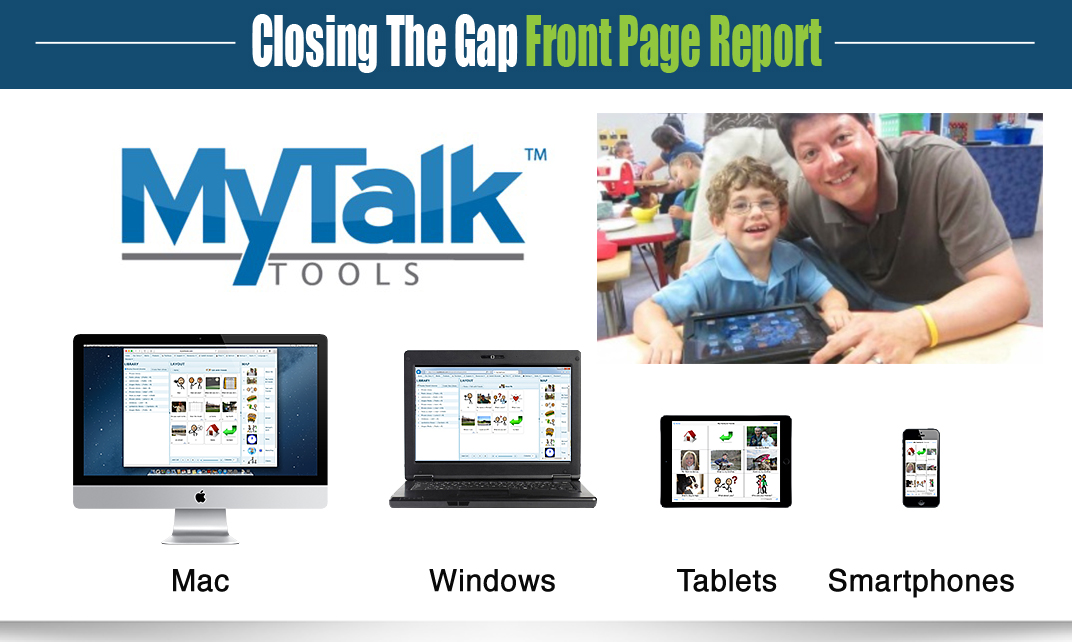 Mobile App and WorkSpace 
Mobile
MyTalkTools Mobile is a next generation AAC app that helps people with communication difficulties say what they want with sequences of words, sounds and images.
You choose the content (simple grids or boards with bold images) and play recorded sounds when you touch a cell. The sequences can even form complete sentences.
Easy to use – If you can use an Android, iPhone, iPad or iPod touch, you can use MyTalkTools Mobile. Intuitive design makes it simple to start communicating now.
Personal – Personalize your Boards by using images you create.  Using pictures from your life, MyTalk content will always be personal and relevant.
No clunky devices, no stigma – Apple's stylish products draw positive attention. And since they're easy to replace and repair, you won't lose valuable progress if they're lost or damaged.
Author on-the fly – Add and edit or select items directly from the Web, all from you device. Photograph and record sound directly from your iPhone or Android. Sync wherever you have wireless Internet access or 3G  coverage.
Teach about the world
In addition to My Talk, a growing list of apps can teach about time, organization and many other skills and concepts.
---
WorkSpace
MyTalkTools Workspace is a Web application to personalize MyTalkTools Mobile or Lite quickly and easily. It's a drag-and-drop tool that simplifies design and backs up your MyTalkTools content when you sync.
MyTalkTools Mobile and Workspace were made to go together, so use the free 30-day period to configure your boards.
Fast, Web-based board building – Set up and personalize MyTalkTools Mobile easily. Simple drag-and-drop editing helps you  create boards in minutes.
Find images using Symbolstix or their Public Library – Search by keyword, tag or browse categories. Build boards fast with 12,000 Symbolstix and 1000 Public Library images in Workspace.
Store your media in your Private Library -Upload and organize your own sounds and images. Drag your content to boards in an instant.
Protect your work – Store your content safely online when you sync. Restore quickly and easily to a replacement device. Replicate content across multiple devices.
Realtime Author-User Collaboration – So quick that you can sit side by side as you build your boards. Pick the right image for any moment.
---
Mobile
MyTalkTools is an award-winning app that enables over 100,000+ people with communication difficulties to express their needs and desires to those around them. A good solution for people with down syndrome, cerebral palsy, hearing or visual impairments, autism or other diagnoses that impair communication ability. It supports users, teachers, therapists, caregivers and parents with many innovative features.
Complete Solution
MyTalk Mobile is a complete stand-alone solution. No other software is required. But, we include a 30 day trial of MyTalk Workspace. Together, they represent a major breakthrough in augmentative alternative communications (AAC) by making it easy to customize how you communicate through a variety of images, video and audio files including human voice. The only solution that simultaneously supports browser, Apple Watch, Apple TV, iPhone, iPad and iTouch.
Quick Start
In 5 minutes, you can download standard content, and customize it for your needs, to communicate in a way that YOU choose. MyTalk offers ease of use and time-savings in a portable, effective, and cool communication tool. Take the iTunes University Course, to see how simple it is.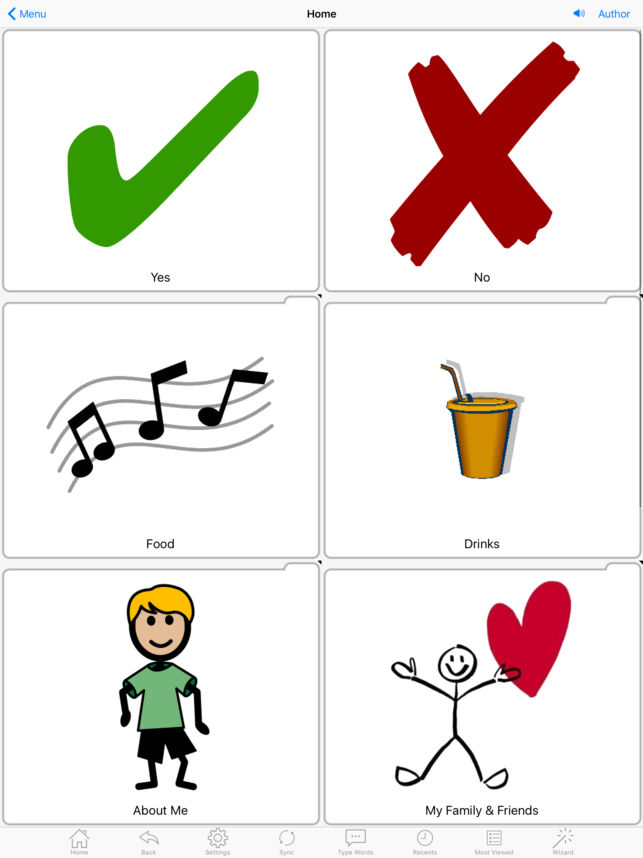 Keep your work safe
Don't worry about losing your device. All information is backed up on MyTalk Workspace. Every version you create is kept. Don't worry about experimenting. You can always back up to almost any point in time with undo/redo or restore.
Community Sharing & Resources
Create and participate in family and professional communities by creating and sharing libraries of boards, cells, or other media with others. Get pre-programmed boards from our public submissions library. Share PDFs, or on-line working previews with parents, family members, or teachers through email or texts. Access to 20,000+ Symbolstix images.
Accessibility
Many scanning features to customize to the user's specific needs. Works directly with many popular switches and can be programmed to support most BT switches. Additional features for visual impairment and other physical limitations including auditory scanning and fine motor adjustments. Print hard copy for use without access to a device. Works without internet access.
Language Generation
Keep core words in standard locations through our repeat function. Grammar support with word variants. Use Fitzgerald or Goosen encoding to categorize words. Use phrase bar to generate complete phrases. Use popup lists to customize variant selections or select simple choices. Popup keyboards for users to add custom words and phrases. Popup Recents, Most-Used or Predicted word lists for quick access to relevant choices.
Text-To-Speech
A free text-to-speech voice is included. 100 additional voices available as in-app purchase for most languages including English, Spanish, French, Chinese, Hebrew and others. Bi-lingual support – 2 TTS languages can be used simultaneously.
Media
20,000+ Symbolstix images. Photographs, videos and recorded audio are supported. Use videos to enable modeling. Download photos and images from your device, the web, or community libraries.
Innovative Author Features
Variable cell sizes, drag-and-drop arrangement, copy or link pages, user logging with geo-context to provide continuous refinement. Search MyTalkTools content using apple global search. Integrate with apps – like Pandora, FaceTime or others. Integrate pages with automatic reminders or geo-location reminders (Continued use of GPS running in the background can dramatically decrease battery life). Multiple authors can support a single page using our patented sync technology to merge all changes. Many, many user interface customization options.
Click here for more information on MyTalkTools