•
Independent, Inclusive Dining
Obi is the first of its kind, revolutionary dining device for individuals who lack upper extremity function.
With the momentary touch of a switch, Obi allows users to select between four compartments of food and to command when the food is captured and delivered to their mouth.
Obi increases independence, social interaction, and effective food capturing like never before!
Intended Users
Obi accommodates a spectrum of people who have difficulty feeding themselves. Diners should possess the ability to safely, and successfully, operate Obi as well as the ability to chew and swallow without assistance.
Individuals living with the following conditions may be ideal candidates for Obi:
Amyotrophic Lateral Sclerosis (ALS)
Amputation
Arthrogryposis Multiplex Congenita (AMC)
Cerebral Palsy
Essential Tremor
Muscular Dystrophy
Multiple Sclerosis
Parkinson's Disease
Spinal Cord Injury
Other conditions impairing upper extremity motor control
---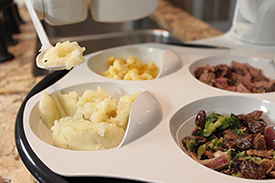 Effective Food Capture
Obi's patented features, including multi-directional food capture, portion control, spoon wiping, an food re-positioning, allow for optimal and efficient food delivery.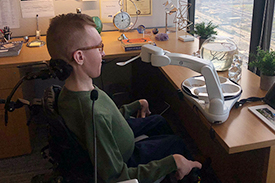 Customized Delivery
Obi's setup process is fast and user-friendly. Through the Teach Mode, Obi allows the caregiver to quickly position the device for optimal use, an tailor the food delivery location for each diner.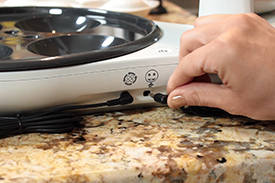 Switch Operation
After the delivery location is set, the diner controls their experience through the use of two accessibility switches – one to select the food, and one to command food delivery. The switch ports are 3.5 mm barrel jack (headphone jack) connectors, which makes Obi compatible with a variety of switches on the market – even Sip-and-Puff attachments!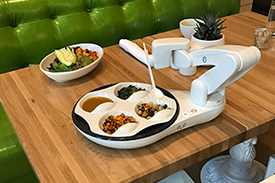 Battery Operated and Portable
Obi weighs approximately 7 pounds and comes equipped with a rechargeable lithium ion battery that provides up to 3 hours of eating time per full charge. Obi is perfect for eating on the go!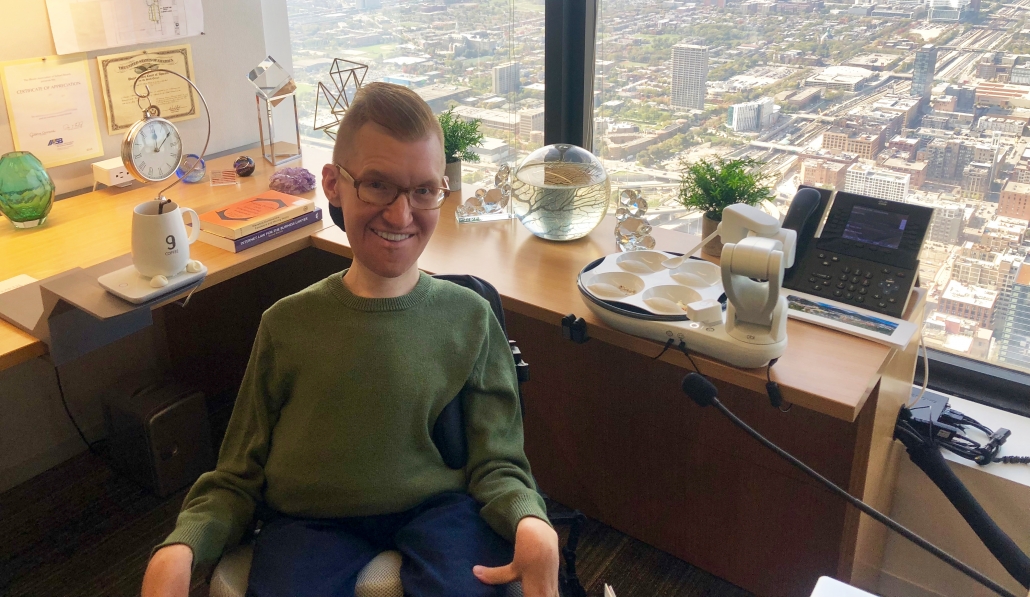 "I love Obi because it gives me a sense of  independence and freedom to have choices about what I eat throughout the day, when I eat throughout the day, and just really allows me to have energy throughout my day so that I can do my job and be productive. So it's changed my life!" – Kevin F., Attorney
Keven's Testimonial
Kevin in Action – Obi can be used in a variety of environments including work! Watch Kevin, a lawyer in Chicago, use Obi in his office. Obi provides independence at mealtime and can also help sustain energy throughout a work day.
Features