•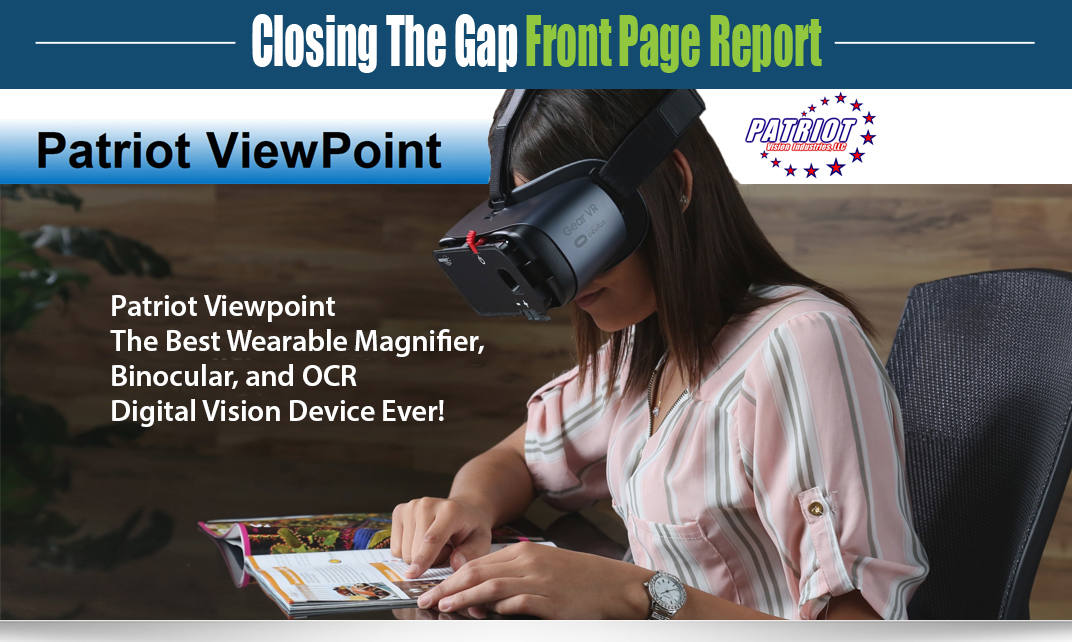 Patriot Viewpoint – The Best Wearable Magnifier, Binocular, and OCR Digital Vision Device Ever!
Are you diagnosed with Macular Degeneration or Stargardts?
If so, then the Patriot ViewPoint, the latest wearable low-vision glasses showcasing a spectacular 101 degree viewable field, is the product you have always been waiting for.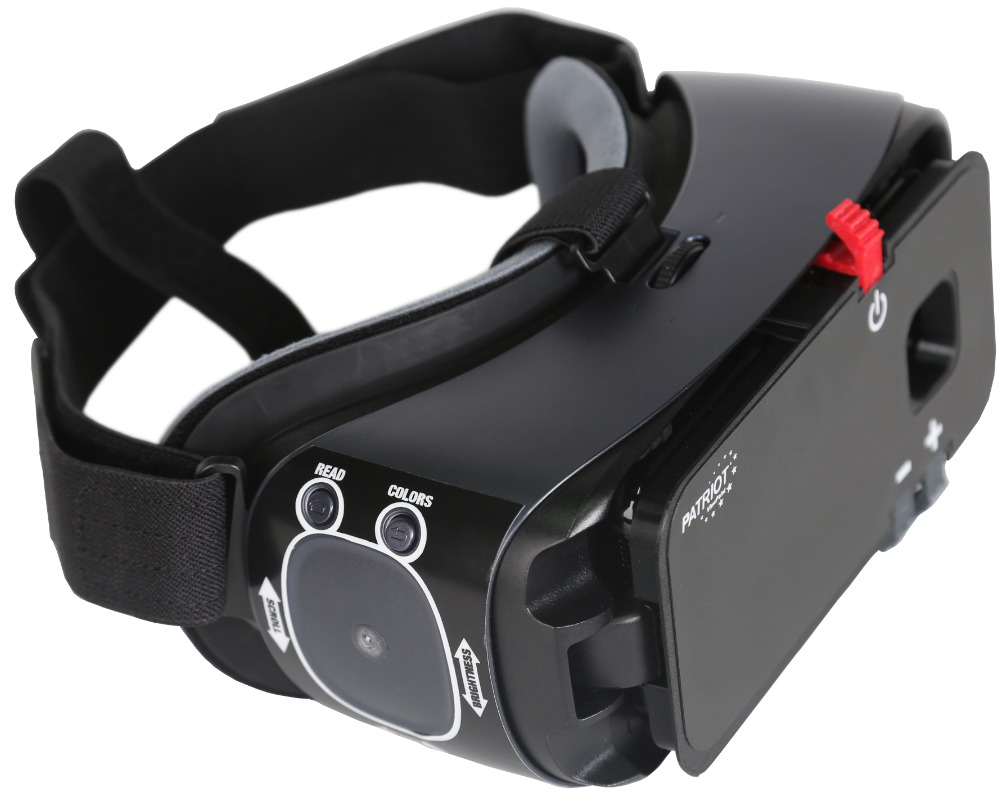 The wide-screen 101 degree viewable field is the largest on the market, and it makes all the difference having a super-sharp wide display bringing close to you nearly everything that is displayed at a distance.
You can also read up close, plus see people's faces, watch TV, read the newspaper, the possibilities are endless.
Patriot ViewPoint uses virtual reality to wrap an extraordinary crystal clear image around your eyes. You can choose to read in full color, or you can read on a high contrast black on white or negative text mode. Even more, you simply press a button and the Patriot ViewPoint can quickly turn your text into speech, and have documents read aloud with OCR technology that works with incredible accuracy!
Very comfortable to wear and very easy to use, the Patriot ViewPoint uses genuine Samsung Virtual Reality hardware, designed for wearing hours at a time!
Simplicity is key. So, one central control area on the glasses allows users to adjust magnification, backgrounds, brightness and turn text into speech. No technology experience is needed.
With Patriot ViewPoint it is much easier to do many things.
Introducing The Wearable Patriot Viewpoint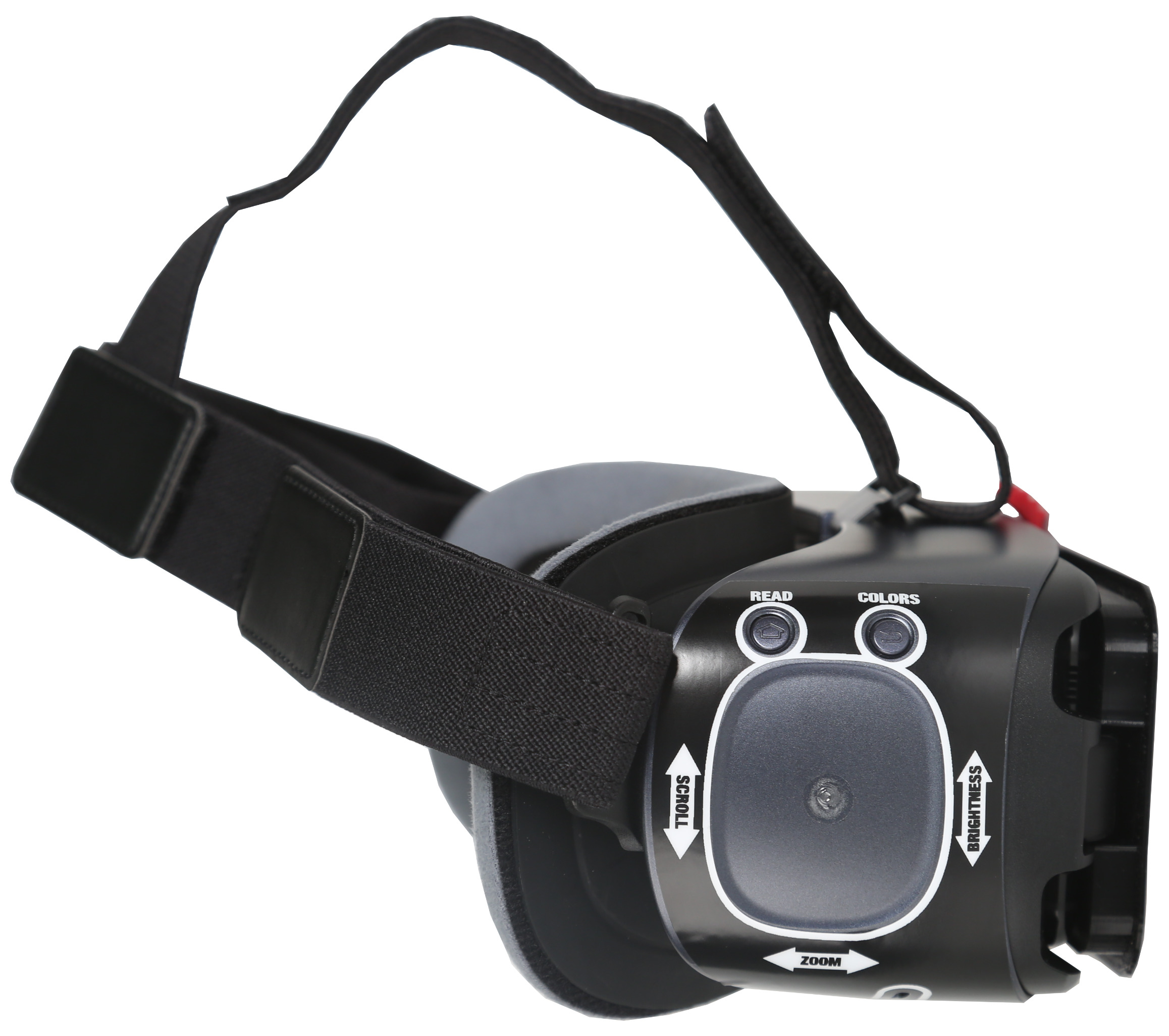 Perfect for Daily Activities and Hobbies:
See people's faces, even your pets face, and witness life's moments.
Go to the Stadium and watch the big game.
More easily use the iPad or Computer to browse, surf and enjoy.
Renew ignored hobbies, like crochet or painting.
Appreciate and enjoy the outdoors, and see the world again.
Watch TV and catch up on the latest shows.
View menus again and consider all the options.
Read and sort your mail.
Enjoy board games, cards and crossword puzzles.
View photos, manage your finances, and more easily prepare meals.
Read anywhere in your house, including your favorite chair.
Perfect for School
Read Books.
Complete Assignments.
View the Board.
See Classmates and notice more social cues.
Perfect for Other Activities
Meeting with your financial advisor or attorney
Manufacturing identification inspection
Electronic circuitry magnification
---
FEATURES
1x – 20x+ Magnification
Magnifies for Both Near and Far
See the faces of loved ones
Continue hobbies such as reading music and playing cards
Regain visual independence
11 Hi Contrast Color Modes
Comfort Fit
Accurate & Fast OCR Reads Print Out Loud
Utilizes Periphery Vision
Rechargeable Battery Powered
1 Year Warranty
Patriot Viewpoint Demonstration
Samsung® Galaxy S8
Samsung® Gear VR Headset (2017 Model)
Samsung® USB Type-C Charger
WQHD+ (2960×1440) Screen Resolution
OPTICS
Compatible to wear on top of most prescription glasses
Large immersive field of view
Adjustable PD Capability
SENSORS
Auto power off feature if device is left on and still for 15 minutes (warning appears at 14 minutes to move your head to keep device on)
Autofocus Camera
INPUT/OUTPUT
3.5mm (1/8″) Headphone jack to allow for headphones or external speaker
USB Type-C Charging port
INCLUDED ACCESSORIES
Viewpoint Device
Protective Carrying Case
Charger
Manual
Earbud Headphones
To learn more about any of their products and services or to schedule a no obligation demonstration, contact them. You can also call their toll free number 800-364-1610.or email them at jpalmer@thelva.com.