•
The comedian (Lost Voice Guy) Lee Ridley,  the winner of Britain's Got Talent, used his iPad during his stand-up routine.
None of it would've been possible without his go-to iOS apps: Proloquo2Go and Proloquo4Text, which use symbols and text to give a voice to adult and children who can't speak. They help over 170,000 users communicate, including people with cerebral palsy like Ridley, who is probably the first stand-up comedian to use a communication aid.
The comedian pre-records these routines and plays them via a voice synthesizer on a iPad. Ridley uses Proloquo4Text for daily communication. The text-based app allows him to type what he wants to say with the phrase then spoken out loud by one of 100 voices available on the platform in 18 different languages.
It also offers predictive input, like the keyboards on our smartphones, and can be used on the fly on an iPad.
Below are some additional videos of Lee on Britain's Got Talent. And information on AssistiveWare's Proloquo4Text and Proloquo2Go
Way To Go, Lee!
---
Proloquo4Text – Type. Speak. Communicate.
Text-based communication app that gives a voice to literate people who cannot speak.
Features you'll love
Communicate with ease
Speak using single screen access to words, phrases and keyboard
Reduce typing with self-learning word prediction
Type once and say it again with history and sentence prediction
Use the Conversations block to easily switch between conversations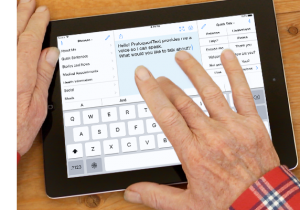 Take control

Decide when you speak with play, pause or speak as you type
Create and organize frequently used phrases
Optimized scanning for iOS Switch Control and VoiceOver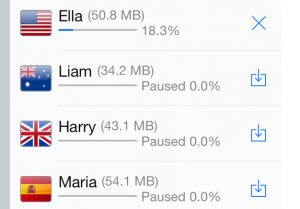 Speak your language
100+ free natural-sounding voices, 18 languages
English, Spanish, French, German, Italian, Swedish, Norwegian, Danish or Dutch user interface
Switch languages on the fly
Customize to fit your needs
Share your world
Send email, messages, and tweets.
Write text and copy into other apps
Listen to text pasted from other apps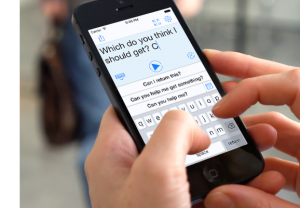 Take your voice anywhere
Use Proloquo4Text on your iPad, iPhone, iPod touch or Apple Watch
Be heard wherever you are
Communicate without an Internet connection
Is Proloquo4Text for you?
Proloquo4Text's unique features make it the premier Augmentative and Alternative Communication solution for literate children, teenagers and adults, including people with autism, cerebral palsy, developmental disabilities, apraxia, ALS/MND, laryngectomy, stroke, or traumatic brain injury.
For users who lose their voice due to ALS, apraxia or other diagnoses, Proloquo4Text supports my-own-voice. This service by Acapela Group allows users to record their own voice, or one of a family member. Read how Peter recorded his voice before losing it to cancer.
---
Behind the scenes with Lost Voice Guy – Britain's Got Talent 2018 winner Lee Ridley AKA Lost Voice Guy can't talk but isn't silent. He is (probably) the first stand-up comedian to use a communication aid. He won the BBC New Comedy Award 2014. In this video, we see Lee backstage, as he prepares for another gig. http://www.assistiveware.com/behind-scenes-lost-voice-guy
---
Proloquo2Go – A voice for those who cannot speak
Symbol-supported communication app to promote language development and grow communication skills, from beginning to advanced communicators
Support for all users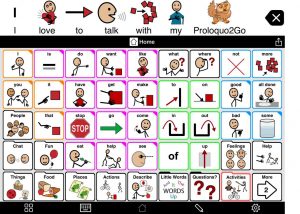 Personalize the vocabulary
Choose from three Crescendo™ vocabulary levels and 23 different grid sizes
Pick from five vocabulary sets targeting different ages and abilities in Gateway to Language & Learning© (in-app purchase)
Select the English, French, Spanish and/or Dutch vocabulary in Crescendo, including regional variants
Fast and easy editing
Create and edit buttons with 25,000 symbols or use your own photos
Customize the vocabulary to user interest quickly with VocaPriority™
Use pre-designed (activity) templates for quick and consistent creation of new pages
Language development
Transition between vocabulary levels with minimal re-customization
Use Progressive Language to hide and reveal buttons in a developmental order
Support learning through motor planning with core words located consistently across folders
Benefit from fully configurable grammar support for nouns, pronouns, verbs and adjectives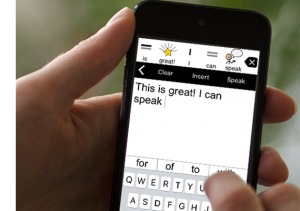 Literacy
Classroom & therapy
Customize vocabulary and settings per student with multi-user support
Start simple and expand vocabulary as needed with minimal effort
Share vocabularies and folders between users and devices
Let your voice be heard
Download over 60 English, French, Spanish and Dutch natural-sounding Text to Speech adult and children's voices for free
Share messages through Mail, iMessage, and Twitter and copy/paste into other apps
Enjoy ExpressivePower™ with prerecorded expressions and sounds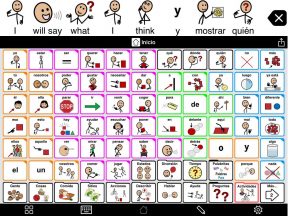 Bilingual support
Quickly switch between vocabularies, or mix English, French and Spanish mid-sentence
Benefit from the option to synch buttons between languages to keep vocabularies up-to-date
Choose a genuine bilingual girl, boy or male adult Text to Speech voice for American English/Spanish
Accessibility
Use Hold Duration, Select on Release and switch access to compensate for motor challenges
Benefit from auditory fishing and appearance options for vision impairments
Access through Apple's Switch Control, Apple's VoiceOver or Apple Watch
Unique feature combination
Proloquo2Go is the only AAC app that combines unique features, such as research-based vocabulary levels, (activity) templates to support motor-planning, ExpressivePower™ to express yourself and full bilingual support. And all that with minimal customization effort!
Proloquo2Go is designed to ensure growth of communication skills and to promote language development. It covers all users, from beginning to advanced users, while catering for a wide range of fine-motor, visual and cognitive skills.
Who is Proloquo2Go for?
Proloquo2Go's unique features make it the premier Augmentative and Alternative Communication solution for children, teenagers and adults who need symbol support. Proloquo2Go has been used successfully with individuals with the following diagnoses: autism, cerebral palsy, Down syndrome, developmental disabilities, apraxia, stroke, traumatic brain injury and more.
Click here for more information.