•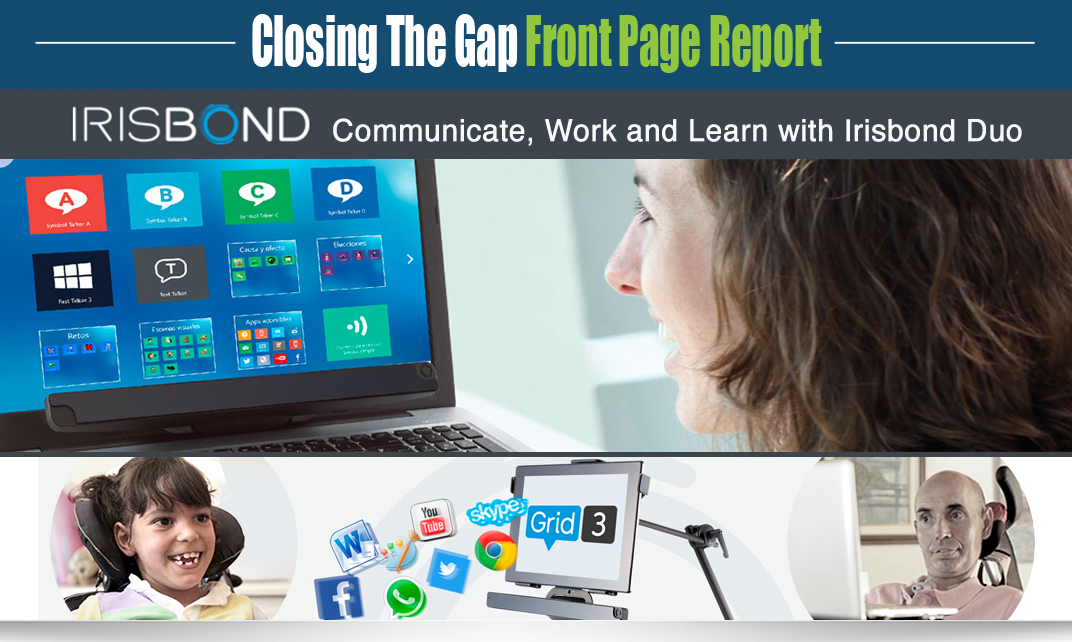 Alternative Communication
Irisbond's solutions enable those who suffer from progressive neurological conditions, motor neuron diseases, cerebral palsy and other conditions to communicate comfortably, efficiently and accurately. It means that people who encounter major barriers when it comes to communication as a result of an illness or an accident do not have to resort to tiring technical aids. Our aided communication system adapts easily to users with various limitations and levels of cognitive capacity. From now on, everyone can express their emotions and ideas; interact with friends, family and at school.
Leading an independent life also implies being able to control your environment. With the corresponding environmental control application, users can turn lights, TV or air-conditioning on and off or open doors with complete autonomy.
Augmentative and alternative communication (AAC) systems aim to improve and compensate for the capacity to communicate of people who encounter issues in efficient oral communication. AAC has to allow users to express their needs, opinions, emotions, achievements, knowledge, as well as to participate actively in society.
The use of Irisbond Primma is recommended for individuals with the following conditions:
Amyotrophical lateral sclerosis (ALS)
Cerebral palsy
Multiple sclerosis
Muscular distrophy
Neurodegenerative diseases
Brain injury, spinal cord injury
Physical and/or cognitive impairment
Rett syndrome
Stroke and others

Irisbond Duo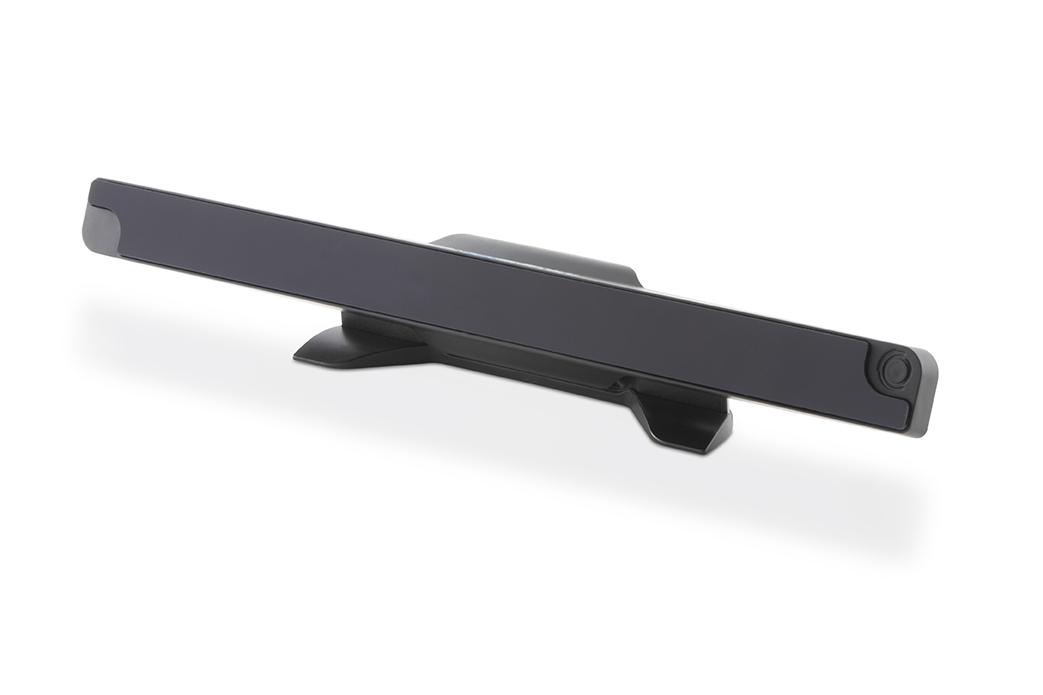 It is compatible with a large range of augmentative and alternative communication (AAC) software.
FEATURES
Maximum accuracy and complete control even with head movement
Adapts perfectly thanks to a revolutionary magnetic mounting
Take it anywhere mounted on a tablet
All software included and always up to date
Robust, easy to use and intuitive
---
EasyClick Lite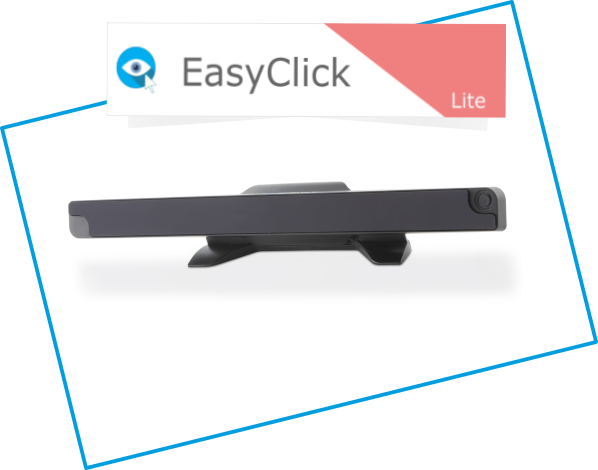 A simple and user-friendly software that guides the user through a quick two-step setup process: position and calibrate. It offers an intuitive positioning guide and a minimal configuration setup to keep the access control simple. The main features are:
0, 1 and 5-point calibration
Intuitive guide to quickly gain optimum positioning for eye gaze
Perfect starter solution for simple activities and games
---
Primma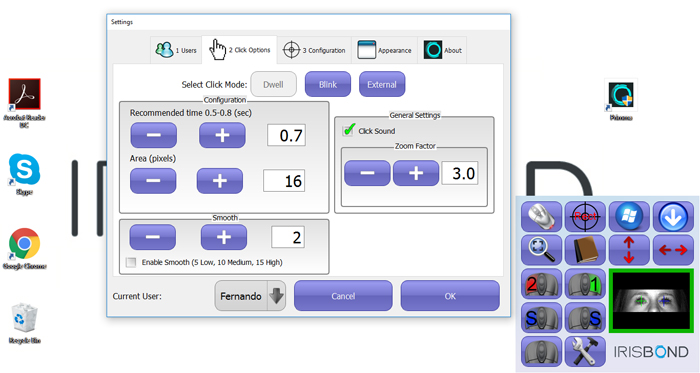 This eye-tracking software allows you to use a computer with your eyes. Its intuitive interface features left click, right click, double click, drag and drop, zoom, reading mode etc. Click options include dwell, blink and switch. Use a 16-point calibration for superior accuracy and a 9 or 5-point calibration for tasks that require less precision. It adapts easily to head movement and to use while wearing glasses. It can be set up for right and/or left eye. You can save the calibration and setting of several users under their user profiles and install this software in as many computers as you wish.
---
Akzede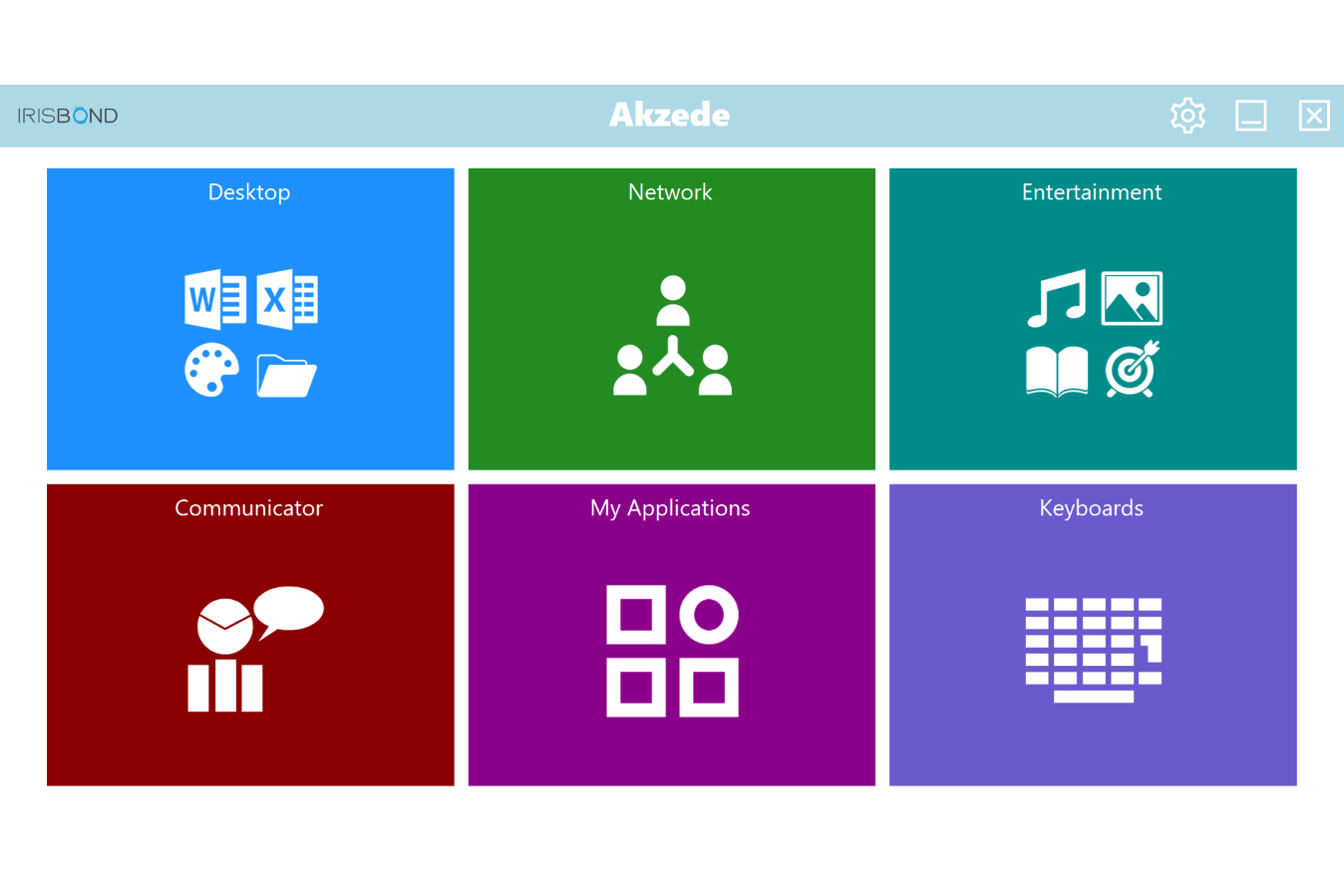 Access a computer intuitively, with speed, ease and efficiency. Do just about anything with your eyes while clicking less. Thanks to the apps included, you have a better future in sight!
It has 6 different themes:
Desktop: Access to the Microsoft Office suite, Paint and your disks and folders is now easier thanks to new assistive tool bars.
Network: WhatsApp, Facebook, Internet, Text Reader, Environmental Control, Skype, Email…
Entertainment: Accessible Multimedia Player, Accessible Image Gallery, Audiobooks, Games, Musical Instruments, Google Earth, Youtube and Camera
Communicator: Based on the successful communicator Plaphoons, it allows you to write with ease, thanks to a predictive dictionary and large keys. Use dynamic communication boards with letters and symbols or link it to a communication software of your choice.
My Applications: Add your favorite apps, programs and websites for quick access.
Keyboard: A choice of virtual keyboards to write just about anywhere. Choose the one that best suits your needs or add your own keyboard.
---
EyeLearn
Designed for people with cognitive impairment. It was developed by Irisbond together with a group of teachers and SLPs. Know where a user is looking at any time, play and discover a whole new word of autonomous communication.
More and more people are guided by professionals to develop their capacities and build a better future. From gaze stimulation to autonomous communication, users will go step by step through this entertaining software.
EyeLearn contains:
Diagnostic test
2 modes of operation: basic and advances
4 learning stages: visual stimulation, cause-effect, choosing and pointing, symbols and alphabet
Customizable contents: add your favorite apps and games