•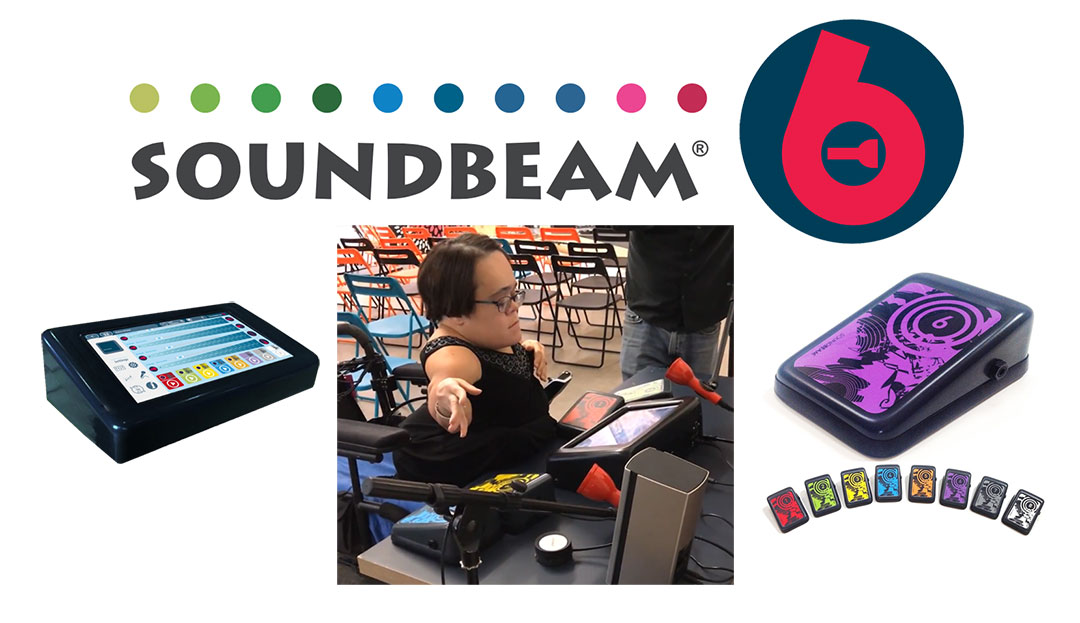 Soundbeam uses ultrasonic sensors to detect movement –  big or small – and translates this into sounds. It comes with pre-loaded 'soundsets' that range from tracks which allow the exploration and performance of different genres – blues, classical, to more improvisational soundscapes and other musical ways of playing. It is completely programmable so that the user can make changes to personalise the soundsets and save them. Soundbeam 6 has a wealth of instruments, backing tracks and sound effects to choose from.
You can have up to 4 sensors attached, though the most popular choice to start with is two.
SOUNDBEAM 6 FEATURES INCLUDE:
Full touch screen intuitive touchscreen with 'playable' beams and switches on screen 
Internal integrated sounds Access to potentially unlimited libraries of instruments, sound effects, rhythm loops. No need to wire up to external sound module or keyboard.
On-board sampler record and use your own sounds!
Rock-solid accuracy in playing melody and harmonic progressions.
Complete session recorder  students can post their compositions and performances on the internet.
Film capability connect to your monitor or projector via HDMI, view the films included with each pre-installed soundset or add your own!

Wireless switches for Soundbeam 6 
These colourful, robust, sensitive, versatile, and tactile switches communicate wirelessly with Soundbeam 6 
Soundbeam in Special Education and Music Therapy
Soundbeam has been most extensively and thoroughly evaluated with children with Severe Learning Difficulties and Profound and Multiple Learning Disabilities.
However, the benefits to children and adults with a range of conditions and syndromes including Autism, ADHD, dementia, Down's Syndrome, Rett's Syndrome, depression, Cerebral Palsy, Alzheimer's Disease and challenging behaviours, have also been documented.
Soundbeam provides a medium through which even individuals who have profound physical or learning impairments can become expressive and communicative using music and sound. The sense of control, agency and independence which this provides can be a powerful motivator, stimulating learning and interaction in other areas.
Soundbeam is identified as a key resource by the Qualifications and Curriculum Authority in assisting children with learning disabilities to attain learning targets as prescribed by the National Curriculum for Music. Its success rests upon two factors: the sensitivity of the beam means that even the most unreachable or immobilised individuals can 'play' independently; secondly, electronic technology makes available a huge pallette of possible soundworlds, releasing the player from the traditional limitations of percussion-based activity.