•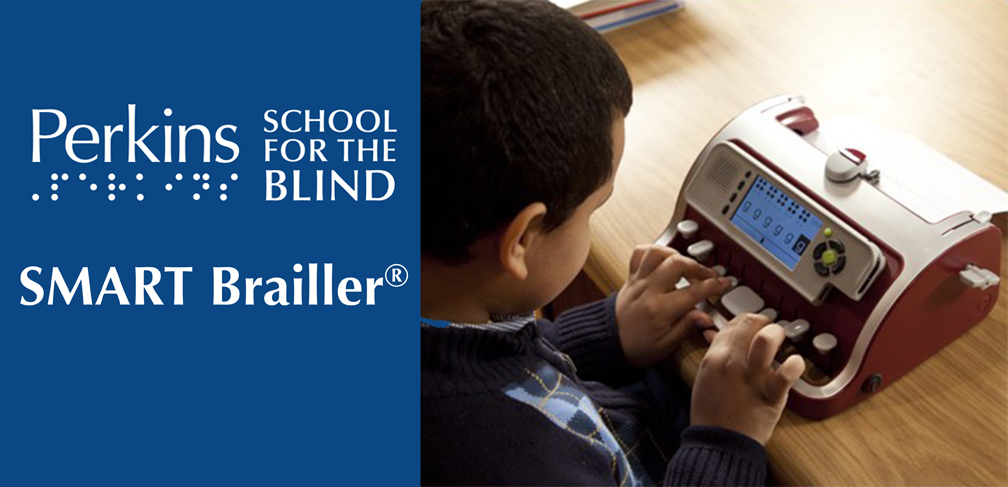 The SMART Brailler® is an early learning tool designed to promote an interactive educational experience between students, teachers and parents by displaying, vocalizing, and brailling what a student types.
WHY THE SMART BRAILLER?
Accelerates Learning: Encourages multi-sensory learning through visual, tactile and auditory feedback, increasing the student's ability to process new information and making learning fun.
Lightens the Load: Weighs 20 percent less than the classic Perkins Brailler, making it easy to transport between home and classroom.
Integrates with Mainstream Technology: Edits, saves and transfers brailled documents to digital text files via USB, letting sighted teachers or parents read the document on a computer.
Involves Non-Braille Users: Enables better collaboration between students and sighted teachers or parents using Roman letters on the display screen to mirror what is being brailled.
Reliable Support: One year warranty and repair service training availability, ensuring that any problem with your product is resolved quickly.
See how the Florida School for the Deaf Blind has transformed the way they teach and students learn using the SMART Brailler!
FEATURES
Headphone jack and volume control
Rechargeable and removable battery
Built-in "Building on Patterns" Kindergarten exercises [APH only]
Video screen displays SimBraille and large print
Audio feedback via Acapela Group's text to speech, male/female voice options
The ability to edit, save and transfer brailled documents to a computer via USB
Mechanical brailler capabilities
Language platforms in Unified English Braille, English, UK English, Spanish, French, German, Russian, Swedish, Polish, Turkish, Arabic and Portuguese
Braille output conforms to American National Library Service for the Blind Size and Spacing Standard
New and improved! They are dedicated to providing the highest quality products based on feedback from our user community. Improvements like these have led to a decrease in the number of SMART Braillers returned for warranty repair and an increase in user satisfaction:

Unified English Braille (UEB)
Increased strength and durability of plastic exterior
Easier paper loading and decreased paper jamming