•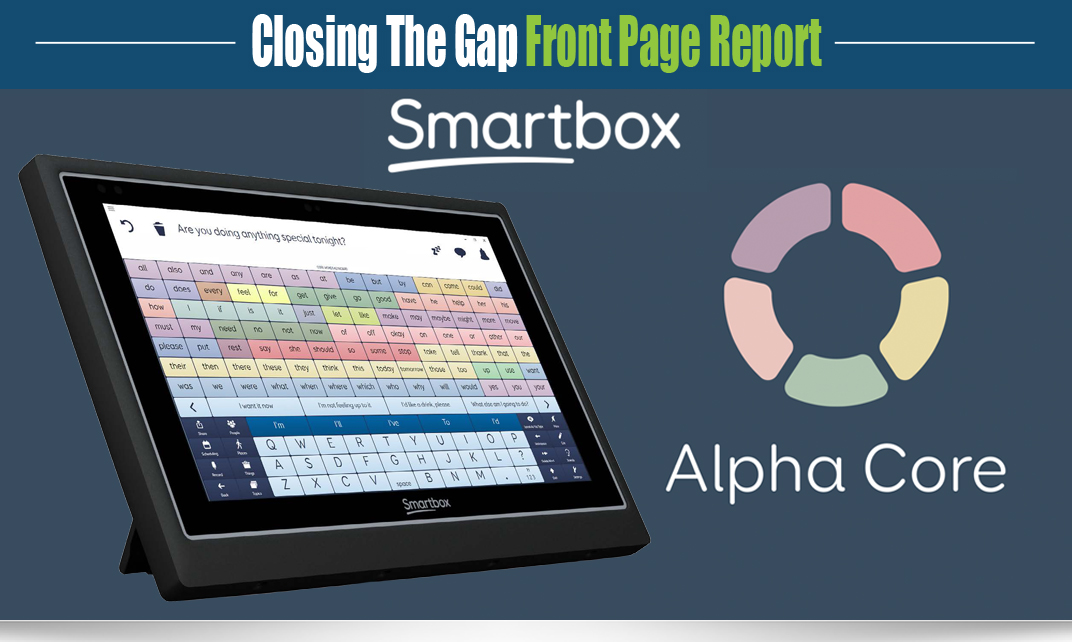 Alpha Core is here!
Smartbox has got a new text-based vocabulary in Grid! Alpha Core is designed to help people with changing physical abilities to communicate, such as those with ALS.  You'll find seven different keyboards to choose from – each offering quick access to prediction, built-in apps and a range of useful topics and phrases. 
Built to meet your changing needs
Alpha Core offers a range of ways to help you communicate as your physical abilities change – with quick access to prediction and phrases, alongside a keyboard of your choice.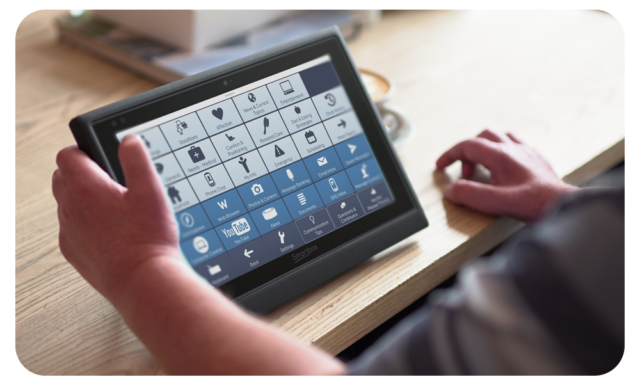 Who is Alpha Core for?
Alpha Core is designed for people with physical needs that may change over time, such as those with ALS or MND. Some people might start out using a touch screen and then find it more accurate to switch to eye gaze.
Alpha Core will support you however your access method changes, enabling you to swap to a more accessible layout without losing any phrases you've added or personal changes you've made to the vocabulary.
Key features
Seven different keyboard layouts
Supports people with changing physical needs
Rapid sentence building
Quick access to phrases and useful topics
Easy to edit and personalise
Simple to use accessible apps
Suitable for all access methods
Available on Windows and iPad
Based on 20+ years clinical experience in ALS
Paper-based version available
Choose a keyboard to suit your needs
There are seven different keyboard layouts to choose from. Each keyboard gives you quick access to everything you need, pre-stored topic words and phrases, prediction and chat history to speed up your rate of communication.
You'll find different keyboards suited to different access methods from the QWERTY standard which is ideal for touchscreen users, to the frequency scanning keyboard optimised for switch users or a 2-Hit keyboard for people who have difficulty hitting smaller targets. You can read more about the different keyboards and who they're for in our Getting Started guide.
Core Word keyboard
The Core Word keyboard provides you with the most commonly used words alongside a QWERTY keyboard, where you can spell out words that aren't listed. They are arranged alphabetically and grouped by colour to make them easier to find.

QWERTY Keyboards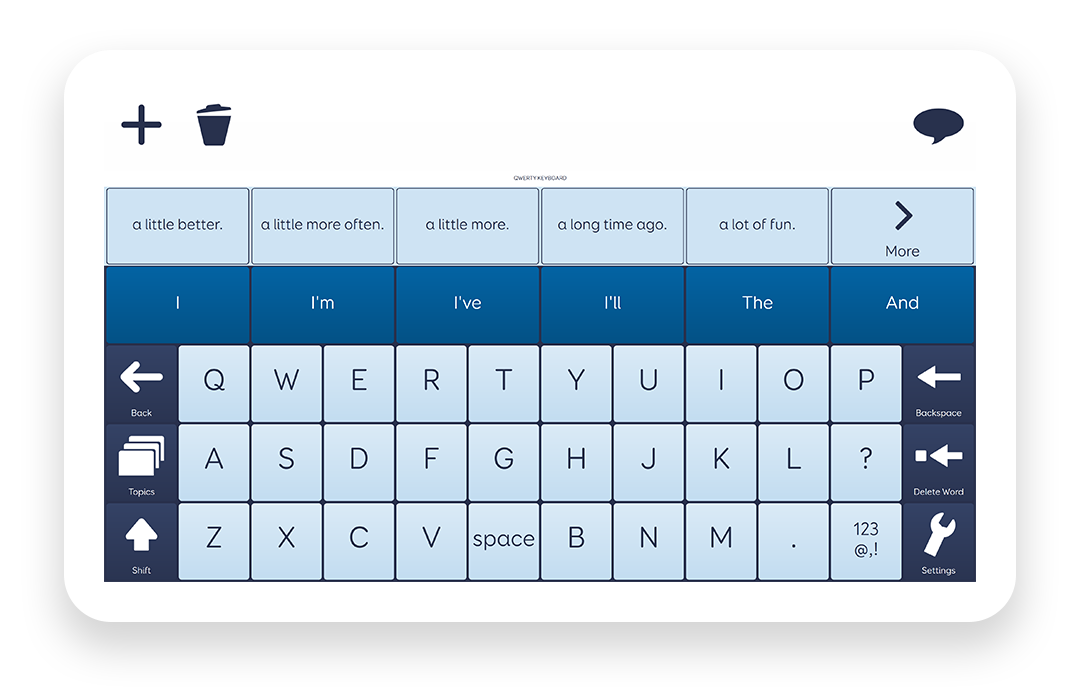 QWERTY Standard is a basic keyboard with word prediction and chat history in the two rows above the letter keys. The + icon gives you access to more features including Editing, Mute, and an attention alert.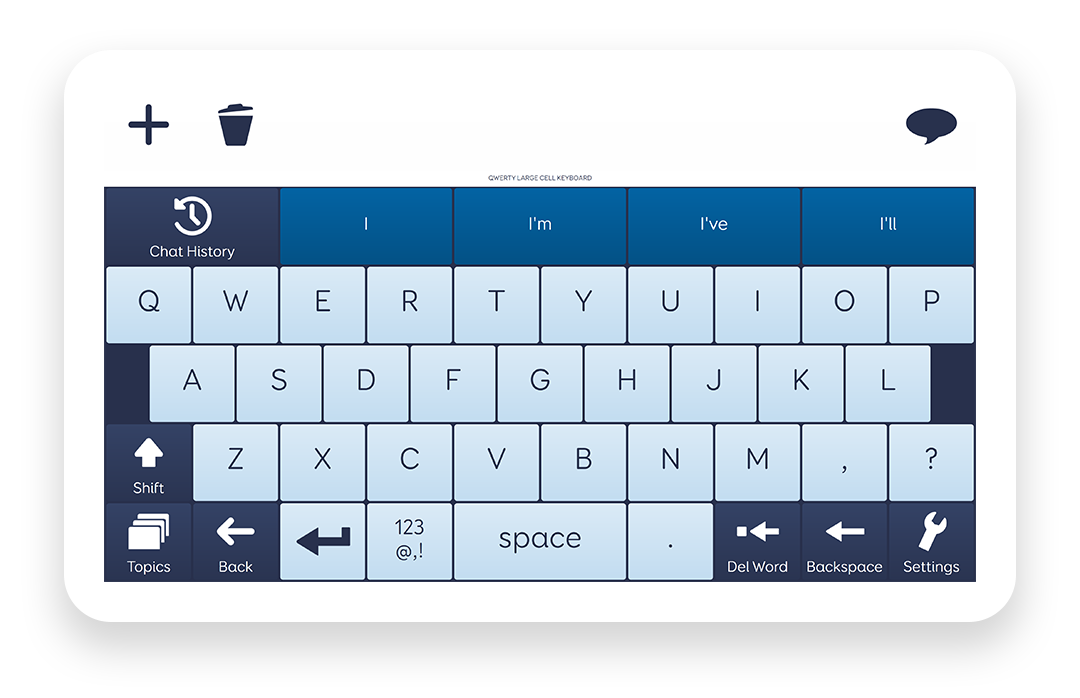 QWERTY Large Cell has bigger cells than the standard QWERTY keyboard. The row of prediction cells above the keyboard also doubles up as your chat history. This is a good keyboard for eye gaze users and people who like larger cells.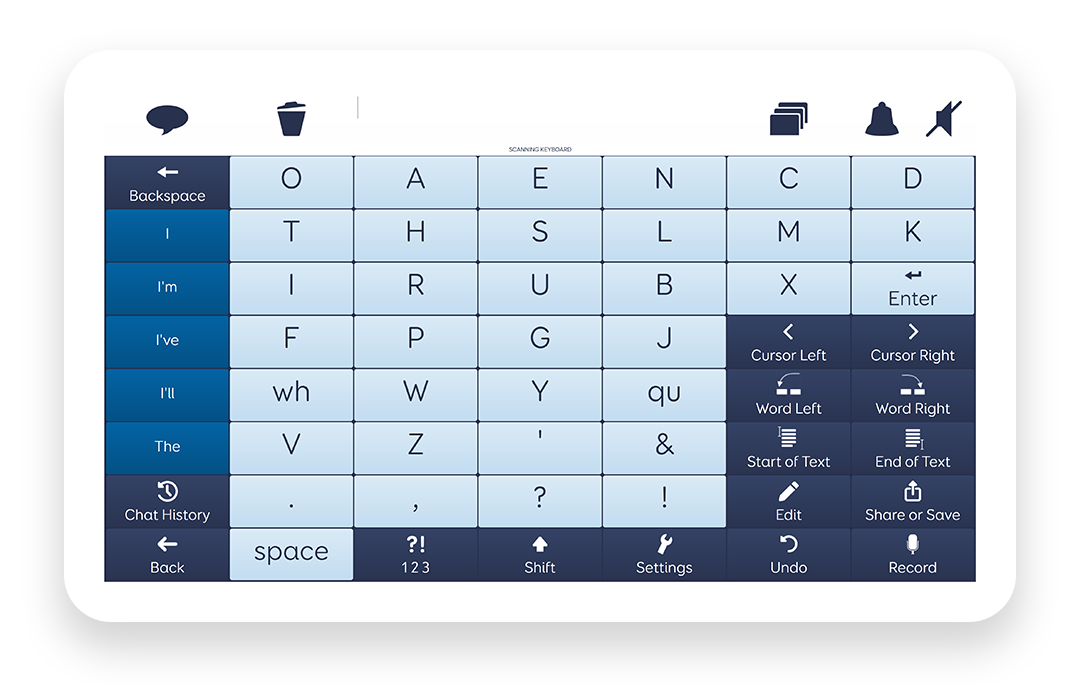 Frequency Scanning
The Frequency Scanning keyboard is arranged by letters that appear most frequently in the first 1-2 characters of a word. The most common letters are in the top left of the keyboard, where they are quickest to reach.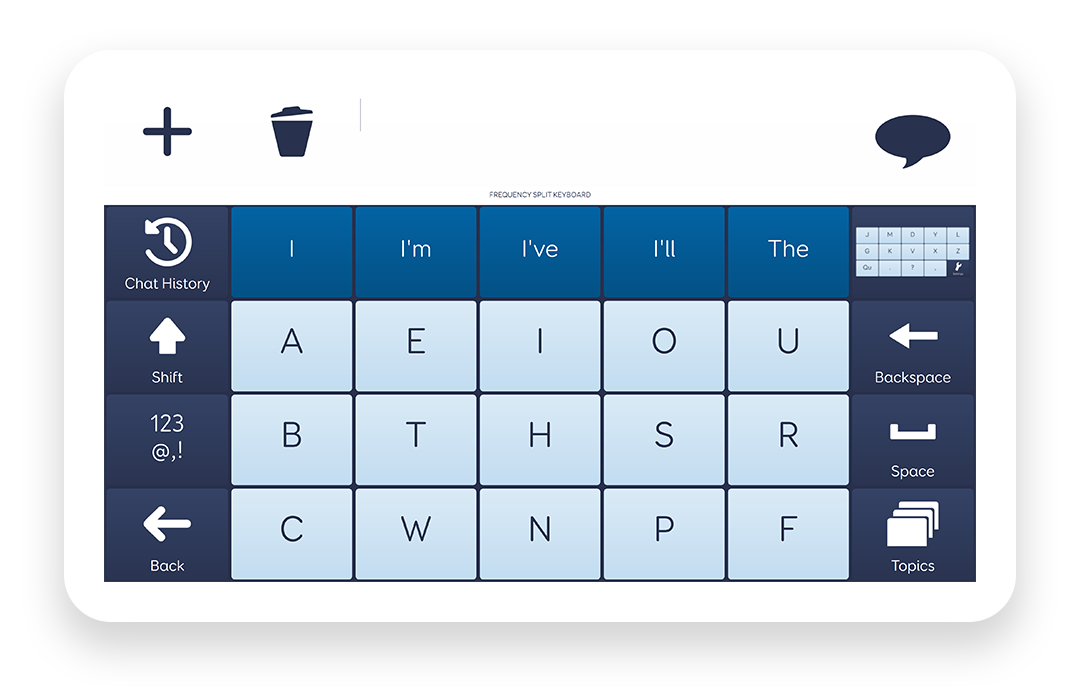 Split Frequency
The Split Frequency keyboard has 28 cells on the screen and is split across two grids, with the most commonly used letters appearing on the first grid, and less frequently used letters on the second grid.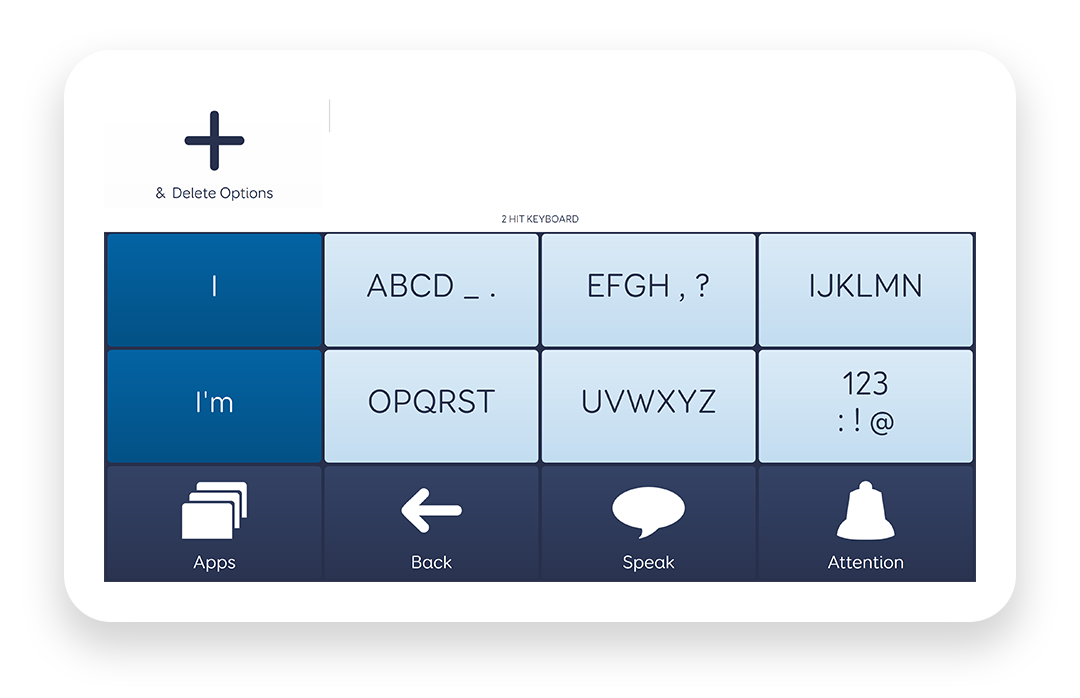 2-Hit keyboard
The 2-Hit keyboard has 12 extra large cells. This keyboard has a reduced number of apps and doesn't include topic grids, however when you switch to this layout you will still be able to find all the topic phrases in your chat history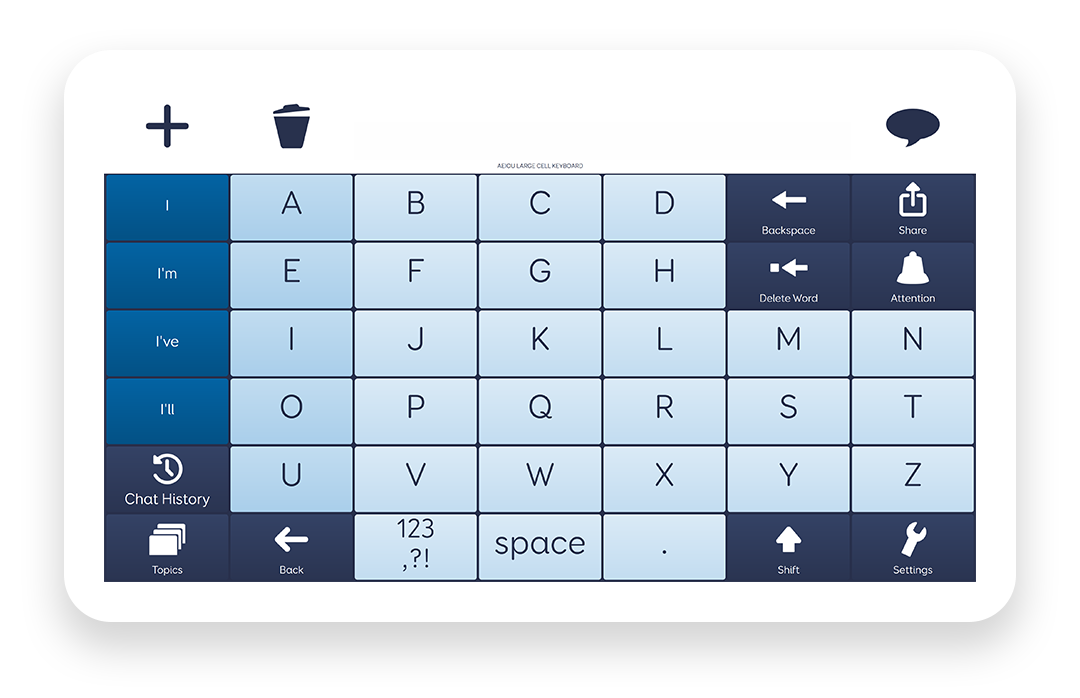 AEIOU Large Cell keyboard
The AEIOU Large Cell keyboard has larger cells than QWERTY Large Cell. Word prediction appears in a vertical column down the side of the keyboard, which you can also use to switch to chat history.
Useful topics and readymade phrases
You'll find a wide range of pre-stored phrases organised by topics, covering everyday topics such as greetings and household requests, as well as topics that are relevant to people with physical difficulties, such as comfort and positioning or diet and eating strategies.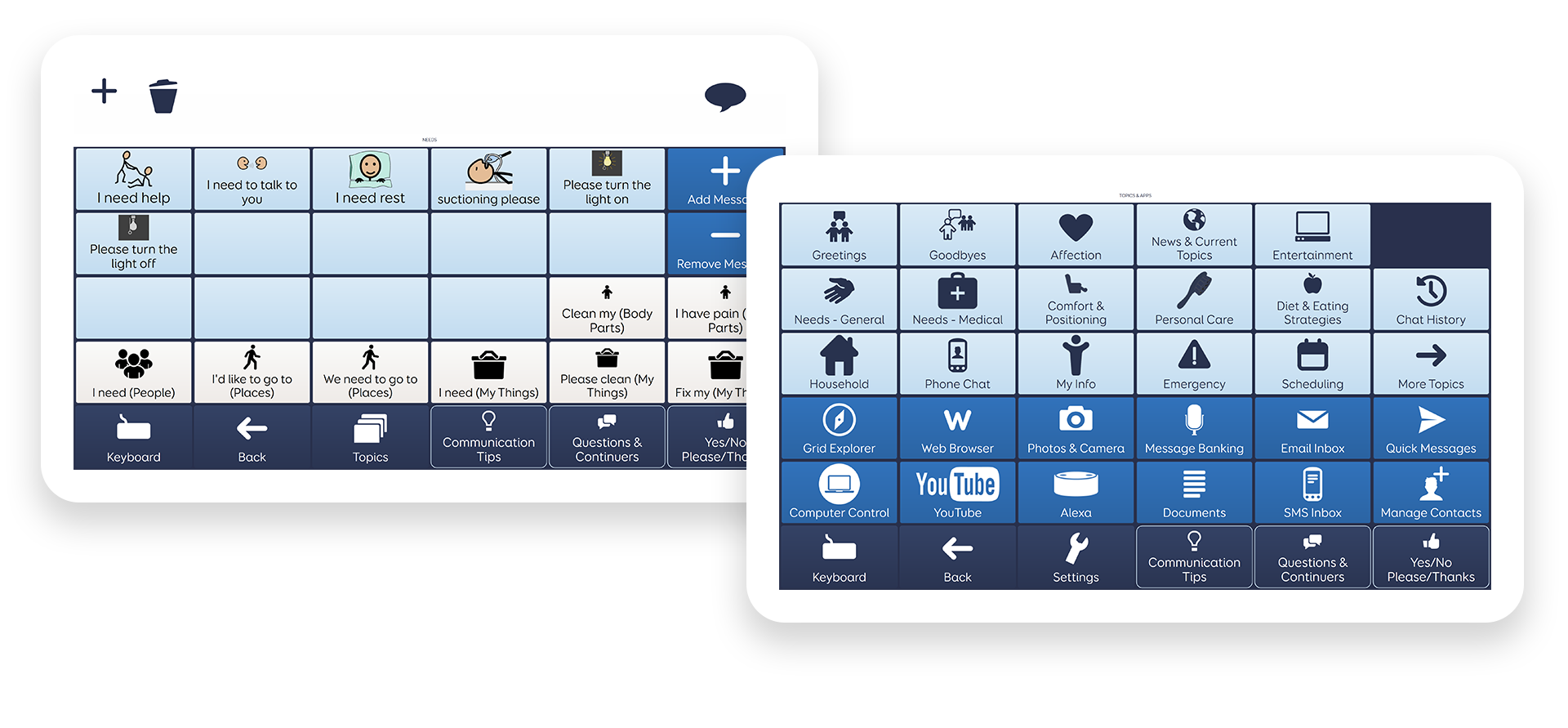 There's also an emphasis on general and medical needs. This vocabulary is easily personalised, as you can add your own words and phrases, and quickly remove those that aren't relevant to you.

Accessible apps
Alpha Core also comes with a selection of accessible apps for sending emails, text messages, browsing the web, watching YouTube videos, message banking and Computer control for accessing Windows.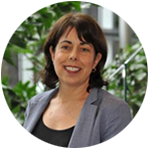 Created by Amy Roman (MS, CCC-SLP)
Alpha Core was developed by Speech and Language Pathologist Amy Roman, and is based on over 20 years of clinical Experience in the field of ALS. She has spent many years adapting communication solutions for people with ALS and other conditions that impact speech.
Alpha Core was built with the input of adults with ALS, their families and therapists.