•
What is Speak for Yourself?
Speak for Yourself (SfY) is an Augmentative and Alternative Communication (AAC) application that was created by speech-language pathologists.  This AAC app turns the iPad into a communication device. It gives a voice to adults and children who are not able to speak or are limited in their ability to express themselves verbally.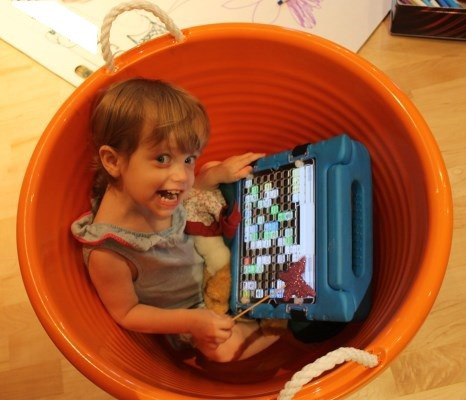 Speak for Yourself is being used by thousands of individuals around the world with autism, cerebral palsy, apraxia, and genetic syndromes. Additionally, it is also being used in preschool classrooms to promote word-finding, visual language support, and verbal speech development.
If you know someone who has complex communication needs (CCN), this AAC app bridges the gap between current communication abilities and all that the individual wants to say. Using AAC does not interfere with the development of verbal speech…in fact, it promotes it! Many parents say that using a device to provide communication is the single best thing they did for their child's verbal speech!
Features
Speak for Yourself  AAC Language App was designed by two ASHA-certified speech-language pathologists (SLPs) with an extensive knowledge of AAC devices and implementation.
Vocabulary is based on research of the most commonly used words across age, languages, settings, and situations. Eighty percent of the words that they use to communicate are comprised of a core vocabulary of 300-500 words.  This means that approximately only twenty percent of a person's vocabulary is "personalized." One hundred and nineteen of these core words constitute the main screen of Speak for Yourself.  Each of these buttons links to additional related core vocabulary words and personalized, programmable vocabulary.
Features of Speak for Yourself:
Open and close feature allows users to begin with only one word and add to their vocabulary at their own pace.  The first word the user learns never changes position.  This means that the user will never have to learn how to say that first word again, even if their vocabulary grows to the more than 13,000 words that Speak for Yourself can hold!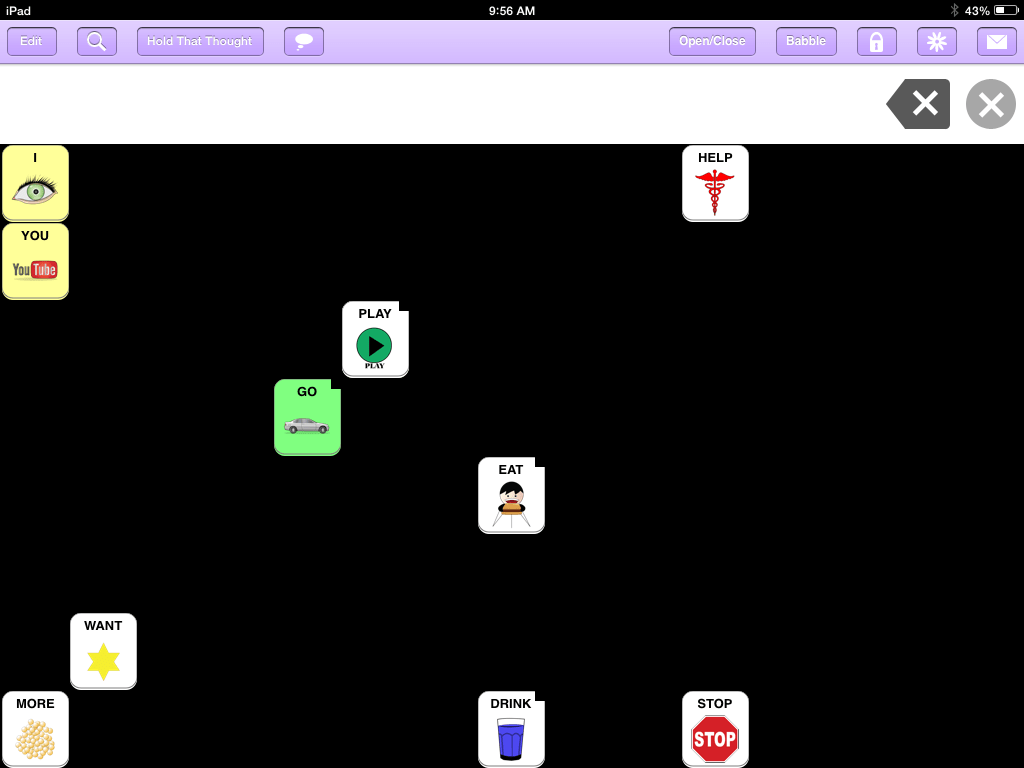 Beginning set of vocabulary on the Speak for Yourself
The motor planning in this application remains consistent throughout the users' lifetime, to increase automaticity, which in turn increases the individual's rate of speech. This is consistent with the way language is developed.   When you learn the motor movements needed to verbally say the word "eat" as a one year old, those motor movements remain consistent throughout your lifetime and become automatic.  Your mouth still makes the same movements when you're ninety to say the word "eat."
Babble feature allows users to explore vocabulary by opening every word in the application by touching one button.  Just as a baby, practicing to speak, "babbles" by exploring his mouth's motor movements and hearing the sounds produced, the user can explore the words available in Speak for Yourself with alternative motor movements (e.g. using his hand).  The user can be returned to their customized setting by touching the same button to turn "babble" off.
Lock edit Come on, we've all been there.  After meeting with the team, customizing the communication system, and finishing the programming t