•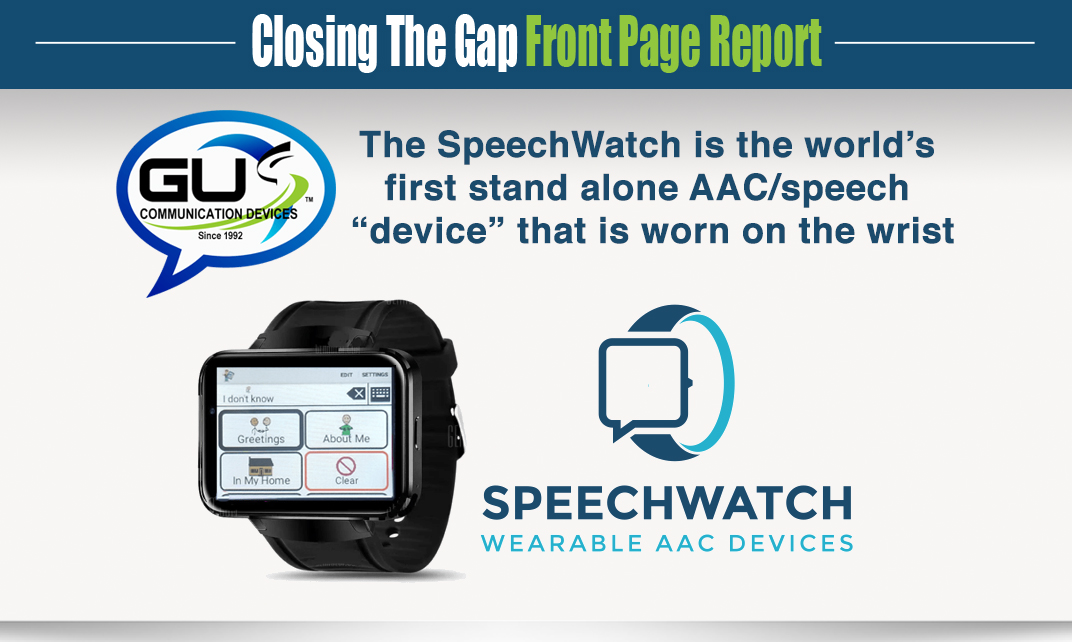 Developed and sold EXCLUSIVELY by Gus Communication Devices, the SpeechWatch® is the world's first stand alone AAC/speech "device" that is worn on the wrist and is ideal for children and adults with autism, aphasia (stroke), Parkinson's, or any condition that affects their ability to communicate with friends and family.
Each SpeechWatch is individually prepared and configured by one of our technicians prior to shipping.   They install, modify and test the TalkTablet AAC Speech app so it is ready to use for communication the moment you take it out of its gift box.
The SpeechWatch is a less cumbersome alternative to a tablet or cell phone, yet offers the same benefits including cell phone, internet access, texting, email, social media (Facebook etc.), GPS mapping, tracking, streaming music and access to thousands of apps from the Google Play Store.  OR…using readily available "parental" control apps, all those "bells and whistles" can be turned off to limit the user only using the TalkTablet speech app, or other specific apps and features.
The  SpeechWatch is a stand alone speech tablet with a 2.2″ display that does not require a secondary smartphone or tablet in order to create or edit buttons or pages.   However, if you own a tablet with the TalkTablet app installed, you can use it to edit and create TalkTablet buttons and pages and wirelessly transfer them to the TalkTablet SpeechWatch….or visa versa!!
The following items are pre-installed prior to shipping…
1.  TalkTablet AAC/Speech app
2.  Google premium voices
The SpeechWatch features and specifications are as follows…
Compatible with Android apps from Google Play Store (eg. TalkTablet), wireless and cellular access to the internet, cell phone calling, texting, video chat, GPS tracking and navigation, email, music player, music streaming and more.
1GB of RAM
4 cores running at 1.3GHz processor
16GB of storage (apps, photos etc).
2G and 3G Cellular GSM support (using included simcard slot)
Bluetooth, GPS, GSM Network type (NOTE:  Only T-Mobile is GSM in the USA.  The rest of the world is GSM).
2.2 inch screen at 320×240 resolution
Speaker and microphone
Camera, video recording
Note:  The SpeechWatch requires a GSM cellular network to use cell phone features.  In the USA, choose T-Mobile or AT&T.  Contact either company to obtain a simcard, or use your existing simcard from a T-Mobile or AT&T smartphone.
Award winning TalkTablet is the only fully symbols-based AAC app that is avaible for iOS, Android, Windows and Kindle devices…with the ability to share buttons and pages between platforms.
TalkTablet® is a fully-featured AAC speech/communication solution for people who have difficulty communicating as a result of autism, aphasia, Down Syndrome, stroke, laryngectomy or any other condition that affects a persons ability to communicate effectively. NOW with fully customizable PoP-Up pages!!
TalkTablet is developed by Gus Communication Devices, a leader in speech software for over 25 years. First released in 2012, TalkTablet has become the premier, reasonably priced, Augmentative and Alternative Communication (AAC) solution for children and adults with autism, aphasia, Rett Syndrome, Down syndrome, developmental disabilities, apraxia, stroke, or traumatic brain injury.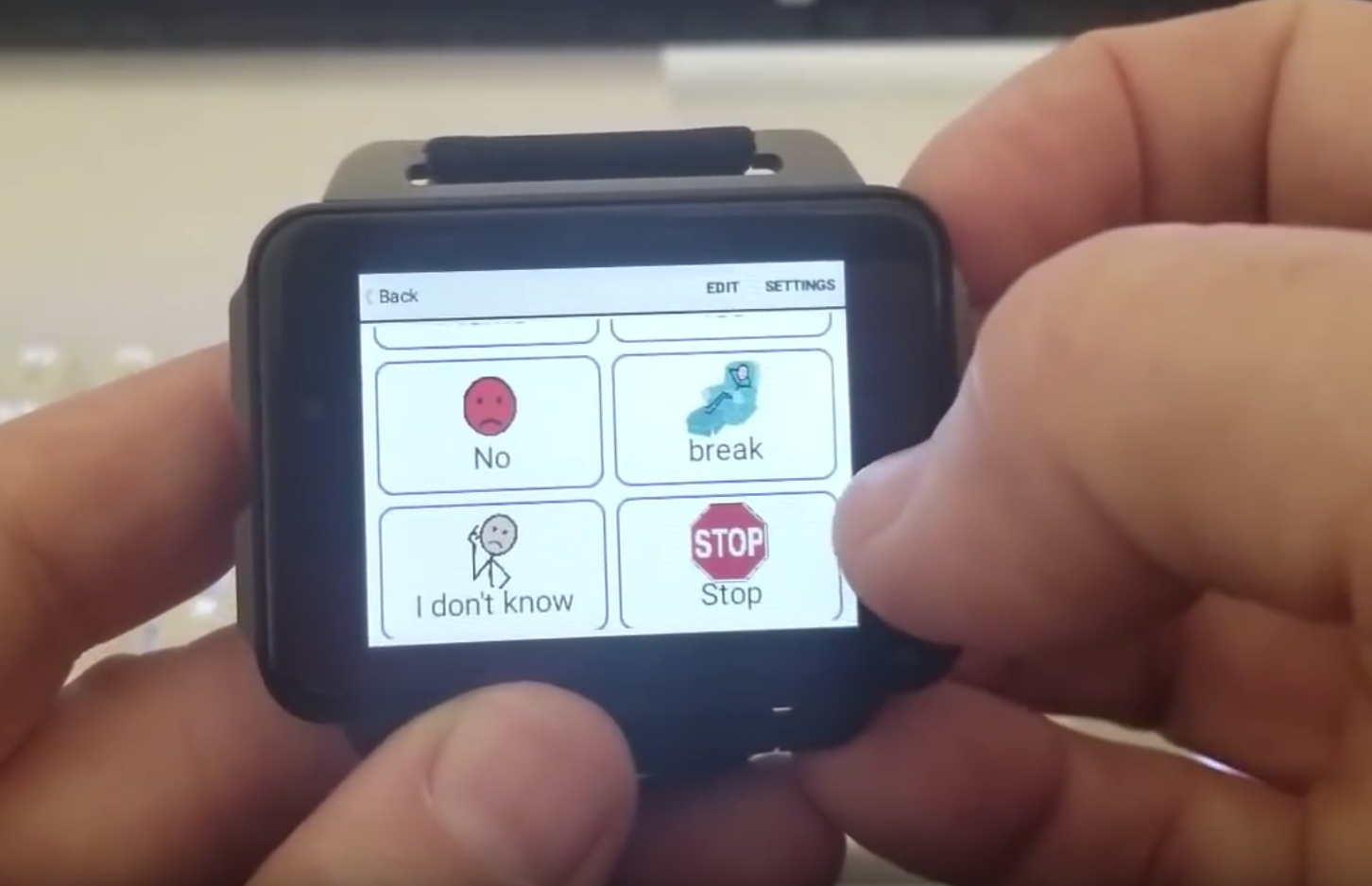 Simplicity by Design 
• Speak by touching buttons that contain predefined words or phrases
• Add random text to phrases using the embedded on-screen keyboard
* Includes over 30,000+ Symbolstix symbols, the most in the industry
Choose one of the included vocabularies and start communicating today!
• TalkTablet includes NINE (9) SLP designed starter vocabularies that offer 16 to 48 buttons/page. OR create a new vocabulary of your own design
Expand your pages along with the user's progression
• Each grid size (buttons/page) can be increased or decreased at any time to suit your needs
• Transition to literacy with word prediction
EASY, EASY customization 
• Add buttons, pages, or new vocabularies in a flash. The most intuitive AAC app available today.
• Choose from over 30,000 SymbolStix™ symbols (worlds largest AAC library), or take photos with the camera, use photos from your album, or add Google images to your buttons
•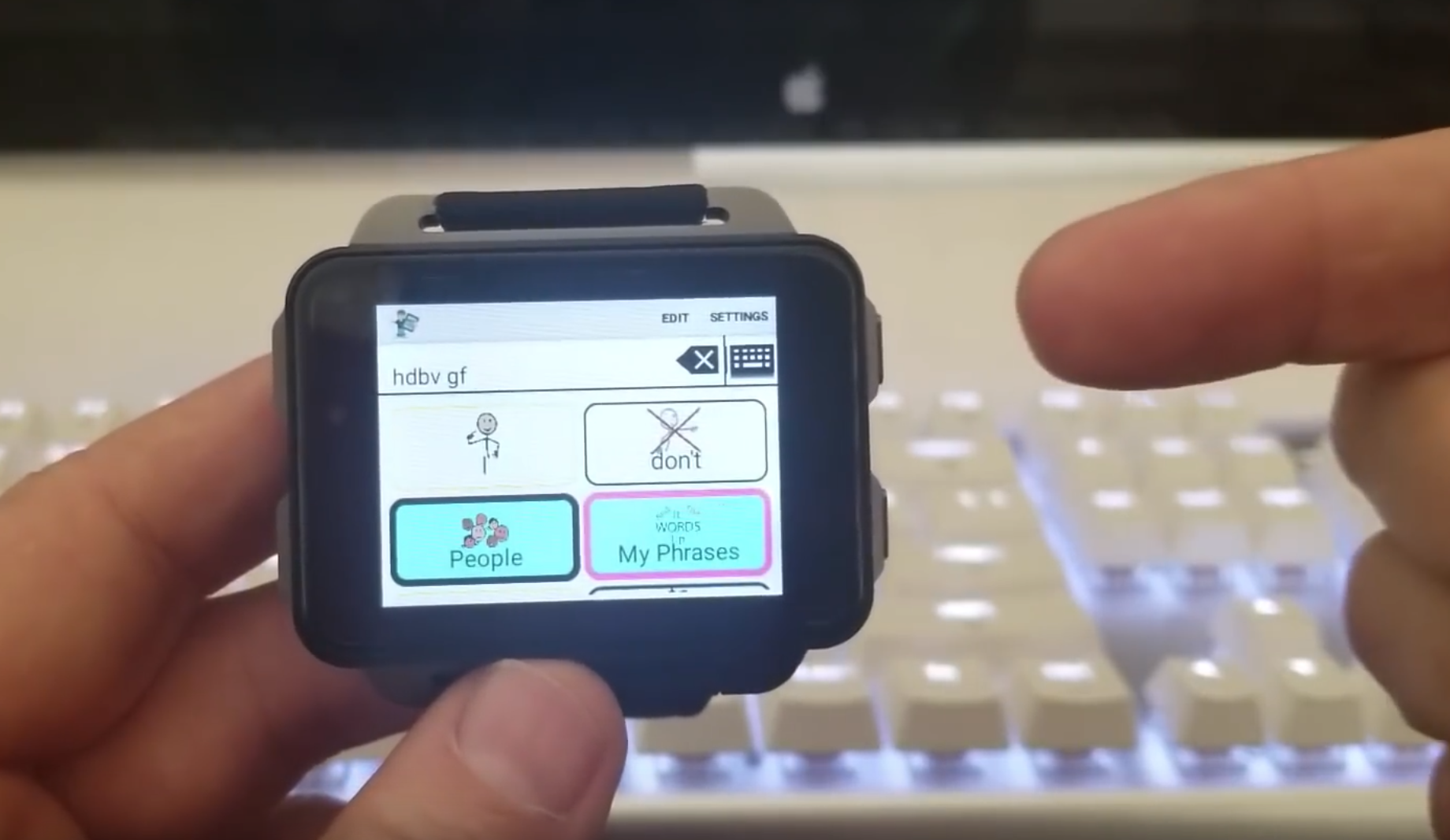 Create unlimited user vocabularies from a single app
• Change color, font, borders, backgrounds and more on each button or page
• Buttons can be made invisible, dimmed or normal
• Move buttons by simply pressing, holding and dragging to new location
• Copy and paste buttons between page or user vocabularies
• Prevent unwanted editing by enabling a password to the editing area
• Prevent unwanted repeated tapping of buttons with the "Tap Delay" feature• Includes natural sounding voices (not robotic) in multiple languages..OR use the included audio recording function to record voices or sounds* Share buttons, pages or entire vocabularies WIRELESSLY with other TalkTablet users.
• Built-in backup and restore feature to safeguard your pages, including our free offsite backup service• Compatible with handheld and tablet devices running Android
• An internet connection is NOT required to use TalkTablet. It is a "stand alone" app
• Includes toll free telephone technical support and free updates….for LIFE
• Created by the leader in speech software for over 24 years!!
TalkTablet includes their free TalkTablet Sharing Service which allows users to share buttons, pages of buttons or entire user vocabularies with other TalkTablet users anywhere in the world.
TalkTablet is developed by Gus Communication Devices which has been a leader in the development of AAC/Speech software for over 25 years.  Well over 150,000+ people around the world use our AAC/Speech software in their daily lives to communicate with family, friends, school mates, teachers and everyone else.