•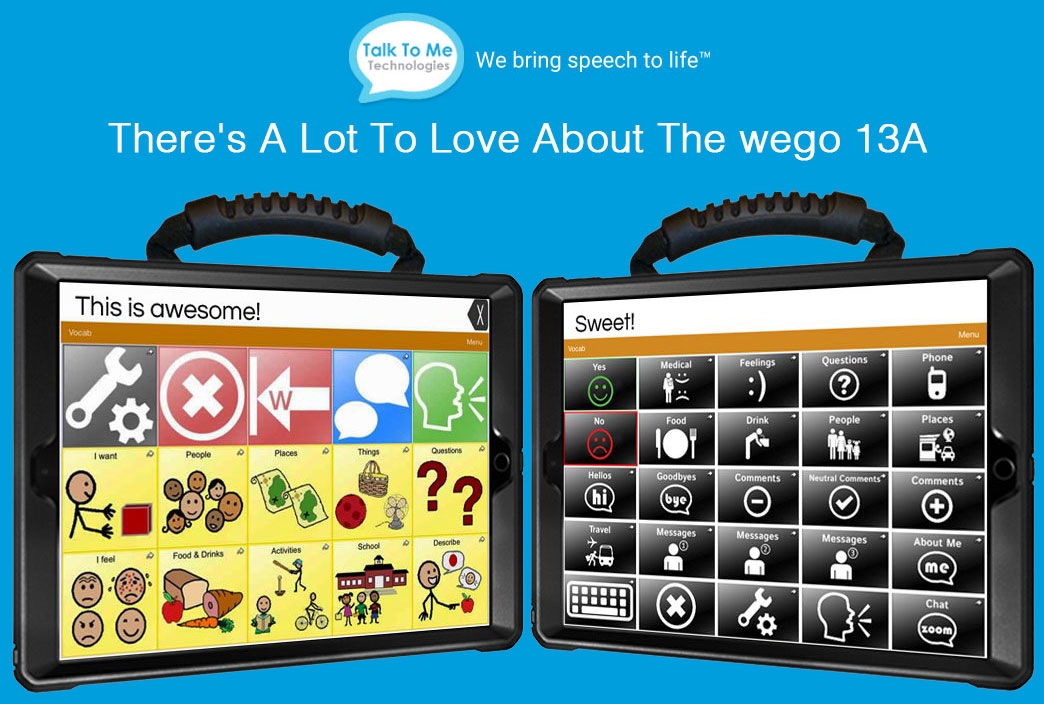 Wego 13A – (Superhero size) – Speech-Generating Device 
There's a lot to love about the wego 13A
The newest member of their wego A family of speech-generating devices – the wego 13A is just like its other family members but with a 30% larger screen size! 
---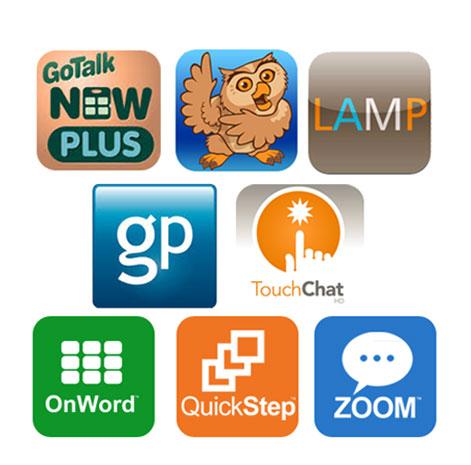 Vocabulary/Page Set Options
 Options for Superheroes of every age.  
Their team of experts can help you decide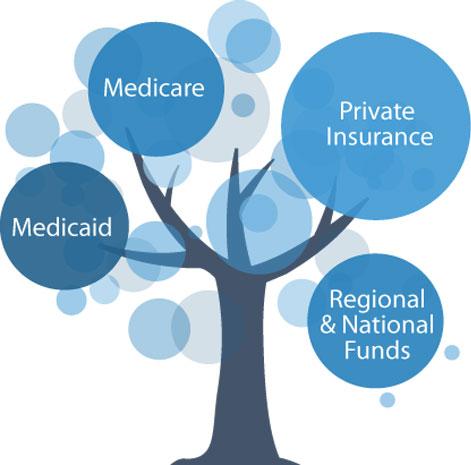 Funding
Approved by Medicare, Medicaid and private insurance. These models are dedicated/locked and do not permit access to features other than communication/speech generation. A dedicated team of people to handle the paperwork.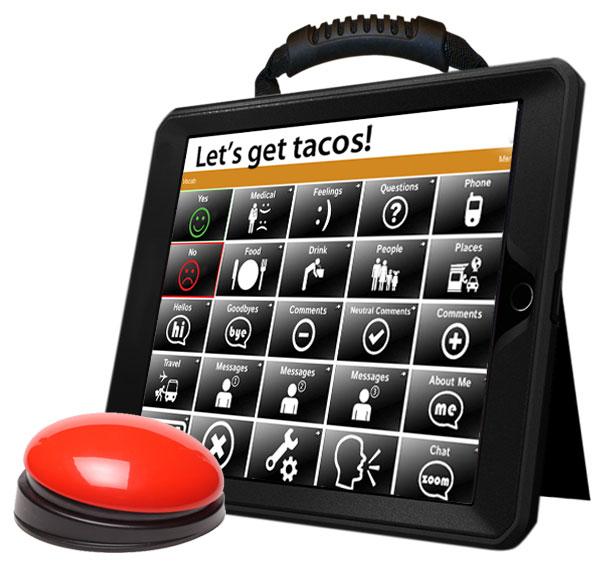 Accessibility Options
Alternate access methods include keyguards, switches and more.
---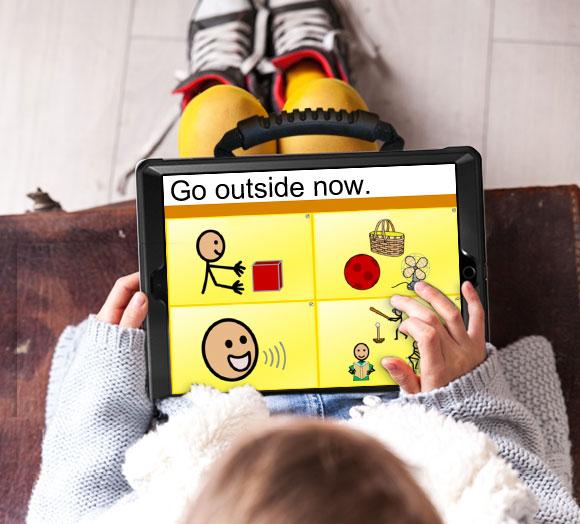 Lifelong friend. 
Self-advocate.
Many vocabulary/page set options for beginners and unlimited potential for growth. Their leaders of tomorrow can start building the foundation for communication and a life of inclusion. Children as young as 1 year-old can start with familiar pictures and symbols and progress towards literacy – learning to use their own voice to communicate or typing-to-talk.
Rugged. Durable.
They understand that some days are easier than others. The wego 13A is rugged, tough and protected. When bumps and tumbles happen – an all-inclusive 3-year warranty provides peace of mind.  
---
Clarity.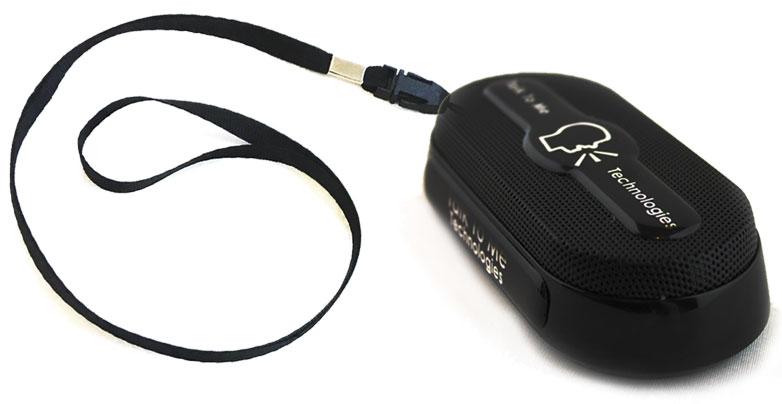 A bluetooth speaker provides super power in voice amplification to ensure the user's voice can be heard at school, busy shopping malls or anywhere their life takes them. Attached magnetically to the back of the device, it can be also be removed and worn on a lanyard – or even held close to a loved one in another room of the house.
---
Wherever you go, wego™
The wego 13A speech-generating device is a powerful, portable option for adults and children with a variety of communication difficulties resulting from ALS, Autism, developmental disability, Down syndrome, stroke and many other conditions that affect speech.
Phrase-based vocabulary/page sets with symbols may require less cognitive demand to communicate medical needs and personal information when compared to using core word and text-based vocabulary.
Text-based vocabulary/page sets enhanced with word prediction allow literate users to communicate any unique message with speed and accuracy.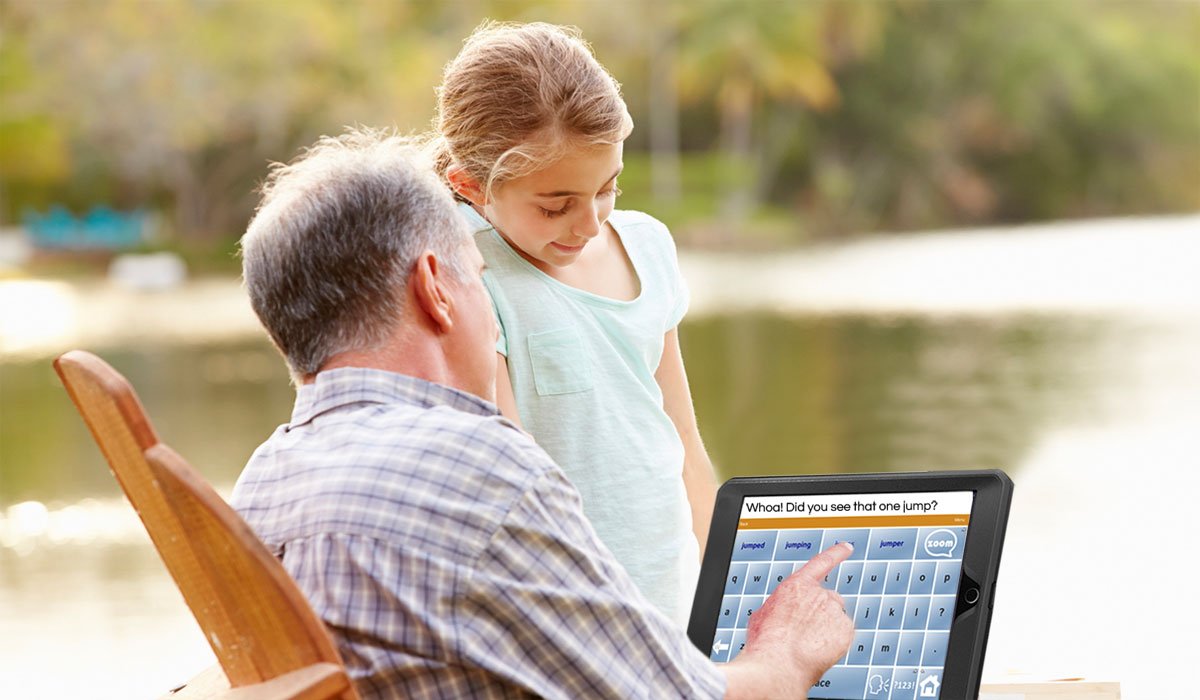 Available Options
Service & Support
All the support, training and guidance you need to begin speaking as quickly as possible. 
Word Prediction
Speed up communication with advanced word, grammar and symbol prediction!
Alternate Access
Touch & switch scanning ready.
Warranty
We've got you covered! 
Peace of mind with their all-inclusive 3-year warranty.
Vocabulary/Page Set Options
TouchChat, GridPlayer, Proloquo2go, GoTalk Now+,
 LAMP Words for Life and TTMT Proprietary Vocabulary/Page Sets. 
Natural Sounding Voices
Express yourself with the most natural sounding voices available!
Sound Options
Be heard! Integrated high quality amplified speakers.
Camera Options
Snap a photo using the onboard front/rear camera! Personalize with your own custom photos for communication!
Mounting

Custom wheelchair, table and floor stands available.
Personalization
Show off your personality with one of our amazing skins and your own personal messages so you can begin communicating right away!
Symbol Libraries
SymbolStix, Widget, Snaps & PCS.
---
Created by our team of experienced staff speech-language pathologists – our popular vocabulary/page sets for children, teens and adults include: 
QuickStep™ ▪ OnWord™ & Zoom™

Past, present or future, Talk To Me Technologies' QuickSteps™ Suite of vocabulary/ page sets allow beginning and context-dependent communicators the ability to communicate with maximum independence!
Share thoughts, feelings, opinions, questions and humor with access to hundreds of situational phrases and fringe vocabulary. Or, communicate a unique message via core words and sentence building strategies.
The QuickSteps™ Suite also include many powerful-accessible apps for email, texting, e-books, social media, computer control, environmental control, etc.
*dedicated/locked devices do not permit access to features other than speech generating-communication.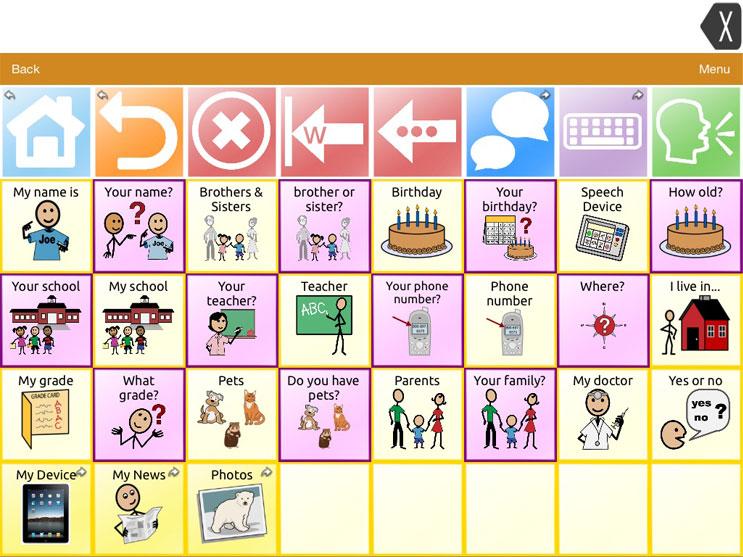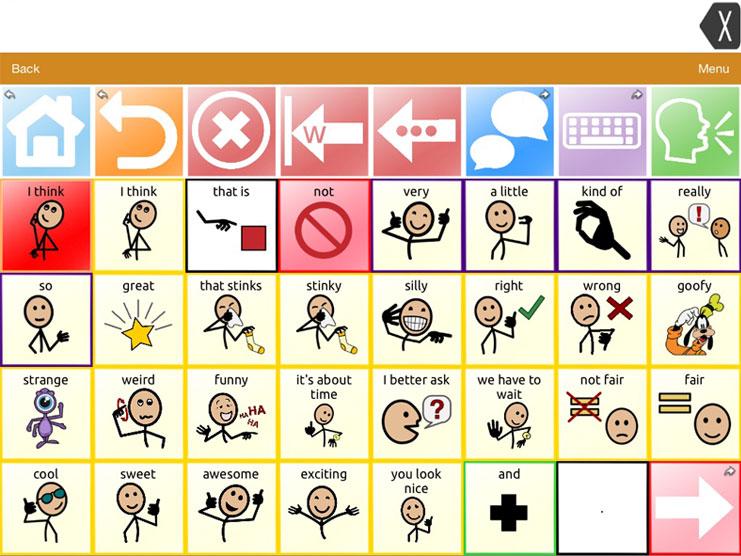 The powerful OnWord™ and Zoom™ vocabulary/ page sets from Talk To Me Technologies empower literate, text-based users with the ability to communicate with speed and precision! Numerous phrase pages and keyboards can be easily customized for personalized communication.
OnWord™ and Zoom™ vocabulary/ page sets also include many powerful-accessible apps for email, texting, e-books, social media, computer control, environmental control, etc.
*dedicated/locked devices do not permit access to features other than speech generating-communication. 
---
Simple yet Powerful
Say what you want! Communicate with speed and confidence using this easy-to-use, speech generating device! The innovative detachable speaker can be easily removed and placed on a table or worn around the neck for easy, face-to-face communication.
Portable and Flexible
Take the wego 13A anywhere! It's lightweight, rugged and portable! It's easy to carry and its compact size makes it a great fit for individuals needing a lightweight, portable, speech-generating device. One and two scanning ready, making it a great solution for users with difficulty accessing the touch screen.
Who is the wego 13A for?
The wego 13A provides an ideal communication solution for children and adults with significant communication difficulties resulting from autism, stroke, brain injury, ALS (Lou Gehrig's disease), cerebral palsy, Parkinson's, Down syndrome, developmental delays or anyone needing a lightweight, portable communication device. 
Communicate with ease using an extensive collection of communication options. These options range from very simple, symbol-based vocabulary sets to more advanced keyboards, incorporating word and phrase prediction, as well as core word and phrase-based pages. Exclusive page sets feature vocabulary content, and draw from and incorporate the research of Dr. David Beukelman, Dr. Diane Nelson-Bryen, Dr. Elizabeth K. Hanson and Barbara Collier.
Voice/Output
Loud, powerful voice output makes it easy to be heard in noisy environments.
Natural sounding male, female and child voice options from Acapela and Ivona.
Detachable wireless speaker (range of up to 30 feet).
Digitized (recorded speech) – great for voice banking and verbal emoticons such as laughter and other personal expressions. (Record many hours of digitized messages and sounds.)
Features and Available Options
Apple/iOS operating system.
Lightweight.
Easy to see, bright display.
Rugged! 
Adjustable font/symbol size.
Intelligent word prediction option – enables faster typing/communication.
Abbreviation expansion option enables faster communication.
Easy backup/restore.
Carry case, handle and shoulder strap included.
Access/Input
Touch screen.
Switch scan ready! For individuals who are unable to access the touch screen, the wego 13A has the ability to add either one or two switches.
Wide selection of mounting options allow it to be attached to a wheelchair, table, bed etc.
Custom keyguards available.
---
The wego A family of speech-generating devices.  – Now available in 4 sizes!