•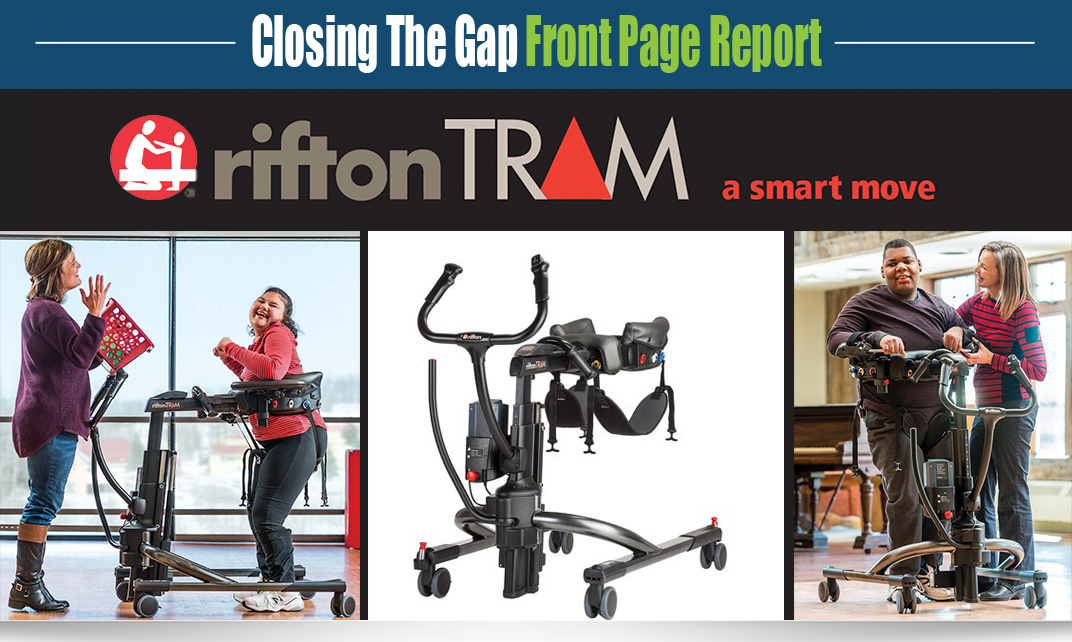 Lift. Ambulate. Transfer.
The Rifton TRAM is a transfer and mobility device capable of lifting, transferring and providing supported ambulation for patients of varying abilities and body types. Easily adoptable by multiple caregivers, the TRAM's intelligent engineering significantly reduces back strain and stress for a safer work environment. The Rifton TRAM is a multi-functional device that seamlessly:
Performs seated transfers

Raises a patient to standing

Provides supported ambulation

Allows for the dignity of private toileting
The Benefits:
An ultralight compact frame that's easy to maneuver in tight spaces
Intuitive controls and adjustments, making it simple for a single caregiver to operate
A body support system that eliminates any lifting by the caregiver, reducing back strain and workplace injuries
350-pound weight capacity and a powerful battery drive that can deliver over 70 lifts on a single charge
An optional built-in scale, allowing you to weigh your client while performing a routine transfer
Capable of lifting and transferring patients of varying abilities and body types, the TRAM features an innovative, patented support system that secures the patient with a simple buckle. This enables the caregiver to quickly prepare the patient for a safe transfer.
At just over seventy pounds, the TRAM's compact, ultralight frame is maneuverable in small or confined areas, as well as simple to transport or store. Quickly adoptable by multiple caregivers, the TRAM's intelligent engineering significantly reduces back strain and stress – providing a smarter and safer environment for workers.
---
Three powerful functions in one device
Gait Training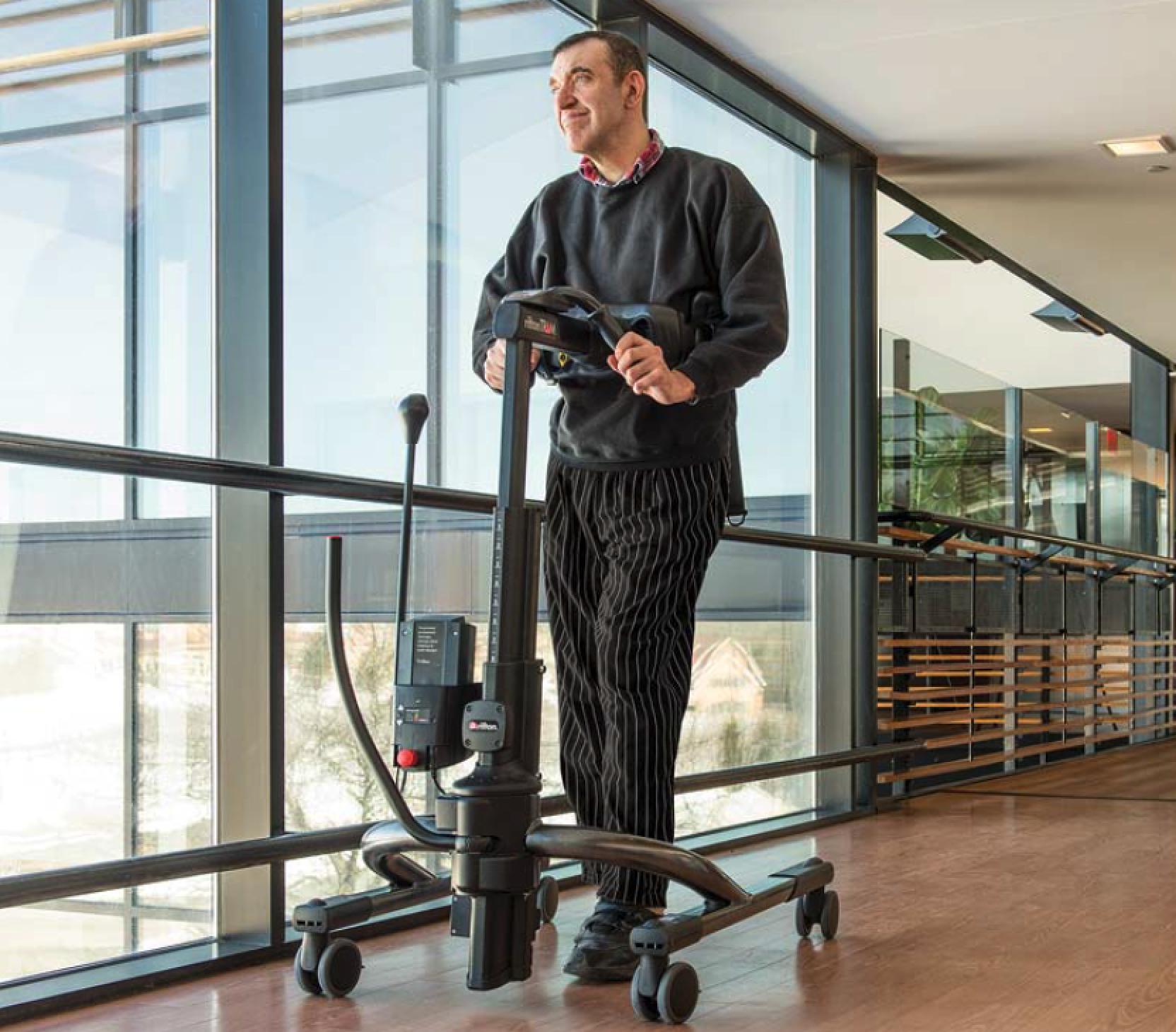 With the switch pole in place, the front handle can be removed to increase a client's independence and access to his environment.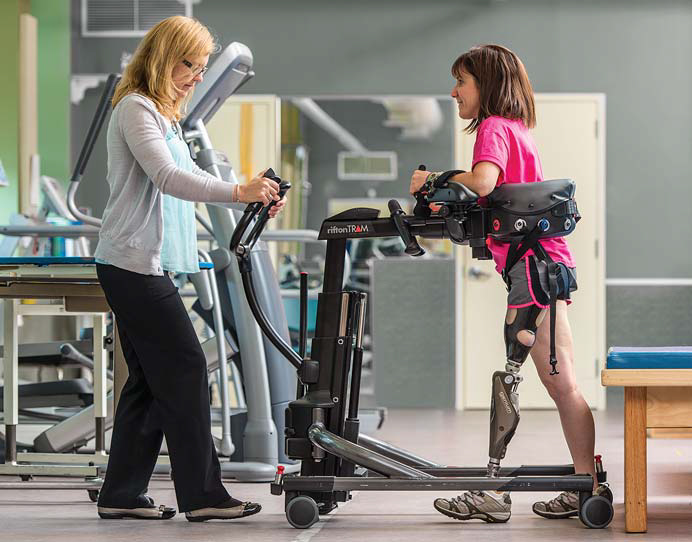 Walking safely with support
The TRAM provides safe, supported ambulation without using additional floor space or staff. The pelvic support eliminates a client's fear of falling, allowing for increased focus on essential tasks while maintaining or regaining the ability to walk. Whether for daily exercise or more demanding rehab, the TRAM's combined sit-to-stand and supported walking functions make it ideal in home or institutional settings.
2. Sit-to-stand transfers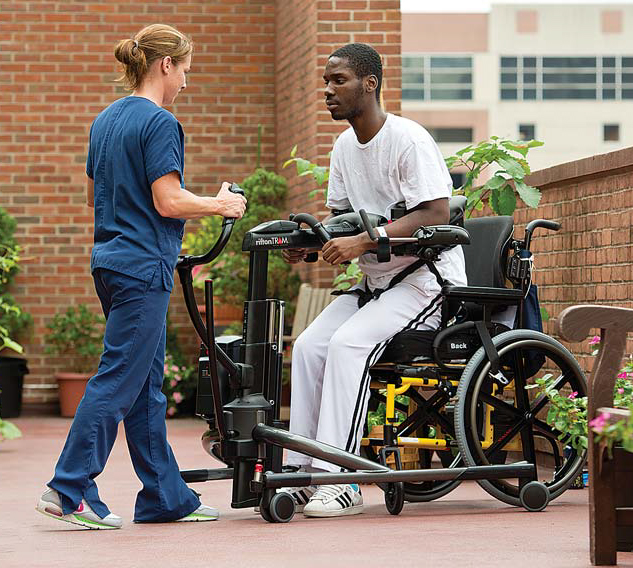 Sit-to-Stand for health
The ability to transition between sitting and standing is critical for a client's independence and health. The TRAM's pelvic support makes it safe and easy to assist a client with movement regardless of the caregiver's or client's size.
3. Seated transferes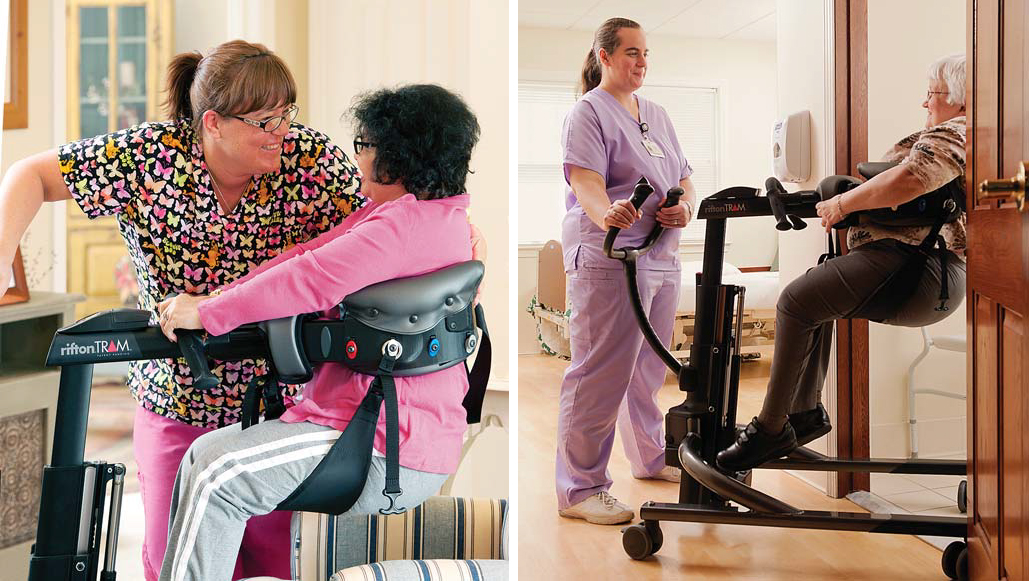 The TRAM's low profile combined with the comfortable body support and thigh straps, give clients security, dignity and unobstructed eye contact with their caregivers and surroundings during a seated transfer.
Successfully used in:
Rehabilitation facilities
Acute care
Schools
Facilities for developmentally disabled adults and children
Geriatrics
In-home health care
---
Introducing the Gait Tracker App
The TRAM and E-Pacer scales can connect with a phone or tablet via Bluetooth to display scale data on Rifton's Gait Tracker app. Gait Tracker shows a running average of the weight  measured by the scale, and calculates average weight-bearing for a gait training session.
A phone can also be mounted on the patient handgrip with a bicycle phone mount, making the scale visible to the client.
---
A paralyzed stroke patient recovers with the Rifton TRAM
Click here for more information.