•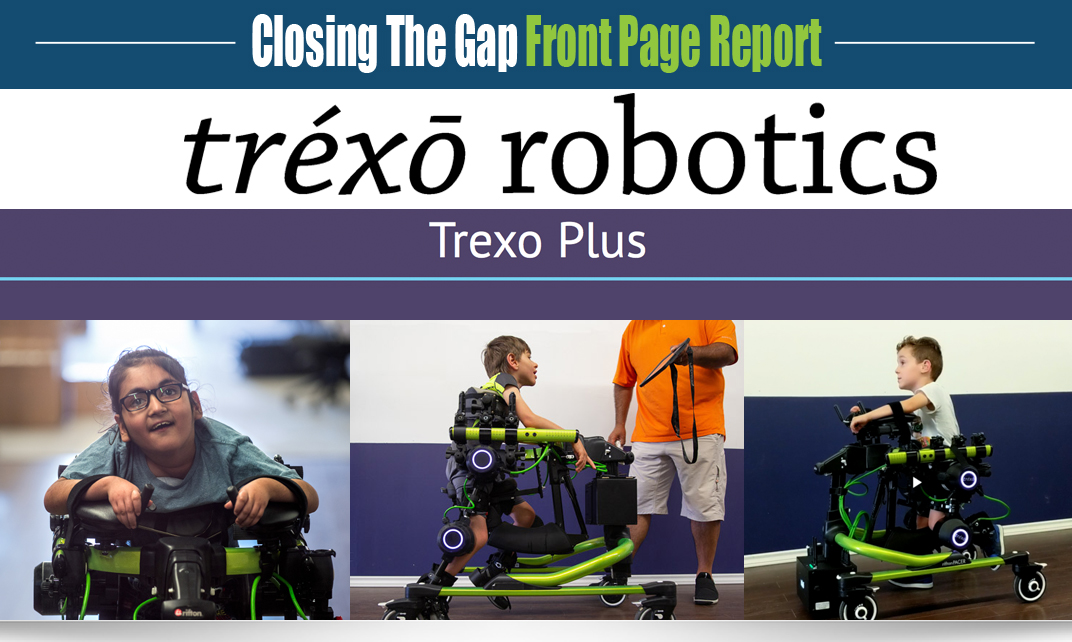 The Trexo Plus is a physiotherapist's newest companion.
They're helping deliver gait training to children with mobility impairments.
The Trexo Plus helps a wide range of conditions, including non-ambulatory children, walk with full foot-ground contact at every step.
Trexo Plus is comprised of wearable robotic legs that attach to a walker. The device is safe and mobile, allowing a child to experience over-ground walking independently. The unique ankle design provides the capability for the user to engage their muscles by pushing themselves forward. The control of the system is at your fingertips with the easy to use Trexo Plus tablet app.
With the Trexo Plus, everyone can be a hero!
Trexo Plus features
Trexo Plus may be applicable for the following conditions
Cerebral Palsy
Traumatic Brain Injury
Spinal Cord Injury
Copy of Hemi & Paraplegia
Muscular Dystrophy
Neuromuscular Conditions
Stroke
Rett Syndrome
Other conditions which impair lower body mobility
Benefits of Trexo Plus

Physical Therapists
Deliver supported gait therapy
Change gait pattern during session as needed
Engage your pediatric patients in a fun way
Track progress of patient effectively

Healthcare Provider
Provide advanced care 
Enhance gait training programs
Empower PTs to use data
Reduce strain on PTs

Parents and children
Empower your child to walk
Encourage independence and exploration of the environment through walking
Access performance data
Promote physical activity to your child
---

---
Life at Trexo isn't always about building cool gadgets and working with robots. More often than not, it is about the inspiration we receive daily from kids who at a young age face many obstacles and manage to find way to persevere with a smile on their faces. The story below is about a brave young warrior named Kaiden who is rediscovering his love for walking, one step at a time.
As told by Kaiden's mother, Melissa.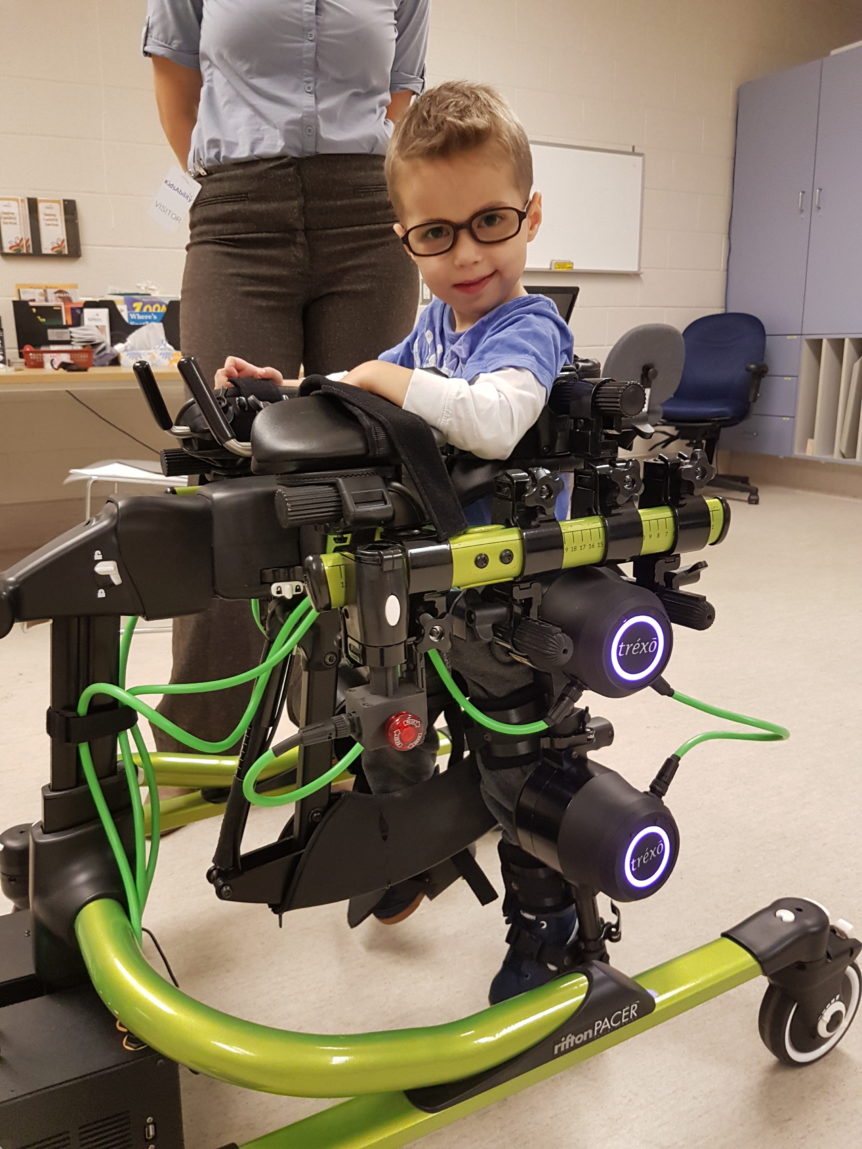 Meet Kaiden
Kaiden will be 5 years old in May. His life has been filled with so many difficulties and obstacles, yet he continues to be the most loving, sweet, caring little boy. Everyone he meets falls in love with him. You can't help but to smile all the time in his presence. Kaiden's story is not a short or simple one, there have been so many different contributing factors. It's not as simple as one specific diagnosis.
Receiving a diagnosis
When Kaiden was a baby, he cried all the time and we tried everything the doctor could think of to try to help him, but nothing worked. Finally, at about 5 months old they realized that Kaiden was having infantile spasms, which are short cluster seizures. He was having approximately 15 infantile spasms a day, with anywhere from 12 to 15 little seizures per spasm. They were related specifically to his sleep, and would wake him up every 40 minutes during the night and during each of his naps.
Kaiden received a diagnosis of West Syndrome when he was about 6 months old. This diagnosis also confirmed Kaiden was experiencing hypsarrhythmia (chaotic brain waves), meaning he could not focus or retain any information. Kaiden was prescribed medication that controlled the seizures but left a huge impact on his muscle tone. His muscles were so weak he could barely hold his head up and he couldn't hold his own bottle. The seizures had finally stopped and there was hope that he would eventually be weaned off his medication, and his muscles would start to get stronger and his delays start to diminish. Unfortunately, this didn't happen. Although there have been small gains, and we are so very grateful for each and every one, Kaiden just continues to fall farther and farther behind his peers.
Kaiden's determination
With tons of hard work and determination, weekly visits to multiple therapy appointments (both costly private, out of pocket and government funded), Kaiden was thriving! He learned how to move around in a walker, he could hold himself up in a sitting position, he was even starting to feed himself a little bit. Like every other child, those little tastes of independence motivated Kaiden to try to do more.
A sudden turn of events
On January 2, 2018 Kaiden started having a seizure and, just as with most of his seizures, he was silent. We didn't hear him, we didn't wake up. His seizure didn't stop on its own and wouldn't stop with medication. Kaiden ended up on a ventilator, airlifted to McMaster Children's Hospital and in the PICU. He experienced status epilepticus, and now that he has, he is at a great risk of experiencing it again. It is dangerous and life threatening. So, his doctors have been increasing doses of medications and trying new medications, all of which are only making things harder for Kaiden. The side effects of these medications are just rocking his world. Many of the things he used to be able to do are becoming more and more difficult.
Kaiden's love of walking
When Kaiden started walking in his Rifton walker, his physiotherapist called him "the poster child of walkers". He was a superstar! Kaiden took to it so quickly, it was amazing! He was a very frequent user of his walker. We would take him to shopping malls and he would run around for hours. He even put a few holes in our walls at home, he got going so fast sometimes.
Watching that slip away from him was heartbreaking. The one thing that gave him independence and freedom and joy, taken away from him. As we have since taken him back off that medication, he is slowly starting to get stronger and get back to himself. I would give anything to help him get back to where he was before the medication took it away from him.  Seeing him in the Trexo Plus, reminded me (and I think him), of how much he loved being mobile in the walker before. I am so hopeful that it will help him remember and regain his ability to run around again, like he once did.
An everyday hero
Kaiden is such a beautiful and strong little boy. He is a hero to so many people. His strength and determination are absolutely amazing considering all of the horrible and trying experiences he faces daily. He wakes up every day smiling, even through his toughest struggles. We are so proud to share him with the world, we want to give back and help others going through similar struggles, to let them know they are not alone. His story provides hope to other families like ours and so we share it as often as we can.
This amazing little boy deserves the world. He deserves every opportunity possible to live up to his full potential and abilities
---
Company Story
Trexo Robotics was founded by Manmeet Maggu and Rahul Udasi in 2016 but the work began long before.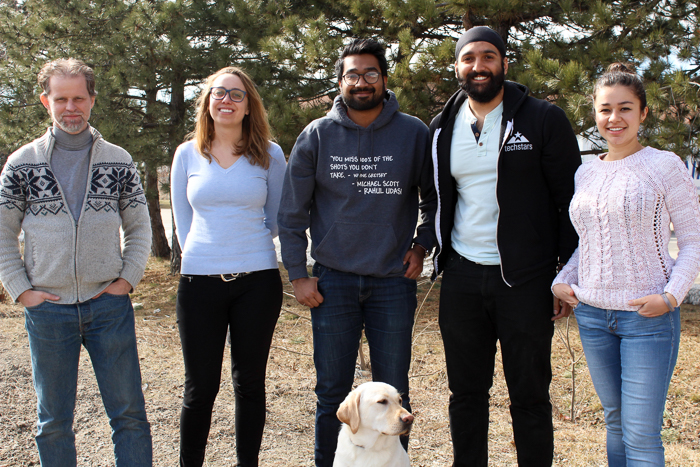 Their story begins in 2011 when Manmeet learned that his nephew, Praneit, had cerebral palsy. Manmeet would later also discover that Praneit would not be able to walk. Manmeet and his family searched for many solutions to help Praneit walk, only to find that there was nothing available. They heard that there were these "exoskeletons" that could help with mobility, but it turned out that they were only for adults. He also learned that children with disabilities spend a lot of time sitting in the wheelchair and that can lead to negative health outcomes. Without the ability to walk, many children simply didn't have a way to exercise and stay active. 
With a desire to help his nephew, Manmeet and his friend Rahul decided to take matters into their own hands. They knew about Ironman and both studied robotics at the University of Waterloo, so building a robot to help Praneit made a lot of sense! Hence, the Trexo device was born and evolved over time into the product you see today. 
Trexo's special story has played a big role in their values and mission. They design everything with a child's comfort and needs in mind, and love to invite children with various conditions to their office to try out their products. This approach to co-creating their devices with children, parents and physiotherapists, is deeply ingrained in the way they think of solutions. At the end of the day, their goal is to create technologies that physical therapists trust, parents can afford and children love.
They are on a mission to redefine mobility solutions for people of all ages and abilities. They want to create devices that are affordable, designed with the user in mind, and can be used at home. They think about products as lifestyle companions and want them to solve big problems. They believe that mobility limitations will affect everyone at some point of their lives, be it from birth or as you age, and they want to be there with you, providing enabling technologies along the way.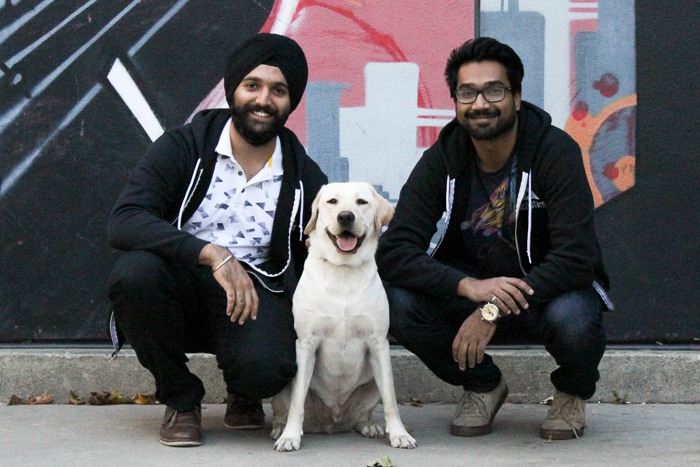 Trexo Robotics was founded by Manmeet Maggu (left) and Rahul Udasi (right), two Mechatronics Engineering grads from the University of Waterloo. In 2016, Manmeet was pursuing his MBA at the Rotman School of Management and Rahul was working on his Master's of Engineering at the University of Toronto. Instead of pursuing internships in the summer, they decided to buckle down and give Trexo a try. 
Their hard work and effort was not in vain. The Trexo team has been growing steadily. They continue to bring on motivated individuals who are passionate about robotics and want to work towards the common goal of improving the lives of people facing challenges in mobility. Since being founded, they have also been growing their base of families with children affected with mobility challenges who continue to motivate them and inspire them to do better.
---
Meet the team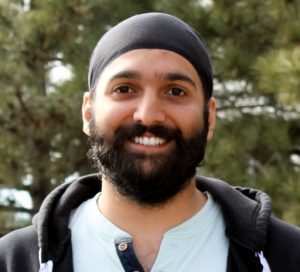 Manmeet Maggu – Founder & CEO
Manmeet's commitment to helping children with cerebral palsy walk drove the vision for Tréxō. An engineer and MBA by training, Manmeet has previously worked in several technical and project management r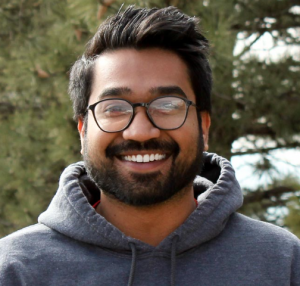 Rahul Udasi
Founder & CTO
Rahul's passion for mobile robotics was integral in bringing Tréxō to life. He brings vast experience from companies such as Willow Garage, Qualcomm, Evertz, and Blackberry, and holds a Masters of Engineering.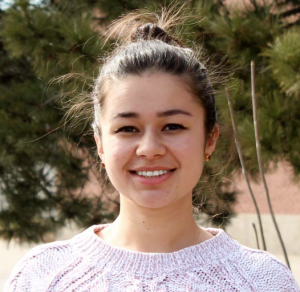 Dina Nikitina
COO
Dina is dedicated to improving healthcare delivery through innovation and technology. She brings experience in clinical research and consulting, and holds an MPH and MBA.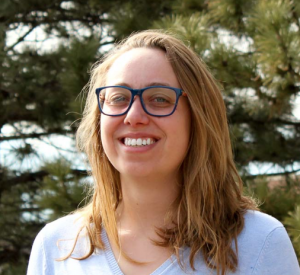 Anelise Jorgenson
Mechanical Developer
Anelise is excited about helping to create affordable mobility solutions for children. Her previous experiences as a mechanical designer in both automation and product design give her insight into design for manufacturing and assembly, as well as experience designing tooling for a variety of different functionality.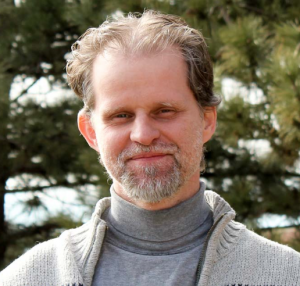 Mark Loit
Senior Designer
Mark has over 25 years' experience working in the industrial and embedded systems marketplace, designing, and building, systems for extreme and hazardous operating environments for a variety of industries while working for Tracan Electronics. Mark is passionate about technology that makes the human experience better.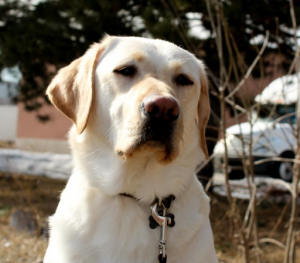 Marco
Director of Health & Wellness
Marco's passion for the team's wellbeing helped shape Tréxō's culture. He brings vast experience in playing fetch, getting lots of attention, and of course, belly rubs.
---
Trexo Robotics interns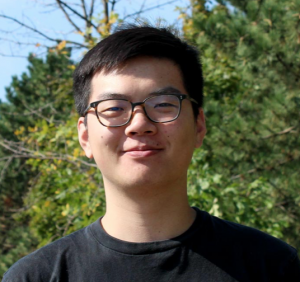 Jack Xu
Jack of All Robots Intern
Jack has been in love with robotics since he was little, and has been highly involved in a variety of disciplines related to state-of-art technologies. He brings experience in firmware, software, autonomous vehicle perception and mechanical design.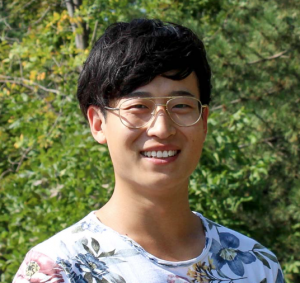 Jessen Liang
Mechanical Design Intern
Jessen loves making ideas into products, and using robotics to streamline difficult tasks. He brings experience in composite materials, weatherproofing, and mould design. In his spare time, he takes photos and drives slow cars.
---
Trexo Robotics alum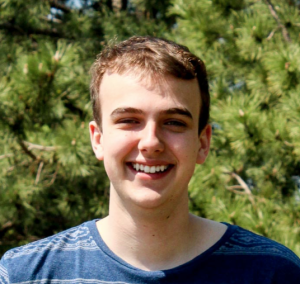 Jonathan Parson
Mechanical Design Intern
Jonathan is passionate about robots, mechanical design and making the world a better place. He brings experience in geartrain and actuator design, prototyping and fast paced R&D.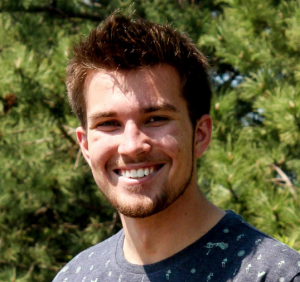 Ian Frosst
Robotics Developer Intern
Ian brings project management skills and experience with robots of all shapes and sizes. He believes that robotics is the future, and is enthusiastic about the growing fields of wearable electronics and human-machine interaction.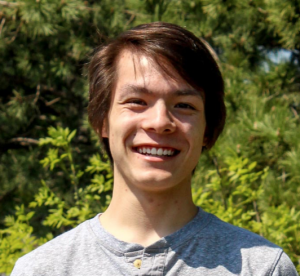 Matthew Reynolds
Jack of all Robots
Matthew is passionate about applying technology to make the world a better place. He brings experience in software design, control systems, and autonomous robotics.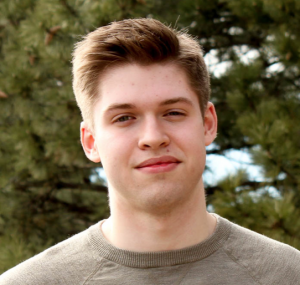 Seamus Johnston
Robotics Software Development Intern
Seamus is passionate about using robotics to create a better and more inclusive world. He brings experience in robotic software design, software architecture and sensor integration.
Kevin Qiu
Mechanical Exoskeleton Design Intern
Kevin is passionate about robotics and biomechatronics. He brings experience in mechanical design, manufacturing, and R&D.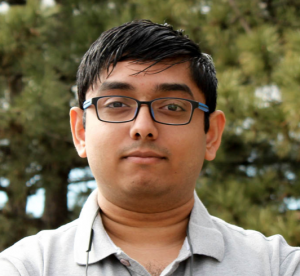 Shubham Singh
Firmware Development Intern
Shubham is a student of physics from the University of Waterloo. He loves electronics and small stuff that does big things. He is also a Personal Computing enthusiast and has a cute little black box at home called the Red Raven.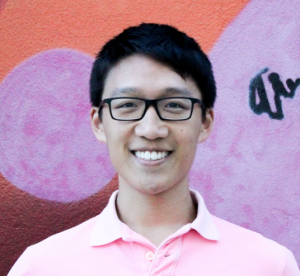 Alex Cui
Full-Stack Software Development Intern
Alex is passionate about making mobility possible for every child. He brings experience in building intuitive user experiences, resilient infrastructure, and insightful data analytics.