•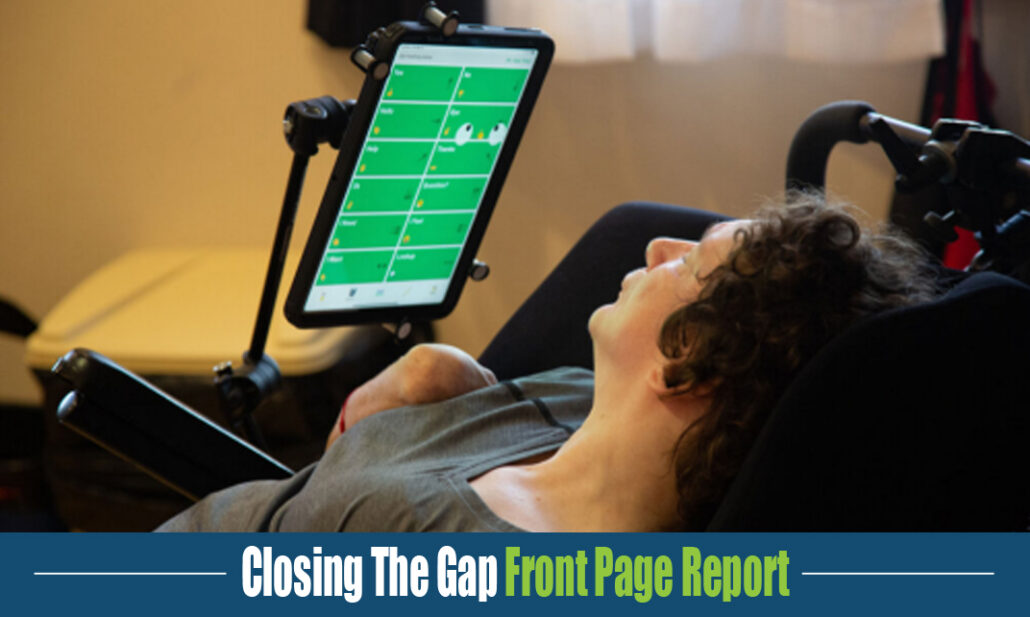 Communicate and interact with the world around you in a whole new way!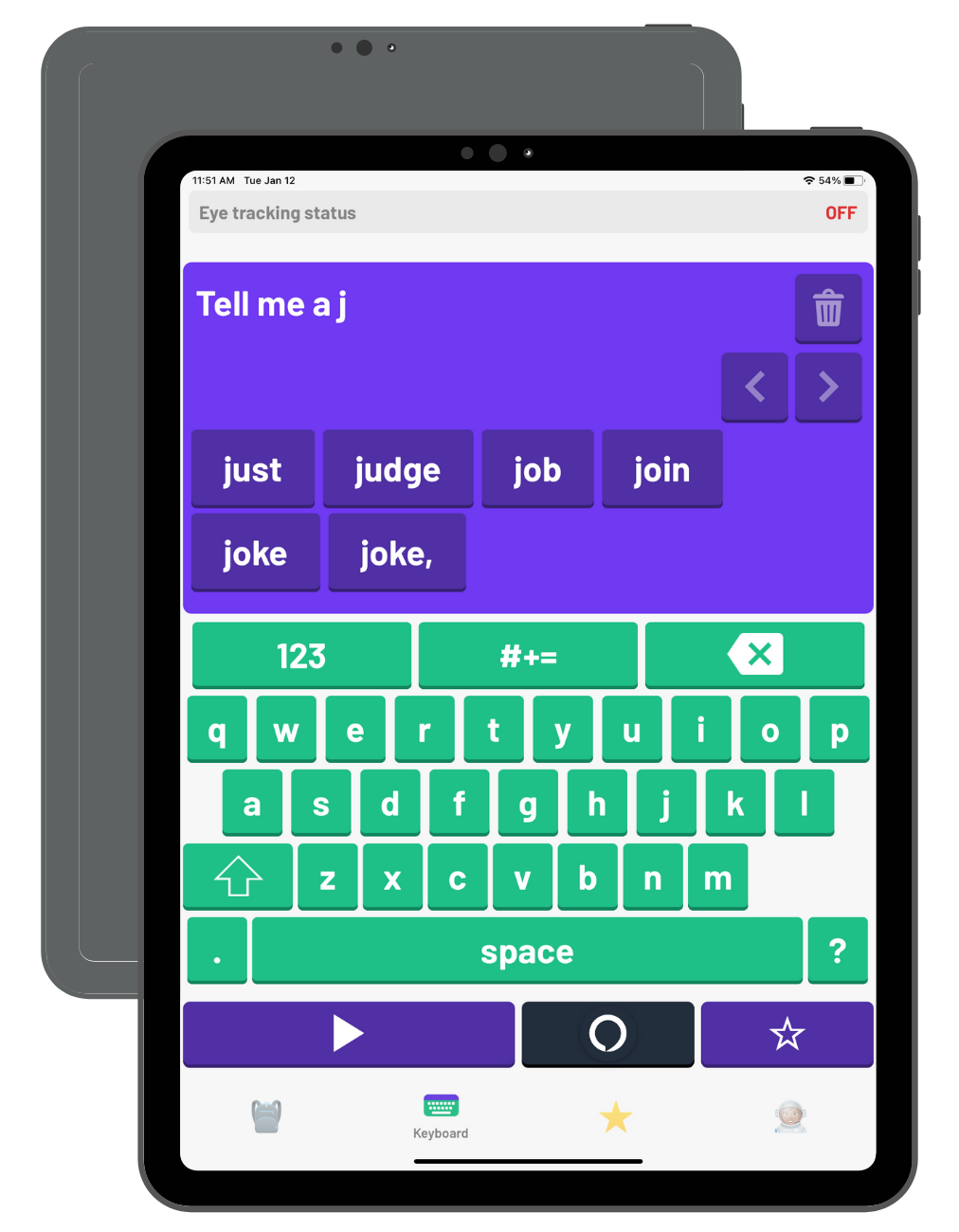 Predictive Keyboard – Choose from Intuitive Options
Have a lot to say? With Speakprose 3 you can use the predictive keyboard which comes in three intuitive options:
Alphabetical: Keys are arranged alphabetically from A to Z
Qwerty: Keys are arranged like a typical keyboard
Linotype: Keys are grouped by how frequently they are used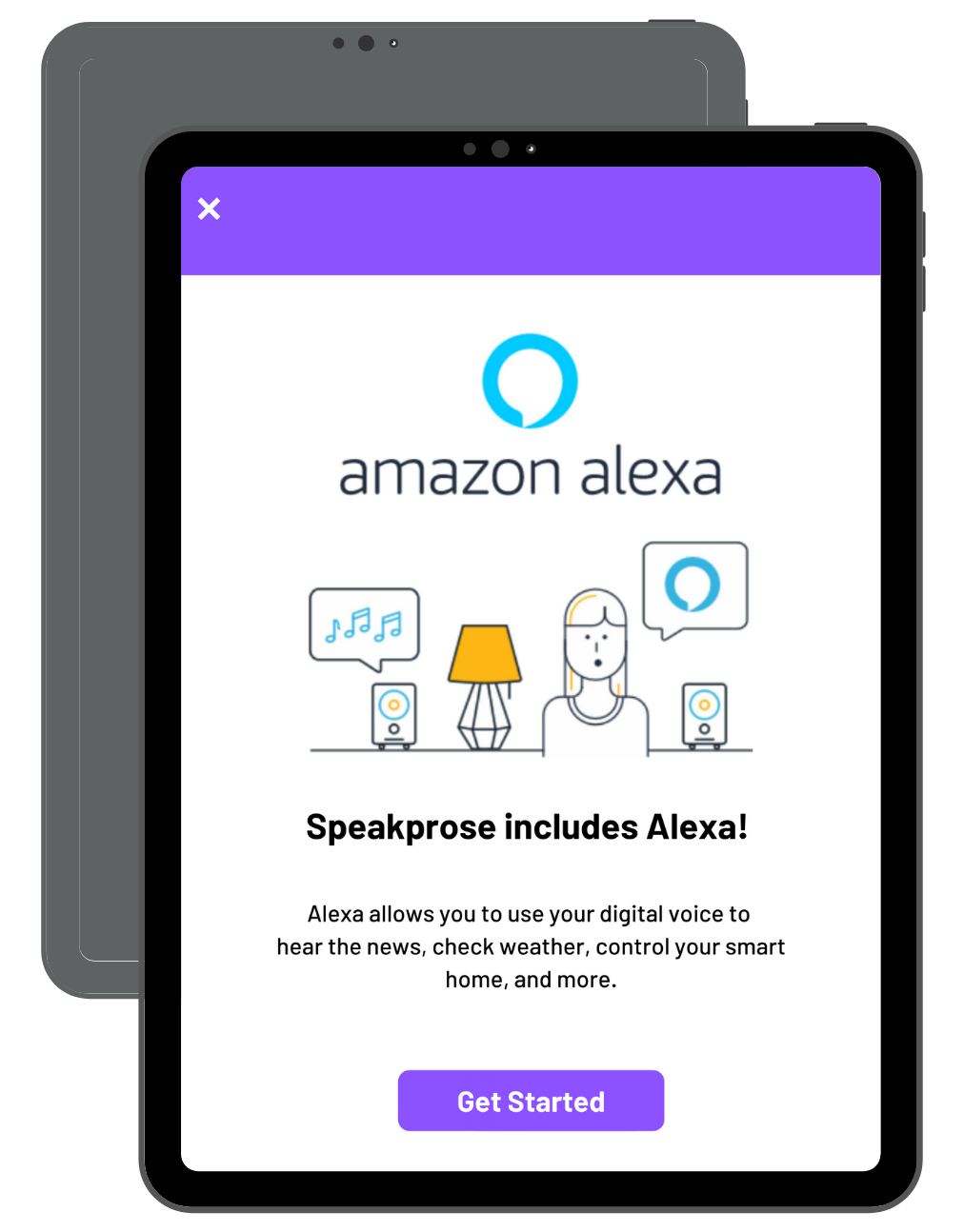 Alexa Enabled – Control the World Around You
Speakprose now comes with Alexa inside. This means you can ask Alexa anything from anywhere in realtime. Connect with Alexa for endless information and control of your home's smart enabled devices. Buy groceries, order new gadgets, and send gift cards to loved ones using your Amazon account.
---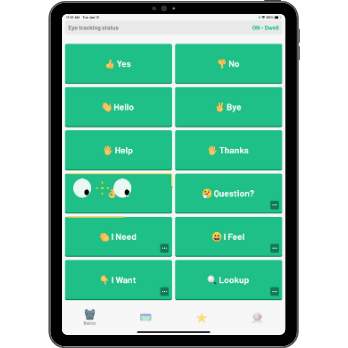 Universal Access – I can access AAC via touch or hands-free with gaze & facial tracking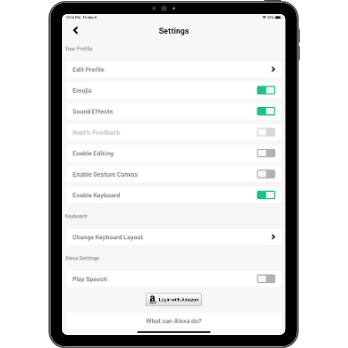 Access Realtime Information – Ask Alexa anything from Anywhere, Anytime, Anyplace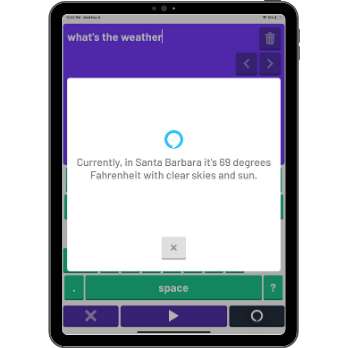 Personalized Control – I can customize my Speakprose to fit my unique needs
---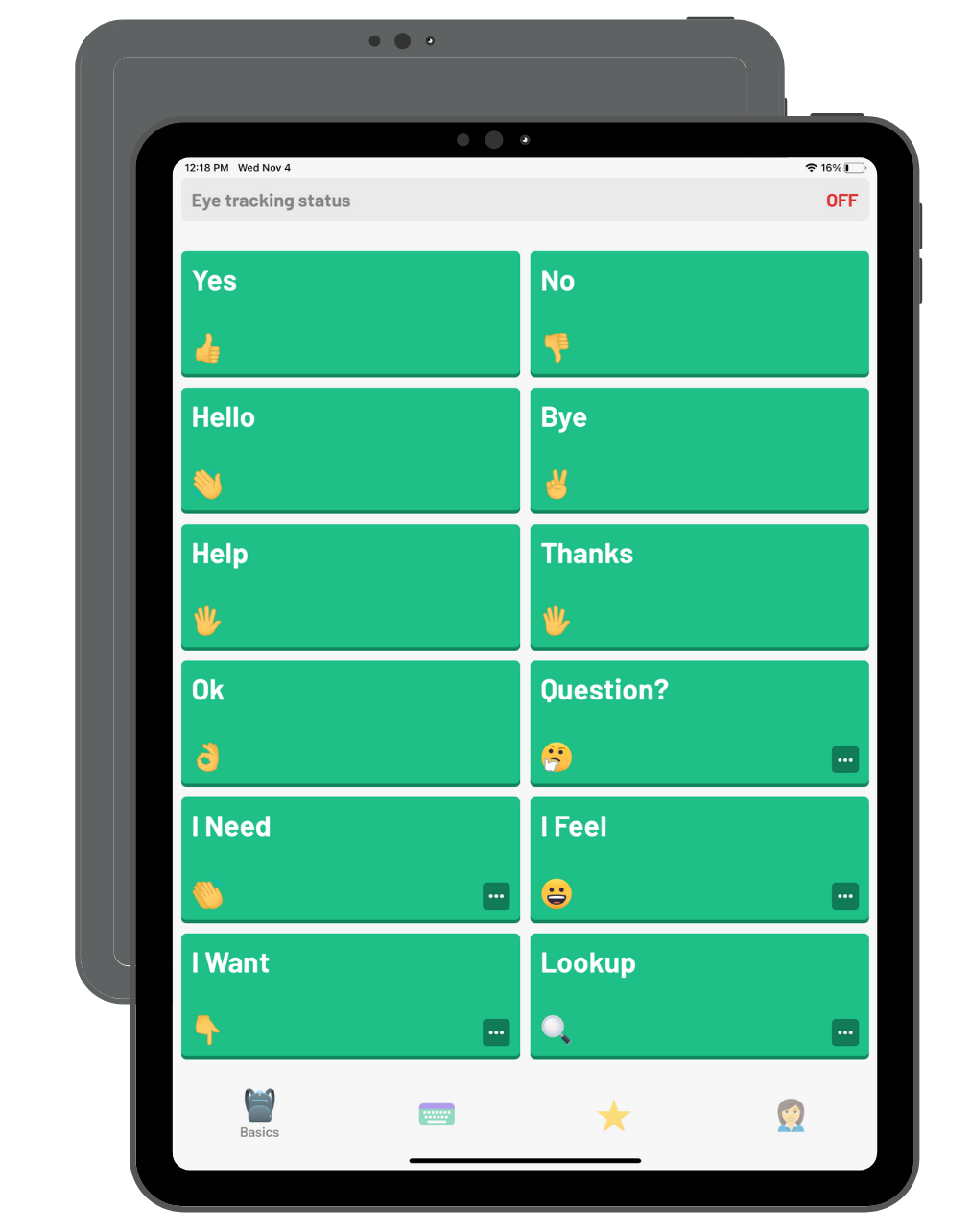 Intuitive Interface – Quickly Communicate Your Thoughts
Speakprose offers users a thoughtfully designed, patent pending, interface that assembles sentences naturally, enabling more opportunities to engage others in dynamic conversation. As you are thinking about things to say you can choose whether you want to say it out loud, send it to Alexa or save it for later.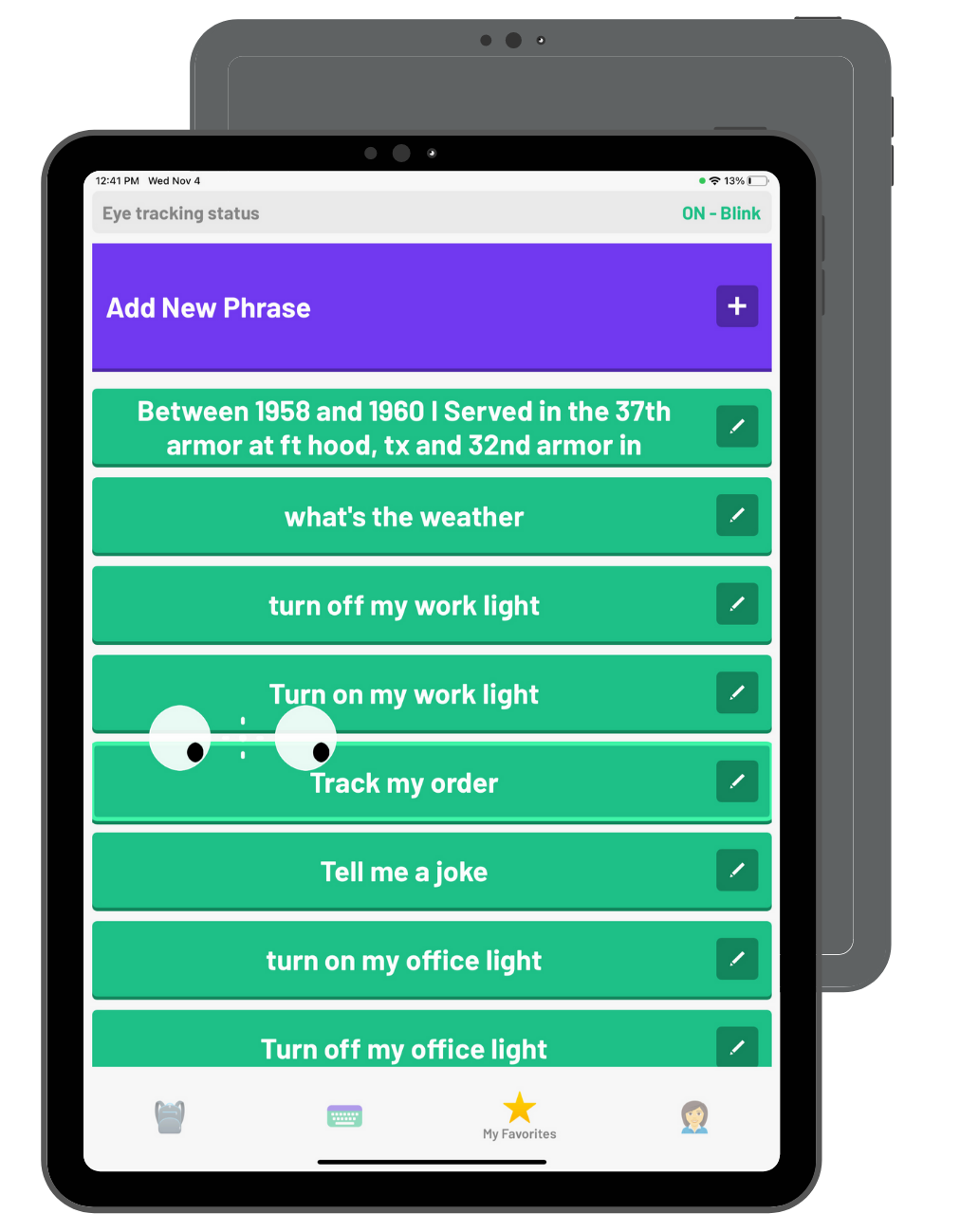 Save Time – Access Favorite Phrases Quickly
Save your communication on the fly for use, both speech and Alexa commands. Have phrases you use often? Speakprose now comes with unlimited favorites! Yes you read that right, unlimited favorites. Save anything from a simple quick phrase to a script for a TED talk. Want to see favorites in action? Make sure to check out our TEDx with Tim Jin where he uses the Favorites feature during his talk.
---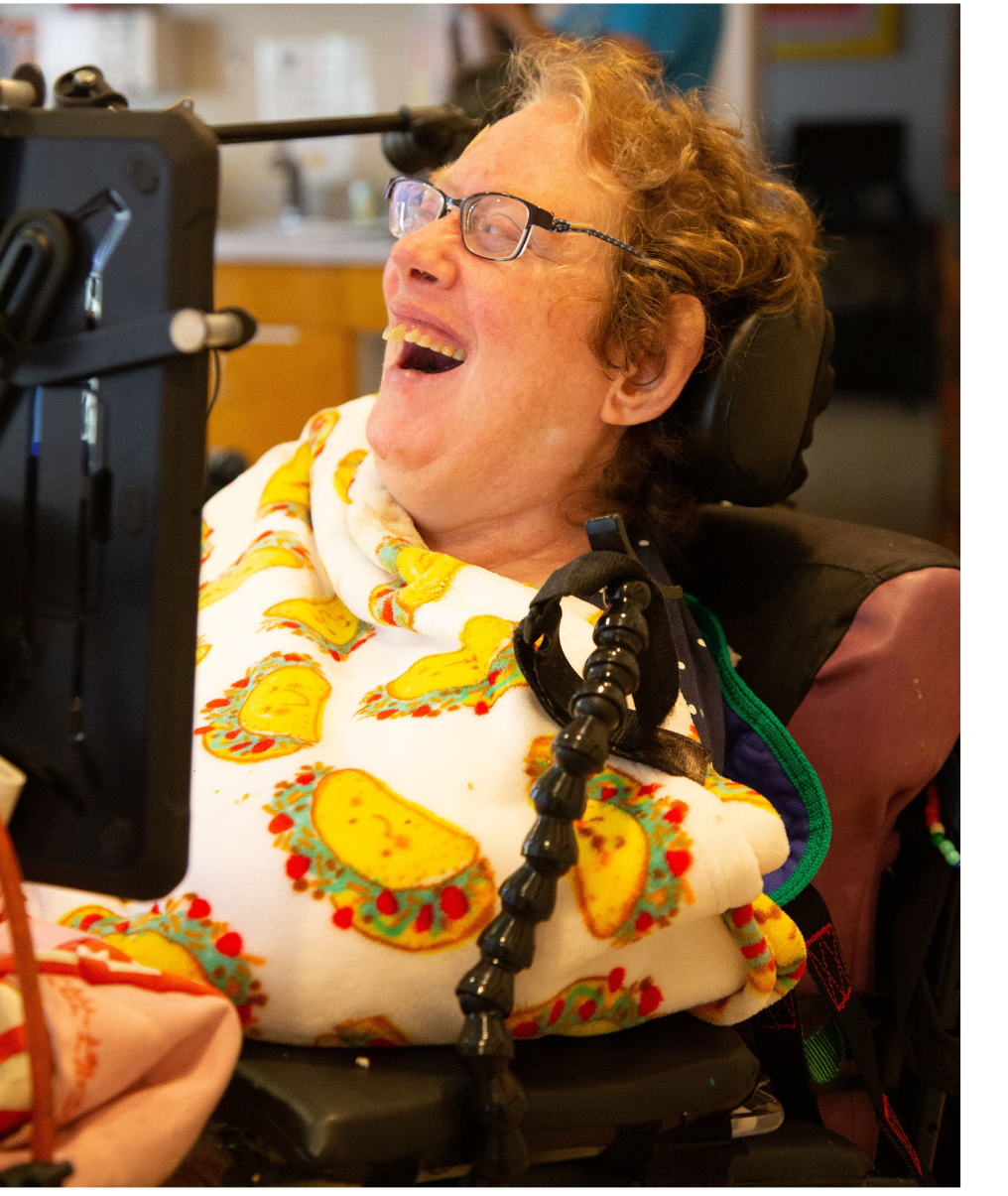 Universal Accessibility
Tap to speak
Switch control
Guided access
Hands Free/gaze to speak
Accessible facial and gaze recognition
Move the pointer with your face & gaze
Personalize all face and gaze tracking settings
Look up any word, edit tiles and expand vocabulary
Type with a patent-pending face & gaze tracking keyboard
Tracking feedback from their patent-pending "Googly-Eyes"
Personalized Control
Custom phrase(s)
Predictive text support
Combine words and emojis!
Assemble your own sentences
Select your own custom pointer
Administrative control over features
Choose your favorite selection method
Create a custom voice that reflects yours
Three predictive keyboards to choose from
See it. Select it. Say it. Send it. Save it.
Access Realtime Information
Engage in conversation
Connect to endless realtime information
Ask Alexa anything from anywhere, anytime
Take control of your home's smart enabled devices
Buy groceries order new gadgets and send gift cards
Support
In-app live chat and email support
Early access to new features and capabilities
Helpful email tips from educational and clinical professionals